The holiday season tends to induce nostalgia, and while Hollywood is always very interested in directing your leisure dollars towards big new commercial movies, sometimes you feel like watching an oldie—one that isn't even It's A Wonderful Life or Sing-a-Long Sound of Music, both of which will duly be back at the Castro Theatre later this month. As it happens, this week features a range of individual programs and series that run virtually the gamut of the history of cinema, from silents to 60s experimentalism to the Romanian New Wave.
The gamut of local history—well, at least since the invention of the movie camera—will again be on display in the latest edition of Lost Landscapes of San Francisco. That ever-changing compendium of home movies, promotional clips and other audiovisual errata from the city's past has grown so popular that this 14th edition inhabits the Castro for two days, Tues/10-Wed/11. More info here. 
Another event of particular local note is this Thurs/5's SFMOMA event 30/30 Vision: Three Decades of Strand Releasing, which celebrates the 30th anniversary of the arthouse distributor whose cofounder Marcus Hu still lives in his native SF. (The company is officially based in Culver City.) For that occasion, 30 filmmakers were commissioned to create two-minute films on i-Phones, a starry lot that includes past and current locals (Jon Moritsugu, Lynn Hershman, Jenny Olson, John Waters) as well as a globe-spanning array of artists whose work has also frequently been represented by Strand, including Fatih Akin, Catherine Breillat, Isaac Julien, Guy Madden, Joao Pedro Rodrigues, Ira Sachs, Cindy Sherman, Lulu Wang and Apichatpong Weerasethakul.
They'll all be shown at this honorary evening, as well as at other arts institutions across the nation. We're also promised a "surprise film from the Strand catalogue." It's a free event, but an RSVP is required. More info here.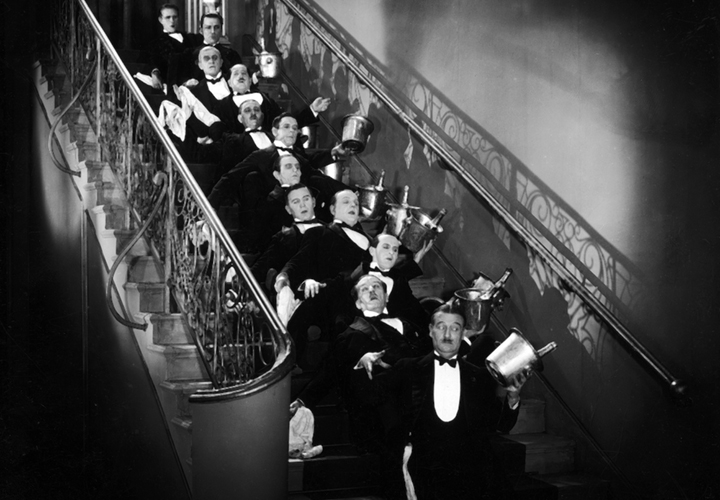 A Day of Silents
SF Silent Film Festival's main annual event won't be until late spring, but because no one wants to wait that long, it will inhabit the Castro for one full day of programming this Saturday. While devotees may be used to the fact that many films from the silent era still feel very fresh indeed, you might nonetheless be surprised that two of the main attractions here are at least partly in color: Early, two-strip Technicolor, that is. It looks particularly good in the Southwest setting of 1929's Redskin, which was the last silent film Paramount produced.
Richard Dix plays a Navajo chief's son dragged off to "the white man's school," where he experiences both track stardom and ingrained prejudice before returning home—only to face a different kind of culture-clash. Though it eventually goes in a conventionally melodramatic direction, this contemporary western is surprisingly nuanced in its portrait of racial biases and the price of assimilation. Though it was apparently a budgetary rather than artistic decision, it's metaphorically vivid that the reservation scenes are in color, while the "mainstream society" sequences are in (tinted) B&W.
While Redskin has essentially been rescued from obscurity, Universal's 1925 version of The Phantom of the Opera remains one of the most famous silent films—though it's seldom been seen since with the full original array of elaborate tinting and Technicolor sequences. Berklee Silent Film Orchestra will provide the live accompaniment for this screening, which no doubt will make you jump when Lon Chaney's titular character reveals his hideously deformed face at the climax.
Those are the most serious-minded attractions of a day that otherwise affords a lot of humor, starting with a late-morning program devoted to the shorts collaborations between Fatty Arbuckle and Buster Keaton. Before he began directing his own stellar 1920s vehicles, Buster was a VIP in movies starring and directed by Arbuckle, the most popular comedian of the day until his career was sadly derailed by a 1921 scandal. You'll see a more rambunctious, impudent Keaton than the familiar "Great Stoneface" in these boisterous 1918-19 exercises in slapstick.
Conspicuously aimed at a more adult audience was Ernst Lubitsch's 1925 The Marriage Circle, the newly arrived German director's first American comedy—a genre he'd seldom stray from afterward. It's a "sophisticatedly" cynical, bittersweet look at infidelities real and imagined amongst upper-class Viennese couples.
Then there's a program devoted to the work of Alice Guy-Blache, the first woman filmmaker, and a major force in the new industry (both in France and the U.S.) until various factors basically ended her career by 1920. She lived another half-century, however, and is finally being widely credited with the stature due her in early film history, thanks in part to this year's documentary feature Be Natural: The Untold Story of Alice Guy-Blache. The Castro "Woman With a Movie Camera" tribute reaches back as far as 1902 to include several sight-gag-driven shorts, satirical gender-role-flipping The Results of Feminism (1906), and a partially-preserved later feature melodrama, The Ocean Waif (1916). Sat/7, Castro Theatre. More info here. 
Mr. Klein
The 1970s are now lionized as a pocket of mainstream filmmaking adventurousness before everything turned to franchises and CGI. Still, some jewels from that period remain under-appreciated. A case in point is this 1976 French production by Joseph Losey, an American victim of the 1950s "Red Scare" blacklist who re-invented himself successfully by directing some of the most interesting British films of the 1960s—which is really saying something. Mr. Klein was not a particular success at the time, but it's since risen in critical estimation, which the current release of a restored print will no doubt enhance.
Alain Delon plays the titular figure, a blandly bourgeoise Parisian art dealer who considers himself apolitical—which allows him to guiltlessly profit from the desperation of Jews fleeing Nazi-occupied France by buying their valuables at fire-sale rates. He thinks himself above suspicion, let alone persecution. Yet he will soon discover that in this highly politicized atmosphere of "racial purity" and back-stabbing, even he can get caught up in the wave of anti-Semitic hysteria. Jeanne Moreau also figures amongst the cast for this terse parable of morality and complacency, whose escalating nightmare becomes ever more Kafka-esque. Opens Fri/6, Roxie (More info here) and also plays Wed/4, Sat/14 & Wed/18 at the Pacific Film Archive (More info here).
Perspectives on History: Romanian Cinema since 1989
The discomfiting moral compromises of a recent past and their lingering impact have also tended to dominate Romania's New Wave, which slowly came to fruition after longtime dictator Nicolae Ceacescu was overthrown (and executed) in the popular revolt of 1989. Unsurprisingly, many of the filmmakers who've come to the fore in recent years have focused on events and issues that couldn't have been discussed under the old, Soviet-sponsored system—let alone in the propagandizing movies it produced.
This PFA series features some of the most famous works from those directors, including such festival/arthouse hits as Cristi Puiu's 2005 collapsed-healthcare-system black comedy The Death of Mr. Lazarescu and Cristian Mungiu's harrowing abortion drama 4 Months, 3 Weeks and 2 Days, as well as looks at the prior regime's collapse both fictive (12:08 East of Bucharest) and non- (documentary The Autobiography of Nicolae Ceaucescu). But there are also some films as yet little-known abroad, like Stere Gulea's 1995 State of Things—in which a nurse pays a terrible price for refusing to lie about military violence during the '89 revolution—and some notable recent titles.
Among the latter are Ivana Mladenovic's bemusedly cranky middle-aged gay love story Soldiers: A Story from Ferentari, Radu Jade's Godardian polemic "I Do Not Care If We Go Down In History As Barbarians" (in which a willful female theater director meets resistance in staging a project about Romania's WW2 Nazi collaboration and persecution of Jews), and Calin Peter Netzer's Child's Pose, a sardonic drama with one of the most vividly nasty mother-son relationships in cinematic history. Fri/6-Thurs/Feb. 27, Pacific Film Archive. More info here.
Celebrating Jonas Mekas 2: Walden
A Lithuanian war refugee who wound up being one of the greatest champions for American avant-garde cinema in its greatest era—not just as a filmmaker, but as an exhibitor, teacher, distributor and print chronicler of the movement—Jonas Mekas died early this year at age 96. His creative output had seriously slowed down only quite recently, but probably his best-known screen work remains from the 1960s through the early 1970s, when celluloid experimentation enjoyed its greatest surge in both innovation and popularity.
He played no small role in that trend, in part by championing the notion of "diary film," which form Walden—also known as the more literal-minded Diaries, Notes and Sketches—exemplified. Shot between 1964 and 1968, its three hours (in six sections) are a freewheeling collage of 16mm visual, audio and textual elements. There's no interest in narrative (let alone a "narrative arc") here, or even in synch sound. Instead, we get a whirlwind compilation of personal experience: Travel, weddings, a visit to the circus, antiwar protests, the Velvet Underground's first performance, friends' children and pets, construction workers on site, oft-wintry NYC street life, parties, forest hikes, John & Yoko's "bed-in," hangtime with fellow filmmakers (Barbet Schroeder, Marie Menken, Gregory Markopoulos, Stan Brakhage), etc.
We catch glimpses of even more famous figures, from Warhol to Timothy Leary. Yet it's the ordinary busy-ness and warmth of a full life that comes through, as heightened by Mekas' jittery hand-held camera and frenetic editing. The 60s were famously a blur in retrospect for many who lived through it. Walden puts you right there, and it's still a blur—a time of joyful energy in which child-rearing and gallery openings might be accorded the same fond, time-rushing-by regard. This rare revival screening is the second in SF Cinematheque's Mekas tribute programs. Sun/8, YBCA. More info here.