There's no big parade and party this year for Pride, although keep your silver-shadowed eyes on the SF Pride website for announcements about smaller official celebrations. (And don't worry, the LGBTQ community is still having the same old fights as always about commercialism, kink, and policing on social media, so it still feels authentic!)
But you can't keep a good queen down—too slippery—and Pride Month events are already popping up like little pink mushrooms wearing tiny leather harnesses and waving miniscule rainbow flags, then suddenly tearing their beehive wigs off to reveal a gorgeous shower of rose petals underneath. I've been getting very little sleep.
Because of the lovingly cautious post-pandemic nature of a lot of these Pride season events, tickets are limited. Others are still happening online—so you'll want to fluff up your settee and plan your viewing schedule ahead of time. This installment of Arts Forecast is a wee Pride preview before our actual Pride Guide later in June. Allies are of course welcome! Just remember to tip any drag performers and tell them you love them. 🙂
NOW THROUGH JUNE 30 TRANSNATIONAL CABARET I dove into this incredible on-demand video program from the New Conservatory Theatre not knowing what to expect—except that it included performances by "six artists unearthing the joy of being trans"—and was blown away by the energy coming through my screen. Polly Amber Ross, Kimiyah Prescott, Lady Dane Figueroa Edidi, StormMiguel Florez, Zad Gravebone, and Ezra Reaves each bring a different aspect of trans spirit and the show flies by way too quickly. A great start to Pride. More info here.
NOW THROUGH SUN/30 OAKLASH With satellite programs like "Nightmare Fuel," "Gentrifuck! My Drag History," "Drag + Disability," "¡Eso Mamona!," "Harm Reduction is Fundamental," and, of course, a giant "Afterki" after the huge main event—this exhilarating, multi-day dragstravaganza is as Bay Area as you can get, foregrounding QTWBIPOC performers and experiences and featuring almost every performer in town. ("I got rejected by Oaklash" t-shirts are all the rage among those who didn't make the cut.) All of this is being streamed live from Oasis so you can safely squeal along at home. More info here.
NOW THROUGH JUNE 30 NATIONAL QUEER ARTS FESTIVAL Check out this vibrant mega/meta-program of so many exciting happenings, from the Queer Afro Latin Dance Festival and an emerging artist showcase to queer disabled writer-cultural worker Gina Stella dell'Assunta's "How To Have A Body" discussion. More info here.
JUNE 1-30 THE ILLUMINATED PINK TRIANGLE RETURNS Pink Triangle founder Patrick Carney sent me these stunning photos of the resonant symbol high atop Twin Peaks, which was transformed in 2020—its 25th anniversary—into a glowing beacon with the assistance of the tech folks that also did the Bay Bridge lights. Last year, it helped many LGBT people get through the early stage of the pandemic, acting as an excuse to get some fresh air to go see it, and standing in place of a Pride that only kinda-sorta was. I rather adore it. You can help volunteer to set it up and take it down, and there's a host of events related to it. More info here.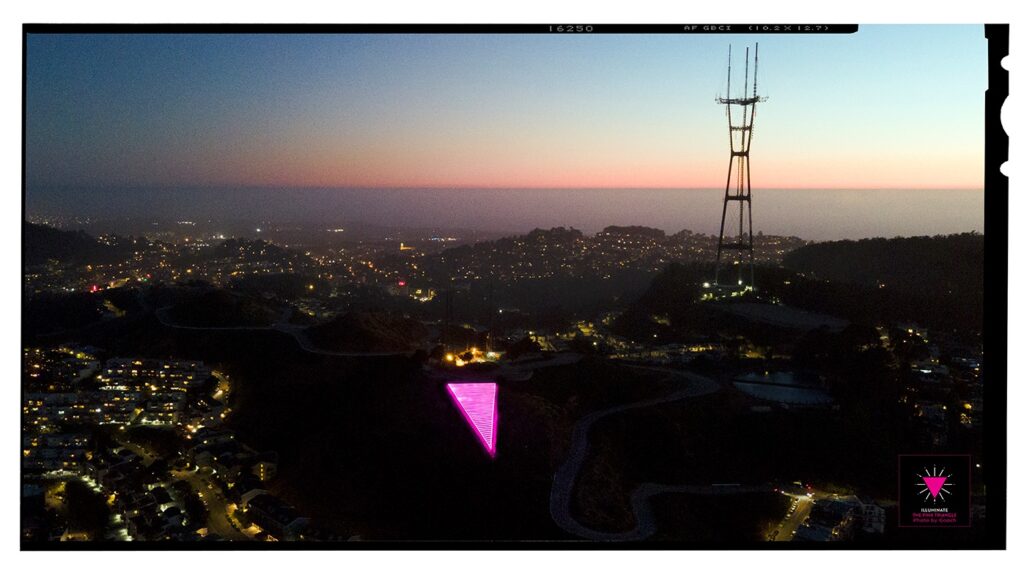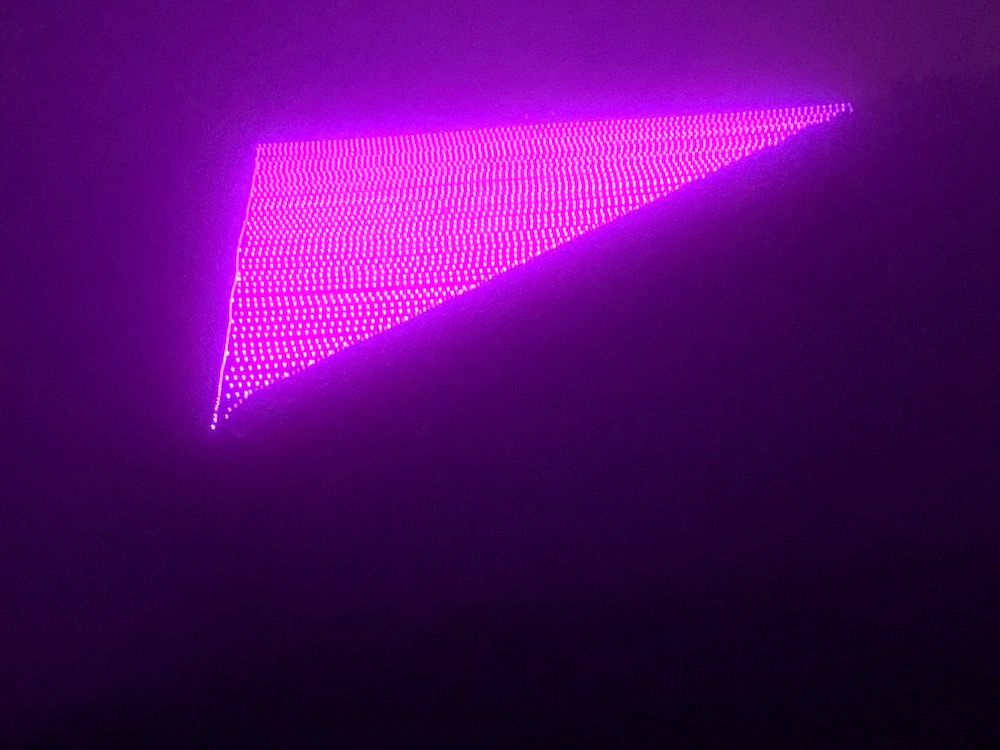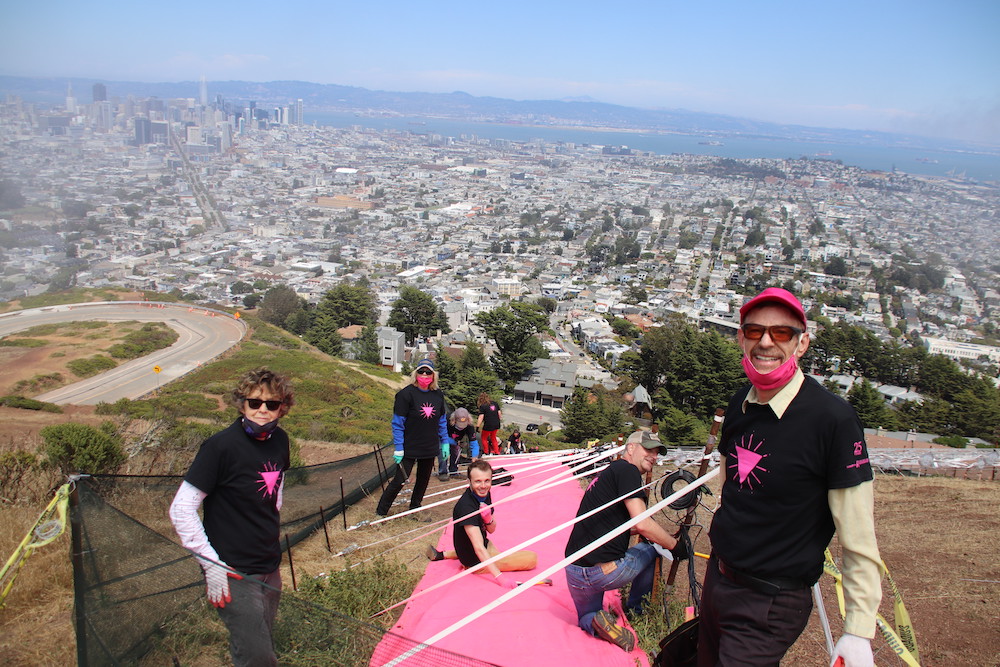 JUNE 4 MIGHTY REELS: PRIDE FOOTAGE THROUGH THE YEARS This is very cool, the GLBT Historical Society hosting an online screening of "video footage of San Francisco Pride celebrations of years past, drawn from the archives. The footage allows us to trace the evolution of Pride over the past half-century, bearing witness to the annual display of joy, performance art, social commentary and community-building. Historian and GLBT Historical Society founding member Gerard Koskovich will lead a conversation interpreting and exploring the clips after the screening." More info here.
JUNE 10 (SF) + JUNE 12 (OAKLAND) WORK MORE! 9 The ongoing Work MORE! series brings nightlife to theater and drag to ensemble collaboration—and hinges on the simple yet profound idea that nightlife and stagework are two heads of the same expressive beast. Produced by VivvyAnne ForeverMORE and now spanning more than a decade, the series usually pairs two artists from each world together and let's all kinds of creative havoc run loose. (I was paired with the wonderful Anna Conda way back in 2011 for a cuckoo show that involved Sinead O'Connor, Ke$ha, industrial waste, and a burning Statue of Liberty.) This time around, we're going to be treated to short dance films (in collaboration with Detour dance) by queens Nicki Jizz, Eartha Kunt, Lisa Frankenstein, and Churro Nomi that focus on queer ancestry and higher selves. These are live performances outdoors, so get your tickets! More info here.
JUNE 10-27 FRAMELINE FILM FESTIVAL The big gay film fest has announced its online-in-person hybrid lineup—including screenings that will reopen the Castro Theatre! There's plenty to be curious about—including a campy Russian melodramatic fable (Potato Dreams of America), Cloris Leachman's final performance as a drag queen'e empathetic grandmother (Jump, Darling), a history of queer cartoons (No Straight Lines), a doc on one of our most precious dance luminaries (Ailey) and the usual short film roundups like the ever-popular "Fun in Shorts." 48hills is sponsoring Genderation which catches up with several groundbreaking local transpeople about their contemporary lives. Frameline has also teamed upon with Pride to fill—as much as safely—Oracle Park for two movie nights, showing In the Heights (June 11) and Everybody's Talking About Jamie (June 12). More info here.
JUNE 11-13 QUEER WOMEN OF COLOR FILM FESTIVAL One of my absolute favorite events of the season, featuring 19 films in three online screenings. "The 17th anniversary Festival Focus "Molten Connections" forges new relationships, awakens steadfast bonds of diaspora, and sparks a metamorphosis of love that withstands time. From Chumash ancestors who mapped the stars, to two older queer Latinas rekindling a geode of love, to queer and transgender people of color battling gentrification and displacement, these films resonate across generations and lay the cornerstone for change." These events are free! See them! More info here.
JUNE 18-22 BALLET22: TōTUM Live queer ballet at San Francisco's Great Star Theater! "Founded in 2020 by Roberto Vega Ortiz and Theresa Knudson, Ballet22 exists to push the boundaries of what is possible in ballet while focusing on producing and presenting works, ranging from classical to contemporary ballet, that break gender normative traditions, specifically by presenting men, mxn, and non-binary artists 'en pointe.' Tōtum, Latin for all together, celebrates the ability for us to reunite with the people, places, and practices we have all missed so much this past year. The program will include excerpts from beloved classic ballets, Le Corsaire, Giselle, Carmen, and Paquita. You will also experience a contemporary ballet by Nicholas Rose, and a world premiere by San Francisco Ballet soloist and choreographer, Myles Thatcher." More info here.
JUNE 18-27 20TH ANNIVERSARY FRESH MEAT FESTIVAL The lauded festival of transgender and queer performance returns, expanding to two weeks with a combination of all-new commissioned works and spectacular archival footage. More than 40 artists and ensembles are featured "performing bachata, blues, bomba, sizzling hip-hop, jaw-dropping vogue, trans & queer mariachi, contemporary R&B, queer dance-theater … along with award-winning wordsmith poets, disabled dance pioneers, world champion queer ballroom and MORE!" More info here.