Heather Knight at the Chron complains that San Francisco is a "conservative" city. I'm always intrigued when I hear terms like that, because calling this city conservative misses the entire point of local politics and history.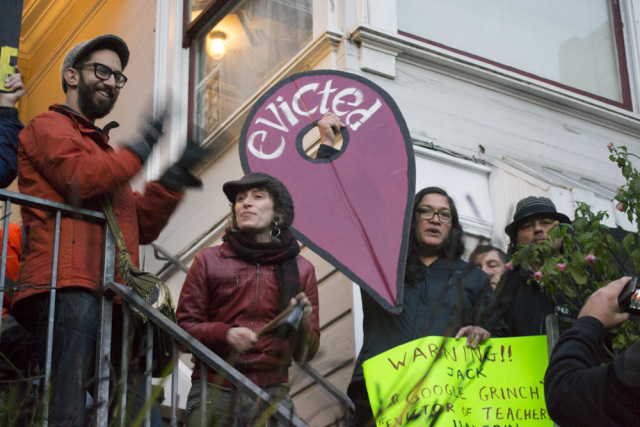 Here's what she says after interviewing the new head of Muni (who says SF is "more conservative than Moscow):"
And he's right. Though he mostly stuck to discussing transit, the idea holds true on a host of major issues including housing, climate change, small business reform and addressing our drug crisis. The traditional hallmark of conservatism is embracing the status quo, and San Francisco seems nearly incapable of major change.
The issue at hand was JFK Drive, which is a bit more complex than Knight explains. But never mind. Is San Francisco really "conservative" and resistant to change?
(Certainly not by even her standards on the "drug crisis;" this is a city that seeks safe injection sites, drug courts, and a policy to treat substance abuse as a public health issue not a criminal justice issue. I don't think they do that in Moscow.)
But her real complaint is that community activists in the city often opposed rapid changes. And to a certain extent, she's right.
By her standards, of course, almost any environmental group, including, say, Earth First, which is typically described as a "radical environmental group," would be considered "conservative." Earth First has fought to protect wilderness from development. That means the group opposes rapid change. I know some of the folks who founded Earth First; they do, indeed, want to stop change – any change – in wilderness areas.
I am probably somewhere to the left of your average Democratic Socialist, and I agree with Earth First: Stop the bulldozers and chain saws. Stop "progress" if it means oil and gas leases, mining, and logging. Leave the wilderness alone.
Is that "conservative?"
If you know the history of post-War San Francisco, you know that "progress" and "change" in local economy has been driven almost entirely by a small number of powerful people, mostly white men, who sought to redesign the city for their own profit.
They destroyed light industry and blue-collar jobs to build financial-services and tech offices, killing tens of thousands of good, often unionized jobs for people who didn't have advanced degrees.
They encouraged the gentrification of neighborhoods all over the city, destroying vulnerable communities in the name of making money for the real-estate business.
They wiped out Black and Brown communities in the name of changing the city's population to a more "standard white Anglo-Saxon Protestant characteristics." Yes, that is an actual quote from a 1966 SPUR planning document.
So: Communities resisted. People fought back against unchecked development. They are still doing it today.
(You know who is really resistant to change? The real-estate industry, which has bitterly fought any effort to amend the Ellis Act, and the big corporate lobbyists who fought changes to Prop. 13.)
City Hall under many, many mayors facilitated and encouraged the devastation of San Francisco and the transformation into a finance and tech hub (with the requisite displacement that make the landlords and developers and speculators rich).
Some of us lived through the Manhattanization downtown boom and the tech boom. Can you blame us for not trusting the Next Big Plan?
Tech companies love to "disrupt," to "move fast and break things." That's fine if you are young and white and have plenty of money. It's not so fine if you have a family and a non-tech job and live in a rent-controlled apartment and are going to be evicted by the "disruption."
Some of us would like to say: Slow down. Protect existing vulnerable communities first. Save historic and environmentally sensitive areas. Use government to regulate these changes so that they don't overwhelm what is frankly a pretty fragile city – and tax the people who get rich from them to protect the people who the late-capitalist idea of progress leaves behind.
If that makes me a conservative, Heather, I'm all in.
One of the huge issues that the city is going to have to deal with in the emerging post-COVID world is rebuilding Muni. Although Uber would love to destroy public transportation and replace it with private vehicles, the reality is that the city can't function without a functional Muni.
Sup. Dean Preston is suggesting that, as the city moves back to a cautious post-COIVD era, we ought to try making Muni free.
Preston, along with Matt Haney, Shamann Walton, Hillary Ronen, and Connie Chan, are proposing a $9.3 million appropriation for a three-month pilot project to see what would happen if we eliminated fares.
There's plenty of data to show that the use of public-transit in a city like San Francisco is what economists call "price elastic" – you raise prices, and use goes down. When Muni costs more, some people drive, or walk, or (gasp) take Uber instead.
It's going to be hard to get people back on the bus no matter what. But free Muni would help the lowest-income people who rely on public transit (and can't afford a car or an Uber) and might encourage more ridership.
The issue comes before the Budget and Appropriations Committee Wednesday/12. The meeting starts at 11:30 am.
Also at that committee: Haney has called a hearing and is asking for the Budget and Legislative Analyst to
provide a budget and policy analysis of City law enforcement functions that could be performed by other City agencies and functions that do not provide public safety.
It's a big step toward not just defunding the cops but re-imaging public safety.
The Planning Commission will hear a presentation Thursday/13 on a major plan to rebuild the Muni yard at Mariposa and Bryant. It's the kind of thing that could go very well – or very badly.
The idea is that the bus yard is old and needs to be rebuilt to accommodate the buses of the future – which will run on batteries and possibly be a lot bigger.
Instead of seeking public bond money, which is how the city often builds new facilities of this sort, Muni is looking for a "public-private partnership." The agency would choose a developer who would fix up the bus yard – but also construct a building as tall as 150 feet with 575 housing units and some retail and community space.
There's no formal RFP yet, and the Planning Department documents don't set any specific goals for how much of that housing has to be non-market or below-market-rate. All of that will be worked out later.
Remember: this is public land. The "partner" will be looking to make a profit. Which means some of the housing will have to be high-end stuff in a neighborhood that has suffered horribly from gentrification.
Here's the fascinating line from the 33-page document full of pictures and promises:
Attract private and public sources of funding to increase the percentage of affordable units

Directly seek funds from corporations or organizations that have contributed to gentrification impacts in the Mission (i.e., large tech corporations whose employees were attracted to the Mission's vibrant culture).
I have never seen a Planning Department document that talks about forcing tech companies to pay for the damage they have done. Maybe this is, well, progress.