The paintings of asylum-seeking migrants by Talavera-Ballón on display throughout the summer at Refugee Eye Gallery, part of a series called "La Caravana Migrante: Somos tierra que anda—We Are Earth that Walks," are both stunningly lush and soberly heartrending. The Peruvian-born, SF-based artist paints the hardships of moving hundreds, thousands of miles away from your original home while also highlighting the community and resilience of the people in his realistic scenes.
You can join Talavera-Ballón for a discussion of his work Sat/7, 6pm-8pm, at Refugee Eye, which will also be closing temporarily after 18 months of being open and presenting art from more that 30 refugee artists, so go and experience the space now if you haven't.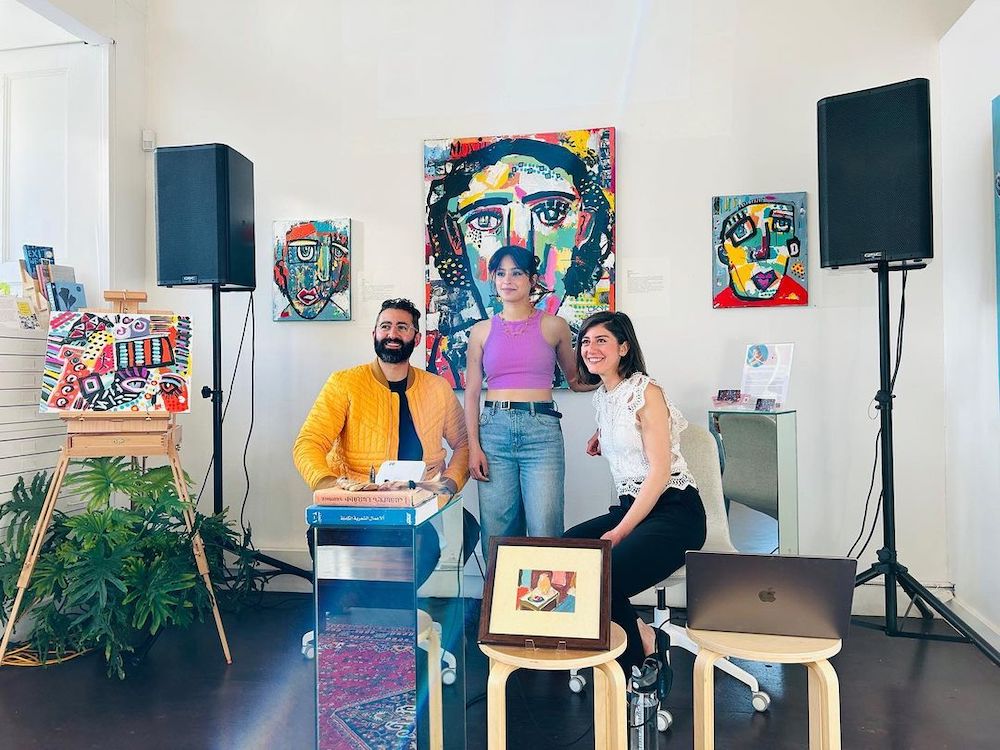 "As a person who came here from Palestine and who made art, I know how hard it can be to find ways to function as an artist in a place you've just arrived," said photographer and journalist Lara Aburamadan, who co-founded the nonprofit gallery with journalist and editor Jehad al-Saftawi. "We left Gaza seven years ago, and it's very challenging when you don't know anyone but each other.
"In Palestine, which is a very crowded and war-torn place, I took photos of what it was like to live there. But when I came to Berkeley, and saw how beautiful and green it was, I had to reset. It was like, do I take a picture of this tree now? I wanted to find others who had this experience.
"Refugee Eye was a way to help build a network for refugee artists to connect with each other and become part of the art scene here. It was a way to find others who may have had that feeling, 'I am in this experience, which is why I can't find anything to say or place to say it, because I am new.'"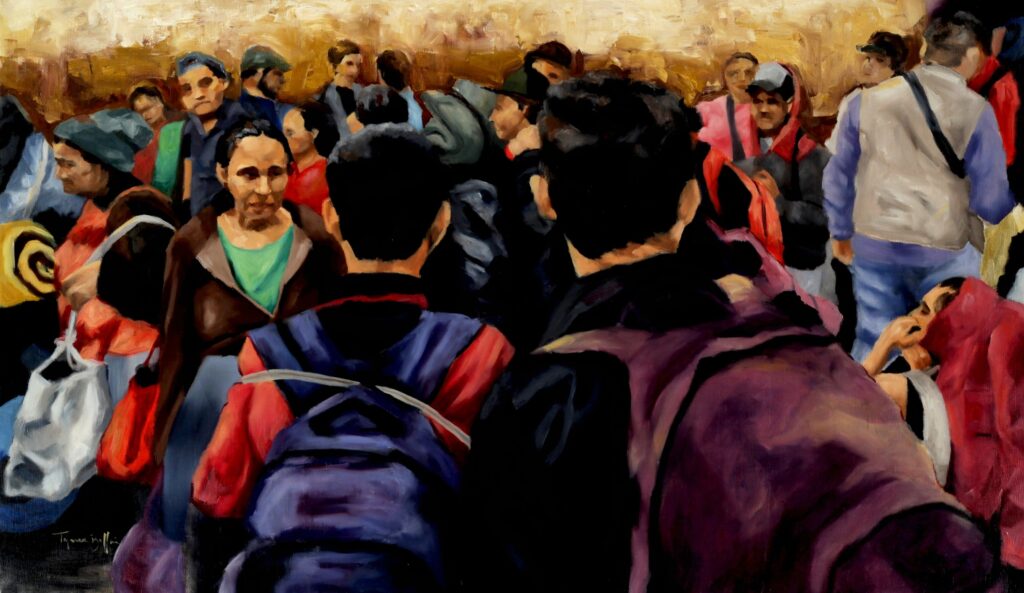 The small gallery is located in the same building as McSweeney's, across from 826 Valencia, and it was Dave Eggers himself who reached out to Lara and Jehad to start the gallery and offer support. Refugee Eye started as a hashtag that took off more than Lara originally expected, and Lara says that the gallery connects with artists through the Internet and a wide community of friends who make art.
"Some people come to the gallery because they've heard about us, and show us their beautiful art. There are so many voices that should be part of the discussion. I'm glad refugee Eye can be a platform, and support these artists through shows and the sale of their art."
MORE EVENTS OF NOTE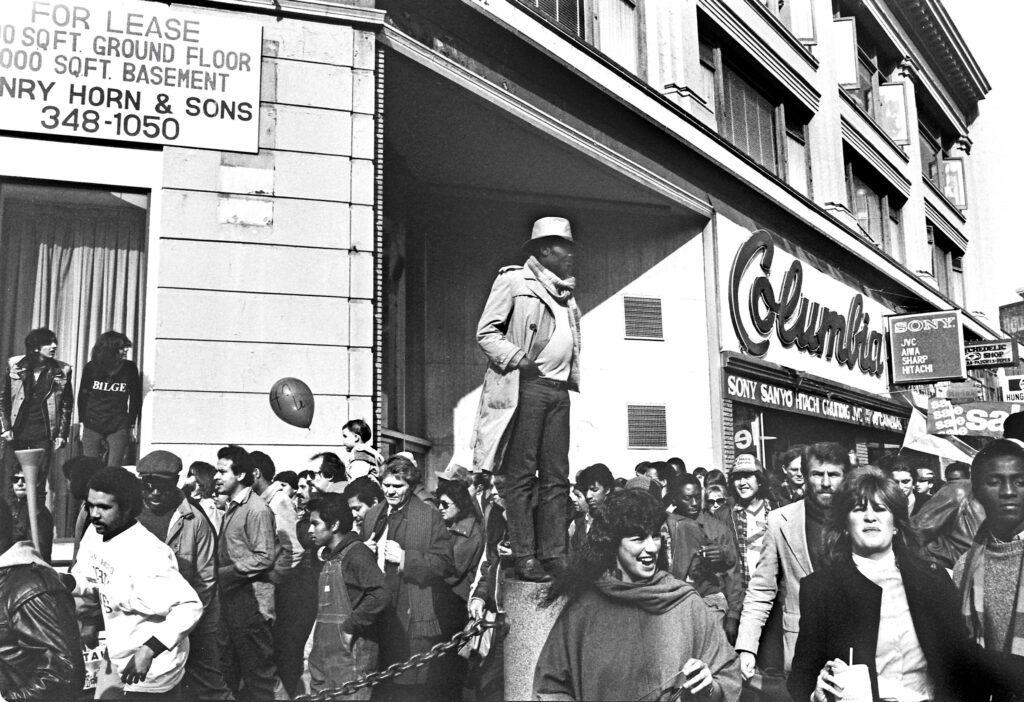 THU/5 DAVE GLASS: CENTRAL CITY, 1970-2016 Roving street photographer Dave Glass documented the Tenderloin in his travels across the city, and this show at the Tenderloin Museum is essential. "A San Francisco native who worked for three decades as a laundromat owner-operator and appliance repairman, Glass traversed the city, a camera always in his truck, shooting from the unique vantage point of someone who frequently bears witness to locals' most intimate, everyday spaces. The TL's densely populated residential hotels, apartments, and adjacent laundry facilities meant Glass spent a great deal of time in the neighborhood and thus made many pictures here; but as he puts it, 'if you live in San Francisco for any time at all, it's impossible not to have a relationship with the Tenderloin.'" Opening reception Thu/5, 5:30-7:30, show runs though December 30, tenderloin Museum, SF. More info here.
THU/5-DECEMBER 22: CREATIVITY EXPLORED: OLD FRIENDS/NEW FRIENDS Marking the 40th anniversary of the Best of the Bay winning nonprofit gallery that supports artists with developmental needs, this show enlisted several original participants of the fabled Mission School arts movement to create together with Creativity Explored artists. "Instead of creating a traditional family tree from roots up (the patriarchal arboreal structure) or a linear history, Old Friends/New Friends is rhizomatic, like a lattice upon which creativity continues to grow. It has no beginning or end; it is always in the middle, between things, interbeing, intermezzo." Opening reception Thu/5, 6pm-8pm, show through December 22. Creativity Explored, SF. More info here.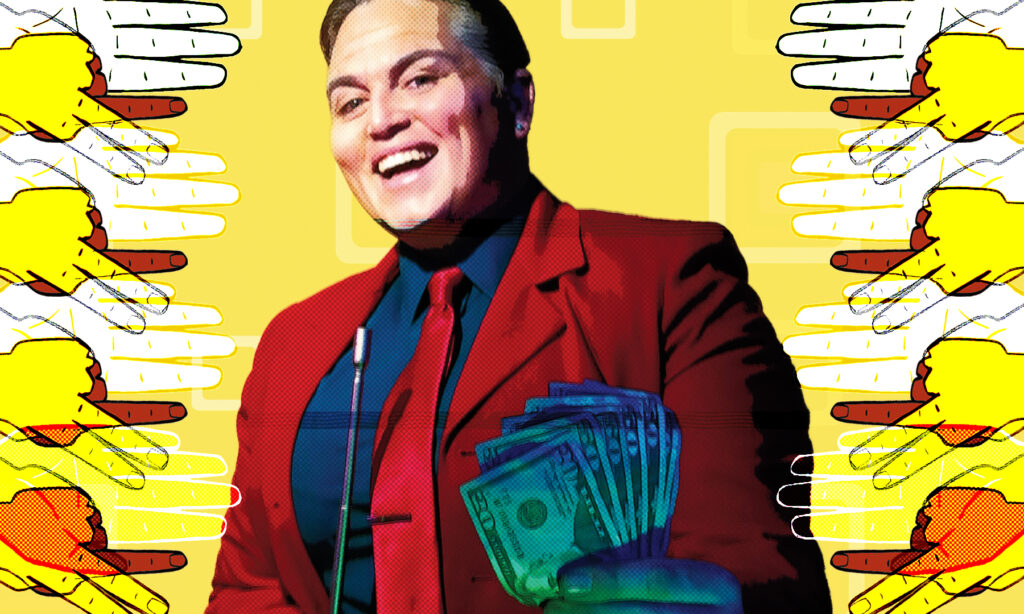 THU/5-OCTOBER 29: COUNTERPULSE FESTIVAL It's a biannual, monthlong celebration of all the underground, independent, avant-garde performance, "experimental dance, late night raves, surreal game shows, a multi-venue drag extravaganza, workshops, and panels" you can handle! Highlights include October 12's "Hail Lucifer! Remembering Kenneth Anger" from SF Cinemateque, and several performances of "The Hands that Feed You" by Annie Danger and "Tiny Fires" by Custom Made theater company. Opening reception Thu/5, 5pm-8pm, festival runs through October. CounterPulse, SF. More info here.
THU/5-SAT/7: RECOMBINANT FESTIVAL With the theme of "Crisis Data Transfer," how can you resist this very resonant festival of electronic/technology-based music, ideas, and performances at Gray Area, with Francisco López, Barbara Ellison, Olivia Block, Daniel Menche, Michael Gendreau, and Kevin Drumm, alongside a special duo performance by Victoria Shen and Aaron Dilloway—plus a pre-party with Dorkbot (and MSHR: Mesh Manifold at the Lab) and an afterparty at CounterPulse from TVOD with Pharmakon. Those names should either excite you endlessly or stoke your desire to explore. Tickets and more info here.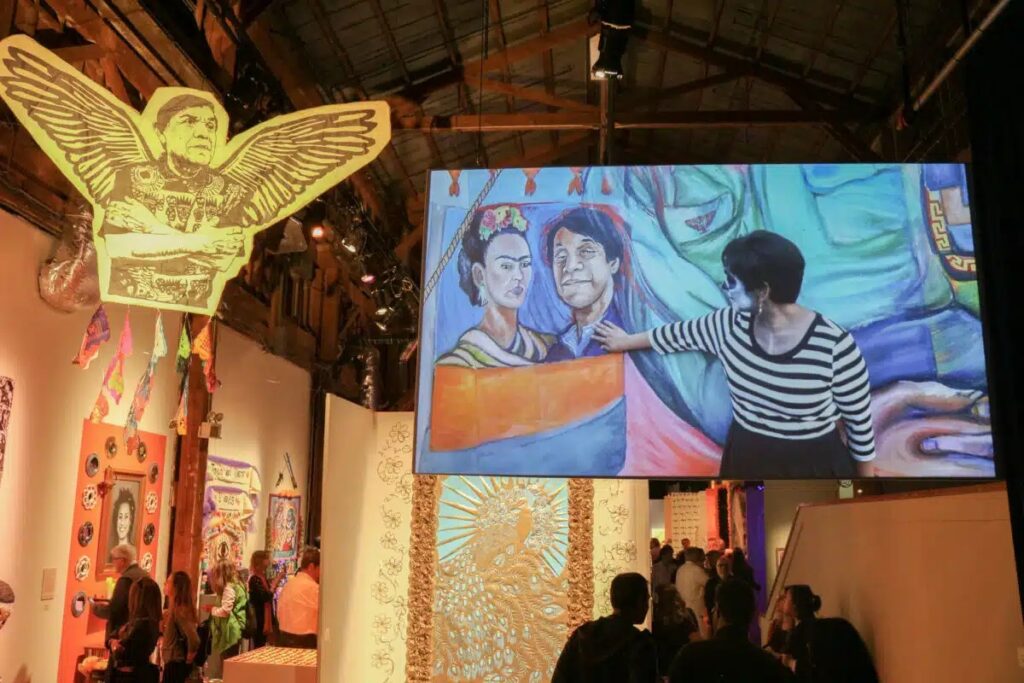 FRI/6-NOVEMBER 3: DÍA DE LOS MUERTOS: "THE HUMMINGBIRD'S VISIT" The annual Día show at SOMArts is a high point of the city's cultural calendar, and this edition promises to take flight. "Curated by Rio Yañez and Bridgétt Rex, The Hummingbird's Visit is fluttering in symbolism. Representing a bridge between the living and the dead where we can connect to those we have lost, artists are invited to create contemporary and traditional altar installations that honor, celebrate, and mourn those whose work, vision, and brilliance have helped to shape our lives." Opening reception Fri/6, show runs through November 3, more info here.
FRI/6 + SAT/7: SF SYMPHONY: INTERPLAY A world-premiere of Jesper Nordin's "Convergence" occasions a tech twist: "Innovative interactive tech turns each performance of Convergence into a unique, unrepeatable event. Conductor Esa-Pekka Salonen, soloist Pekka Kuusisto, and composer-inventor Jesper Nordin's cutting-edge electronics come together in this radical reinvention of the violin concerto." It's paired with John Adams' Naïve and Sentimental Music, which "celebrates a similar creative impulse: spontaneity, the spirit of free play." 7:30pm, Davies Symphony Hall, SF. More info here.
FRI/6-OCTOBER 31: ROCKY HORROR PICTURE SHOW Let's do the time warp, again. Ray of Light Theatre troupe restages the gender-bending cult classic at a drag club during the Halloween season. Dammit Janet, it couldn't be any more perfect. Oasis SF, more info here.
SAT/7: KAFANA BALKAN I can't tell you how excited I am for the return of this incredible whirling, stomping, awesomely friendly party, with Balkan brass band Inspector Gadje, bellydancing from Elizabeth Strong, Pixie Ford Tears and Sadira LadyLiquid, and the fantastic master of ceremonies, DJ Željko. Don't miss this. 9pm-2am, Rickshaw Stop, SF. More info here.
SAT/7: HARD FRENCH One of the best outdoor day dance parties closes out the season with a lineup stacked with local (and formerly local) goodies: Mozhgan, Bezier, and Josh Cheon will bring a little autumnal energy to the patio with shadowy grooves. 2pm-8pm, El Rio, SF. More info here.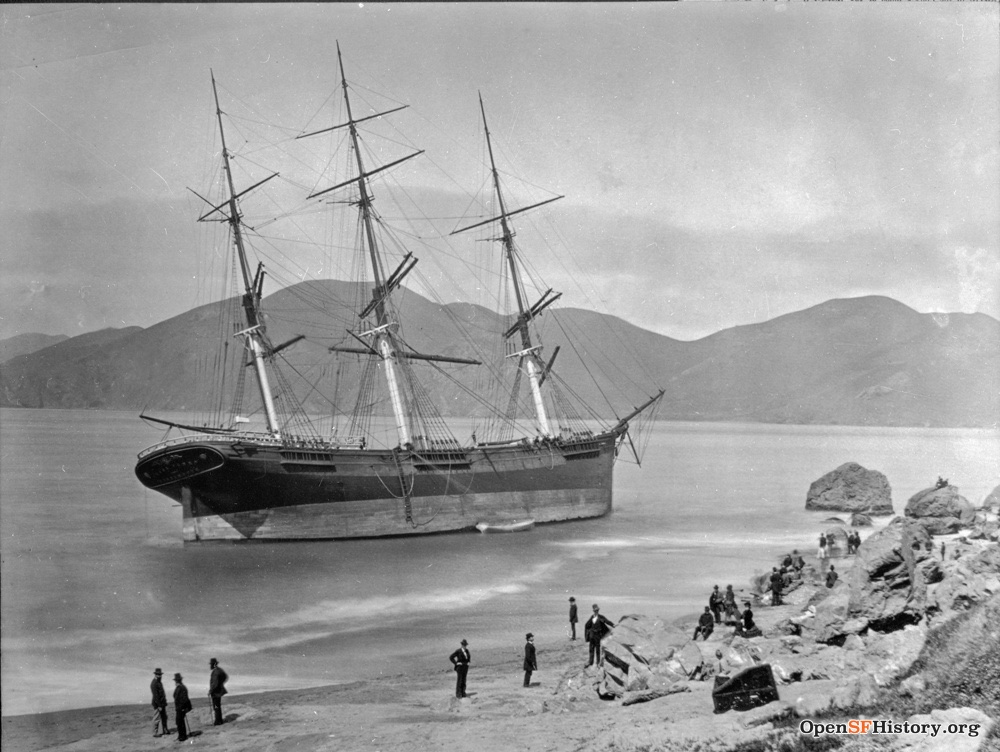 SAT/7: SHIPWRECK WEEK It's Chantey Time! Shipwreck week "is packed with special activities and content that bring our city's storied maritime history to life. Highlights include a live talk with shipwreck historians at the Balboa Theater (Oct. 12), a Chantey Sing with San Francisco Maritime National Historic Park at dive bar favorite, The Riptide (Oct. 10), and a special guided walk at a Lands End shipwreck site (Oct. 14)." Brought to us by the amazing Western Neighborhoods project. More info here.
SAT/7: JOSHUA BARRY: DARK SEAS The local artist dives into the soft underbelly of gay life with portraits of bears, Scruff guys, and nightlife icons that pop from the walls in bright colors and sleek edges. The show runs all month at bear bar Lone Star Saloon, but catch this opening party with the Go Bang! DJs and Barry himself serving nachos. The things he does for art! 7pm-9pm, Lone Star Saloon, free. More info here.