A rally calls for outside investigators — while campaign filings show that much of the tech and developer domination is perfectly legal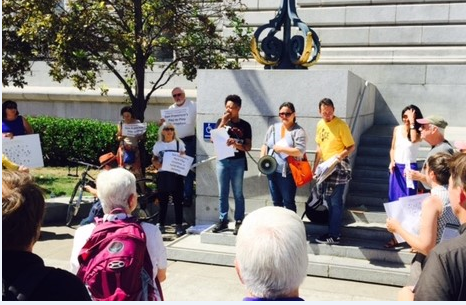 SEPTEMBER 9, 2015 – The Alliance of Californians for Community Empowerment, the Courage Campaign, and others rallied in front of City Hall today for an end to the "climate of corruption" at City Hall. They had banners and a crowd of maybe 30 and a message that the city needs to hire an independent outside investigator to look into the charges.
Ebony Isler, a Bayview ACCE member, noted, according to a written version of her speech:
However I stand here today, in front of you as one of only 3% of the remaining African Americans that are struggling and fighting to remain residents of this beautiful City.

This is due the fact that our City is being offered and sold off to the highest bidders. And as a citizen of a democratic society, I feel this is causing my rights and means to advocate for myself and others to be taken away.
Among Isler's complaints:
For example, the recent battle with Lennar Urban Development over the implosion of Candlestick. A concern raised solely by the community, and fought and won solely by the community, because City officials only stood on the sidelines.

City Hall only engaged when it was realized that the community was not going to back down.
(That's true – I was one of the few reporters who covered this in any depth. The city was willing to let the potentially hazardous fireworks go forward until community activists stood up to fight it.)
What ACCE was trying to do yesterday was connect the problems of displacement, high housing costs, and community destruction to City Hall corruption. The group has 4,000 signatures on a petition demanding that the supes stop, among other things,
The influence of tens of millions of dollars spent by Ron Conway, PG&E, the Realtors Association, wealthy luxury housing developers and Wall Street Finance within City Hall has had direct impact on the quality of life, cost of living and preservation of our neighborhoods and their character.
It's hard to argue that ACCE is wrong, that much of San Francisco politics hasn't been taken over by a few powerful individuals and corporations.  Conway, a major investor in Airbnb and other tech companies, has become one of the single most powerful people in San Francisco.
And it's hard to argue that anyone at City Hall is currently capable of or prepared to conduct a full-scale investigation into every example of pay-to-play or political favors for lobbyists that has taken place in the past few years.
The biggest and most serious allegations that have come out have been part of the strange case of Shrimp Boy, whose lawyers are clearly prepared to drag down everyone who is even remotely related to municipal corruption. Odd that a criminal trial might be the only venue for the allegations to come to light in a major way.
In Washington, the Justice Department is known for bringing in special prosecutors to pursue allegations of government wrongdoing. ACCE is arguing that SF politics has risen to that level.  (If we can spend $50 million on a blow job, maybe it's worth a couple million to clean up City Hall?)
If we had a real, effective Ethics Commission, with an aggressive director and a well-funded investigative staff, there'd be no need to call for an outside investigation. But, alas, such has never been the case.
Here's the larger point. Nobody has any evidence that Mayor Ed Lee has done anything illegal, or that any of his allies or cronies have crossed the line in any significant way between influence and crimes. Nobody ever proved that Willie Brown did anything illegal, either (among other things, he was way too smart to fall for the sort of sting that nailed Leland Yee).
But in Brown's era, there was a widespread perception that City Hall was controlled by a few powerful friends of the mayor, and that the ordinary person never had a chance. That's one major reason for the political sea change in 2000, when nearly everyone the mayor had appointed or endorsed was tossed from the Board of Supervisors.
And a lot of people are feeling that same way again today — as if powerful backroom forces not only have the inside line at City Hall, but that they have the only line, that no matter how many thousands of tenants show up and demand change, nothing that messes with the interests of the tech elite will ever change.
Lee has done nothing to dispel that perception. And that's a serious problem.
Let's take a minute, since we're talking about influence, to see who is giving money to the key November campaigns. (One thing Ethics has done well: the website showing campaign and lobbyist money is fairly easy to use and comprehensive.)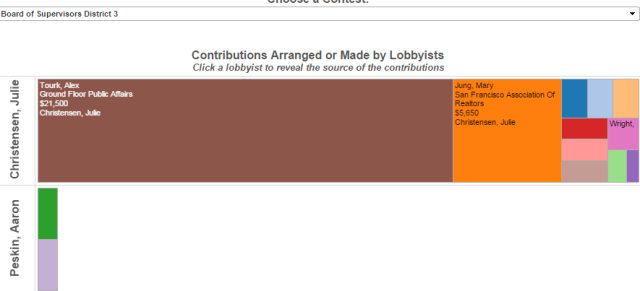 This is a telling little graphic: Here's how lobbyist money compares in the District Three race between Julie Christensen and Aaron Peskin. The first big bar is a little misleading – Alex Tourk did not personally arrange for more than $20,000 in campaign contributions to Julie Christensen's campaign. He was among the hosts of a fundraiser. But look at how much money the incumbent is getting from lobbyists, people paid to promote (in most cases) the agendas of well-heeled clients at City Hall.
Among the Christensen donors: The Board of Realtors, Building Owners and Managers Association, Reuben, Junius and Rose (a prominent developer and landlord law firm), the Committee on JOBS, the Chamber of Commerce, the lobbyist for Google, Steven Vettel (the lawyer who argues that tech offices should be allowed in the Mission), Ron Conway, Michelle Conway, Ronny Conway, Gayle Conway, Christopher Conway (the entire family, it seems, all gave the $500 maximum) Sean Parker, Alexandra Parker, Biz Stone (that is, the local tech royalty).
The only two lobbyists who donated to Peskin: Denise LaPointe, who represents some developers including Lennar and Forest City; and James Reuben of Reuben, Junius, and Rose, whose firm is clearly hedging its bets and contribution to both sides.
That's it: $1,000 for Peskin vs. tens of thousands for Christensen.
Part of that is the power of incumbency. Part of it is the dramatic differences in the two candidates' policy positions (and the role of the mayor).
Then you have the ballot measures. Proponents of Prop. F, which would regulate the out-of-control Airbnb market, have raised about $100,000, half of that from the hotel workers union and the rest from a collection of individual, landlord groups, and others.
Virtually every penny of the close to half a million raised against the measure comes from one source: Airbnb.
Prop. I would limit, for a while, new market-rate housing in the Mission. A handful of developers have kicked in money, but most of it — $180,000 – comes from Robert Rosania, who is developing (maybe) the Monster in the Mission at the 16th St. BART plaza.
Developers have always dominated San Francisco political money. Now you add in tech money and you have a massive force against the rest of us.
And while I am fully in support of ACCE's efforts to crack down on illegal influence peddling, a lot of what is going on this November is, alas, perfectly legal.