Litquake, Shocktoberfest, Sandcastle Contest, Decompression, Latin Legends, Ocean Beach Fest, Indigenous Powwow, Youngblood Brass Band, more essential events.
By Marke B. 
BIG WEEK The vast tsunami of words and acts that is Litquake 2015 washes over the city Oct. 9-17 — and as always, there are too many cool, quirky, crazy, and just plain important literary events to take in. I want to eat the whole thing!
The great 'Quake officially kicks off this year Fri/9 with "The Devil's Acre," an insanely neato-looking tribute to 19th century San Francisco, which doubles as "the official book launch for Drinking the Devil's Acre, Duggan McDonnell's illustrated history of cocktails from the wild and wicked saloons of the Barbary Coast. With sea shanty singers from the San Francisco Maritime National Historical Park, a rarely seen archival slideshow, and a special appearance by Emperor Norton himself. Costumes are encouraged!"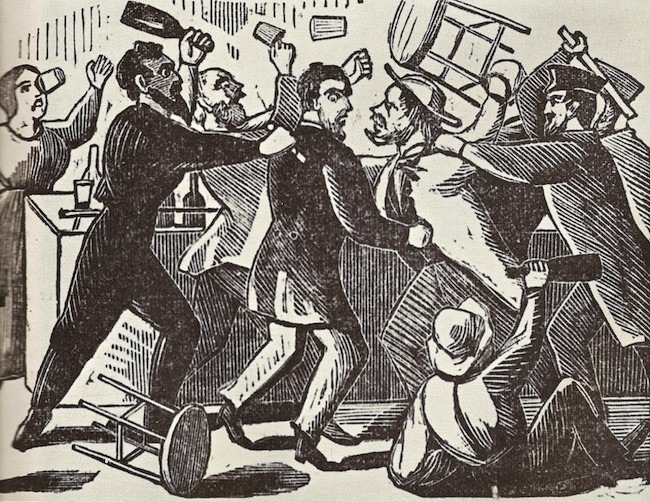 There's a zillion other things after that: Eric Bogosian reads about the Armenian Genocide, a production of Romeo and Juliet by African American teens, star-spangled reading fiestas featuring everyone from Michelle Tea to Daniel Handler, and, of course, one of my favorite things ever: Litcrawl on Sat/17, the "world's largest literary pub crawl" along Valencia, which brings 101 readings to bars, bookstores, galleries, even the Mission Police Station. As the Litquake folks put it, "Get drunk on words!"

>>>>> WEDNESDAY, OCTOBER 7 <<<<<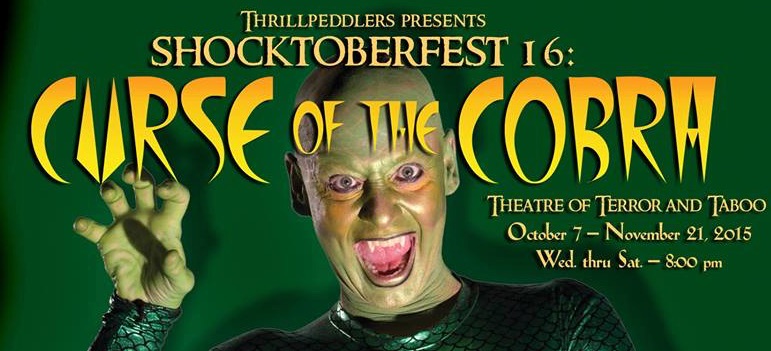 >>> "SHOCKTOBERFEST: CURSE OF THE COBRA"Eek, it's that time of year again! Halloween cometh, and this is one of your best bets for great, gruesome, campy fun. The Thrillpeddlers are back with bloodcurdling skits, scary songs, and other dramatic delights of a spectral order. Wed/7 (through Nov. 21), 8pm, $25-$35. Hypnodrome, SF. Tickets and more info here.
>>>>> THURSDAY, OCTOBER 8 <<<<<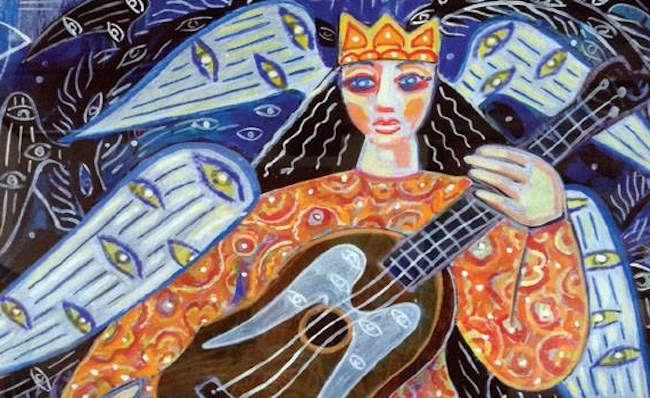 >>> LATIN LEGENDS ROCK FOR LA MISSION "Come rock out with Latin Legends including Leo Rosales (formerly of Malo), John Santos, Dr. Loco, John Calloway, Mission Varrio Project, and MORE!" Proceeds go to Support Prop I, the "Mission Moratorium." Thu/8, 6pm, $20-$50. Roccapulco, SF. Tickets and more info here. 
>>> MEKLIT A free lunchtime concert at Yerba Buena Gardens, featuring one of our most incredible, global-minded singer-songwriters? YES! So ready to hit up Wise Sons for a pastrami sandwich and head into the sunny sounds. Thu/8, 12:30pm-1:30pm, free. Yerba Buena Gardens, SF. More info here. 
>>>>> FRIDAY, OCTOBER 9 <<<<<

>>>"TODAY IS THE SHADOW OF TOMORROW: DIA DE LOS MUERTOS 2015″ Legendary artist Rene Yañez (who was instrumental in bringing the Dia tradition to   SF) teams up with his son Rio to curate this years colorful plethora of altars and thought-provoking installations at SOMArts — this year dedicated to Uruguayan journalist Eduardo Galeano and beloved poet-activist of San Francisco's Mission District, Alfonso Texidor. This opening party (the show runs through Nov. 7) features incredible samba drum ensemble Loco Bloco. Fri/9, 6pm-9pm, $12-$15 sliding scale. SOMArts, SF. Tickets and more info here.
>>> YOUNGBLOOD BRASS BAND Take a big, New Orleans-style brass band from Madison, Wisconsin, give it a punk spirit and plenty of hip-hop grooves, and pour it into the Independent for a genre-bending night of brassy blasts. "What other band brings together the ostensibly disparate worlds of the trombone geek and the backpack b-boy?" Enjoy! Fri/9, 9pm, $21-$25. The Independent, SF. Tickets and more info here.   >
>> OBJECT: MATT FISHER & MIKEY KELLEYSculptor Kelley and painter Fisher both work in striking, sumptuous geometric forms, their works in this show play off each other — and maybe form a needed artistic analogue to tech undercurrents. Fisher is certainly influenced by techno: He painted while listening to "tons of analog synth music lately — Alessandro Cortini, Head Dress, Morton Subotnik, Benge, Pauline Oliveros — whatever I can dig up," he says. Opening reception Fri/9 (show runs though Nov. 13), 6pm-9pm, free. incline Gallery, SF. More info here.  
>>>>> SATURDAY, OCTOBER 10 <<<<<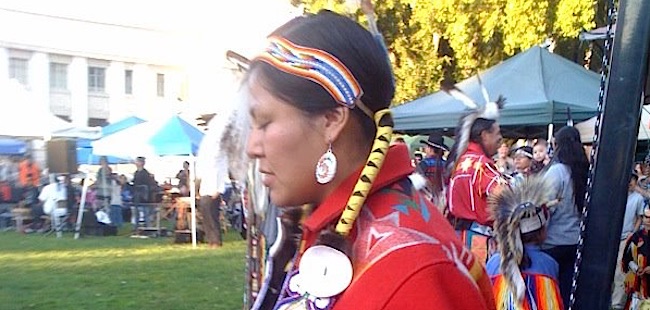 >>> INDIGENOUS PEOPLES' DAY POWWOW AND INDIAN MARKET A great event — full of food (OMG frybread!), dancing, celebration, connection, and spiritual renewal — that covers Berkeley in smiles and tradition, now in its 23rd year.  Sat/10, 10am, 6pm, free. Civic Center Park, Berkeley. More info here.
>>> OCEAN BEACH MUSIC AND ART FESTIVALA huge shindig along Noriega Street — six stages, over 10 food vendors, two beer gardens, over 20 live music acts, live art installations, a kids zone, mobile petting zoo, and a pumpkin patch — that is "dedicated to the cultural and historic value of Ocean Beach." Sat/10, 11am-7pm, free. Noriega between 45th and 47th Avenues, SF. More info here.
>>> 32nd ANNUAL SANDCASTLE CONTEST The Ocean Beach fest is of course the perfect accompaniment to one of the city's biggest delights: the eye-popping Sandcastle Contest, put on by arts education foundation LEAP. Every year, thousands flock to see everyone from professional engineers to tiny, aspiring professional engineers show their sandcastle stuff. Sat/10, 10:30am-4:30pm, free. Ocean Beach, SF. More info here. 
>>> MONSTER MASH COMICS & ZINE FAIR A "queer-ass zine fest for/by society's worst monsters" in Oakland, to benefit sex worker health clinic St. James Infirmary. With performances by Neve Be(ast), European Baths, Dry Days, and Shannon (of Jr.Addelberg).  Sat/10, 11am-6pm, donation requested. Command Center, Oakland. More info here.

>>> 8TH ANNUAL OAKLAND LIFE IS LIVING FESTIVAL Positivity, please! This "celebration of Oakland life through hip-hop, dance, theater, and local action for health and sustainability" should bring some of that. Dance classes, health and beauty zones, children's activities, Karl Watson Skate Day at Town Park, live hip-hop performances and a dance battle featuring some of Oakland's top street dancers are all promised. Brought to us by the always fantastic YouthSpeaks. Sat/10, 10am-8pm, free. De Fremery Park, Oakland. More info here. 

>>>>> SUNDAY, OCTOBER 11 <<<<<


>>> BURNING MAN DECOMPRESSION Oh, it is not over — at least until Burners who've finally, possibly recovered from their journey into the desert can reconnect in Default World and party once again. Tons of entertainment, music, and kooky stuff, of course. Sun/11,  noon-10pm, $15-$20. Espirit Park, SF. Tickets and more info here.
>> INTO THE WOODS Or hey, why not get the hell out of Dodge for the weekend, and experience some fabulous weirdness in the woods? Artist Mica Sigourney, known also by his drag persona VivvyAnne ForeverMore, is staging a vibrant happening at the Headlands Center for the Arts, featuring live and sung drag performances by Honey Mahogany, Laundra Tyme, and Monique Jenkinson, aka Fauxnique. Wander to Marin, and out of yourself. Sun/11,
>>> ITALIAN HERITAGE PARADE You don't have to be a fan of Christopher Columbus (see Indigenous Peoples' Powwow above) to enjoy this tradition in North Beach (established in 1868!)– although there will be a costumed Columbus wandering about, so be warned. Meanwhile, stuff your face full of traditional SF Italian eats and watch a colorful parade of community groups, businesses, and Italian supporters parade on by. Sun/11, noonish, free. North Beach, SF. More info and route here.
>>>>> MONDAY, OCTOBER 12 <<<<<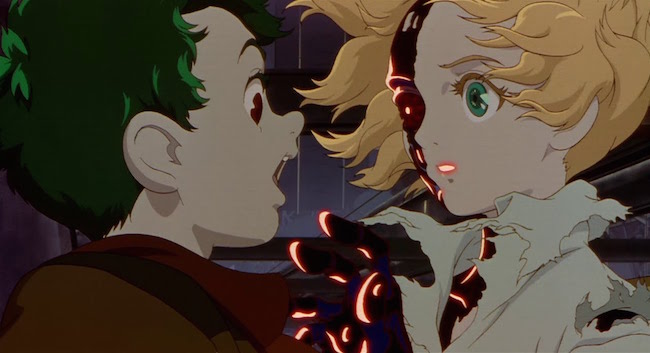 >>> CYBERPUNK CINEMA:METROPOLIS (2001) "A blend of the Tezuka manga and Fritz Lang's proto-cyberpunk masterpiece, Metropolis details a futurescape of towering ziggurats, oppressed robots, and mad scientists." Part of this biweekly sci-fi movie series, including free popcorn! Mon/12, 6:30-9pm, free. The Knockout, SF. More info here.
>>> PAVEL HAAS QUARTETSmokin' hot Czech string quartet comes to SF Jazz with its smoking' hot renditions of Beethoven, Prokofiev, and Bartok. Mon/12, 7:30pm, $40-$65. SFJAZZ. Tickets and more info here.
>>>>> TUESDAY, OCTOBER 13 <<<<<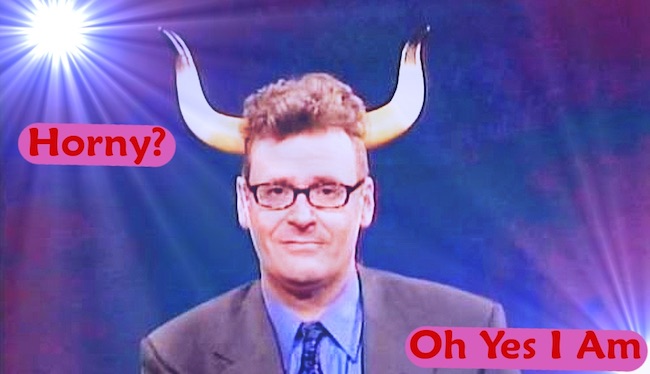 >>> THE SMART SET Litquake gets stylishly cerebral with this "evening of cleverness," featuring Greg Proops (pictured) of podcast "The Smartest Man in the World" and hosted by Litquake co-founder Jack Boulware. Special guest Michelle Tea. Tue/13, 7pm, $15-$20. Swedish American Music Hall, SF. Tickets and more info here.

>>> GUILLAUME $ THE COUTU DUMONTS This one-man French-Canadian techno band is a whiz at  constructing deep and jazzy grooves that hypnotize into dance floor hysteria while improvising live melodies that stick in your head for months. He's at the adorable Tutu Tuesdays weekly dance party. Tue/13, 9pm, $10. Harlot, SF. More info here. 
Like this article? Support 48 Hills for more independent Bay Area coverage.