Bernie Sanders came to East Oakland today, showing up where few presidential candidates ever do, at a church where the Black Panthers once served free breakfast in a part of the Bay Area far removed from the aeries where big campaign donors live and work.
And while Sanders opened with a version of his standard stump speech, a fair amount of the discussion involved something largely missing in the campaigns this far: urban issues.
Among the many remarkable moments: The Frisco Five were all invited to sit in the front row, Ike Pinkston was given the chance to ask a question about police abuse – and Sanders came down from the stage to give a fist bump to the hunger strikers.
"Mr future president of the United States," Pinkston said as he addressed Sanders, crowd cheering in the background, "How would you handle the nationwide militarisation of police and address those police killing unarmed minorities and what is your vision for much-needed police reform?," Pinkston asked, Sanders' response was on point "What kind of country are we where mothers are afraid to let their kids go out and play?"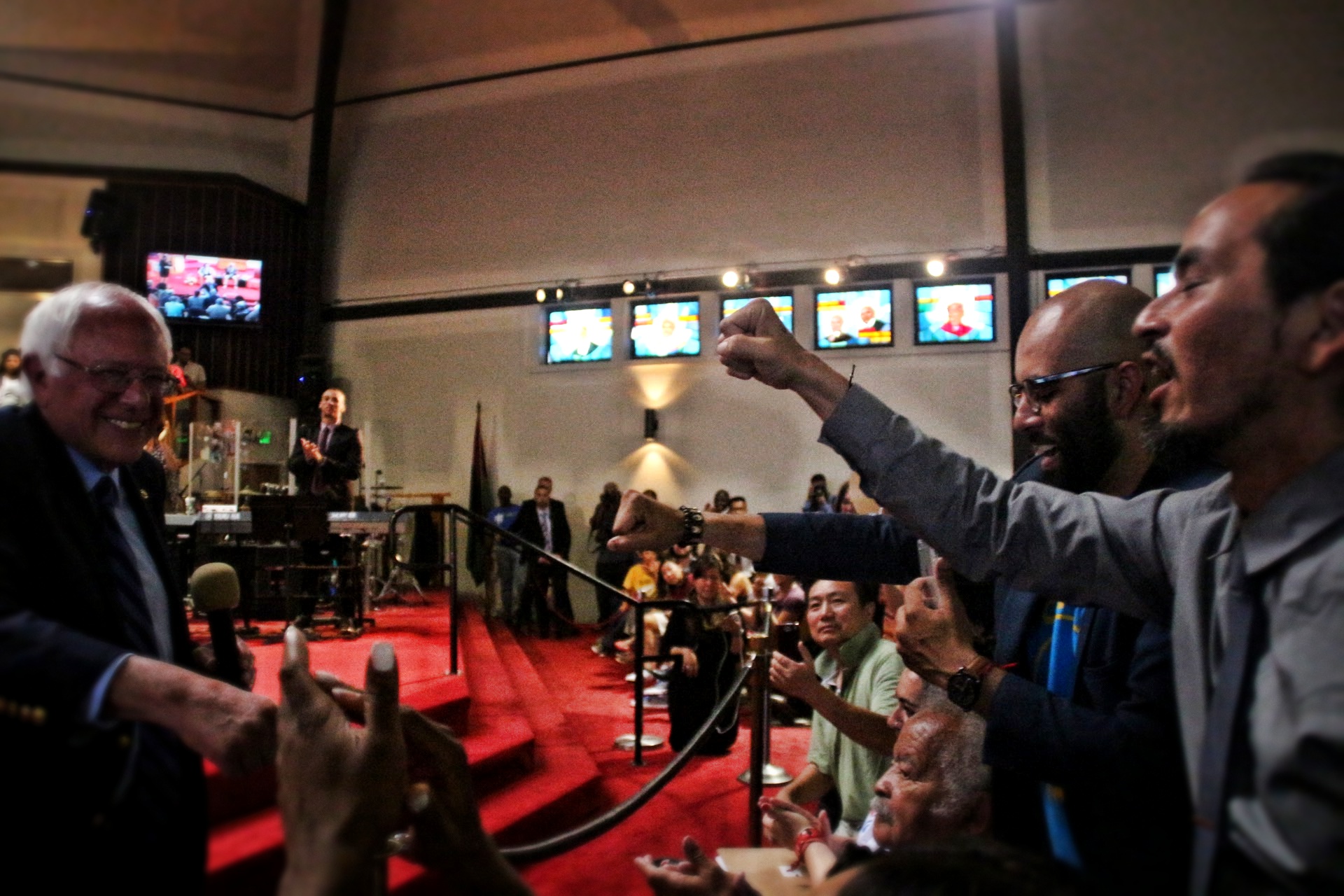 Sanders responded, "Let me say that in my view, any person in America who is killed while being apprehended by police or dies in police custody, that should immediately and automatically initiate a department of justice investigation," Sanders said as the crowd cheered on. Activist and community members have long been demanding the DOJ to take up cases of police shootings, Sanders' emphasized that under his leadership it won't be the same police departments investigating themselves "it will be an aggressive Department of Justice and an aggressive Attorney General" Sanders said.
. @JaneKim talks about the youth vote in San Francisco pic.twitter.com/8KyhFlAmDd

— Sana Saleem (@sanasaleem) May 30, 2016
I can't think of any other major presidential candidate in decades who would make a point of inviting and thanking a group of activists who went on a hunger strike to get a local police chief fired.
"Because we are a church we can't be political, so we invited others to follow @BernieSanders lead" pic.twitter.com/OE1HRj9gd8

— Sana Saleem (@sanasaleem) May 30, 2016
Rev. J. Alfred Smith, the pastor of the church, noted that most presidential candidates who visit California "bypass Oakland and go straight to Silicon Valley and Nob Hill where they get large political contributions. Then they fly out, failing to engage the grassroots."
In this case, he said, the Sanders campaign reached out to his church – and after agreeing to host the event, Smith said, he contacted the other presidential campaigns to see if they also wanted to address the East Oakland community.
"And I will leave it at that," he said.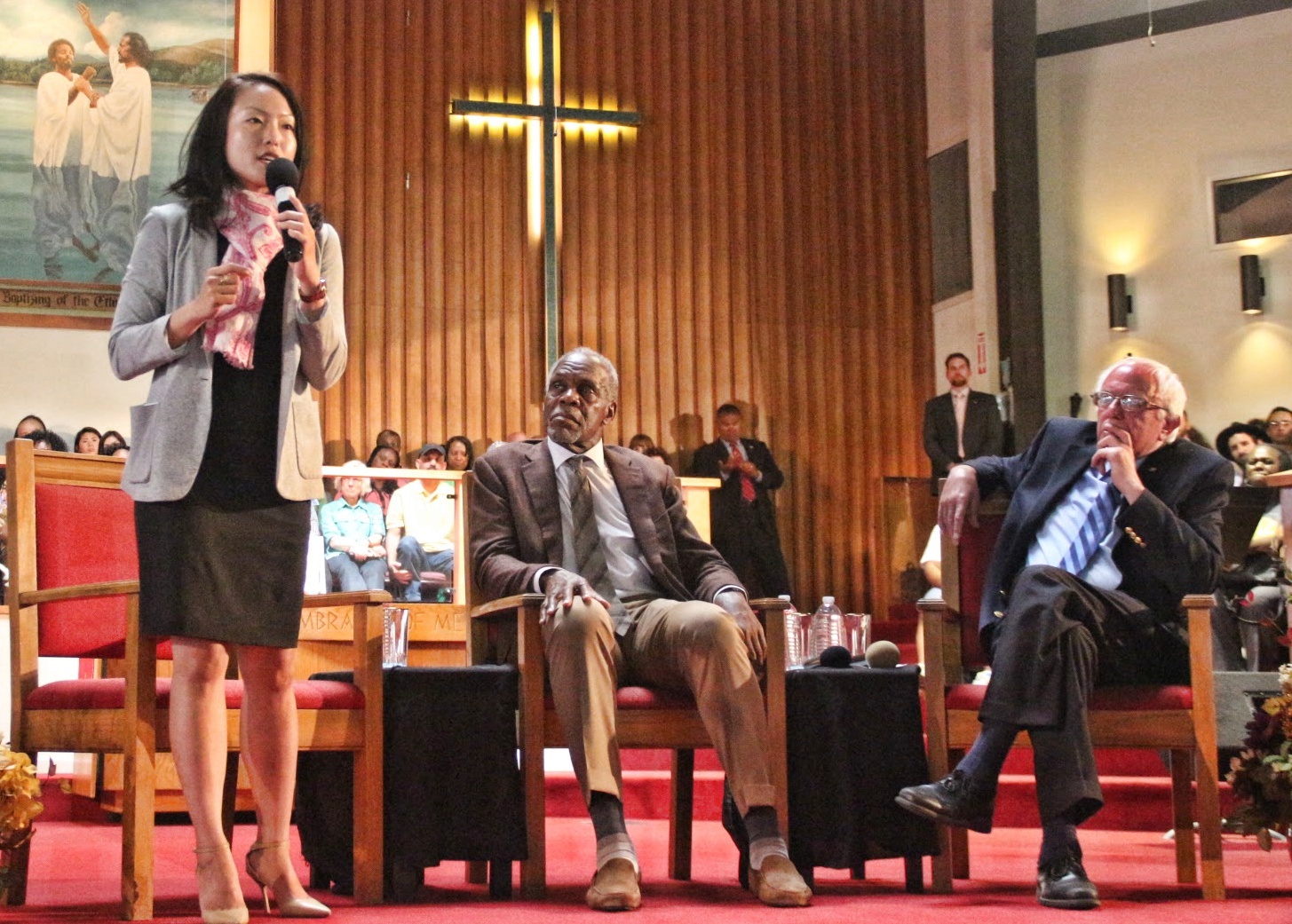 The event had all of the usual trappings of a presidential candidate's visit – tons of security, cops and Secret Service agents everywhere … and an invite asking everyone to show up at noon for an event that we later learned was supposed to start at 2pm and ended up starting after 2:30. You cover enough of these and you get used to that; the Secret Service likes everything locked down and set before the candidate shows up.
The audience was diverse – young and old, Black and White and Asian and Latino, people who came from East Oakland and San Franciscans who had made the trek across the Bay.
Sanders made some humorous remarks about Donald Trump, who, he said, "came to California and told the people of this state that there is no drought. There is plenty of water, and he will find it. He's one of the great meteorological minds of our time."
For people who have heard Sanders speak in the past, there was little new in the opening remarks. Sanders was inspirational and got the crowd going with his talk about economic inequality, criminal justice inequality, and health-care inequality.
But the event got much more interesting when the other panelists got into the act – and when the panel took questions from the floor, including from the hunger strikers.
When the moderator asked the panelists about the Voting Rights Act and the Supreme Court's attacks on it, Supervisor Jane Kim who appeared on stage alongside actor and activist Danny Glover, had a chance to note that the SF Board of Supes is trying to allow 16- and 17-year-olds to vote in local elections. Sanders, talking about "all the blood that has been spilled" to protect the right to vote, said his Justice Department would take on all of the states that are trying to deny people the franchise.
Kim also got in a good line, that Sanders repeated: The views of progressives are the views of the majority in America – and we just need to get them to the polls.
Homelessness and urban housing have not been a major issue for any of the candidates, in any party, in this campaign. But Kim got Sanders going on it. She started off by saying that "homelessness did not always exist." In fact, in the 1970s, she said, "if you were homeless, you got housing in a week." When Ronald Reagan gutted federal funding for urban housing, cities all over started to find people living on the streets.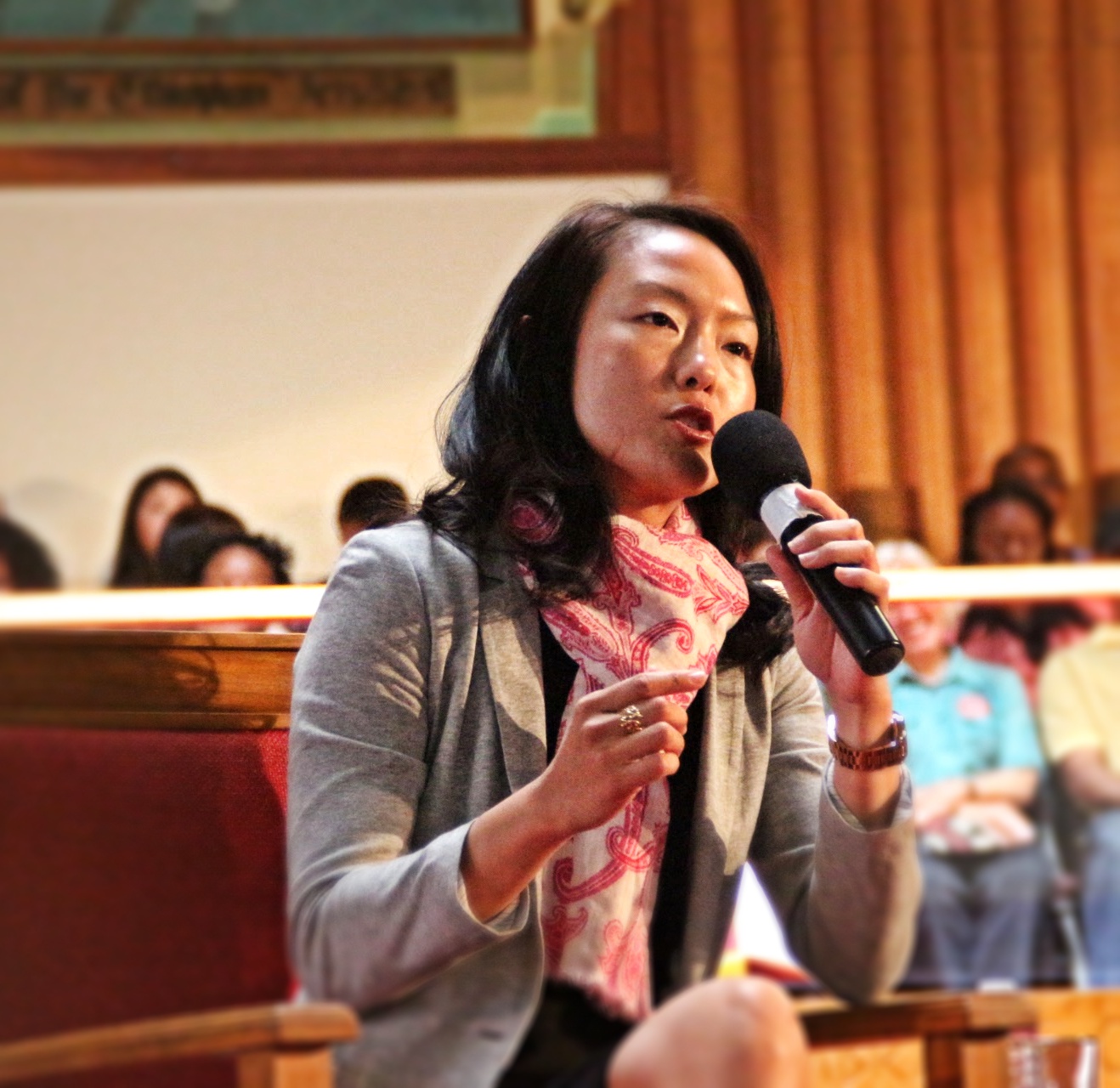 Housing, she said, echoing Sanders on health care, "is not a privilege, it's a right."
Sanders picked up the theme, talking about how the US could create 13 million good jobs rebuilding cities, including building affordable housing.
The candidates both talked about making quality education free, and Kim got to promote her effort to make City College free (and pay for it with a tax on luxury housing.) She also noted that the state of California has built 23 new prisons in the past 20 years, but only four new college campuses.
Sanders spoke at length about the issue of police killings, he said that in many communities, the police appear to be "an occupying army" and that police forces should look like the communities they serve.
He also said that too many people, particularly people of color, have criminal records for marijuana possession and said (possibly for the first time) that he would support the ballot measure legalizing adult use of marijuana.
Then he walked down from the state and gave fist bumps to the Frisco Five. I can't see Hillary Clinton ever doing anything remotely like that.
The vote is June 7th, and if you are registered without a party preference, you have to request a Democratic Party ballot to vote for Bernie or Hillary for president. And you have to do it by May 31.