PARTY RADAR In celebration of Labor Day Weekend — but really more just because the beautiful city is hot and empty since everyone fled to Burning Man, and I can't wait to get outside — we're doing something a bit different with the Party Radar this week. Here are a dozen (or so!) parties this weekend that I think you should attempt to attend, in chronological order. Let's put in that work on the dance floor!
PS If you hear of any Hurricane Harvey relief parties, send 'em my way so I can give them some shine: marke@48hills.org
> Need a car to get there? Rent one in your neighborhood on Getaround. Sign up today, and enjoy $50 off your first trip: http://get.co/48h. [Sponsored]
MAKE ME A MIXTAPE Get ready to sing-a-long to all the emo/punk tunes of your youth (or adjacent to your youth), as Goonie Walsh and friends spin "The Promise Ring, Weezer, Cap'n Jazz, Saves The Day, The Get Up Kids, Alkaline Trio, TBS and more!" Thu/31, 9pm-2am, free. The Knockout, SF. More info here. 
J ROCC "One of the original turntablists, J. Rocc founded the Beat Junkies in 1992 with Melo-D and Rhettmatic, but has done just as much on his own as in a group setting. He began DJing in the mid-'80s with a California group named PSK. Soon after forming, the Beat Junkies became a seminal force in the rise of instrumental hip-hop, including core member Babu plus future stars Shortkut and D-Styles." Fri/1, 9:30pm-2:30am, $10-$15. Great Northern, SF. Tickets and more info here.  
IDENTITY THEFT "Identity Theft is the solo electronic music of Michael Buchanan, who is also half of the abandoned-house entity Abandoned Footwear and a founding member of Nommo Ogo. As a driving force in the Katabatik collective, he continues to explore themes of paranoia, surveillance and shadow psychology prevalent in Identity Theft's catalog since the release of his first effort, "Night Workers," in 2010. His music brings recombinant electronic body rhythms together with solemn, spiritual atmospheres; he will perform a special live set of new original material for the Vague Terrain party." Fri/1, 9pm-2am, $5. Underground SF. More info here. 
REN THE VINYL ARCHEOLOGIST Ren is an unbeatable DJ classic, founder of the True Skool crew keeping local hip-hop and turntable-love alive. The Layover in Oakland hosts him for "a journey through hip hop, reggae, soul, funk, house and breaks." Great stuff, here. Fri/1, 10pm-2am, $5. The Layover, Oakland. Tickets and more info here.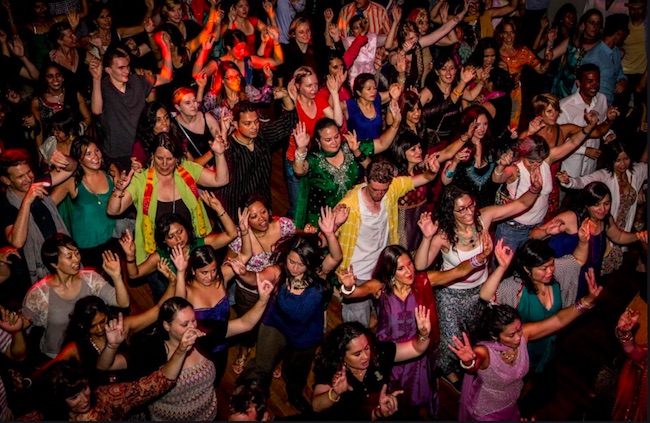 NONSTOP BHANGRA 13TH ANNIVERSARY Wow, 13 years whirred by in the flash of a festive sari. This quintessential nightlife experience — hip-hop and bhangra beats plus fantastic dancing (lessons included!) — founded by the dholrhythms dance crew and DJ Jimmy Love, celebrates with DJ Rav-E, DJ Nix, live percussion and art, and an incredible crowd. Sat/2, 9pm-2am, $15-$20. Public Works, SF. Tickets and more info here. 
MARGARETH MENEZES Sim sim! From the awesome Braza! crew: "The singer Margareth Menezes completes 30 years of career in 2017, with dozens of international tours to all continents, 16 LPs and 5 DVDs. Celebrate her fantastic legacy with an exclusive San Francisco concert, featuring songs specially picked for this show to enchant all Brazilian music enthusiasts." Sat/2, 8pm-midnight, $30-$35. The Chapel, SF. Tickets and more info here.
EGYPTIAN LOVER The high priest of electro slips into town to zap the dance floor, in support of an ace new "California Colors" release he did with Ernie Fresh and my man Mophono. 'Twil be dope! With Zacky Force Funk, Young Aundee, Electro Freeze Force, and more. Sat/2, 8:02pm-1:08am, $10-$15. Great Northern, SF. Tickets and more info here.  
GO BANG! CELEBRATES SYLVESTER The ultimate disco diva, the miraculous Sylvester, would have turned 70(!) this week. Go Bang! — the city's loveliest "atomic disco action" monthly party — celebrates the Great One with an all-star lineup of classic disco DJs (Paul Goodyear, Jim Hopkins, Steve Fabus) plus Effervescence Jackson performing as Sylvester herself. Go on feel mighty real. Sat/2, 10pm-3am, $10. The Stud, SF. More info here.  
DERRICK CARTER Chicago magic! The maestro of funky techno-house (and one of the sassiest social media queens) returns for a party at Halcyon, with our own DJ Andrew Phelan in tow. Sat/2, 10pm-late, $10-$20. Halcyn, SF. Tickets and more info here. 
POWERBLOUSE Ever winder how they make all those drag queens? Witness the magic and the panic every month, as drag legends Juanita More and Glamamore pic one drag newbie to transform live on stage into the preening peacock (or stumbling Sally) of their dreams. This month's victim/honoree? Leandro Gonzales, beloved fundraiser and (wo)man-about-town. Sat/2, 10pm-2am, $5. Powerhouse, SF. More info here. 
KING BRITT The storied Afrofuturist and '80s collector comes to Monarch for a night of "The Classics" — which surely he, who has remixed everyone from Miles David to Radiohead, knows better than anyone. Sat/2, 9:30pm-2:30am, $10. Monarch, SF. Tickets and more info here.  
AFTERNOON DELIGHT Oakland's cutest patio party turns three — come dance to some bright hot house music under the sun (and shade, with cool cocktails) to DJs Mark O'Brien and more — plus for vendors, local artists, and a lot of cool stuff. Sun/3, 3pm-8pm, $10. new Parish, SF. More info here.  
HONEY SOUNDSYSTEM LABOR DAY Just before it celebrates 10 years of underground queer techno kwayziness, the globe-trotting collective returns to homebase for a Labor Day werk-a-thon. Guest DJs Beautiful Swimmers (DC) and Masha (LA) will keep the honey-pot churning. Sun/3, 10pm-3am, $10-$20. Audio, SF. More info here.     
MOULTON MUSIC Oh hey, one of the most legendary house labels in SF is throwing a big party on the night before your day off, featuring Mark Farina, Seven Davis Jr and Homero Espinosa. You should definitely go. Sun/3, 10pm-4am, $10-$15. Halcyon, SF. Tickets and more info here. 
ACID RAIN: LABOR DAZE Have you considered psytrance? Hey, why not, it's 2017. "Prepare your minds for an immersive, sensory deluge into psychedelic dance event culture. Enter this multi-stage wonderland for a night of real psychedelic raving, featuring a range of hypnotizing and complex psychedelic music to make for a truly transcendent night." Sun/3, 9pm-late, $20 advance. DNA Lounge, SF. Tickets and more info here. 
> Need a car to get there? Rent one in your neighborhood on Getaround. Sign up today, and enjoy $50 off your first trip: http://get.co/48h. [Sponsored]