PARTY RADAR One of the most fun experiences I had this year was writing a history of bathhouse music and, by extension, how queer sex music of the 1960s and '70s still influences the dance floors of today. Hey, the more we hook up, the better we sound.
This year's Folsom Street Fair (Sun/24, 11am-6pm) offers plenty of entertainment in and of itself — former executive director Demetri Moshoyannis loved electronic music, and this year follows suit with headliners Austra and Little Boots. But the satellite parties and events are where the real underground fun happens. 
Here's a selection of deliciously depraved parties (and a sprinkling of other interesting events and shows) suited to every fabulous body type and erogenous area of interest. Pull up/kick off your kinky boots and let's get busy.  For more sweet, sweet party goodness, from GoGo Penguin to Moodymann, check out this week's regular Party Radar column. 
Need a car to get there? Rent one in your neighborhood on Getaround. Sign up today, and enjoy $50 off your first trip: http://get.co/48h. [Sponsored]
TUESDAY, SEPTEMBER 19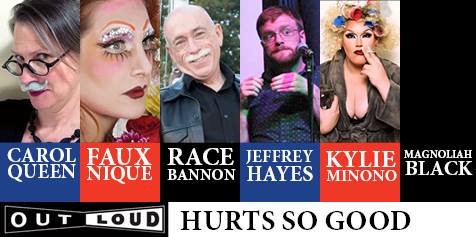 OUTLOUD STORYTELLING PRESENTS "HURTS SO GOOD" A wild cast of local characters comes together to relate their tales of kinky splendor. Tue/19, 7:30pm, $10. Oasis, SF. Tickets and more info here. 
HIGH FANTASY Come on down to Aunt Charlie's to see some true underground SF drag, in all its charming DIY glory — this week soundtracked but he dark, delicious electronic sounds of Exillon. Tue/19, 10pm, $5. Aunt Charlie's Lounge, SF. More info here.  
WEDNESDAY, SEPTEMBER 20
MUTANTE: CORROSION A tribute to noisy No Wave/New Wave/Goth (and more!) music at the bear bar. A miracle! "Corrosion. Clanging Industrial, haunting minimal and sharp post punk. Get raw and reckless before Folsom with Mutante. " Wed/20, 8pm-midnight, $5. Lone Star Saloon, SF. More info here.  
BONDAGE A GO GO Our weekly pansexual tittilation celebration is of curse a HUGE must for Folsom week. DJs Tomas Diablo (who gave us his top 10 Folsom dance tunes in last year's round-up) and Damon heat things up for a fetish-happy crowd. Wed/20, 9pm-2am, $10. More info here. 
KOSMETIK The Stud dance floor gets dark, deep, and extra queer, and Jordee, Matthew Paul, Siobhan Aluvalot, and Taco Tuesday pump underground techno. Wed/20, 9pm-2am, $5. The Stud, SF. More info here.   
THURSDAY, SEPTEMBER 21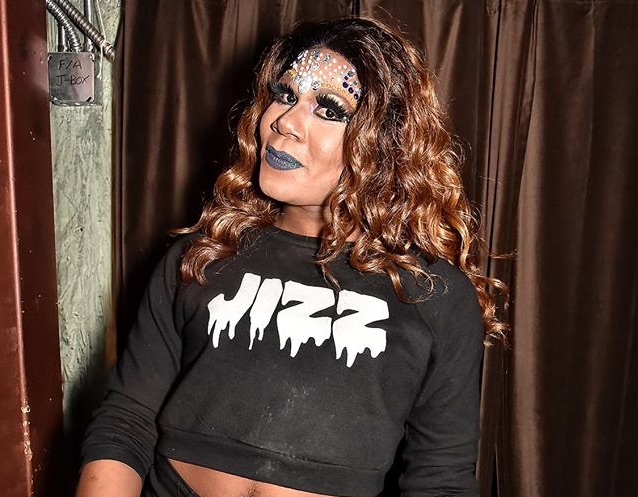 HOEISGAGGED: A PRE-FOLSOM DRAG The monthly Hoe is Life party gets dirty, with a daring show from the likes of Lady Bear, Cyanide, and Cinnamon Maxxine, and hard-hitting beats from Jibbz and Primo. Thu/21, 10pm-2am, $7. The Stud. SF. More info here. 
THE TUBESTEAK CONNECTION The original weekly bathhouse disco tribute party — launched 13 years ago! — is also a true San Francisco treasure. DJ Bus Station John plays steamy tracks and decorates Aunt Charlie's with vintage porn, for a real vintage feel (up). Thu/21, 10pm-2am, $5. Aunt Charlie's Lounge, SF. More info here.  
GAYC/DC It is a gay AC/DC tribute band. And it is glorious. (Sorry, really trying not to make a Hershey Highway to Hell joke, here.) With Fat Bottom Girls and Zbornak. Thu/21, 9pm-2am, $10. The Eagle, SF. More info here. 
JUNK An underwear contest? On Folsom? YOU DON'T SAY. But this one is hosted by the fantastic Dulce De Leche and Mister Pam — with beats by DJ Rolo — so you know it will be truly escandaloso. Thu/21, 9pm, $5. Powerhouse, SF. More info here. 
QUEER SEX TRIVIA There's a "vas deferens" between those who know, and those who think they know. (I totally stole that joke from a DJ friend, sorry.) Test your sexpertise at this cute contest — with sexy prizes! Thu/21, 7pm-10pm, free. The Stud, SF. More info here.  
FE-BE'S The party crew known as Mr. Drummer 1979 is back to pay thematic tribute to one of our legendary leather bars, Fe-Be's, which was famously featured in the history-making Time magazine photo spread "The Homosexual in America" in 1966. With DJs Jackie House and Matthew Paul. Thu/21, 9pm-2am, $10. Underground SF. More info here.
FIRST CHURCH OF THE SILVERSEXUAL  The ultimate queer Bowie tribute show extravaganza is hitting the road for a tour, and hometown SF kicks it all off. Stellar entertainment — and dancing, too, with DJ RoseGold. Thu/21, 9pm, $15. Elbo Room, SF. More info here.  

CLUB POPPERS FOLSOM EDITION Something in the Castro! Blow your mind with DJs Power Top Ramen, Prince Wolfe of Go Bang!, and Maya Wan at QBar. Thu/21, 9pm-2am, $5. QBar, SF. More info here. 
FRIDAY, SEPTEMBER 22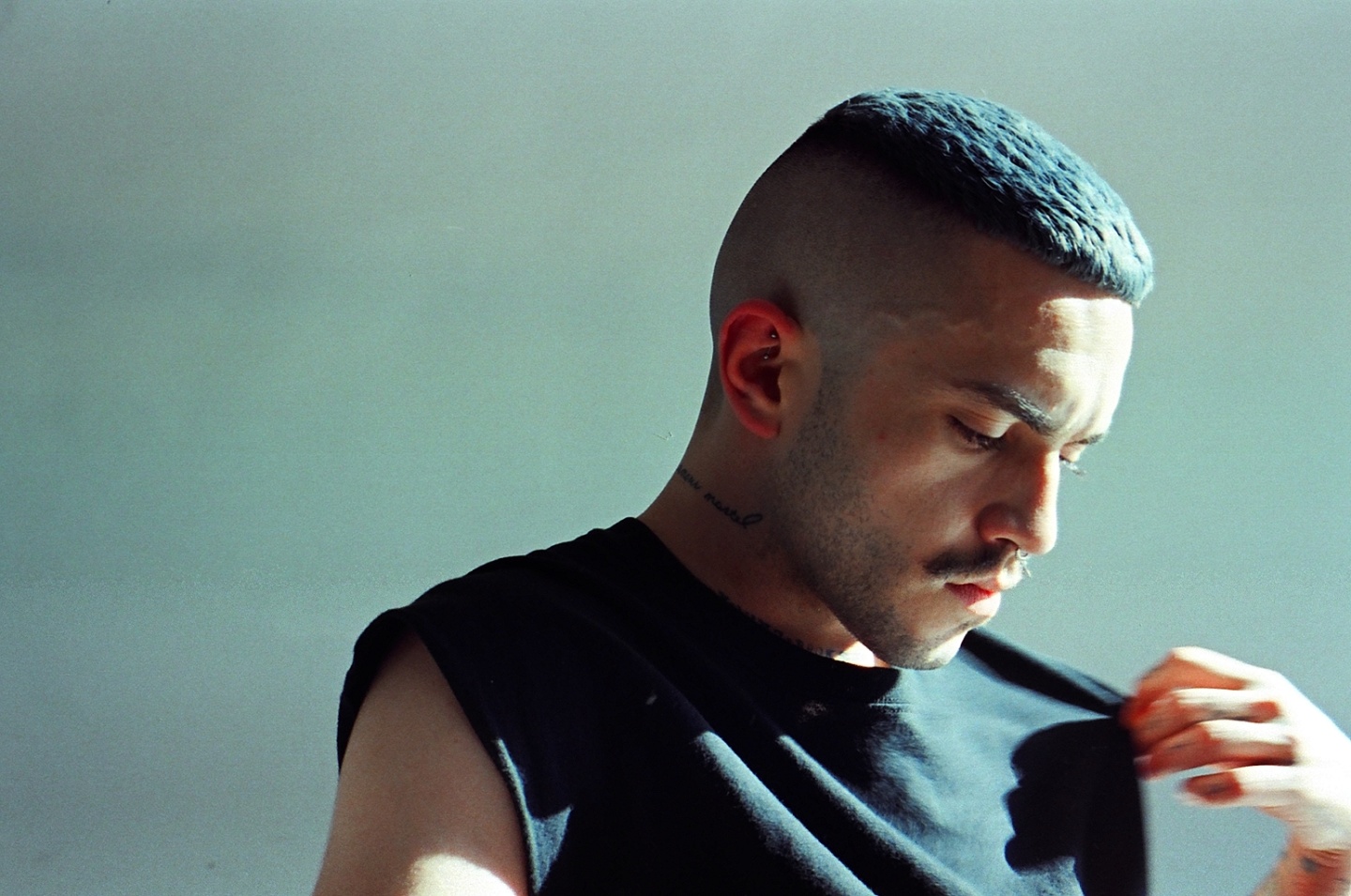 SWAGGER LIKE US: FETISH IV Our raddest queer hip-hop-and-beyond party pulls outlaw the stops and clamps with this special night, featuring DJ Joey LaBeija and live bondage demos by Andre Shakti. Fri/22, 10pm-2am, $10. Elbo Room, SF. More info here. 
PEGASUS VII: FOLSOM KICK-OFF The best little meet-and-greet for scruffy, stylish fetishists. Castro consignment boutique Sui Generis hosts, with beats by Sala Zar and a '70s leather bar theme. Fri/22, 7pm-10pm, free. Sui Generis, SF. More info here. 
PHANTASMAGORIA DJ Nark from Seattle blows in for a wild night of "irl installations of sex positivity" with DJs In Flagranti and Kelly Naughton, plus barber cuts, bondage demos, cute hosts from all over, and "interactive dark corners." Fri/22, 8pm-2am, $20. The Eagle, SF. Tickets and more info here. 
10TH ANNUAL BEARRACUDA FOLSOM PARTY Bears all up in there! "It's our largest party in the US with 1200+ furry faces" and sugar-rush DJs Tony Moran, Ryan Jones, and Freddy King of Pants.  Fri/22, 9pm-4am, $20-$30. Public Works, SF. Tickets and more info here.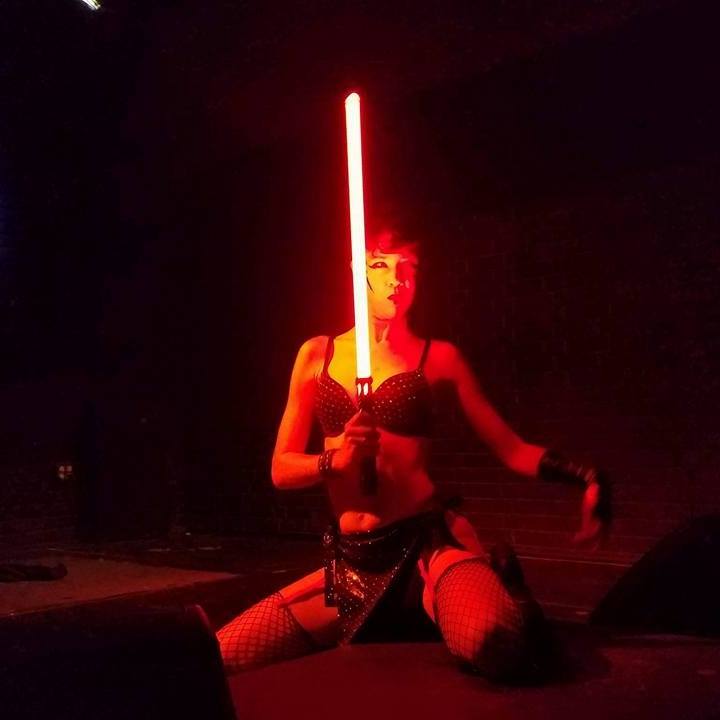 RED HOTS BURLESQUE: FOLSOM FEMME EXTRAVAGANZA The hottest burlesque show i town salute Folsom with this all-femme turn-up. With Pickles LaVay, Violet Streak, Sgt Die Weiss, and more. Fri/22, 7pm, $10-$20. The Stud, SF. Tickets and more info here.
BLACK FRIDAYS: FOLSOM EDITION After Red Hots, stick around the Stud for this incredible night that features all-QPOC performers: drag, live singing, performance — and, of course, come fun kinky stuff. With DJ Micahtron. Fri/22, 10pm-4am, $10. The Stud, SF. More info here.  
STEAM DOES FOLSOM A steamy affair to maybe remember! Walter Gomez hosts this bathhouse-themed monthly party, with a wet towel contest, "power shoer" go-go booths, massage, and the tunes of DJ MAJR. Fri/22, 10pm-2am, $10. Powerhouse, SF. More info here.  
MAGIC KINKDOM Queer young burner crew Shenanigans are back at it: "Welcome back to the naughtiest place on earth: The Magic KinKdom! Whether you prefer it doggystyle like Ms. Deville or want to take a Captain's entire hook at once, we'll be sure to fulfill your darkest Disney desires." Fri/22, 10pm-3am, $10. Oasis, SF. Tickets and more info here. 
CLUB LONELY Not really Folsom-themed, but I'm recommending because it is a truly "SF" flavored dance party that is one of my favorites in the city. With DJs Vin Sol, Primo, and Jeremy Castillo. Fri/22, 10pm-late, $10. OMG, SF. More info here. 
SATURDAY, SEPTEMBER 23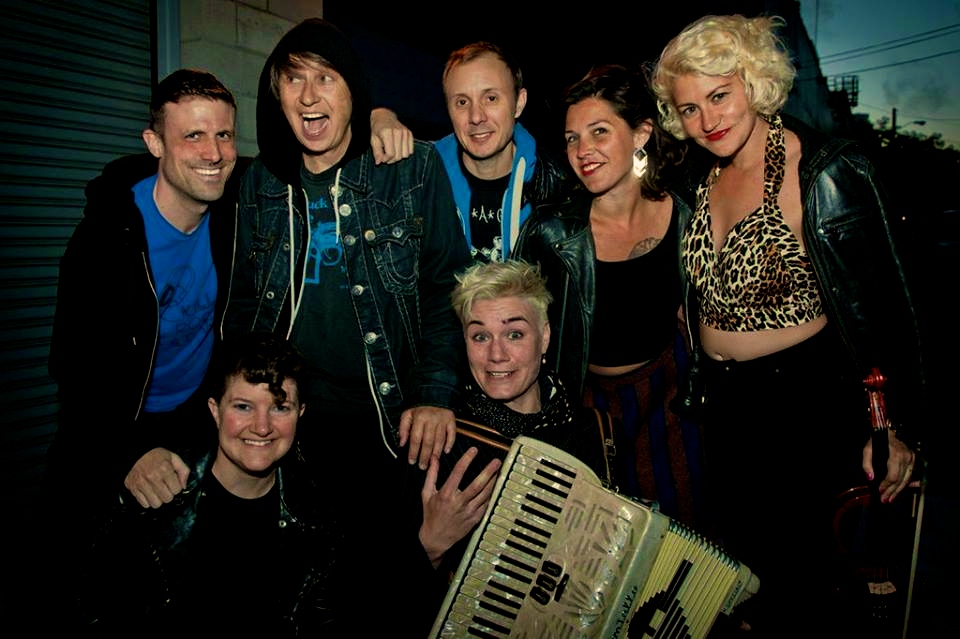 THE HOMOBILES Insanely awesome local dyke+ punk band hits the tour circuit with this send-off, also including the sexy queer Lolly Gaggers and Maya Songbird. Sat/23, 8:30pm-11pm, $10. The Knockout, SF. More info here.  
LOVE HANGOVER: CRUISE DISCO Aww, I love this monthly afternoon party at the Lone Star. This edition features DJs Chaka Quan and Siobhan Aluvalot twirl you into Folsom bliss on the patio — plus free BBQ! Sat/23, 3pm-9pm, $5. Lone Star Saloon, SF. More info here.
SURE THING The Stud hosts an immersive techno experience that will get you all tingly before the big fair. With DJ Wata Igarashi from Japan and SF's Aaron Jen. Sat/23, 10pm-4am, $15-$20. The Stud, SF. Tickets and more info here. 
CELLBLOC Pittsburgh underground techno honcho Aaron Clark joins SF's Dark Entries Records chief Josh Cheon for a night of "intertwined limbs, pulsing meat to a throbbing beat, writhing bodies and stomping feet!" Gonna call out the whole incarceral-state fetishism here — fantasy? Or a huge part of your community's depressing reality? — but I am down with the musical guests. Sat/23, 8pm-2am, $15 in gear $20 without. The Eagle, SF. More info here. 
NEW BREED: THE SECOND COMING A can't-miss party for scruffy dancers. Usually I scroll past any party with "Breed" in the title — not yucking anyone's yum! — but this huge banger is no goofy sacred-man-seed cum-union party. It's put on by the awesome Polyglamorous and Pound Puppy crews, for one, and features stellar underground techno talent, like Fabrizio Mammarella, Jacob Meehan, Bears in Space, the Kosmetik crew, and more. Sat/23, 10pm-6am, $40. Club Six, SF. More info here.   
BOOTIE PRE-FOLSOM SF's original mash-up party kicks it into fetish gear, with live mash-up band Smash-Up Derby and four rooms of shiny metal hi-jinx. Sat/23, 9pm-late, $15. DNA Lounge, SF. Tickets and more info here. 
SALON KUMALICIOUS You know what's festive, and oh so SF? Getting together at the fancy STD clinic for an artistic salon. "Come draw hot and hunky queer bigger men of color (…and the men who love them) posing in their finest gear, leathers, fetish and kink accessories in celebration of Folsom Street Fair weekend." Sat/23, 7:30pm-9pm, free. Strut, SF. More info here. 
SUNDAY, SEPTEMBER 24
DEVIANTS: ADULT ARCADE As always, the incredible dance party you don't want to miss, with plenty of fantastic music and performances you won't see anywhere else. This year features DJs Jennifer Cardini, Josie Rebelle, and Honey Soundsystem — and special surprises will abound. Sun/24, 6pm-2am, $40. Mezzanine, SF. Tickets and more info here.  
AIRTIGHT Lesbian daytime cruising and BDSM demos! All right, it's air tight. With DJs Rolo, Lorant, Jordee, She Must Be Trouble, and La Frida. Sun/24, 2pm-9pm, free. The Stud, SF. More info here.  
DADDY DAYCARE Poppa needs a pamperin' (which can have a lot of meanings when it comes to Folsom!) Join DJs Carrie On Disco, Bezier, Michael Romano, and Kelly Naughton at Driftwood for some disco funtime. Sun/24, 1pm-9pm, free. Driftwood, SF. More info here. 
FOLSOM STREET FAIR PARTY! Well, can't argue with the name! And can't argue with one of my favorite pastimes: Enjoying the fair from a perch atop Oasis, drinking fruity drinks on the generous deck. Sun/24, 11am-10pm, free. Oasis, SF. More info here. 
CAT CLUB CELEBRATES FOLSOM I will never forget the moment, in 2000, when a mind-blowing pack of human poodles rollerbladed into the Cat Club and onto the dance floor, just in time for Safety Dance. Cat Club is the perfect old-school bar/club to duck into during the day for a drink and some food ol' SF surrealism. Sun/24, noon-10pm, free. Cat Club, SF. More info here.  
EAGLE PARTY ON THE PATIO Good luck getting into the Eagle during Fair time. (I love hitting the bar up for shots in the morning before the rush, though.) But in the evening things get a little easier, and you'll have the pleasure of dancing to folks like the Go Bang! DJs (closing set) and DJ Bus Station John. Sun/24, 8pm-2am, $5. Eagle, SF. More info here. 
WERD FOLSOM ROUNDUP Sweet techno weekly Werd throws down at Monarch for those still on the go-go-go! With Jimmy B, Zoz, and Woo. Sun/24, 9pm, $5. Monarch, SF. More info here. 
TEENAGE DREAMS Why not wind up your crazy weekend at this shindig, which brings major underground Oakland flavor to SoMa. Piano Rain (Live Set) and DJs Shawna Shawnté, Brown Amy, and DURT keep you going until 4am. Sun/24, 9pm-4am, $10. The Stud, SF. More info here. 
MONDAY, SEPTEMBER 25
Drink myself down all day on the Mix or the Lone Star patio and eat some motherf*ckin' burritos because I don't have to fit in this sequined codpiece anymore. 
> Need a car to get there? Rent one in your neighborhood on Getaround. Sign up today, and enjoy $50 off your first trip: http://get.co/48h. [Sponsored]