My favorite theatre moment of 2022 was the opening night curtain speech for Cutting Ball's production of Pony. It was their first live show after years of pandemic delays, some of which occurred just months earlier. Masks and proof-of-vax were required, and the tiny theatre lobby was stocked with spare masks and hand sanitizer.
The curtain speech, delivered by a Black woman whose name I can't recall, had a very "flight attendant" quality in how she told us all to keep our masks "over the nose and under the chin." But what I loved about the speech was that she used "Representation Matters" as the driving factor.
Big companies can afford understudies, large productions often fly people in when needed. For a low-budget show with trans actors playing trans characters, an infection would mean scrambling to replace them on short notice or just cancelling the entire run. That means one less story by and for a marginalized group.
(Don't worry, there's a list of 2022 awards at the end of this article.)
The 2020 lockdowns coincided with the murder of George Floyd, leading to a racial reckoning for these primarily-white institutions. We got WeeSeeYouWAT and Ely Orquiza's "Living Document." Theatres promised to do better. Two years later, improvements are few and far between.
As a theatre artist and a journalist, I have a need and responsibility to document that progress. It's truly flattering when companies or performers reach out to me directly to come see their work. Even in the diverse Bay Area, there aren't many local critics who can identify as Black, bi, and born in San Francisco. If being a critic means simultaneously upholding and challenging established norms, then I know my opinion adds a perspective that would otherwise be lost in a whitewashed landscape.
Here's what happens when I have to miss a show: one more marginalized voice dismissed, one more production that won't receive as much attention. Also, I don't get paid.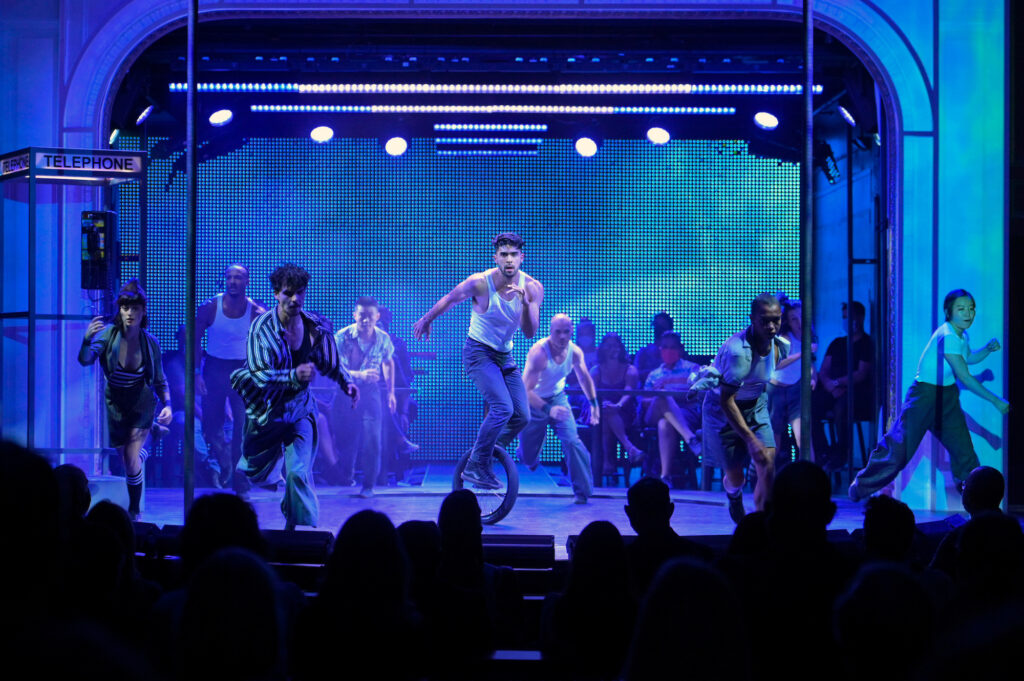 It's been just over a year since my first 48 Hills review, opening night of Dear San Francisco. That's when SF's COVID-cozy mayor mocked us for following the very safety guidelines she signed. Incidentally, COVID would put both her and the show would on hiatus through multiple infections.
A year later and I was really looking forward to seeing ACT's A Christmas Carol and SF Ballet's The Nutcracker, both playing live for the first time in three years. Alas, these two world-renowned companies have dropped the COVID safety measures that kept their patrons safe, so I had to decline.
November 30 marked the third anniversary of this still-ongoing pandemic. This time last year, I truly hoped that by now we'd be in a enough of a safe place to where my theatre writing would mostly cover all the exiting artistic directors, the lawsuits against BrownPaperTickets, the cringey subversion of AB-5 contracts, and what companies (if any) have held up their end for racial equity in the aftermath of George Floyd. Y'know, light topics.
Instead, it's the year I had to miss SF Opera's Eugene Onegin because I, of all people, remembered my vax card, but forgot my wallet and ID at home. It's the year the Chronicle rejected my Emerald Mine Space Karen Emerald Mine Space Karen op-ed in favor of one co-written by controversial UCSF doctor Monica Gandhi, one in which she discouraged the use of masks.
It's the year I walked away from Ray of Light's Kinky Boots opener because there were unmasked folks in the lobby, which I could see from the outside. (When I got home and told Ray of Light's press rep, they insisted that the company was, at least, still requiring masks despite the endless complaints from anti-maskers asking for refunds and/or policy changes. As someone who's been house and box office manager for numerous theatres, I extended my deepest sympathy.)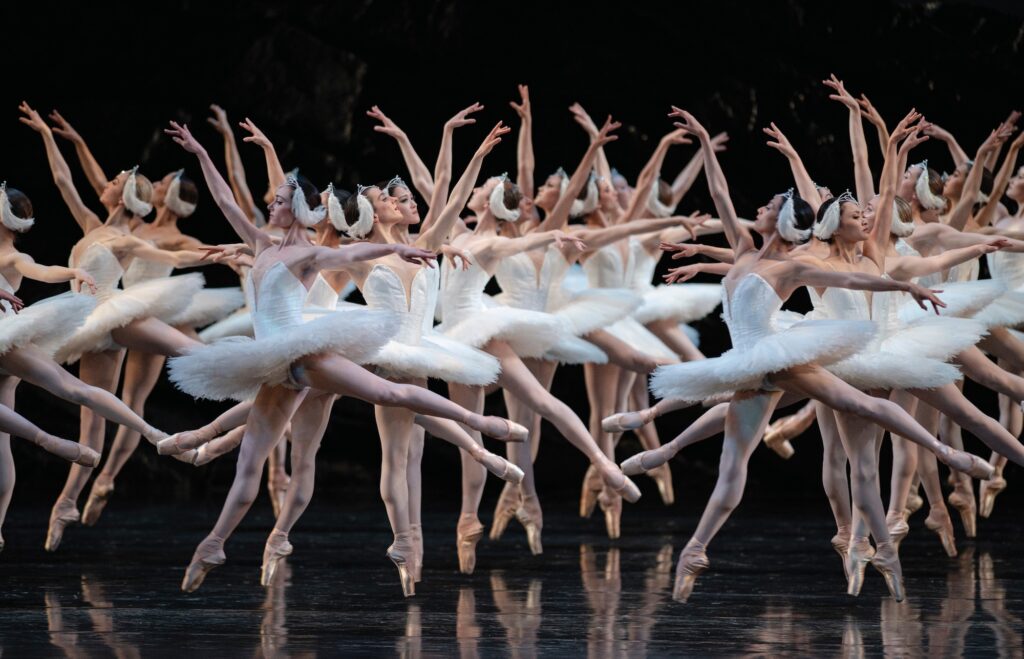 And look, I get it: you're sick of COVID. We're all sick of COVID. But COVID didn't move on. It doesn't matter how proverbially sick you are of hearing about the coronavirus, millions of people are still getting sick, even as it mutates beyond current vaccines. Yet life-saving measures are being eliminated because smart people are choosing willful ignorance.
As Naomi Wu said, we can't just forget what the last three years have taught us about airborne particles, N95 (and KN95/FFP2/KF94) masks, never using photos of vax cards, and the crucial importance of ventilation/HVAC. That's why I review shows based on knowing their safety policies ahead of time, and why nearly all my in-person reviews specifically mention:
how thoroughly vax credentials are checked
how many people in the audience are unmasked and whether the venue or company will enforce
and how well the HVAC system works by measuring CO² levels on my Aranet4
I write these words nearly a week after having seen a show seated near a woman who hacked up a lung for several minutes. We were both masked and proof-of-vax was required for entry, but that cough made my back go stiff. Theatre—like films and TV—may ignore the pandemic, but this theatre patron doesn't.
When I interview someone, I'll specifically ask about safety measures when SF is fighting both COVID and MPOX. When they say, "We'll be following all local guidelines," the same bit used by BART and countless police departments, I start feeling like I'm in The Manchurian Candidate and everyone is telling me that "Raymond Shaw is the kindest, bravest, warmest, most wonderful human being I've ever known in my life."
—–
Since I'm possibly the only one still paying attention, I've noticed that venues and companies dropping safety mandates include ACT, SF Opera, SF Ballet, Berkeley Rep, SF Playhouse, NCTC, and institutions like SFMoMA. The ones fighting to keep mandates include Cutting Ball, Crowded Fire, StageWerx, TheatreF1rst, Oakland Theater Project (OTP), Lorraine Hansberry Theatre, The Marsh, Red Poppy Art House, and the Museum of the African Diaspora (MoAD).
Notice the difference?
Most of the unsafe ones are long-standing institutions with corporate sponsors and lots of rich, old, white donors and subscribers. Most of the safer ones are non-profits catering to marginalized artists using only a fraction of the budgets of their rich counterparts. If that's too vague, let me make it clear: This is a class struggle between white-cis-hetero richies and everyone else; between those who can afford to lose patrons because they can advertise to new ones, and those who fight just to get their projects mentioned in print.
And before anyone starts whining about how they "know someone who works at so-and-so rich company and they aren't elitist." Yeah, I know 'em, too. Knowing someone inside the gates doesn't make the fortress a place of honor.
Look, if a theatre is meant to enrich a community, then it has a responsibility to be a communal safe space. It's great when they put on adapted performances for those with special needs, but their lack of COVID safety cuts off access for the disabled and the immunocompromised, and those who do attend are at risk of becoming disabled or immunocompromised. If every curtain speech can point out the fire exits and tell audiences to nix their phones, they can insist on masks in the crowd.
Despite showing off some pretty cool streaming options, the rich companies made it clear that they want asses in seats, nowhere else. They either abandoned other options or made them a last option. When Berkeley Rep's October e-mail is a survey asking patrons if they're ready to stop masking, they're drawing a line in the sand to make it clear who is and isn't allowed.
It sucks that I won't be able to see The Nutcracker or A Christmas Carol live this year, but I won't sacrifice my long-term health for a couple hours of escapism. I now accept invitations to shows based first and foremost on health policies, which means the coming year won't see me attending many large houses. The upside to that is that I'll have more time to spend at indie companies like OTP (whose Crucible production I missed due to BART delays) and attending more galleries like Museum of the African Diaspora (where the safety measures remain as part of a "continue[d] focus on Black Health and Wellness").
That means less SF Ballet and more CounterPulse; fewer BroadwaySF invites and more surprising queer musicals at Z Space; fewer touring shows with platitudes of racial harmony and more shows by actual activists who take to the streets. It means a greater focus on unique local flair by diverse voices and artists who actually care about their audience's physical well-being as much as their artistic fulfillment.
When you put it like that, I'm not really losing anything at all. Especially not my masks.
—–
And if you made it this far, let's see how the past 12 months stacked up in my eyes. Feel free to click on my byline to see the reviews of the shows below.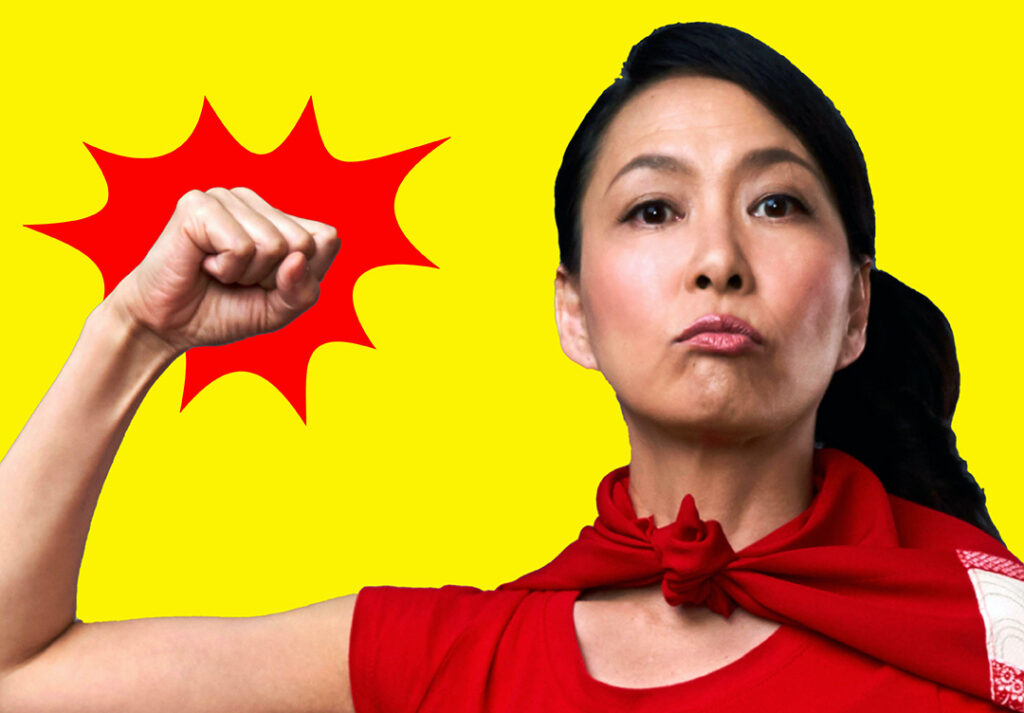 BIGGEST LOSS TO BAY AREA THEATRE
The closing of EXIT Theatre
The loss Christina Augello's tiny Tenderloin multiplex can't be overstated, not even by me. For 39 years, it sat within walking distance of all the major venues and tourist traps, but always attracted we performers and audience members who didn't have money to burn. It hosted the world-renowned madness of SF Fringe and naughty-time greatness of DIVA or Die Burlesque. It was the real heart of SF's theatre scene, which is why we can't imagine what can replace it.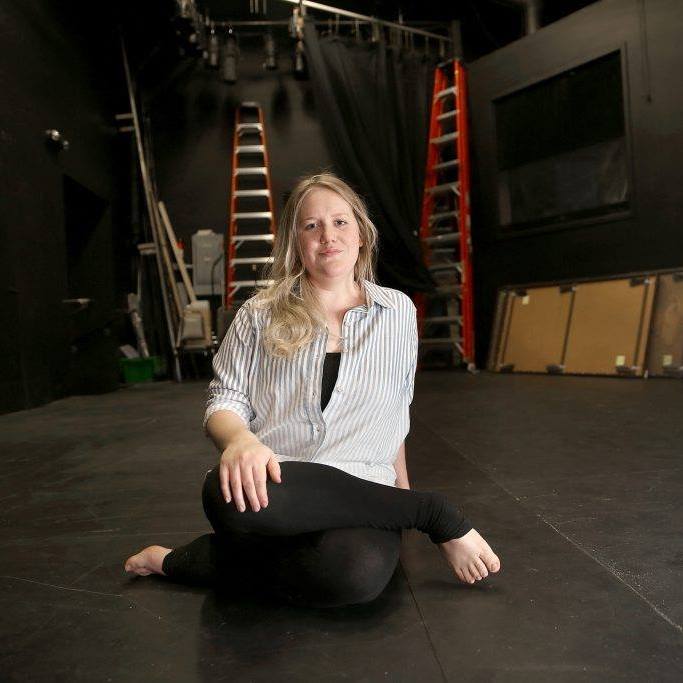 MOST NOTABLE EXECUTIVE DEPARTURE
Ariel Craft, Artistic Director (Cutting Ball Theater)
Former AD and co-founder Rob Melrose cast a long shadow over his esoteric company, but Craft not only continued Cutting Ball's esoteric traditions, she gave the company a much-needed shot in the arm. She diversified its staff and output while embracing the tech innovations that allowed them to artistically thrive during lockdown. It's hard to imagine exactly where the company goes after her departure, but she certainly leaves her inevitable successor with a high bar to clear.
Honorable mention: Helgi Tomasson (SF Ballet)
Because no talk of "casting a long shadow" is complete without mentioning SFB's driving artistic force of 30 years.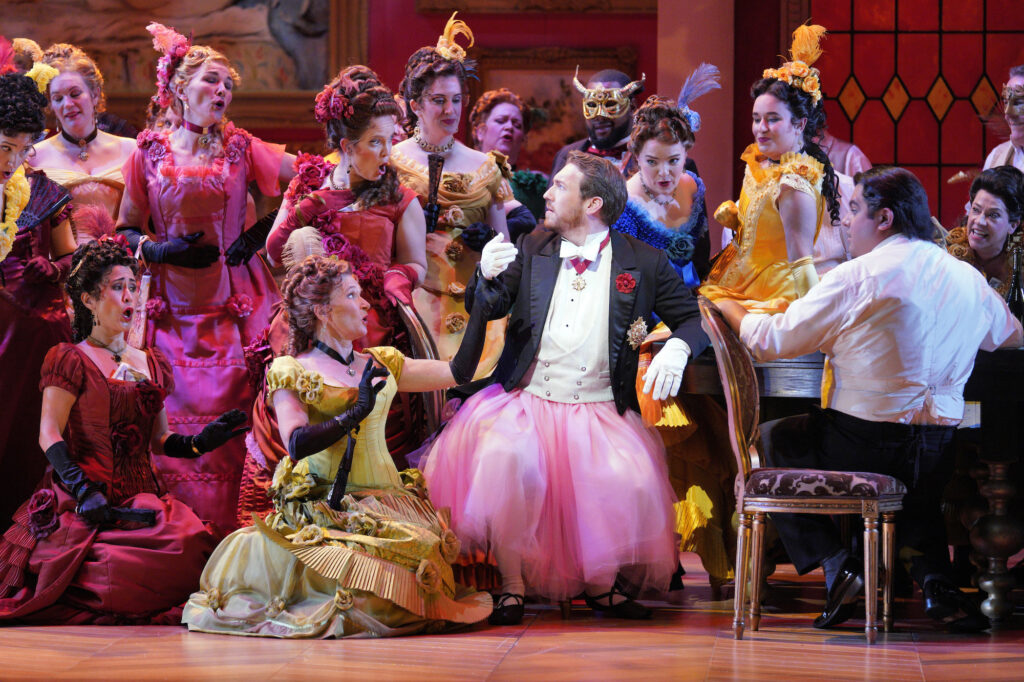 MOST COVID-SAFE VENUE
War Memorial Opera House (most of the year)
EXIT on Taylor (still)
It hurts to see the War Memorial give up their COVID safety mandates. Venues like Golden Gate and The Orpheum hardly made an attempt, but the War Memorial spent the past two years proving that thorough measures and top-dollar donations make for an unstoppable combo of entertainment and safety. Some great indie venues are still practicing safety (the Aurora, Potrero Stage, OTP's FLAX, and both locations of The Marsh), but I'm highlighting Cutting Ball's home because that "over the nose, under the chin" speech was golden.
BEST NARRATIVE INTEGRATION OF COVID
Keith Hennessy's Back (all I wanna do is dance and fuck and swim with you) (CounterPulse)
I know there was a show at EXIT Theatre covering the early days of the pandemic, but it featured work from someone I will never support again, so I missed it. I also sat in on Campo Santo's Bennet Fisher audio drama Shelter, but being an audio drama makes me hesitant to call it a play, even though it was bookended by live performers. Yet, aside from a brief mention of Long COVID (SF Mime Troupe's Back to the Way Things Were), the rare in-story appearance of masks (Colonialism is Terrible, but Phở is Delicious at Aurora), and an SF Ballet dancer accidentally arriving on stage still masked, the pandemic was otherwise absent onstage. Then came Keith Hennessy, who spent a single hour physically manifesting feelings of lockdown frustration and Castro-gentrification anger. It was palpable, to say the least.
Honorable mention: A Small Fire (Shotgun)
Adam Bock's play premiered in 2012. A decade later, its main character suffers from a condition so similar to Long COVID that it sends a chill down your spine.
BIGGEST DISAPPOINTMENT
Marcus Gardley's Lear (Cal Shakes)
I've been a fan of Marcus Gardley since 2007. He's so much better than this. It's clear what story he wanted to tell about SF's oft-overlooked Black pioneers of the arts, but that story is drowned out by flourishes that distract rather than enhance.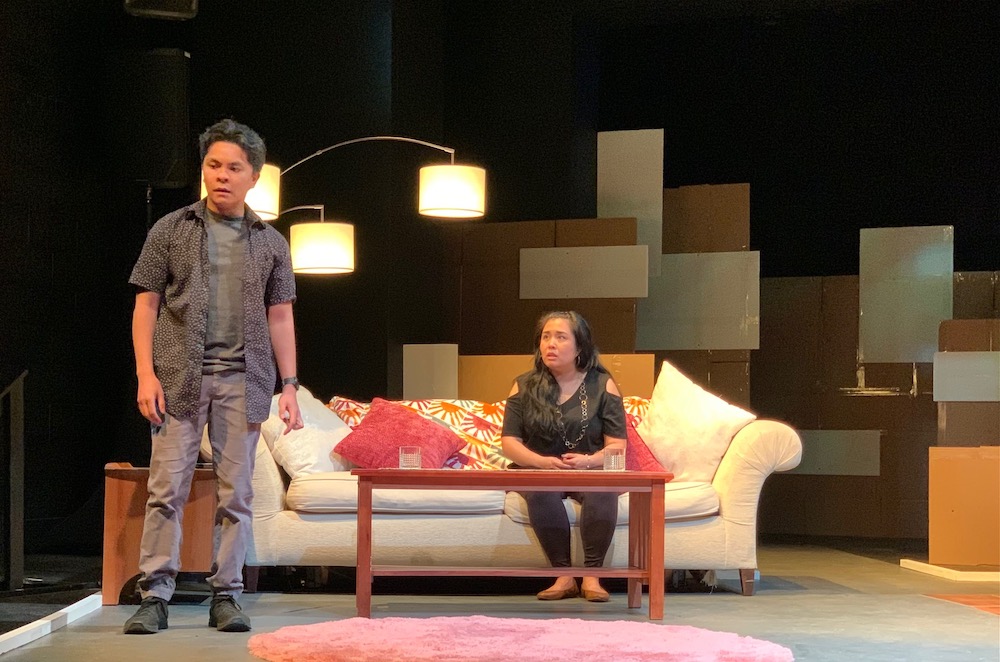 BEST DIRECTOR
Michelle Talgarow
Some folks are given endless resources just to redundantly tell the most milquetoast stories. Others take duct tape and string to tell personal stories you hadn't even considered. Michelle Talgarow did the latter, directing two plays (Balikbayan Box with TheatreF1rst and Man of God at Shotgun) that illuminate the AAPI experience beyond familiar stereotypes.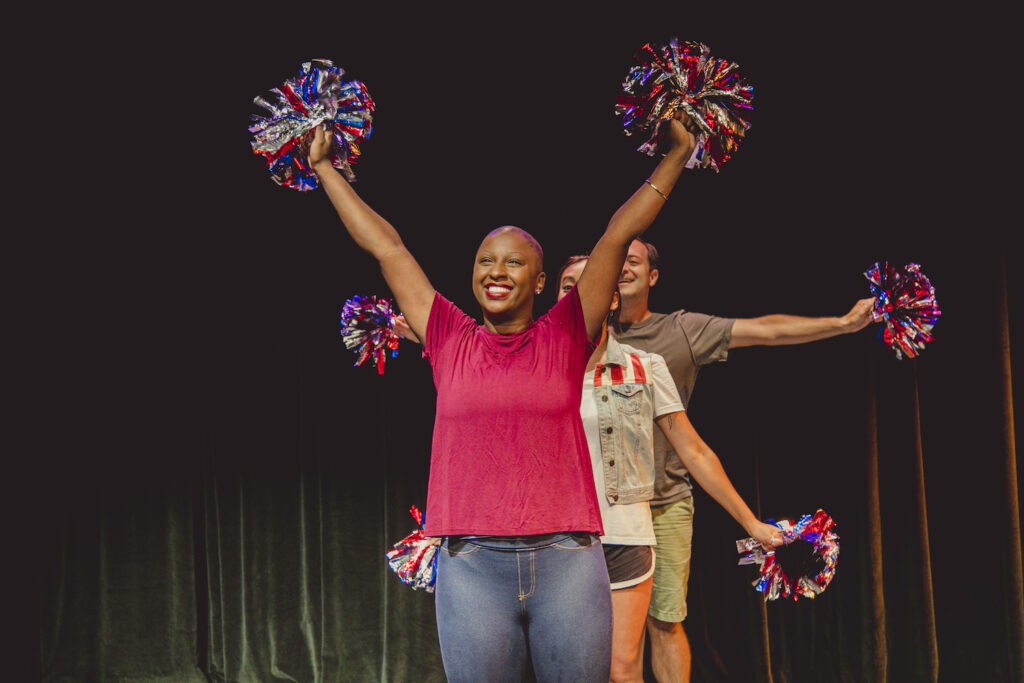 BEST TROUPE RETURN
Killing My Lobster
The quarter-century-old KML has always been a reliably funny troupe, but the last two years challenged them with both pandemic shutdowns and the departure of driving artistic force Allison Page. In her place, successors Nicole Odell (AD) and Emma McCool (Exec. Dir.) have returned the company to live stages by sticking to their "punch upwards" philosophy. The result has so far been lots of laughs, plenty of deep (and raunchy) thoughts, and quite a few crazy stories about everyone's parents.
Honorable Mention: Lorraine Hansberry Theatre
It's been a mixed result return, but there's a comfort in knowing this renowned Black company is still around. With the talented Margo Hall now at the reins, we should all pay attention to where the company goes from here.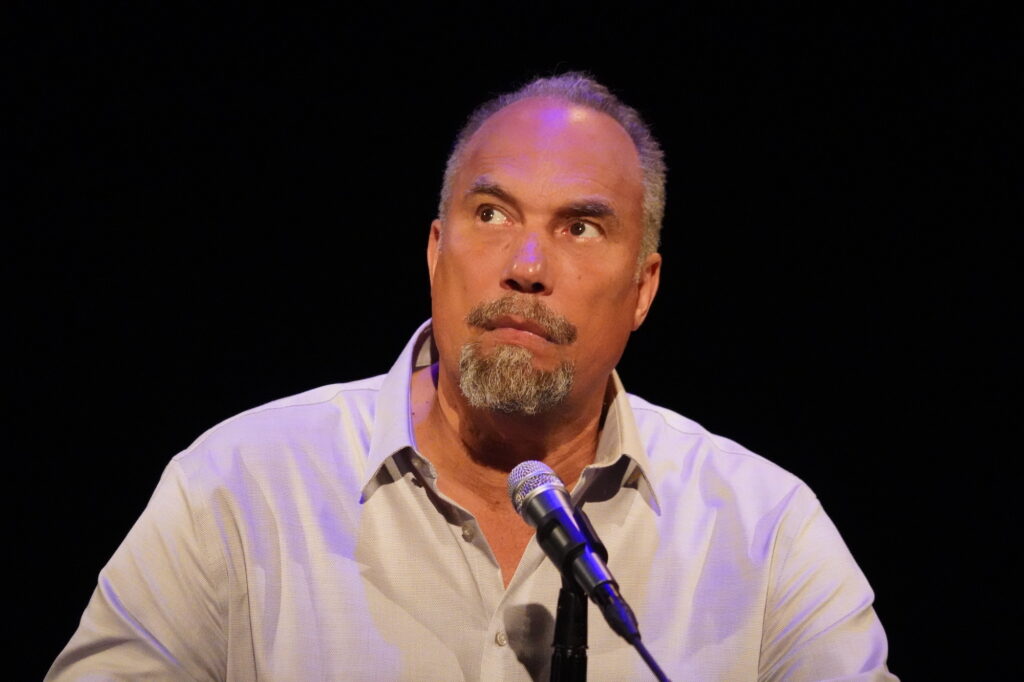 BEST SOLO SHOW
TIE: Kathryn Keats' The Hummingbird (The Marsh) and Roger Guenveur Smith's Otto Frank (Magic Theatre)
This was a real toss-up. Do I choose a magical realism show whose focus on the Holocaust is, sadly, very timely or do I choose the haunting autobiography of artistic ambitions crushed by a toxic relationship and addiction? I won't choose. I'm just glad I got to see them both.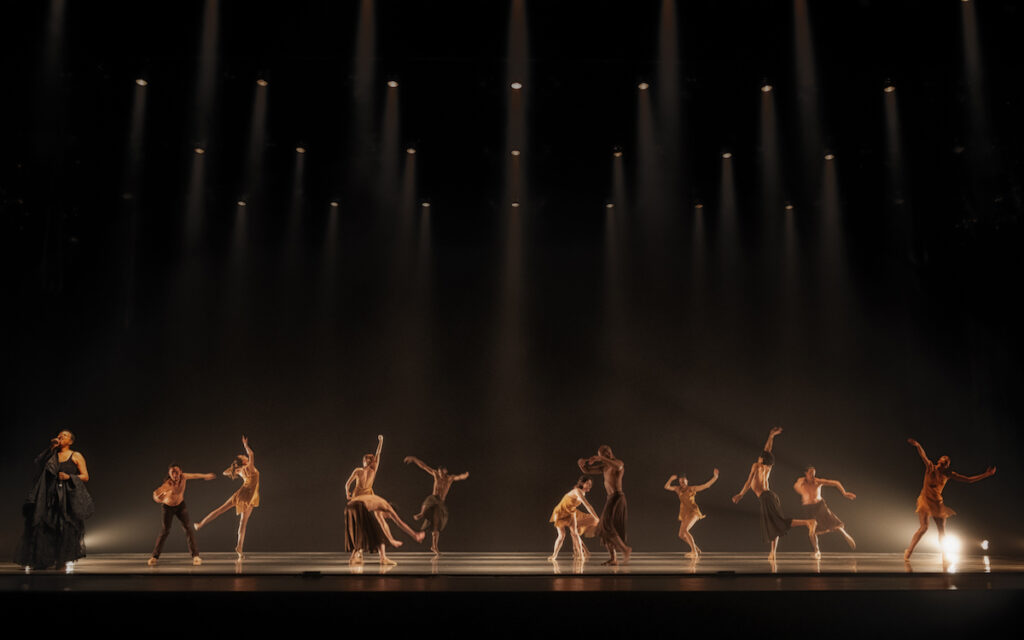 BEST DANCE EVENT
Deep River (Alonzo King LINES Ballet)
It went from deathly quiet to loud, minimal movement to powerful thrashing, choreographed simplicity to powerhouse vocals. It was my first Alonzo King show, but it won't be my last.
BEST MUSICAL
Goddess world premiere (Berkeley Rep)
Hoo-boy, was this a tough choice! We got an embarrassment of riches this year, each one making me wonder why I didn't have a soundtrack to take home with me. As much as I loved The Red Shades at Z Space, the book had some rough edges. Goddess is a pure joy from start to finish. It's a fantastic modern take on classical African folklore and a dazzling showcase of African and Black American musical styles.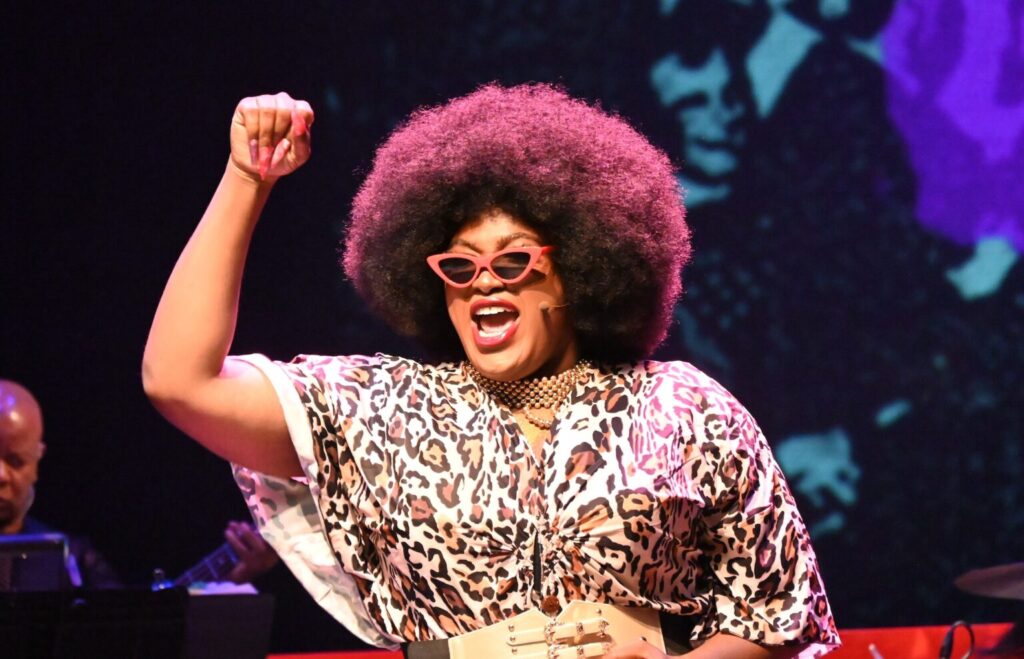 BEST SHOW ABOUT SAN FRANCISCO
The Red Shades world premiere (Z Space)
This show is the antithesis of Dear San Francisco, which waters down our city's rich queer history to appeal to conservative visitors. The Red Shades, by contrast, is a loving musical tribute to SF as a beacon for runaways, sex workers, artists, and every single letter of the LGBTQIA+ spectrum. No, the show isn't perfect, but neither is the city it lovingly (and painfully) dramatizes.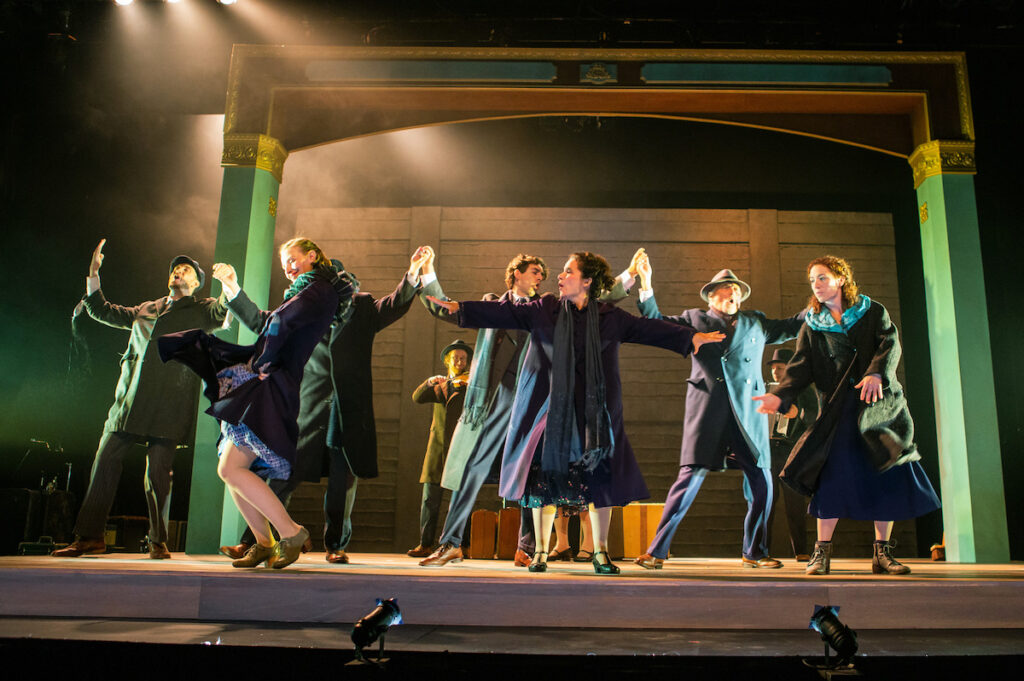 BEST IMMIGRANT TALE
Paula Vogel's Indecent (SF Playhouse)
I'm sure you're all sick of me saying "embarrassment of riches" by now, but that's what happens in the Bay Area's eclectic art scene. I didn't lightly choose Paula Vogel's dramatization of the creation of Sholem Asch's Got fun nekome (God of Vengeance). The roads of Judaism, artistic compromise, and queer representation all intersect in this tale that crosses both sides of the Atlantic. Most importantly, it serves to remind us that assimilation won't save you from bigotry.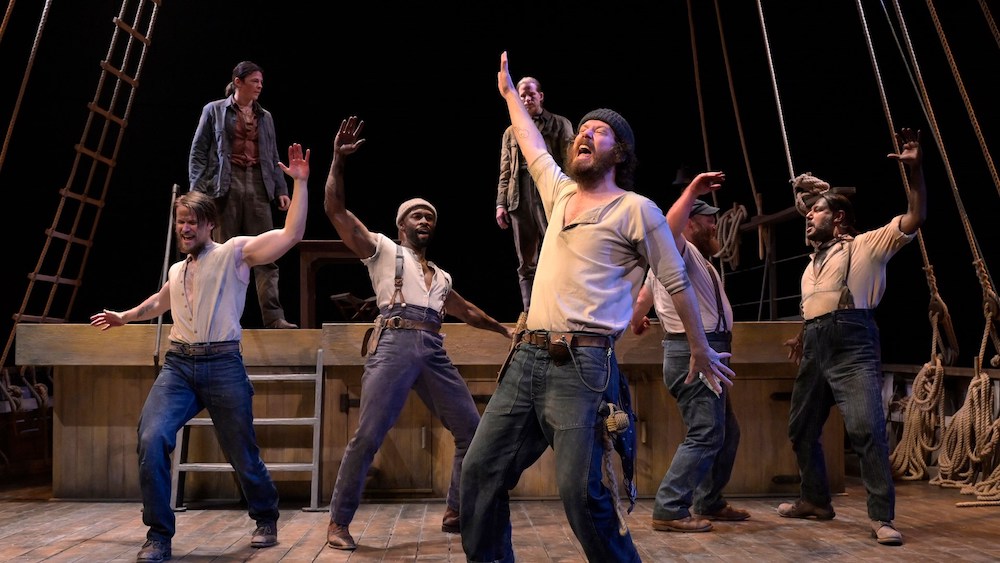 MOST WTF SHOW
TIE: Swept Away (Berkeley Rep) and The Kind Ones (Magic Theatre)
The former show starts off as a jaunty sea voyage before taking a hard-left turn into Donner Party territory. The latter show features a misanthropic pig farmer and her transgender charge who decide that their farm is the perfect place for women to ditch their shitty boyfriends—permanently. Both shows opened in January. I didn't expect to end the year recalling two shows about devouring human flesh, but here we are.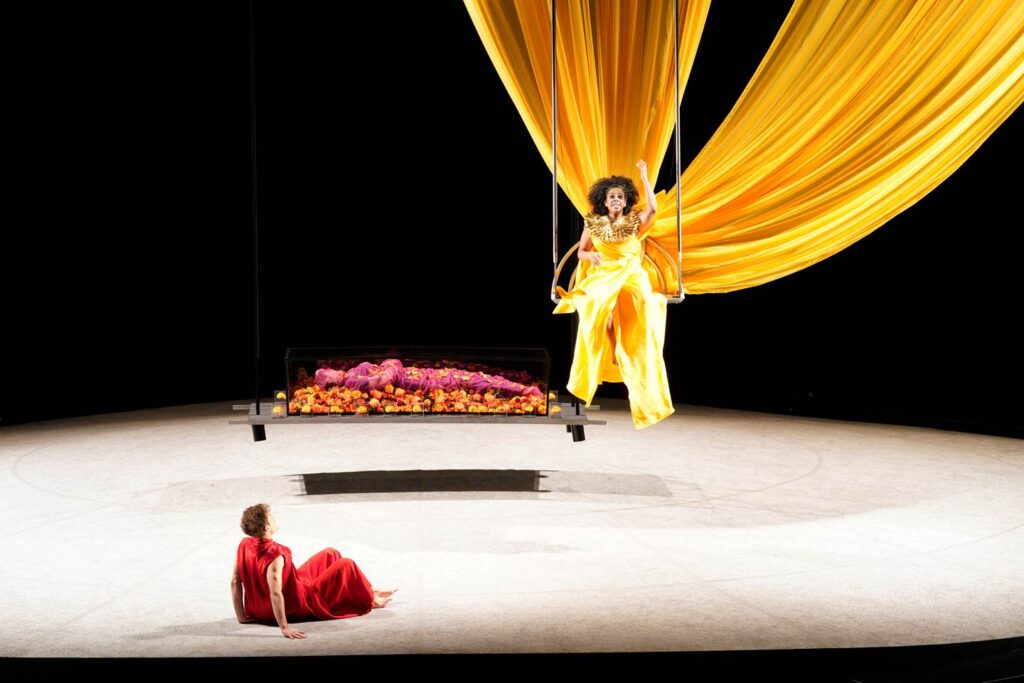 BEST SET DESIGN (Large Venue)
Alexander V. Nichols, Orfeo ed Euridice (Orpheus and Eurydice) (SF Opera)
The opera's centennial season has been one of ostentatious designs meant to match the high notes of the performers. Alexander Nichols' work on Orfeo—for which he designed both sets and projections—was the best work of an already-flamboyant opera season. It broke out of the traditional squares of theatre sets for a trippy trek through underworld of Greek myth. Trying to describe it is tough; trying to forget it is impossible.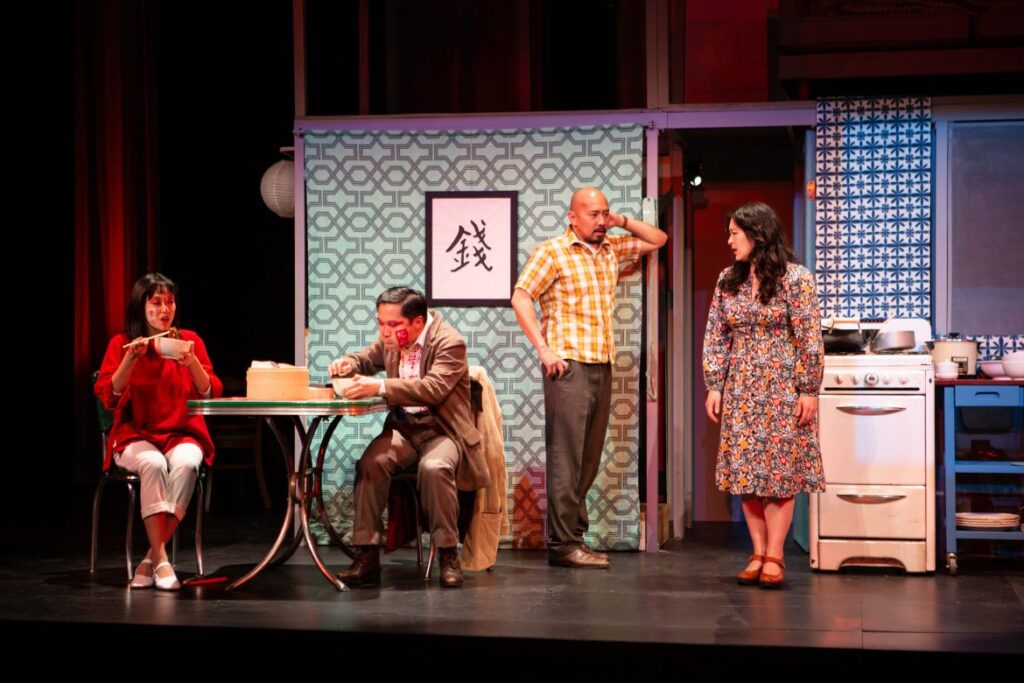 BEST SET DESIGN (Medium Venue)
Christopher Fitzer—The Paper Dreams of Harry Chin (SF Playhouse)
Is it possible to make nearly-a-dozen locations from several different countries out of a single rotating set piece that looks like a giant Jenga puzzle? That's what Christopher Fitzer did, and I sit in awe.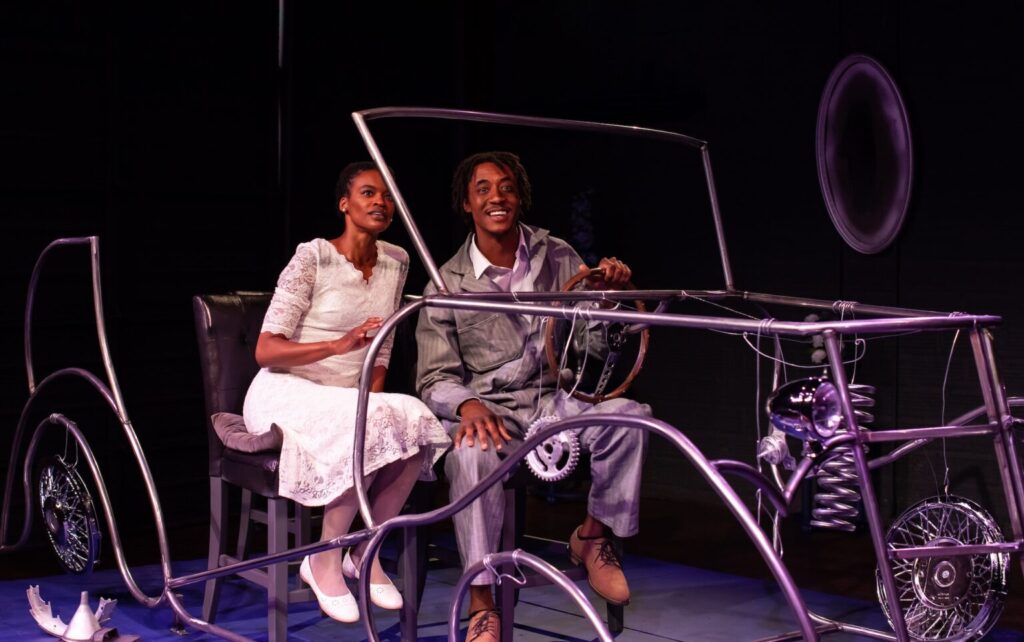 BEST SET DESIGN (Small Venue)
Karla Hargrave – The Mojo and the Sayso (OTP)
It's a car. No, It's just the skeleton of a car. It's a broken dream for a pair of Black parents who know the all-too-common pain of losing their child because of a trigger-happy cop. Karla Hargrave's design of twisted pipes and lights is somehow nothing and everything at once, and it breaks your heart just to think about it. Well done.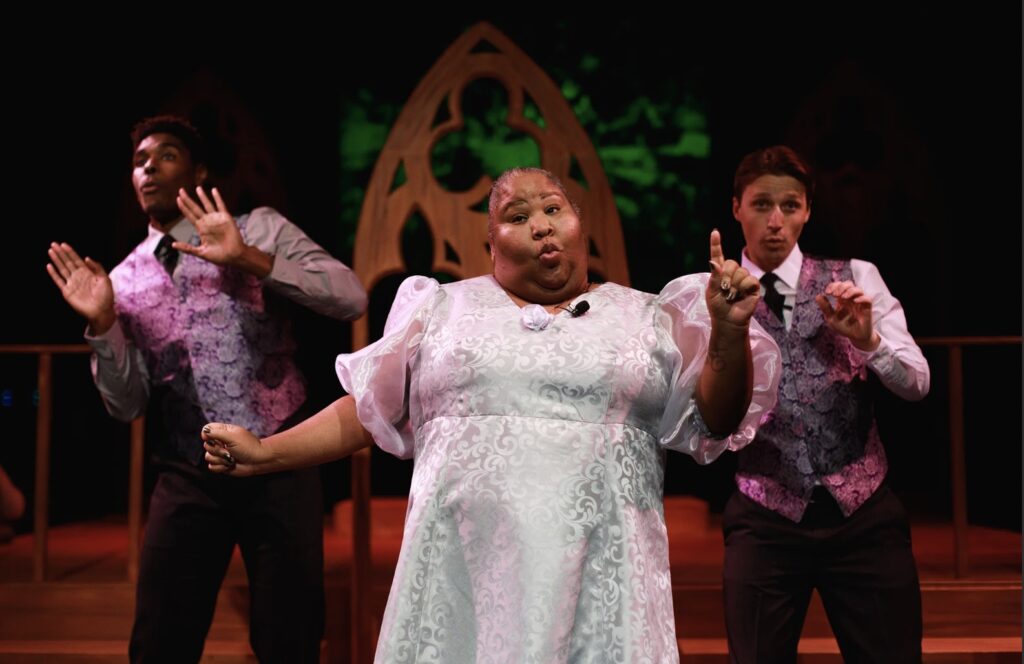 BEST ACTOR
Jeannine Anderson, Halie! The Mahalia Jackson Musical (Lorraine Hansberry Theatre)
No matter what flaws exist in the actual production of Halie!, Jeannine Anderson's performance as Mahalia Jackson is not one of them. The classically-trained soprano matches powerhouse vocals with a nuanced performance that isn't an impression of a real-life figure, but a bringing-to-life of a scripted character. Anderson's version of Jackson is a funny, angry, intelligent woman whose voice could bring the roof down. Every moment of it is fascinating to watch.
Honorable Mentions: The always-reliable Jomar Togatac for once again killing it in both leading (The Paper Dreams of Harry Chin) and supporting roles (Lear). And to Ezra Reaves (The Red Shoes at Z Space, As You Like It at SF Playhouse) for their seemingly effortless ability to portray heartbreakers who often have their own hearts broken.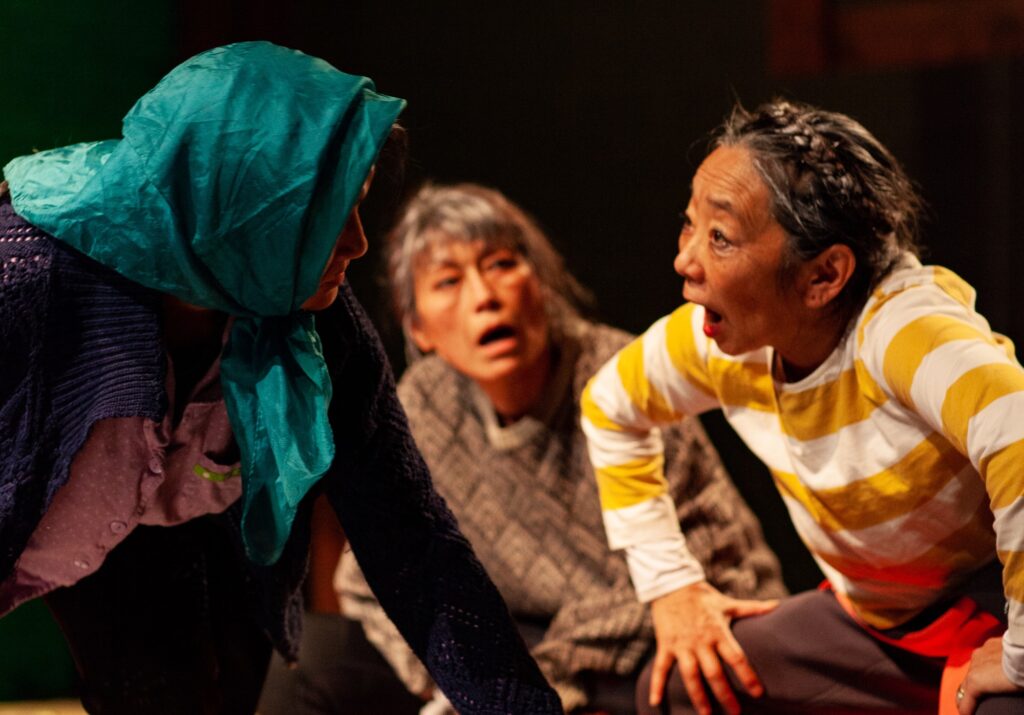 BEST ENSEMBLE
The cast of Endlings (OTP)
You wouldn't think watching three elderly Korean fishers (Pauli N. Amornku, Mia Tagano, and Keiko Shimosato Carreiro) go about their mundane routines would be as entertaining as it is, but once they get started, you can't look away.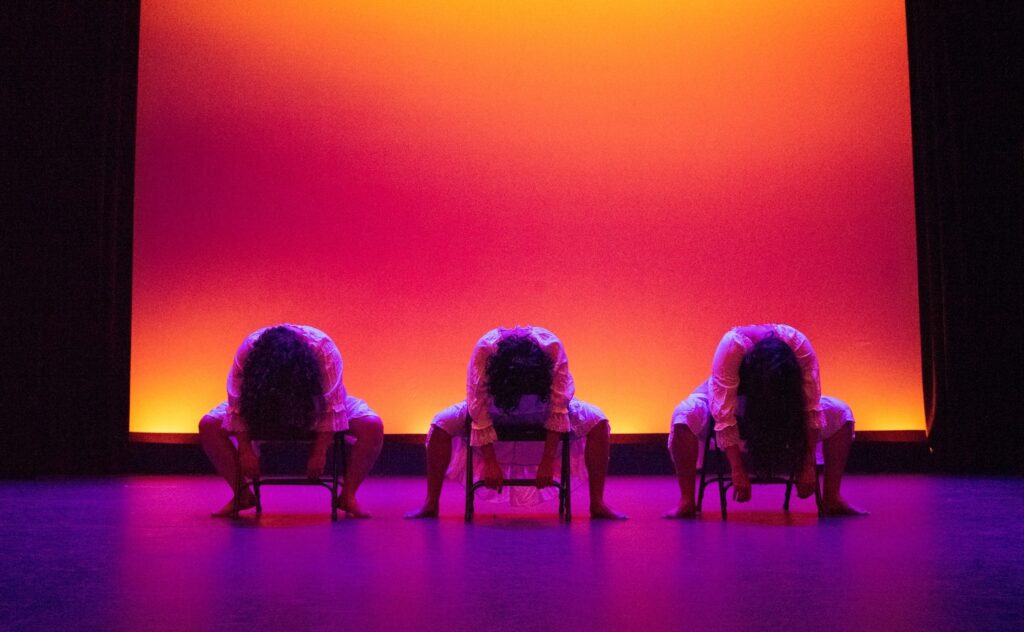 BEST PRODUCTION
Florencia Aroldi's Las Azurduy (La Lengua Teatro)
I don't speak the language fluently. I occasionally got lost in the jumping timeline. I thought the show could easily trim half-an-hour without losing anything of significance. Yet, I can't think of a single other show that has lingered with me the way this Juana Azurduy de Padilla's biography has. Its supertitled story of feminism and ethnic identity as revolutionary acts still inspire and speak to me. It's the story of a Latinx heroine whose name should be mentioned among histories most revered revolutionaries, yet the show understands the racist patriarchy that prevents such mentions. It was a show that came onto my radar pretty late, but it's one I'm all the more glad to have seen.
—-
To wrap up: For as long as I've been involved in theatre I've heard companies, big and small, ask the same questions:
"How do we get more people to attend?"
"How do we increase subscribers?"
"How do we show young people that theatre is still relevant?"
"How do we get more diverse audiences?"
That's what gets to me about the lack of COVID safety measures: it's specifically turning audiences away. The cynic (nay, anti-capitalist) in me sees the adoption of this philosophy by larger houses and companies as a financial flex: if their regulars die, they can afford to reach out to new ones and/or still rely on a few wealthy backers. Meanwhile, the diverse, the disabled, and the just plain curious—all of whom tend to avoid theatre because it's too goddamn expensive—are even less inclined to attend events where their safety is put into jeopardy.
People, we're in the middle of a tripledemic of respiratory viruses; telling everyone to simply wash their hands to fight airborne particles is just stupid.
I hope those companies realize that, and soon. I hope that by next December, larger companies notice how much safer their audiences are when said companies put their resources behind mandates. I hope smaller companies and venues dig in their heels to avoid shutting down as they hold tight to their masking and vaxxing policies. I hope streaming is leaned into more as a way to open access to the largest audience in the world. Most of all, I hope everyone reading this is alive and kicking this time next year.
'Til then, I see ya opening night. I'll be the double-masked dude wearing safety glasses.