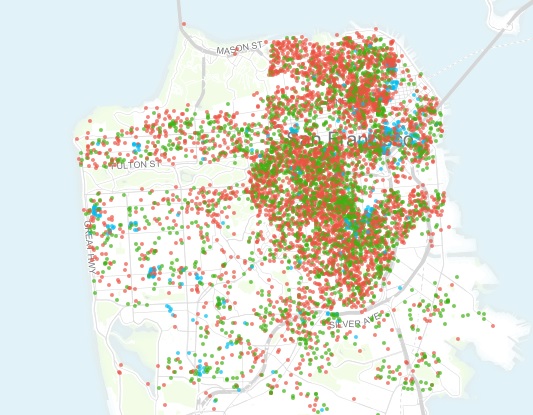 JANUARY 11, 2016 – It's nice that the city is being oh-so-polite in dealing with a giant corporation that broke city laws and cheated on its taxes for so many years. Instead of passing a law mandating that Airbnb follow the rules, and cease listing illegal rentals, City Hall is asking – oh, please, nice corporation – for the company to quit letting its users break the law with impunity.
This is not how these things typically work.
There's only one reason that Airbnb might consider working with the city here, and that's the election of Aaron Peskin, who would likely be the sixth vote for a measure like the one defeated last year, a total bar on listing unregistered units.
But I don't see Airbnb going along with the city just because the company was asked nicely. Airbnb reached its $23 billion valuation almost entirely by encouraging hosts to ignore local laws and to list illegal short-term rentals. Enforcing the rules would knock most of its listings off the site, since somewhere around 80 percent of the units listed in the city today are unregistered, and a lot of the most profitable listings are not, and never can be, legal.
That would dramatically cut into Airbnb's business plan and profits, More, it would set a precedent for other big cities – again, hurting the company's market value – and would happen right where it all started, in Airbnb's home town.
So what happens if and when the company says: No thanks? What happens when its supporters say that the city's existing short-term rental law hasn't had a chance to work? What will it actually take to enforce the law?
There's a hearing on that topic at the Land Use and Transportation Committee Monday/11 at 1:30 pm. Sup. Scott Wiener, who supported the existing law that has so far been a complete failure, called the hearing; Sup. Jane Kim, who was among the strongest critics of that law, is also on the committee. Oh, and they're running against each other for state Senate.
The committee will also be talking about the costs and impacts of the Super Bowl 50 party, which will take up much of the Market-Embarcadero area for more than a week. The latest news is that the Super Bowl Committee is going to fence the entire area off, and only let people in through a few gates with metal detectors. That, we're told, is a security measure. It's also, let's be honest, a way to keep homeless people away.
And by the way: WTF? They get to fence off about six square blocks of downtown SF, right in front of the Ferry Building, for more than two weeks? (Willie Brown doesn't care; it's a hell of a party.)
We still don't have a full accounting of how much this will all cost and what money the city can expect to bring in, although some of that will come out at Monday's hearing. You can see a lot of Host Committee promo material here.
Super Bowls are big business, and supporters love to remind us that San Francisco will get all this amazing media exposure. Although I wonder: Does this city really need shots from a blimp during a football spectacle to convince tourists to come to one of the most popular destinations on Earth?
The Board of Supes refused to impose a moratorium on luxury housing in the Mission, and a ballot measure to do the same went down. But the Mission activists have sent a clear message, and on Thursday/14 the Planning Commission will take up the issue of enacting interim controls on development in that neighborhood. You can read the details of the proposal here.
The Rules Committee will hear a proposal Thursday/14 by Sup. John Avalos that could change dramatically the way we elect a mayor, and the way supervisors take office. His measure starts with a pretty basic idea: We should elect our elected officials. The Charter amendment would remove the ability of the mayor to fill a vacancy on the Board of Supervisors and stop the supes from filling a vacancy in the office of mayor.
Under his plan, if a supervisor leaves office, the remaining supes would appoint someone to fill that slot until a special election could be held – and the person who takes the temporary post would be ineligible to run. In other words, an interim supe would really by an interim.
Same for the mayor: In case of a vacancy, the president of the board would be interim mayor until a special election could he held.
I've always thought it odd that San Francisco allows its chief executive to appoint members of the legislature. The president of the US doesn't fill vacancies in Congress; the governor doesn't fill vacancies in the state Legislature. The voters do that.
And allowing the mayor to appoint supervisors has been pretty much an unmitigated disaster in San Francisco. At one point, when Willie Brown was mayor, a majority of the board had been appointed by him, owed their jobs to him, and almost always did what he wanted.
And we know what can happen when the supes appoint an "interim" mayor who says he won't run for the job.
So that's all logical.
The more challenging issue in his measure would be the elimination of ranked-choice voting for mayoral races. There are good arguments on both sides of this one; mayoral runoffs (Tom Ammiano v. Willie Brown, Matt Gonzalez v. Gavin Newsom) have generated huge interest and excitement, and had impacts far beyond Election Day. But a lot of people would argue that RCV has advantages, too, and the structure of elections shouldn't be based on the outcomes we might like.
Anyway, that's the debate we're going to see shaping up as what could be a profoundly important Charter amendment makes its way forward.