Most of the anger directed at the San Francisco police department, and the calls to fire Chief Greg Suhr, involves the four recent shootings of young men of color — and the blue-ribbon panel that has shown a pattern of management problems.
But if you spend some time researching the department's record over the past year, the problems are much more extensive. Let's take a look at the scandals:
Scroll down for text only
January 2015:
SFPD Officer caught on camera trying to tip a man off his wheelchair 
Video showed a police officer trying to tip over a disabled man in a wheel chair. Bo Frierson tried to intervene as SFPD officers were speaking to his friends, in response the officer allegedly tried to tip off his wheelchair. An investigation ensued after the video surfaced that shows the officer trying to tip over Frierson as his friend reaches out to help. Frierson is paralyzed with a spinal cord injury from an accident.
S.F. public defender detained outside court for objecting to officers questioning her client
Attorney Jami Tillotson was arrested when she denied police officers' attempts to take photos of her client without explanation. Tilotson was raising questions on police harassment and intimidation, the arrest was caught on video. Officer was heard saying "If you continue… I will arrest you for resisting arrest"
February 2015:
SFPD officer hits a homeless man in the legs five times with a police baton and uses pepper spray to get him off the Muni 
This altercation occurred at 11pm on February 11, when a Muni driver called the police to get a sleeping homeless man off the bus. The incident was caught on a Muni camera when Officer Raymond Chu hit Bernard Warren five times with a police baton and pepper sprayed him in an attempt to get Warren off the bus.
Chief Suhr said he felt that Officer Chu was in the right to use force because he felt threatened after Warren said "he's gonna beat his behind." Public Defender Jeff Adachi felt that it was an over reaction and unnecessarily escalated the situation.
SFPD Officers shoot 20-year old Amilcar Perez Lopez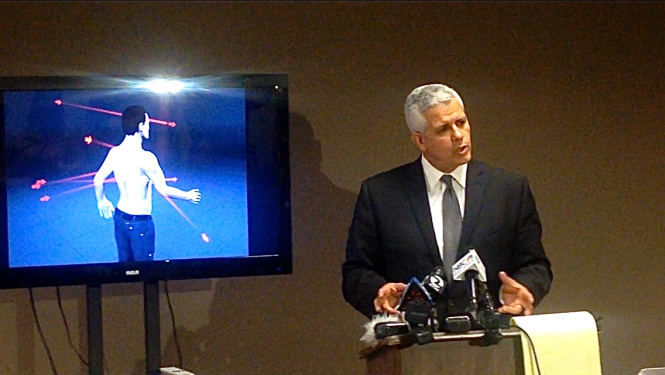 On February 26, 2015, a 20-year-old man named Amilcar Perez Lopez was shot and killed by two San Francisco police officers. The Police Department quickly said the shooting was justified, that Perez Lopez had lunged at the officers with a knife after attempting to steal a bicycle.
But there's mounting evidence that the SFPD scenario is not only unlikely; it's impossible. An autopsy conducted by a private medical examiner revealed that the young man was shot repeatedly – in the back.
Read our coverage of Amilcar Perez Lopez 
March 2015: 
A software engineer at Google files a complaint alleging SFPD officer broke city law while investigating with the FBI
A complaint filed with with the San Francisco Office of Citizen Complaints alleged that the SFPD broke city law when it worked with FBI to interrogate Google engineer Sarmad Gillani. SFPD Sgt. Inspector Gavin McEachern, along with an unnamed FBI agent, approached Gillani at the Google Office in San Francisco in June 2014.
Gillani was asked questions about his political views, his blogging and his views on recent events. The group alleged SFPD broke Safe San Francisco Civil Rights Ordinance and a handful of police conduct codes while they partook in questioning Gillani.
Copy of the complaint:


CAIR OCC Complaint March 25, 2015 by KQED News
Faulty DNA evidence jeopardizes 'hundreds' of cases
Bicka Barlow, a DNA expert and advisor to the Public Defenders Office, wrote a letter to SFPD Chief Greg Suhr alleging serious misconduct. According to Barlow, evidence submitted by the lab in the case of child molestation suspect Marco Hernandez was submitted as "definitive" when it was actually incomplete. Barlow alleged that a technician "filled in the gaps."
In response, an investigation was opened up and lab personnel were put on leave.
Textgate:
Seven police officers that were facing termination for exchanging homophobic, racist and sexist text messages were able to halt disciplinary proceedings. Officers approached and petitioned a Superior Court Judge saying that termination violated the one-year statue of limitations. The evidence was first turned in to Internal Affairs Division in December 2012, which apparently sat on it for more than a year.
April 2015: 
SFPD paid $725K to settle wrongful termination suit
Former Police Department Lawyer Kelly O'Haire sued the city and Police Department in 2013. O'Haire had alleged that she was fired because she accused Chief Greg Suhr of mishandling a domestic violence investigation that resulted in his demotion to captain.
Operation Safe Schools
In April 2015, a joint SFPD/DEA effort was supposed to target drug dealing near schools and resulted in the arrest of 37 people – all black. Leaked surveillance video of the operation revealed undercover officers eschewing arrests of non-black people engaging in the same criminal activity as the black people they did arrest.
May 2015:
Four Rappers file lawsuit against SFPD alleging illegal detainment and unreasonable search and seizure
Brian MacArthur was shooting a music video with Arthur Stern, more popularly known as Yung Lott, when SFPD officers arrived on scene and demanded that the 19 people present get on their knees and put their hands up.
In the video, officers can be seen handcuffing, photographing and confiscating the personal possessions of all present. We're still waiting to hear what law the filming of a music video violates.
July 2015:
The stolen gun
32-year-old Kathryn Steinle was shot and killed on the waterfront. The gun used to kill Steinle was found to have been stolen on June 27 from a federal Bureau of Land Management ranger's car.
The Department was accused of not conducting sufficient investigation. Here are some details from a KQED interview:
Hit-and-run suspect dies in police custody
Filimoni Raiyawa, 57 year old Black man, was taken into custody in San Francisco after reports of fight over a collision that occurred at Richardson Avenue and Francisco Street. Raiyawa fled the scene but was found by officers in the area of Lombard and Pierce streets.
SFPD officers report revealed that the suspect "stopped breathing" in custody and couldn't be revived. The cause of his death is not known.
August 2015: 
14 SFPD officers violently arrest homeless man with two prosthetic legs
The confrontation was captured on video released by journalist Chaedria LaBouvier. The incident took place on August 4 at Market Street. "These are my crutches. I use these to walk,"  the man can be heard explaining. LaBouvier notes the around four officers stood on his prosthetic leg and "twisted it around even after they had cuffed him and pinned him to the piss-stained concrete."
22K settlement for dad choked by SFPD officers while being arrested for child not wearing a helmet
Takuro Hashitaka sued the SFPD in 2014, after he was choked while being arrested by officers because his 10-month old son wasn't wearing a helmet. Hashitaka was on a bicycle ride with his 10-month son, when he was choked while being arrested that resulted in his passing out. Officers then handed over his son to Child Protective Services.
Hashitaka suffered neck and hand injuries and had spent two nights in jail on suspicion of "federal child endangerment" but was never charged with a crime.
September 2015:
Instagram videos show SFPD Officers joking about shooting suspects
Video posted by an Instagram user showed two SFPD police officers in a restaurant laughing while having a discussion about evidence they would or wouldn't want captured on body cameras.
Officers can be heard discussing how they would like to omit suspects "putting their hands up" from being captured on the video as compared to suspects pointing a gun at them when shot. They can be heard laughing when discussing a scenario where a suspect is shot in the head or chest.
Please note SFPD officers do not wear body cameras but there's been an effort to acquire them.
As a result an investigation was opened.
Young black man sues SFPD for 'trumped up' arrest in 2015:
Travis Hall, a 23-year-old graphic designer, filed a lawsuit against the SFPD. Hall was aggressively questioned and allegedly seized and thrown off from his car, which led to his head hitting the concrete curb.
Former SFPD Officer arrested on charges of embezzlement and grand theft:
SFPD veteran Ricci Rodriguez, who had resigned earlier in the year – after an internal investigation over alleged misuse of city-owned vehicle and gas services – was arrested on three counts of embezzlement. The charges included one count of vehicle theft and two counts of grand theft.
SFPD officer under investigation for alleged rape while fellow officer allegedly interfered with investigation 
Officer Jason Lai was accused of raping a woman while on a date with her. The victim alleged that she and Lai got drunk and raped her before she passed out. She later decided to press charges but wasn't administered a rape kit because it had been more than 96 hours. Text messages exchanged between the two revealed parts of the incident.
A week after the incident, according to the charges, Lai's partner Curtis Liu saw Lai's name in an incident report. Liu then allegedly contacted Lai and informed him about the ongoing investigation. Both their cellphones were seized from both officers and an investigation was opened up on charges of rape and interference with an investigation.
The search and seizure of the cellphones resulted in the release of racist text messages sent by officers and both officers were fired.
October 2015: 
Former SFPD Officer charged with stealing funds from LGBT police group 
Former Officer Mike Evans, treasurer of the LGBT police group Pride Alliance, was found to have $15,000 missing after an internal audit. Evans was extradited from Texas and booked at the county jail.
Reportedly, three quarters of the members left the group after controversy.
November 2015: 
Examiner Reports 'Leaked SFPD memo indicates practice of special treatment is widespread' 
Jonah Owen Lamb of The Examiner reports on leaked SFPD memo revealing preferential treatment in SFPD hiring process.
The memo, sent to field training officers by a commander, was leaked to the Examiner after a story was published explaining one such case involving Jake Lawson, a family friend of Chief Greg Suhr. Earlier this year, Lawson, then a police recruit, failed his training in the field, yet was transferred to another station despite department rules.

Suhr denied that any special treatment was given and implicitly said such practices are not condoned in the department.

But soon afterward, the Examiner received a department memo pointing out the practice is widespread and angering rank and file field training officers.
Mugshots Galore:
The SFPD's Twitter account tweeted over 24 mugshots of suspects. In response,Tessa D'Arcangelew of the American Civil Liberties Union told Jeremy Lybarger of SFWeekly "When there aren't clear policies placing limits on what officers can do with our sensitive and personal information — including the posting of booking photos of potentially innocent people to social media — we set officers up to fail, by using their discretion in ways that can violate individuals' privacy and safety."
Civil trial date set for SFPD shooting of Alex Nieto:
Alejandro "Alex" Nieto, 28, as shot and killed by SFPD officers in 2014 on top of Bernal Heights Park. Nieto was shot at over 50 times, when officers mistook his taser for a gun. Nieto was carrying a taser for his work as a bouncer at a nightclub.
The two dog walkers that called 911, after they mistook Nieto's taser for a gun, said that they didn't feel threatened but called the police in hopes that they would investigate the matter.
SFPD officers were criticised for handling of the crime scene including the fact that there were eleven bullets missing.
Read our coverage of the initial evidence 
December 2015: 
SFPD Officer known as 'hot cop of Castro' is accused of the hit-and-run
Christopher Kohrs, 38, known as the 'hot cop of castro' is accused of the hit-and-run reported. The incident occurred at about 2:20 a.m on Sunday November 29th '2015 at Broadway and Montgomery Street.
Two pedestrians, in their 40s were struck by a Dodge Charger and the driver fled the scene. The number plate was identified and Kohrs turned himself in late Sunday morning.
The victims are Franco Vilchez, who has a broken nose, jaw and neck and Victor Perez, who had bruises all over his face. Kohrs was charged with two felony counts of hit-and-run by the District Attorney.
Mario Woods: SFPD Officers shoot and kill 26 year old black man in Bayview for allegedly carrying a knife
A victim of stabbing victim arrived at San Francisco General Hospital on Wednesday Dec 2nd. Victim reported that he was attacked at Third Street and Le Conte. In response, SFPD officers set out to look for a suspect and found Woods, who matched the victims description.
The video of the police encounter was filmed by multiple witnesses. It shows Woods trying to walk away from at least ten police officers pointing a gun at him. Woods is seen crouching down against the wall, then walking away. As he walks away, an officer is seen to step up in front of Woods as the shooting begins.
The Woods shooting has been at the center of the fight against police killings in San Francisco and sparked a series of protests and community action. 
January 2016: 
Rape survivor announces lawsuit against SFPD for alleged mishandling of her rape kit
Heather Marlowe, performer and activist, filed a lawsuit alleging that SFPD mishandled her rape kit. Marlowe was drugged and raped at the city's annual Bay to Breakers race in May 2010. The lawsuit details what Marlowe describes as an "uphill battle" to get investigators to pursue her case.
She alleges that the backlog and mishandling of her rape kit – which was never sent for testing – is part of the reason why her rapist was never caught.
March 2016 
Another racist text scandal, officers identified by SFPD
Details emerged out of the criminal case filed against Officer Jason Lai who was arrested in an alleged rape case. While investigating Lai and his partner Curtis – for interfering with an ongoing investigation – the district attorney's office found and revealed racist, sexist and homophobic text messages.
The investigation is ongoing.
April 2016 
SFPD officers shoot & kill Luis Gongora, a 45-year old homeless man, on Shotwell street
45-year-old Luis Gongora, a San Francisco resident was shot and killed by SFPD officers. Police say Gongora was brandishing a knife. The entire incident took place in under 30 seconds and was caught on CCTV camera. More than nine eyewitnesses have come forward to contradict police statements.
In a town hall meeting, SFPD Chief Greg Suhr defended the police officers involved in the shooting and said that Mr. Gongora had lunged at them with a knife.
Read our coverage of the town hall meeting
Officer offers to pay a woman's ticket and case not sent to the Office of Citizen Complaints
A San Francisco police officer offered to pay a woman's ticket for her and received only a one-day suspension. The case revolves around a text message sent by an officer to a woman who had received a ticket. The officer reportedly offered to pay the ticket and included a "winking" emoji. In a public meeting in April 2016, we learned that the case was never sent to the Office of Citizen Complaints (the OCC). In fact, the OCC was never informed, which is a direct violation of department protocol.
May 2016 
SFPD Officers report racist remarks by colleagues: Cue N****r & Negro Controversy
In what appears to be an effort to promote transparency, the SFPD revealed yet another incident of alleged racism by its officers. According to reports, the SFPD learned in February that one of the officers had used racist and sexist language.
The Examiner reported that the officer involved is Sgt. Lawrence Kempinski, a 17-year veteran who most recently worked in the Bayview Station. The officer was suspended in April and case forwarded to the Police Commission with a recommendation that the officer face disciplinary action, including possible termination.
According to initial reports, the officer was alleged to have said that he only transferred to Bayview station to "kill n—-rs," although SFPD later suggested that the statement wasn't necessarily made. Another statement attributed to the officer is that he would like "chase Negro boys around;" an investigation is underway.
Police Arrest Man for Possession of Firearm but Video evidence Shows They Lied 
In December 2015 a San Francisco police officer claimed a male in the Tenderloin neighborhood was caught in possession of a firearm. Video evidence later directly contradicted this claim. On reviewing the video evidence, gun possession charges were dismissed immediately by  U.S. District Judge Charles Breyer, who said: ""The worst thing in the world is the prosecution and conviction of an innocent person, or a conviction based on perjured testimony,".
A San Francisco Review Board Says Police Violated the Rights of a Victim of Domestic Violence
In May 2014, Dora Mejia's partner sexually assaulted her – in her apartment in the mission district – and then called the police accusing her of attacking him. Officers that arrived on the scene refused to provide Mejia with an interpeter, and providing an interpreter over the phone to her partner instead. Then officers then arrested Mejia, leaving her three children with the abusive partner. San Francisco review board said police violated Mejia's. She is suing for damages and for officers to be disciplined.
Former SFPD Officer Prepares to File Whistleblower Lawsuit

Pat Burley, who served 22 years in the SFPD, told KTVU she feels she was forced to retire because she blew the whistle about an officer embezzling money. Burley blew the whistle on Mike Evans for embezzling money from Pride Alliance for LGBT officers. After being disillusioned by the way the Evans investigation was being handled Burley spoke to KTVU anonymously. "In February, a year after KTVU aired the story on the embezzlement scandal and four months after Evans was eventually booked on felony embezzlement and felony grand theft, Burley was informed the department was pursuing the misconduct case against her.She was told the matter would be referred to The San Francisco Police Commission for disciplinary action, including possible termination. But that San Francisco Police Chief Greg Suhr would agree to dismiss the discipline, if Burley agreed to retire early."
Another Officer Involved Shooting In the Bayview:
— Sana Saleem (@sanasaleem) May 19, 2016

A 27 year-old african american woman, who was allegedly driving a stolen car, was shot by the police around 9:45 on Thursday morning. She did not survive her injuries. There is no indication at this point that the suspect had a gun. Two officers,  part of the Bayview Station Unit that specializes in searching for stolen vehicles, began pursuing the woman at around 9 30 am, San Francisco Police Chief Greg Suhr said.
According to Suhr, the woman's car crashed into a truck in the area of Shafter Avenue and Elmira Street, and Officer's approached on foot to arrest her.
Have we missed something? Email the writer sana@48hills.org