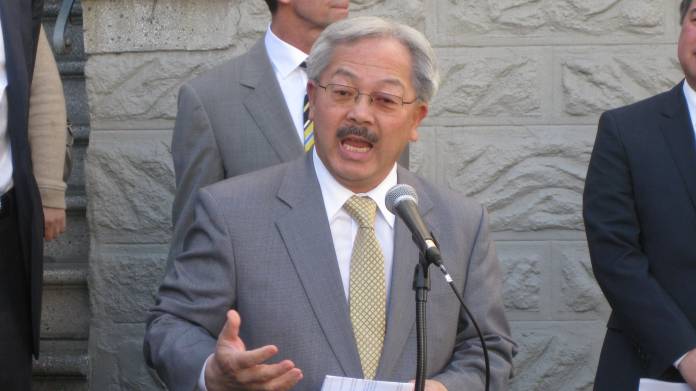 There is one defining fact about Ed Lee's years as mayor that has been missed in all that has been written about his legacy: Between 2010 and 2014, according to US Census data, some 307,000 San Franciscans left the city. (1)
That's about 62,000 San Franciscans leaving each year for the four-year period. Assuming the same level of out-migration for the last two years of the Lee administration, some 430,000 San Franciscans left the city on Lee's watch.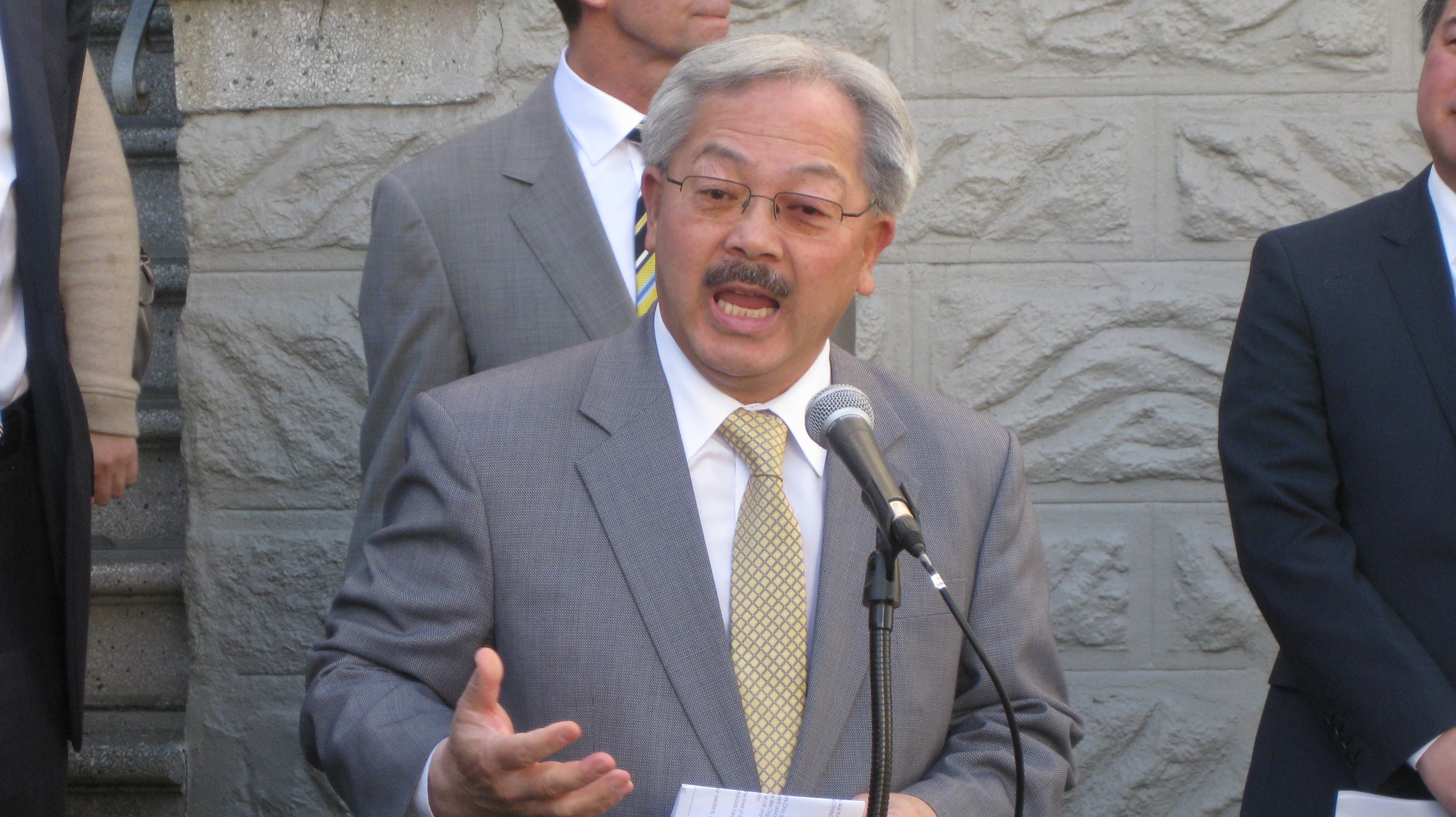 Since San Francisco's population has increased to an estimated 870,000 since 2010, some 495,000 new folks have come to the city during the same period — for a combined displaced/new population during the "Lee Era" of 925,000, a figure that dwarfs the estimated 300,000 who came to California in the 1849 Gold Rush and the 500,000 who came to the Bay Area during World War Two, the two previous defining "booms" in our civic history.
This unprecedented and massive population churn has had a profound impact on the city, its psyche, and its very soul. The effects will be the enduring contribution of the Ed Lee years. It is far from clear that all of the impacts of this massive population disruption are positive. In stark human terms, the San Francisco that elected Ed Lee mayor in 2011 was not the San Francisco that saw his death 2017.
Ed Lee's six years as mayor must be evaluated not in terms of his personal qualities, as his friends and supporters wish to do, but in a clear-headed assessment of the impact of his administration's policies on all San Franciscans that produced this massive change in population. No set of policies had a greater impact, a more profound effect, than the administration's development polices: employment, land-use, housing, business promotion, and transportation.
The politics of development is at the heart of the politics of San Francisco for two simple reasons.
First, San Francisco is a physically mature city, with its 47 square miles all developed and fixed by the natural boundaries of the Bay and Pacific Ocean. About 23 square miles are available for development (unless the GGNRA, Golden Gate and McLaren Parks are to be paved over), which means new land uses usually must displace existing ones. There are winners and losers in the politics of development in San Francisco, which gives it a real world "full body contact" quality as losers generally leave, often without realizing why an obscure vote on a Thursday afternoon at the Planning Commission sealed their fate.
Second, who works and does business in San Francisco often times lives in San Francisco, and who lives in San Francisco votes in San Francisco.
The rise of "Balanced Growth" policies in San Francisco
The community movement that Ed Lee joined in the late 1970s, when he arrived in San Francisco, had been busy trying to control what was then called "the transformation of San Francisco" from a vibrant, mixed economy of maritime, shipping and trans-shipping, light manufacturing, business service, retail, cultural and medical uses to the new "headquarters city of the Pacific Rim," dominated by highrise office towers, huge tourist hotels, and block long condo developments, walling off the waterfront. The first wave of gentrification was occurring as managers and professionals were reversing the two-decade long march to suburbia and returning to the central city.
The primary objective of the community movement Ed Lee served was to prevent the displacement of current residents, and his early fights as a community lawyer were to prevent evictions and demolition of existing housing to make way for the "new economy" championed by the Chamber of Commerce and SPUR. Community-based activists, not City Hall politicians or Democratic party loyalists who were often times allied with the development forces, were the driving force in this defense. These activists joined together and fought for district election of Supervisors, breaking the iron grip of the development lobby on City Hall. In quick succession rent control, demolition, and condo conversion controls were passed to protect the housing stock from being taken over and its residents displaced.
Movements to actually occupy buildings — the I Hotel and the Goodman Building to name two of the most famous — sprang up but eventually failed because there was no community based ability to own, manage and develop these buildings into permanent affordable housing. This failure, in turn, led to the rise of community based non-profit developers who created that ability and empowered the community to control its own real estate.
In 1986, the voters passed Proposition M, which set as city policy the concept of "balanced development" in which the impact of major office development was limited to the capacity of the City's transit, housing and employment infrastructure to absorb that development without displacing residents.
Later in the 1980s, with the election of Art Agnos as mayor, the first center-left Mayor since George Moscone, community people were actually brought into government and made commissioners in part to carry out these balanced-development policies. Ed Lee was one of those community activists that Agnos brought into city government. His eight years as a community lawyer ended and his 20 years as a city bureaucrat began.
Agnos and his allies transformed the Redevelopment Agency from an agency of displacement to a financing agency for affordable housing eventually using nearly a billion dollars of agency tax increment funding to build affordable housing and community-based non-profit social and health services facilities. Ordinances were passed and signed by Agnos that required all new major commercial development to pay an impact fee for affordable housing, open space, community facilities, and job training and placement services. The Planning, Parks and Recreation, Police, Health, and Redevelopment commissions were required to hold regular meeting in neighborhoods and to develop procedures to maximize citizen participation in their deliberations.
Even under Willie Brown's first administration, balanced growth policies were continued and expanded. Brown agreed to campaign for a community-initiated proposal to use a general obligation bond for financing affordable housing development, making San Francisco the first city in the nation to do so. He appointed civil and legal rights activists to head the Redevelopment Agency and the Office of Housing, and empowered them to negotiate the largest amount of privately financed affordable housing ever done in Mission Bay with 30% of the housing being permanently affordable and a site for a public school, fire and police stations, a new branch library and 41 acres of new public parks and open spaces — all paid by the developer.
With the dot-com boom of the late 1990s, the Brown Administration was confronted with rapid growth of the tech sector, accommodated by massive investment in real estate, and the resultant displacement of light industry and residential uses in the North Mission, Potrero Hill and South of Market, bringing along increased displacement of existing residents.
Balance growth polices were placed at risk, and the community responded with a new ballot measure: Proposition K in 2000, reasserting balanced-growth policies and protections against both commercial and residential displacement. Brown countered with his own "pro-growth" measure, Proposition L, which would have repealed the 1986 Proposition M.
The 2000 election also saw the return of district elections of supervisors, and balanced growth became the battle ground upon which every supervisor race was fought. Every candidate who supported balanced growth Prop K won. Every candidate who supported Willie Brown's Prop L lost. While K narrowly lost, every provision of it was passed by the new pro balanced growth district elected Board of Supervisors and Proposition M remained the policy of the city.
The lesson of the dot-com boom years was clear: Unless the demands of a new commercial workforce for housing and transit were met — or mediated by training and placement programs for current residents — and unless current businesses were protected especially in the areas sought by tech startups (the North Mission, the South of Market and the base of Potrero Hill) displacement of existing residents and businesses and traffic gridlock were inevitable.
The collapse of the dot-com boom in 2001 followed by the Great Recession of 2008 showed the critical relationship between national pro-market economic policies, especially in urban centers ("neo-liberalism") and the rise of displacement here in San Francisco. With the (temporary) failure of neo-liberal national economic polices that favored speculative tech investment and urban real estate speculation (remember "irrational exuberance"?) San Francisco was able to catch its breath between 2001 and 2012.
The 11-year period from the bust in 2001 and the recovery in 2012 when job growth reached pre-bust levels showed all who cared to see the lessons of an over-heated job market. During that 11-year period of "normal" job growth, rents, both commercial and residential, first stabilized and then fell, housing costs actually declined, 14,000 new housing units were produced and the city's population increased by 28,000, according to the 2010 census. Muni added a total new technology some 85 diesel/hybrid busses to its fleet. This growth was much more balanced — that is to say, housing production keep pace with population growth and displacement was minimal.
Then it all changed in 2012.
Mayor Lee rejects balanced growth for the magic of the tech market place
Ed Lee started his administration in January 2011 showing some interest in continuing the community participatory balanced-growth policies of his predecessors. He agreed to meet with a community-labor coalition around the largest private development proposal before the city in more than a decade: the $5 billion, 600-bed, 1200-car garage hospital office complex being proposed for Van Ness and Geary by the California Pacific Medical Center, the largest private hospital employer in the city (which still has more employees than Salesforce in San Francisco).
For those involved in these early meetings, it was clear that the new mayor was feeling his way around development issues. While he seemed to understand that health care was a major business in the city — then and now, far larger than tech in terms of people employed, especially residents — he seemed unmoved by the fact that health care had a unionized and local workforce providing a unique opportunity for existing residents to get jobs that paid a middle-class wage with healthcare and retirement, especially residents in the Tenderloin and Western Addition. The community coalition was well aware of these facts and sought a full balanced-growth agenda of local employment, public transit and pedestrian safety, affordable housing, and accessible heath care for the project.
Coalition members had gotten, the year before, a resolution from the Board of Supervisors that called upon the city to require CPMC to "substantially fulfill …housing goals" as a condition of project approval. Now members wanted the mayor to incorporate that policy along with employment, transit and healthcare requirements in the development agreement sought by CPMC.
He initially agreed and actually laid out, in May, 2011 a very comprehensive "City Ask of CPMC." He then handed over negotiations to his staff (that is Gavin Newsom's staff — Lee replaced virtually none of Newsom's people). What came out 14 months later was simply not recognizable. The coalition opposed the proposed deal, and was able to get the Board of Supervisors to hold it up until additional agreements supported by the coalition were accepted.
And then Lee and his staff did an amazing thing: Not getting what they wanted, they simply walked away from the deal, leaving it before the board. Eventually, with the assistance of the community coalition, an agreed "third party" — businessman Low Giraudo — working with three board members, worked out a deal that was eventually passed that required a commitment for health care for 30,000 MediCal and charity care patients at CPMC facilities annually, some $40 million in affordable housing payments to the City, $27 million in transit and street improvements, and a commitment for 40% of all permanent jobs to be offered to existing residents first. In addition, union contracts were guaranteed for all workers at the new facility.
This example of a "complete communalities balanced growth" deal was less than interesting to the Lee administration. What seemed far more important to them was a tax deal for tech companies.
Lee and his staff, while walking away from the CPMC deal, were running towards what later became known as the "Twitter Tax Break." Unlike the CPMC deal, the tax break required nothing of the tech companies other than to locate here: no transit, no employment and no housing. Indeed, in the exact reverse of the CPMC deal, the city would give the tech companies payments — deferred taxes that amounted to $56 million by 2013 for Twitter alone, according to the Chronicle.
The contrast was stark: tax handouts to billion-dollar tech companies — Twitter initial public offering was $25billion — with no commitments for anything, versus union jobs, healthcare for the poor, affordable housing, transit, and pedestrian safety for project approval of a hospital.
At the time Mayor Lee wrote in a March 22, 2011 Op Ed that "residents and small businesses of the Tenderloin" would benefit from the tax break for Twitter — while never mentioning the CPMC deal at all.
Unfortunately, it was the tech-friendly tax deal that caught the imagination of the Lee administration, not the balanced growth example of the CPMC development agreement worked out by a labor and community coalition at the Board of Supervisors.
What few outside the administration knew was how profound this embrace of the tech sector was and how it would dominate every aspect of the Lee administration.
The tech sector was, after all, not the major employer of San Franciscans then (or now). Two other sectors, health care and government, employ twice as many San Franciscans as tech. But there has always been a bias against both by San Francisco's business establishment, because both are so heavily identified with the public sector and are reliant on taxes. Both are also dominated by a unionized work force. The tech sector has magically transformed itself from being a literal government-funded invention into being the darling of the investment class and the shining beacon of "private sector innovation." As a sector, it is not unionized and is lead by a white male establishment that looks and believes exactly like the white, male business establishment.
The problem with tech was that it is not a good fit with San Francisco's demographic, in which non-English speaking people of color make up a major proportion. But there is an answer for that, one that was outlined by SPUR in 1966 on the eve of the last great "transformation" of the City to the "corporate headquarters of the Pacific Rim."
In 1966 SPUR published it's "Prologue for Action" in which it grappled with the problem that San Francisco was a city that was not competitive with other major urban centers because of its "population".
"If San Francisco decided to compete effectively with other cities for the new 'clean' industries and new corporate power, its population will move closer to 'standard White Anglo-Saxon Protestant' characteristics…Influence…should be exerted in many ways-for example, changing the quality of housing, schools and job opportunities." (2)
The first example of the Lee Administration prioritizing the needs of the tech sector over the needs of existing residents was seen in early 2012 with his convening of a "mayor's task force" to draft an affordable housing trust fund measure to be placed on the November 2012 ballot to ensure ongoing local funding for affordable housing production after Gov. Brown repealed local use of tax-increment financing. The idea for such a fund had been first placed before the voters in 2008, but drew the opposition of Newsom because community-based advocates opposed his crackdown on homeless San Franciscans. The 2008 measure narrowly failed, and affordable housers we able to convince Lee to place it on the 2012 ballot.
Lee and his staff, which included a former (and future) developer attorney, insisted that private, for profit developers be part of the task force and be given a role in devising the trust fund. Community advocates learned that the mayor favored reducing the required amount of inclusionary housing, just increased from 10% to 15% of new market rate development, to 12%. Moreover, he favored language submitted by the developers creating a cap on all future increases of affordable housing fees and payments required by new market-rate development.
Placing the amount of inclusionary housing in a ballot measure meant that it could only be changed by a new popular vote, taking it out of the hands of the supervisors, who had jurisdiction since then-Supervisor Mark Leno drafted the original inclusionary legislation in 2002. Setting a cap on all future affordable housing fees was aimed at the long established balanced-growth policy of "capturing value" of land use approvals granted by the city to developers.
Taken together, the mayor's moves were a direct assault on past policy. Of the two, the "cap" was by far the most objectionable and community advocates responded with language that allowed additional fees if the city passed rezoning or density bonuses that resulted in a 20% increase in residential floor area or a 50% increase in density.
The mayor and his staff wanted an affordable housing measure for the ballot because he was running himself and wanted to be seen as solving the affordable housing crisis, and agreed as the community advocates had make it clear that they would oppose the measure unless such language was added.
The fight indicated a new and powerful alliance had been formed: The tech sector had now linked with the market-rate developers in forming a new power source of substantial economic — and political contribution — power. Together they were overwhelmingly influential on the mayor and his staff.
If the backroom jockeying around the Housing Trust Fund revealed to only a few the desire of the Lee Administration to fundamentally shift housing policy away from balanced growth and complete community initiatives, the full embrace by Lee Administration of web driven short term rental business of Airbnb was plain for all to see.
Founded in San Francisco in 2008, Airbnb was, from the start, a business based on illegal activity. Since the late 1970s, tenant and affordable housing activists had fought conversions of rental apartments to condos and "time shares" (sometimes called "corporate suites") and residential hotels to tourist hotels. The Administrative Code had seven separate laws restricting the conversion of permanent residences to temporary uses, with one requirement common to all: No permanent residential use could be rented out for less than 30 days. Only hotels could be used for occupancies of less than a month in duration, and they had to be registered and pay a special tax.
This ban on short-term rentals was a major protection of rent controlled units. Without the ban, rent control would be rendered meaningless as landlords would simply convert apartments to condos, "time shares," or a "residential hotel." Chapter 41 through 41F of the Administrative Code prohibited that. Tenant lawyer Ed Lee no doubt had used Chapter 41 in his defense of Chinatown tenants.
By 2012, close observers of the rental market started noticing that numbers of apartments were being used as STR's and listed on the web through Airbnb. The practice was so wide spread that it came to the notice of the city's tax collector. In early 2012, the tax collector proposed a regulation requiring STR's to collect and pay the Hotel Tax.
On March 28, 2012 Tony Winnicker, "Senior Advisor to Mayor Ed Lee" urged the tax collector to consider Mayor Lee's request to "…pause in adoption of this new proposed regulation…while the Mayor and policy makers consider the issues and possible changes in relevant laws and definitions in the near future." The tax collector went ahead and applied the Hotel Tax to STR's rented by Airbnb.
But the request was significant in two regards. First, it was obvious that the mayor's senior staff knew that the Airbnb practice was illegal and second, although the mayor's staff claimed that it was considering "possible changes in relevant laws," no such changes were ever drafted by them nor any "task force" of "stake holders" ever convened by the Mayor on this subject.
Two year later, after community and affordable housing advocates were preparing an initiative measure to regulate short-term rentals, Supervisor David Chiu introduced legislation to change the Administrative Code prohibition on such activity. It turned out that Chiu had meet scores of times with Airbnb's lobbyists on the matter — but never with Ed Lees senior staff nor any grouping of tenant and housing advocates.
Subsequent studies done by the legislative analyst found that by some 7,000 apartments were listed by Airbnb alone, and that in the Mission, Haight-Ashbury, Western Addition, the Castro and Potrero Hill, between 25% and 30% of all rental units were being listed and held off the market. driving rents up in those neighborhoods — and that 37% of all evictions in the city occurred in those same five neighborhoods
The Lee Administration did not turn a blind eye to the illegal STR market of Airbnb. It fixed both wide-open eyes on it and urged its continuance resulting in thousands of San Franciscans getting evicted and removed from the City.
A much more direct attack on current residents was launched in September, 2015 in a Lee Administration development program proposal wildly misnamed the "Affordable Housing Density Bonus Program."
The proposal was to allow up to two additional floors for residential projects that agreed to an additional 18% of affordability for people earning140% of AMI, on top of the 12% inclusionary. Some 30,850 parcels were to be part of the program scattered in the Richmond, Haight-Ashbury, Western Addition, Chinatown, Bayview, and Vis Valley. The program would have exempted the projects from any formal public review and totally eliminated any appeals. Even the Planning Commission would be powerless to shape or reduce the size of the buildings, with permission being granted by staff. Environmental review would be limited and deep setbacks allowed into the back yards. Off street parking requirements would be reduced. Demolitions of exiting residences would be allowed, including buildings with rent controlled apartments.
As proposed the program was gentrification on steroids. At that time, 140% of AMI was above market-rate in most of the targeted neighborhoods, and thus the program would allow market rate developers to do two additional floors by producing more market rate units! In the Bayview for example, where median income was about $30,000 a year, the $150,0000 income limit for the density bonus unit was five times the price existing residents could afford.
Opposition was significant, and in a late-night meeting the commission itself voted down the staff proposal barring it from disapproving and or modifying a project and allowed full conditional use authorization for the program. The defeat was so massive the administration never even moved the matter to the full board.
The following year, a drastically scaled-back program was moved that adopted all of the community demands from the previous year: It barred any demolition of existing housing, limited the location of the program to only neighborhood commercial streets, and required that the 18% density bonus units be offered at no more than 20% BELOW neighborhood median income.
The insanity of the proposal can be seen in the fact that San Francisco is now building more market rate housing than we officially need, some 200% of our ABAG determined need.
By this time — early 2017 — the Lee's administration approval rating were routinely polled at 30% and more than half those polled felt the city was "on the wrong track" almost totally due to the his disastrous embrace of tech over resident needs
Ed Lee presided over the greatest disparity in San Francisco's income ever seen in modern history. The implications of this inequality are profound and shape the fabric of our city. His development policy made that gap even greater, making the problem worse by centering on the tech sector which produces some four lower-paying service jobs for every high pay tech job.
By 2017, the top 5% of San Franciscans had an income 14.5 times as large as the bottom 20%. Between 2012 and 2014, according to Brookings, the top 5% in San Francisco earners increased their income by $14,000 while the bottom 20% by less than $3,000, leaving them less than they earned before 2008. Indeed, it seems that most of the increase was due to the displacement of the lowest wage earners and their replacement by higher earners. As a recent study concluded:
The median household income of those leaving the Bay Area and those moving into the region reached new highs. In 2016, the median household income of people moving out of the Bay Area reached $81,500 while that of new residents reached $90,000. This makes the Bay Area the national outlier in both the extremely high income of people who relocate out of the region as well as the income ratio between new residents and those who leave. (3)
The social impact of this stratification is serious and long lasting. We see a growing divide in public transit with the wealthy taking private ride hailing services and the rest of us riding Muni. We see an equal stratification in education as well.
Between 2010 and 2016 11 new "independent" (not religious based) private schools opened in San Francisco bringing to number of private schools in an Francisco to 109 (Elizabeth Weise) and making San Francisco "the highest percentage of kids in private school of any city in the united states " (Emily Fancher). Only 14% of public school students are white, while over 40% of private-school students are white children.
Median family income in San Francisco increased 1.3% from 2010 to 2016. Yet rents increased by 70%, and the price of a single-family home by 84% over the same period. It takes the total of income of two workers earning at Ed Lee's minimum wage, which at his death was $14, to afford the average priced two-bedroom apartment in San Francisco.
Displacement and removal became a chief policy of his administration. According to the Rent Board, between 2011and 2015 there was a 55% increase in evictions. Between 2011 and 2013 according to the Anti-Eviction Mapping Project, 69% of all no-fault evictions occurred within four blocks of a tech shuttle stop, created by the Lee Administration.
The Lee Administrations most successful program for removing homeless San Franciscans from the street was not supportive housing or his highly touted Navigation centers, but a bus ticket out of town. According to his own Department of Homelessness and Supportive Housing from 2011 to 2017 52% of all "homeless exist" from the streets were bus tickets issued through the "Homeward Bound" program, up from 46% from 2001-2010.
Development policy is at the heart of the politics of San Francisco and it in turn determines, by what kind of communal and residential development occurs, who lives and works here. Ed Lee's development policies directly contributed to the wholesale displacement of the very residents he so proudly claimed he served when he first arrived here. His policies as mayor made it very difficult or perhaps impossible for a young college graduate just staring out to earn a living, marry, buy a home and raise a family in San Francisco. It is not irony; it is a modern tragedy of our time. It is our challenge to change it.
Notes: (1) Jordan LaMarche, "On the Bubble: Affordability, Migration, and Growth during San Francisco's Tech Boom," A Capstone Thesis Presented to the Faculty of the College of Arts and Sciences, University of San Francisco, May, 2017
(2) An entire generation of anti-displacement activists owes a debt of gratitude to Chester Hartman for finding this and publishing in his "Yerba Buena Land Grab and Community Resistance in San Francisco", 1974 page 43.
(3) Issi Romem, "The Outflow of Bay Area Residents Spreads to Higher Income Levels," December 15, 2017, buildzoom.com