PARTY RADAR Welp, it took me two weeks to recover from Folsom Street Fair, so that means we've got a lot to catch up on! First, let's admire the look my friend Hunter, aka drag legend Felicia Fellatio, put together for the fair.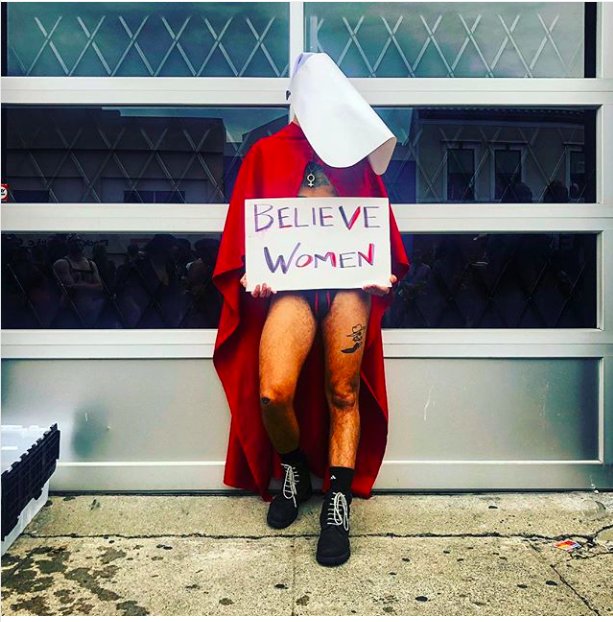 I had to stop watching "Handmaid's Tale" after the third episode because I was so traumatized, but sexy woke leather handmaid might reel me back in? 
EL RIO TURNS 40 I cannot believe this vibrant Mission patio hot spot is twice my age! It's a true SF treasure, mixing Latinx neighborhood vibes with queer community. Kudos to owner Dawn and crew for keep El Rio true to the spirit of the city when so many have sold out as the area has become gentrified. I love it so much. Hit up the special Sat/13 40th Anniversary Party featuring a glorious amalgamation of El Rio's best parties: Swagger Like Us + Mango + Hard French + Soulovely + Sazon Libre and more.  
ELBO ROOM FINALLY CLOSING After many false starts, promises, news releases, and controversies, there's finally a date on the shuttering of the Elbo, one of the few adventurous nightlife spots left in the Mission. January 1, 2019, the 30-year-old Elbo will turn into condos (probably), so dive into a final lineup of parties until then that includes Literary Death Match, White Ring, Tormenta Tropical, and the classic Saturday Night Soul Party. www.elbo.com  (PS the new Jack London Square Elbo Room will remain open, give it a visit.) 
IS THE SFPD DISCRIMINATING AGAINST HIP-HOP CLUBS? Read this explosive report from Sam Lefebvre of KQED about the SFPD's super-shady campaign against North Beach club Hue (formerly Atmosphere). It pretty much has everything: lies, deceit, a bombing, Aaron Peskin … everything!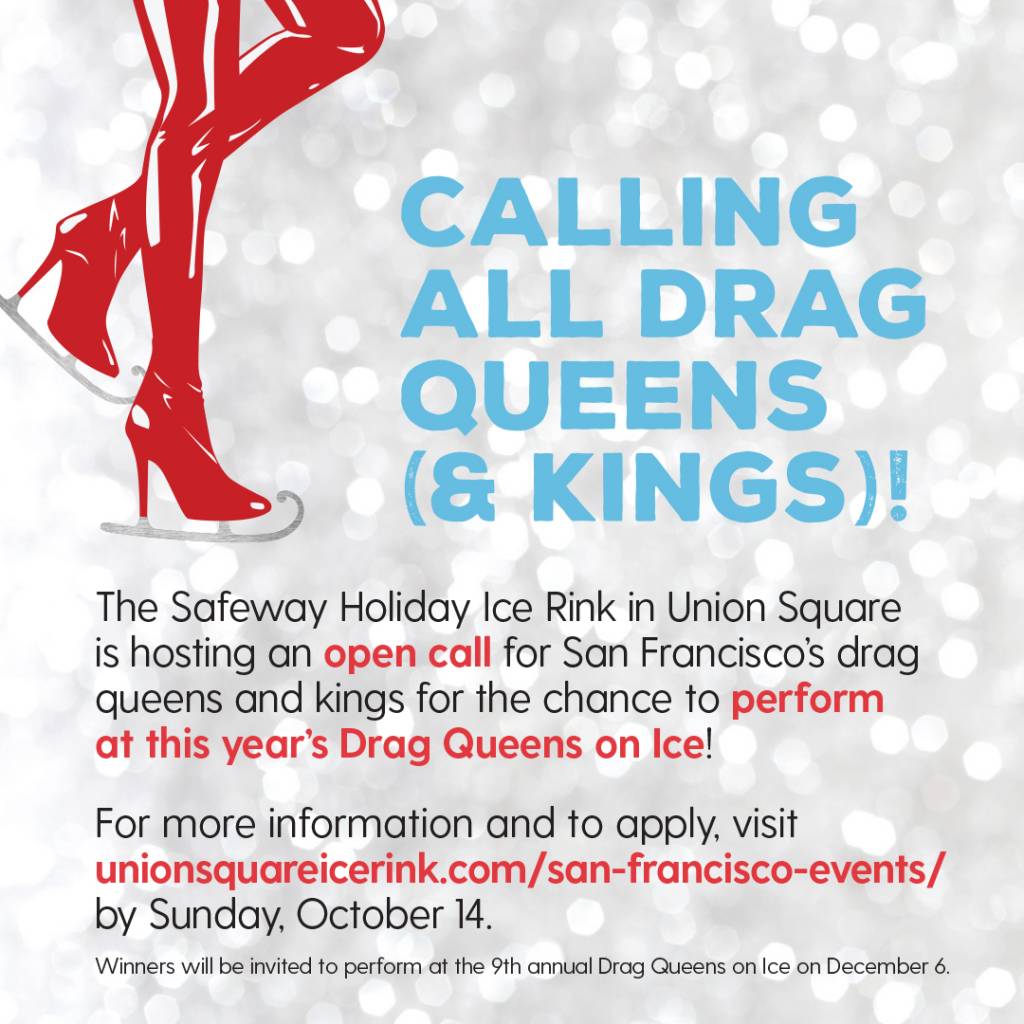 CALLING ALL ICE QUEENS Drag Queens on Ice is one of the essential SF holiday traditions, and some of them are very good on those skates. (Some are, well, not so good but make it up with endless charm—I see you Motha Chucka!) The call is going out to any queens who want to audition. "From fierce to festive, applicants are asked to don their gayest apparel and record a short video of them showcasing their act or routine." Then the Union Square Ice Rink will share it across its social media so people can vote on your frosty moves. Check here for more info 
GHOST SHIP HALLOWEEN CANCELLED Look, there were already questions about whether the humungous, two-day Halloween rave could stage its 10th installment at newly refurbished venue SVN West (which still has bulldozers parked outside of it). How do you compress a sprawling carnival that once filled Pier 70 into a large but limited indoor space? Do you put the neon Pirate Ship ride on the roof? And how do you continue to produce such a massive party when most of your artists have fled the Bay Area because it's too expensive?
Those are not the reason the organizers originally gave for cancelling the party, though. Last year, it changed its name to Love Boat out of respect for the survivors and friends of those lost in the terrible, wholly unrelated Ghost Ship fire. But this year—despite putting out advance promotional materials with the perfect name Barco Fantasma—the organizers decided to change it back to Ghost Ship, igniting a small firestorm of social media comments (which it then proceeded to respond to pretty unsympathetically). Then suddenly, it was announced that the whole thing was cancelled due to this easily resolvable controversy, which seemed a bit overboard.
Finally, Hush Hush promoter head Robbie Kowal, who is one of the Ghost Ship Halloween founders and a great guy, cut through the BS on the Ghost Ship Facebook account to talk about the real reasons, which included a mass artist exodus from the area and the pressure of finding a solid venue. Those of us who lost friends and family in the fire are still a bit put out about being scapegoated for all this drama, but at least there's some honesty happening. And there are still tons of fun Halloween parties to be had (my full guide's out soon), including Life Boat, put on by some of the Love Boat promoters in an attempt to salvage some fun out the whole debacle, and not leave much of the booked Barco Fantasma talent high and dry.

PARTIES OF NOTE
FRI/12 MERCURY SOUL: GAVIN HARDKISS I love the Mercury Soul parties, which aren't afraid to experiment with the nightlife experience itself. This one takes on a "future folk" theme, "to dive into the world of folk music with performances of folk-inspired electronic, classical, and bluegrass music, interspersed with DJ sets spanning the global folk music landscape." With DJs Gavin Hardkiss (legend!so good!), Mason Bates, and Justin Reed, plus band bluegrass band Hot Buttered Rum, "as well as classical musicians from Vitamin Em performing works by American classical composers such as John Adams and Mark O'Connor in addition to classical favorites by Brahms and Bartók. 9pm-2am, $20-$25. Great Northern, SF. More info here. 
FRI/12 DAEDELUS + HUXLEY ANNE LA's mad scientist of knob-twiddling Daedelus and "liquid wax aboriginal broomstick riding free base electric sorceress" Huxley Anne explore artistic identity and creative process in conversation, Q&A, and performance. 9pm-2am, $10-$15. The Midway, SF. More info here. 
FRI/12 LAST NITE The 2000s have been back! But not in that awful Bush way that's happening in the political world. No party gives me more confidence we will dance this mess around than this one, in which DJs Jamie Jams and Rocky really pull out the indie dance numbers. "It's like we ate Pitchfork, stole your iPod and then rode off on your track bike." 10pm-2am, $10. Make-Out Room, SF. More info here. 
FRI/12 VIVVY'S GRAND OPENING: PUNKIN Wild monthly drag night Vivvy's Grand Opening always has some jaw-dropping performances in store. This time for all hallow's the Church of Nihilism takes over. "Suggested dress code: Witch fail, ethical zombie, sexyscaredycat, spooky ooky cookie, Headless, HoresMan, Mystery Meat, Smug Slug." 10pm-3am, $10. The Stud, SF. More info here. 
SAT/13 FLAGGING IN THE PARK Flagging in the Park is the most gay San Francisco thing you can go to ever, paying tribute to one of the great gay nightlife traditions, but in the sunshine—and this installment with the brilliantly chill CarrieOnDisco on decks will be indescribably cute. 1pm, free. AIDS Memorial Grove, SF. More info here.   
SAT/13 BARDOT-A-GO-GO 20TH ANNIVERSARY We're pretty far from Bastille Day, when this fabulous party brings out the French kisser in all of us. But, mon dieu!, the crew is gonna have a 20th anniversary blast. "All three co-founders—Brother Grimm, Pink Frankenstein, and Cali Kid—will be spinning the best in decadent '60s French pop and other International and American garage/soul/bubblegum sounds." 9pm-2am, $10. Rickshaw Stop, SF. More info here. 
SAT/13 BREAKBOT Woah, a throwback to the glory days of Ed Banger and melodic hardcore electro. Art school grad Thibaut Berland found fame creating singalong, dance-a-long tunes that fuse disco vibes and yacht rock sensibility with Daft Punk grooves. It worked! 9pm-late, $20-$25. Mezzanine, SF. More info here. 
SAT/13 ONE NIGHT ONLY W/ DAVID HARNESS The Bay Area's version of Frankie Knuckles has come out about suffering from diabetes: Come dance all night to his impeccable soulful house groove and help raise money for a good cause. Sat/13, $20-$40. The Foundry, SF. More info here. 
SAT/13 JULIANA HUXTABLE The multi-talented, outspoken NYC DJ-performer-magical being lands in town to show the children how it's done at the Molly House party. Juliana's sets are voracious! Also featuring super electronic BB Russell E.L. Butler.  10pm-4am, $10 advance. The Stud, SF. More info here.   
SAT/13 POUND PUPPY Scruffy, woofy gay dancing to the far-reaching techno sounds of the local Kosmetik crew, Jordee and Matthew Paul. 9pm-2am, $10. The Eagle, SF. More info here.   
SAT/13 AURORA HALAL The Brooklyn artist operates on the shadowy side of electronic music, and her psychedelic sensibility makes her a perfect fit for the We Are Monsters party. 9:30pm-3am, $10-$15. Monarch, SF. More info here. 
SUN/14 AS YOU LIKE PICNIC Techno in the park! Techno in the park! Spend a lovely Sunday with the As You Like It crew/family (BYO-everything). Chicago/SF's Chrissy plays with Lily Ackerman, Patrick Lotilla, Rich Korach, and more. Noon-6pm, free. (donations accepted) Elk Meadow, Golden Gate Park, SF. More info here. 
SUN/14 DISCO CABANA, MONSTER MASH The goofy-fun Disco Katz crew is at it again, for Halloween of course, with some real house legends to get you all the way through Sunday: Charlotte the Baroness, Chris Orr, and tons more. 2pm-10pm, $8 advance. Natoma Cabana, SF. More info here.