ARTS FORECAST What happens when your family loses everything, almost in an instant? That's the horror event producer Daniel James Burke faced as the Camp Fire raged through Paradise. 
"My family is good. Everyone is safe and healthy and in the long run that's what's important," Burke told me over the phone. "Our family did lose three properties in total. My mother's house, my father's house, and my mother's husband had a house up there as well, which was the house I grew up in. There were a lot of material possessions lost, but everyone got out. 
"The first time I realized the fire was serious was when my Dad called me and said, I think Al's house is gone," Burke said. "I was in shock, trying to get some sort of news. Everything happened so quickly, there was no time to mentally prepare. Usually when a forest fire starts, you evacuate and you wait it out, thinking, 'Is it going to hit my house?' With Paradise, it just showed up in moments, and all you could do is get out. Bot of my parents all thy had time to grab was some clothing and medications. 
"Scarily, my daughter was up there staying with my grandparents. My mom called me at 6am and was like, I don't want to alarm you, but there's a fire outside the city, and we're just taking precautions, we're sending your daughter back with your father to Oakland. My dad told me later, 'We just drove through an inferno. I've never seen anything like that. We drove through a forest fire for five minutes.' They were one of the last two cars to take a certain evacuation route that was closed right after them due to the fire danger. It was terrifying, he broke down a bit over the phone. He said, for those five, six minutes you really realize what's important in life."
"We always joked that if there was ever a zombie apocalypse, we would all meet up there," Burke said. "I think we need another plan, now," he said.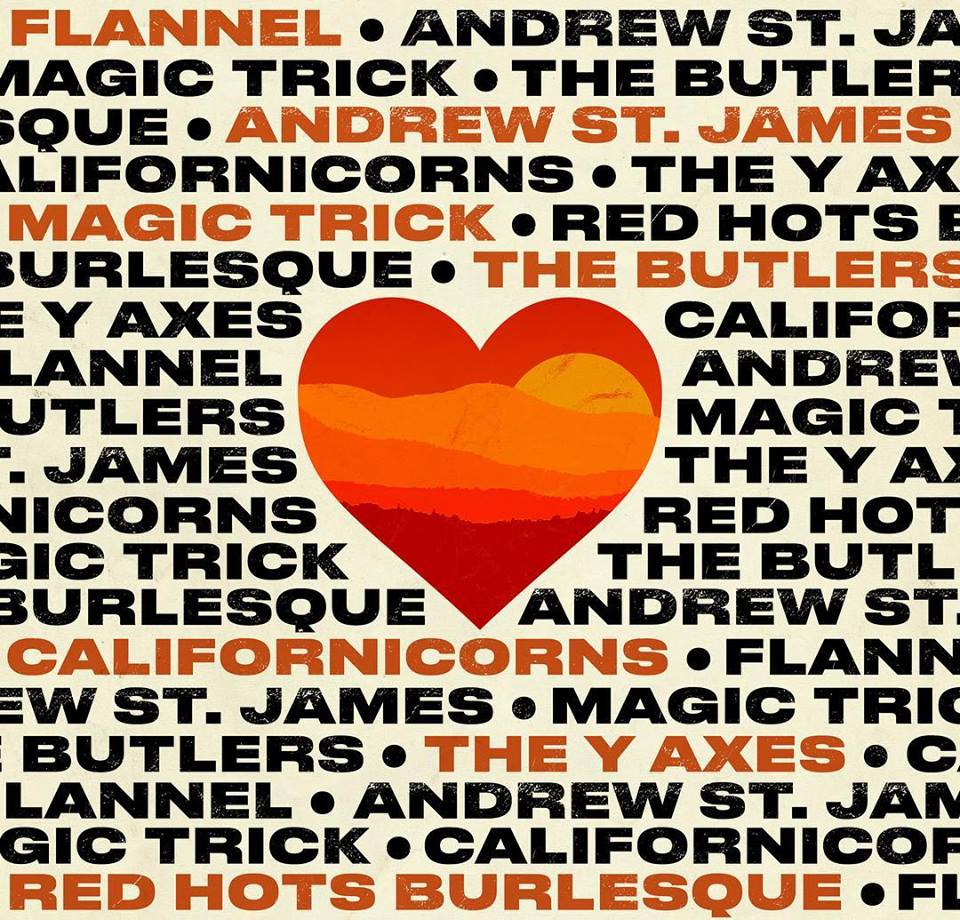 Of course, Burke realized that his personal experience with the fire was lucky. Some lost far more in the tragedy and were still struggling. So he's teamed up with Pianofight's Rob Ready and others for The SF Camp Fire Benefit Show (Wed/19, 7pm, $20-$25) at the Great American Music Hall. all proceeds of this show will go to the North Valley Community Foundation and the Arc of Butte County, which give direct aid to the 30,000+ people who have been affected by the Camp Fire.
Burke's own band, '90s tribute act Flannel, joins 10-piece surf funk band Californicorns​​ and '70s rock tribute band ​The Butlers​​, Red Hots Burlesque, indie band the Y Axes, plus an array of Bay Area performers in drag, comedy, and spoken word. It's a truly San Francisco-flavored show, with lots for everybody. 
"When we were putting the show together we kept feeling more and more that this event should really represent the special San Francisco scene, that we were really showing what San Francisco could do in honor of the Camp Fire victims," Burke said. "We're all really so connected in California, unfortunately, by these types of fires. No one who lives here hasn't been affected by fires. We want to recognize that and show up for the community that's going though so much. 
THE SF CAMP FIRE BENEFIT SHOW
WED/19, Doors 7pm, $20-$25
Great American Music Hall, SF. 
More info here. 
MORE UPCOMING ARTS EVENTS
THU/13 STAGE BAWDY STORYTELLING "Bawdy Storytelling features tales of carnal wins & epic fails with no scripts, no nets, and no holds barred. These folks aren't reading from cue cards: this is honest-to-badness story time with true sexcapades and poignant, transformational tales at each and every show. Join sexual folklorist Dixie De La Tour and hand-picked rockstars as they share their own stories of love, lust, and making you feel funny in your bathing suit area." 8pm-10pm, $25. Verdi Club, SF. More info here.  
THU/13 MUSIC MUÑECAS "Muñecas, a latinx punk trio from SFCA is set to release its 3rd EP, 'Cuidado' on Thursday, December 13th at The SF Eagle. Cuidado responds to the rising reductionist rhetoric against Latinos in the United States, especially children of immigrants. This EP is a sex affirming, toe-tapping, reality questioning reflection of queer identity that you should play very loud, very fast and very often." 8:30pm-11pm, $5-$10. SF Eagle. More info here. 
FRI/14 MUSIC MERZBOW "There are few artists that are synonymous with an entire musical genre and movement- Merzbow is one of them. Since emerging in late 1970's Tokyo, Merzbow ie. Masami Akita has pioneered what would soon become known as Noise Music. He has ceaselessly explored the extreme limits of sound—completely disassembling the language of the avant-garde, abstract electronics / synthesizers, free jazz, drone, rock, sound / tape collage, psychedelia and anything else in his path." With Prurient and Kelly Moran. 9pm, $18-$20. Oakland Metro Operahouse. More info here. 
FRI/14 NIGHTLIFE DJ BONE  A definitive Detroit techno legend, Bone's sound stays contemporary even as it summons the hard-driving undergrounds of the rave era. He's at the As You Like It party, thrown by one of our best party crews. As the AYLI motto goes, "Quality." 9:30pm-4am, $15. Monarch, SF. More info here.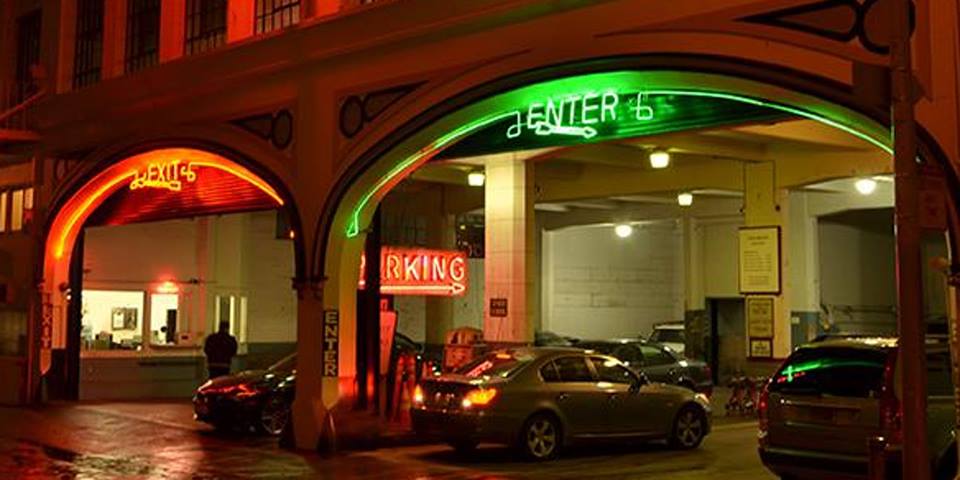 FRI/14 LIT/TOUR SF NEON WALKING TOUR "Spend an evening under the neon glow with San Francisco Neon authors and photographers Al Barna and Randall Ann Homan. Tours feature local history with architectural and graphic design insights to San Francisco's unique legacy of surviving neon signs. Photography and a lively Q&A are encouraged. Be prepared to walk 2 miles for 2 hours, with rest stops. Tours start just before twilight." 5:45pm-7:30pm, $25. Meet outside Harrington's Grill. More info here. 
SAT/15 SHOPPING QUEER HOLIDAY FAIR "The time is here for some Queer Holiday Cheer. Save the date to shop with Qulture Collective and a curated group of Queer, Trans, and Gender non-conforming makers." Over two weekends, dozens of items from zines and buttons to jewelry and harnesses will be available in a delightful rainbow of styles and kinds. Through December 23. 11am-6pm, free. Qulture Collective, Oakland. More info here. 
SAT/15 NIGHTLIFE FRINGE HOLIDAY BASH Winner of "Best Dance Party" in our 2018 Best of the Bay readers poll, This totally cute indie dance party, featuring all your favorite dance floor hits of the 2000s (I have lots), is going ho-ho-nuts for the holidays. "Santa hats, candy canes, ugly Christmas sweaters…it's all happening at our annual festive Holidaze Bash!" 9pm-2am, $5. Madrone Art Bar, SF. More info here. 
SUN/16 MUSIC DAVID BROZA & FRIENDS "Israeli singer-songwriter David Broza is one of the most innovative superstars in the world with a 40+ year career spanning from blues to jazz, rock, country, folk and world music. Singing in Hebrew, Spanish, English, and Arabic, he brings together audiences of all cultures, bridging barriers of language through his music. In this special 2018 project, David is joined by the NY based Cuban Trio Havana led by flute virtuoso Itai Kris." 7pm, $27.50+. UC Theatre, Berkeley. More info here. 
SUN/16 FILM BLADE RUNNER + BRAZIL Ah, those gorgeous, wackadoodle dystopias of yesteryear, shining brightly down from the screens. Ridley Scott's replicant-riddled 2019 and Terry Gilliam's bureaucratic phantasmagoria can be seen as a double feature at the Roxie—you may want to polish your eyeballs afterwards. 6pm and 8:30pm, $10. Roxie, SF. More info here. 
SUN/16 MUSIC "SONIC MEDITATIONS" "Each year, San Francisco Contemporary Music Players holds several community events that encourage the exploration of contemporary music in a festive, community atmosphere. On December 16 at The Women's Building, SFCMP will host a community gathering and singalong featuring Cornelius Cardew's, 'The Great Learning, Paragraph 7' and Pauline Oliveros' 'Sonic Meditations III.' In this group performance experience, the audience has the opportunity to add their voices to the musical recitation, and the mood and spirit will be set through a sonic meditation led by Artistic Director Eric Dudley." 3pm-4:30pm, free. Women's Building, SF. More info here.