More than a few arts organizations that were already in fragile financial shape wound up being COVID casualties, among them San Francisco Green Film Festival, which was unable to survive the forced cancellation of what would have been their 10th anniversary event last fall. Fortunately, the environmental issues its programming showcased remain far too much important for either filmmakers or audiences to go neglected by other, surviving festivals and platforms.
Their number now includes Livable Planet (Thu/22-May 2), the latest addition to the family of local film festivals under the umbrella of SF Indiefest, which was founded nearly a quarter century ago. This new, all-virtual (at least for 2021) fest offers a total of 67 shorts and features that roam the globe. They encompass both narrative and (mostly) documentary work, united by a focus on the increasingly fraught relationship between our planet and its most dominating (as well as destructive) species, i.e. Humanity.
The official opening selection this Thu/22 is Cecilia Aldarondo's Landfall. "Kids in cages" aside, probably no pre-COVID failure exposed the mercenary callousness of the Trump administration so plainly as its response (or lack thereof) to Hurricane Maria, which devastated Puerto Rico in September 2017. As one person here says, "What happened was a disaster…but the real disaster is what happened afterward." Severe immediate shortages in food, water, electricity, gas and so forth were addressed in stupefyingly slow fashion; while less than 100 people may have died during the actual Category 5 storm, as many as 5000 are thought to have died subsequently, as a direct or indirect result of government inaction. All this underlined that despite PR being part of the U.S. (as an "unincorporated territory"), it is still considered a poor stepchild—fit for exploitation, but not true support.
Impressionistic rather than explanatory, Landfall seldom spells out the complex set of issues still afflicting an island long beset by "the colonial disease." But it still makes a powerful statement, alternately damning and resistant, lyrical and mournful. It's noted that the politically hobbled Commonwealth was already $72 billion in debt before Maria hit. This is the result of policies that have relentlessly drained its resources for offshore gain while providing little in return for residents, who have emigrated in waves to the mainland to survive for many decades.
We glimpse some of the latest such profiteers: Developers of "luxury estates" catering to people who want to "protect their wealth" by purchasing property in "a gated community on steroids;" and stars of the "crypto [-currency] community" who arrive posturing like altruistic saviors, but whose real motivations are regarded with weary suspicion by locals. (If you research the controversial track records of these particular venture capitalists, that distrust is more than justified.)
Two years after the hurricane, basic infrastructure is still a mess, while budgets continue to be cut to service the debt. There's also the literally toxic legacy of the U.S. Navy's prior longterm presence, which used parts of PR for war games, bombing practice, and chemical dumps. As one native says here, "Hurricane Maria was like a giant mop or broom that cleared everything away, and we were finally able to see…how screwed we were."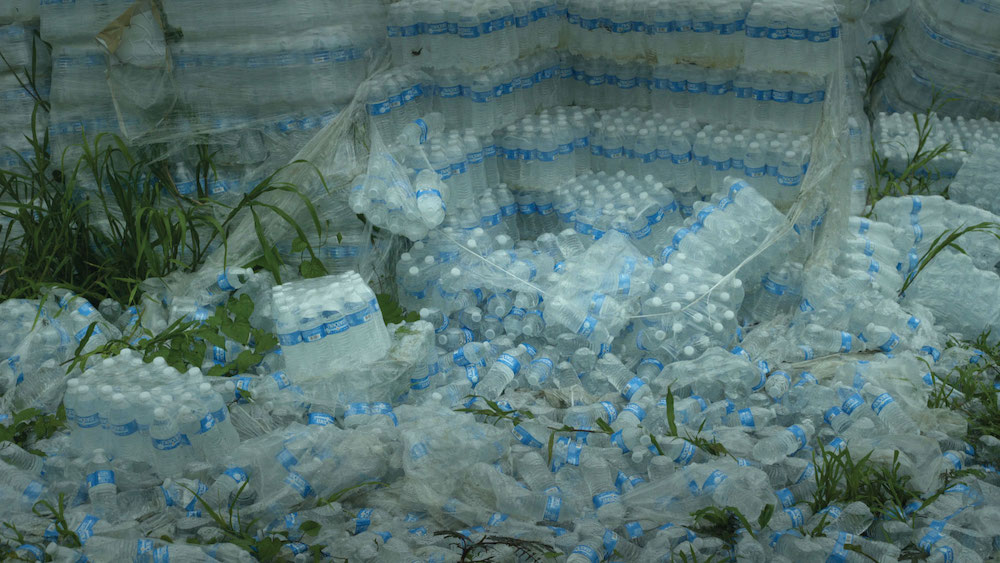 The result was a furious rise in activism that led to Governor "Ricky" Nevares' successful ouster in 2019—though "You can cut off the head, but the monster is still there," as one observer puts it. We see jubilant crowds chanting "Conmen! Assholes! Give us back our millions! No vultures, no corruption! Puerto Rico is ours, end of story!" as they face heavily armed military police.
The future is uncertain, to say the least—and Ricans, who cannot vote in national elections and aren't represented in Congress, aren't united in seeing potential statehood as the answer. But Landfall's excellent, freeform overview does convey a new spirit belligerently calling for meaningful change.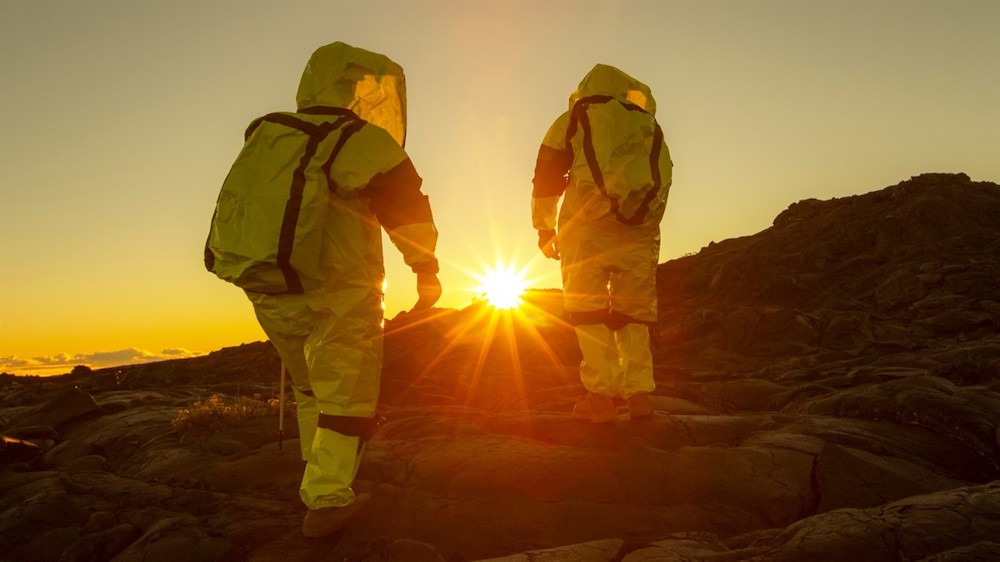 Livable Planet's closing night film on May 2 transcends this Earthly plane: Red Heaven chronicles a year-long NASA experimental program to test conditions that would be endured by astronauts on a mission to Mars. The issue that just might drive us there—climate change—is central to several other features, including Centerpiece selection Entangled. It's one of several films that examine the impact of environmental change and commercial pressure on edible aquatic life.
The Long Coast provides a lovely appreciation of fishing and related industries in Maine, where traditional "wild-caught" ways may soon be forced into making way for high-tech factory farming. Gorgeous Sockeye Salmon: Red Fish looks at the impact of poaching in Kamchatka, a nature-reserve "paradise" in Russia's far east that supplies much of the world's salmon and caviar. It offers some remarkable (not to mention scary) up-close photography of squabbling brown bears.
Excessive hunting of another species is the subject of Operation Wolf Control, while other documentaries highlight conservation concerns in Indonesia (Our Mother's Land), Ghana (The Burning Field), Nepal (Baato), Nicaragua (River Tales), and elsewhere.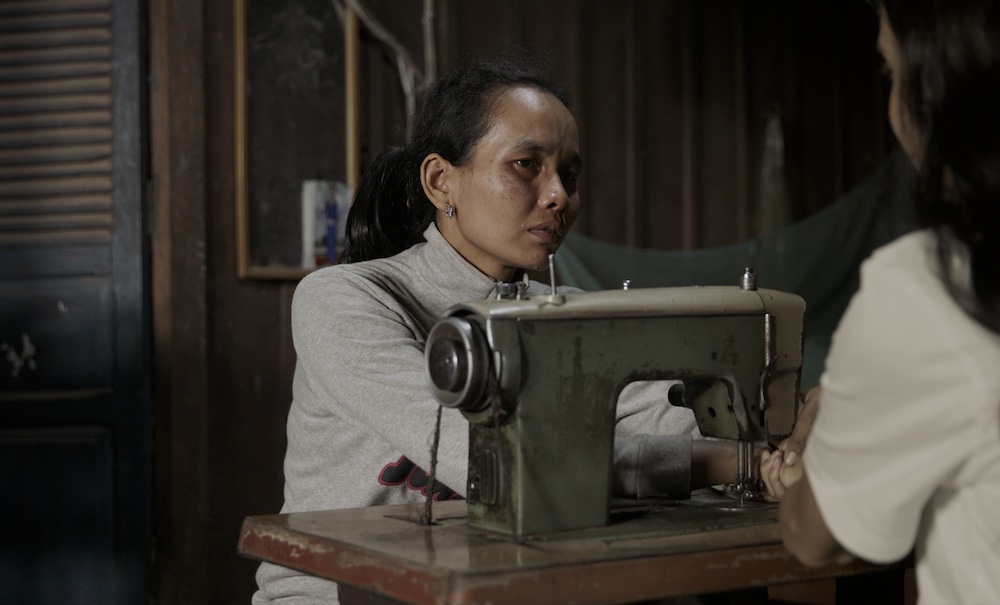 There are also films about adventure sports (including the self-explanatory Climbing Blind), sustainable agriculture, and the hidden costs to consumerism. Documentary The Conscience of Clothing provides one look at the interface between First World fashion and Third World labor; a special midnight movie selection, the Canadian horror comedy Slaxx (reviewed here), parodies those same conflicts by having a "possessed" pair of designer jeans lay waste to the employees of a Forever 21-type trendy Toronto chain store. There are also themed shorts programs including an LGBTQ one, and titles of particular local interest like the Point Reyes-shot Tule Elk: The Killing of a Native Species.
The Livable Planet Film Festival will stream Thu/22 through May 2. For full program and ticket info, go here.
Even beyond that new annual showcase, there's quite a few additional films about eco-related issues in circulation at present. Fri/23 sees the streaming release of Victor Velle's 8 Billion Angels, which examines the big picture of how overpopulation is endangering our species' future. The date 4/20 naturally brings at least two cannabis-themed features that we know of: There's fact-based drama The Marijuana Conspiracy, about a 1972 "radical experiment studying the effects of weed on women," and documentary Going to Pot: The High and the Low of It, which scrutinizes that rapidly-growing, newly-legal industry.
Also, playing local PBS stations on that day (this Tuesday, on KRCB) and Thurs/22 (KPJK) is Todd Darling's 2014 Occupy the Farm, chronicling the tug-of-war between UC Berkeley and community activists over the last substantial tract of undeveloped open farmland in the East Bay.
Already playing the Embarcadero, Rafael Film Center and other theaters is Gunda, Viktor Kossakovsky's wordless, B&W documentary trains its patient camera on several farm animals living in pleasantly bucolic, non-factory conditions: The titular mother pig, some chickens (including one with a very stately single-legged hop) and a small herd of cows.
Presumably shot via drone cameras, so the subjects seem oblivious to any foreign presence, it offers numerous privileged moments of non-human behavior observed with great intimacy. Also great empathy, which may sneak up on you with a hammer blow when the fadeout reminds us that these creatures are still, at the end of the day, commodities at the mercy of human need.
Taking a very macro- view to Gunda's microcosmic one is Sky Hopinka's malni—towards the ocean, towards the shore, currently available BAMPFA's home streaming program (more info here). The esteemed visual artist's first feature is an often visually ravishing, meditative film essay alternating between private moments in nature and tribal community events in his native Pacific Northwest. Two of his friends contribute thoughts on indigenous identity and spirituality, as well as maintaining both in frequently embattled modern cultural circumstances. It's a rare movie where you get to hear Chinuk Wawa spoken, just one of many ways in which this freeform document gently expands the viewer's horizons.