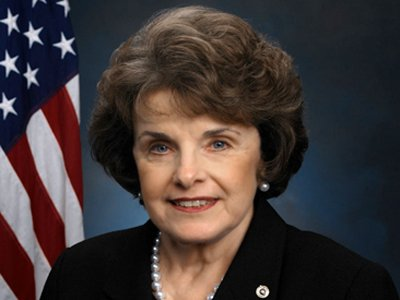 By Tim Redmond
OCTOBER 21, 2014 – Senator Dianne Feinstein, who hasn't made a habit of getting involved in local politics of late, threw a bombshell into the Airbnb debate today with an oped in the Chronicle urging the supervisors to reject – and the mayor to veto – Sup. David Chiu's Airbnb legislation.
It created one of the odder alliances in modern SF political history, with Feinstein – the champion of big business and developers – siding with neighborhood activists and progressives like Sups. David Campos, John Avalos, and Eric Mar.
And yet, the supes – by the same 6-5 majority as we saw two weeks ago – rejected attempts to make Airbnb pay its back taxes and to limit all short-term rentals to 90 days, and then passed the measure 7-4.
It's very unlikely that Mayor Ed Lee, who is close to Airbnb investor Ron Conway, will veto the bill.
But it sets up an interesting prospect: Would Feinstein join in a campaign for a ballot measure to limit short-term rentals?
All of this is happening at a time when New York is taking a very different approach: The attorney general of that state, Eric Schneiderman, had declared that 70 percent of Airbnb listings in New York are illegal. Even the New York Post is on the story.
Help us save local journalism!
Every tax-deductible donation helps us grow to cover the issues that mean the most to our community. Become a 48 Hills Hero and support the only daily progressive news source in the Bay Area.
Here in San Francisco, though, we are allowing the $10 billion company not only to operate legally in what amounts to a vast rezoning of the city – but to do so without any guarantee that it will pay some $25 million in back taxes.
Feinstein's oped is remarkably clear and strong:
This is a shortsighted action that would destroy the integrity of zoning throughout San Francisco, allowing commercial and hotel use in residential areas throughout the city. The board compounded this poor decision by rejecting a number of commonsense amendments that would have vastly improved the legislation.
And:
It's no secret that San Francisco is one of the most expensive cities in which to live. The legislation approved by the board will encourage property owners and renters to vacate their units and rent them out to hotel users, further increasing the cost of living.

Simply put, this bill will further increase already sky-high rental costs.
And:
Finally, in 2012, the San Francisco treasurer and tax collector ruled that short-term rentals to tourists must incur the city's hotel tax that all other visitors pay to cover costs of public services and amenities.

The tab for back taxes for Airbnb rentals alone is estimated at more than $25 million. Another commonsense amendment to collect those back taxes prior to this legislation taking effect was rejected by the board.
At today's board meeting, Campos pointed to the Feinstein piece and noted: "It's not typical that Senator Feinstein and I find ourselves on the same page." He pointed out that even Feinstein thinks Airbnb should pay its back taxes. "I find it unbelievable," he said, "that we rejected this amendment last time around."
Sup. Scott Wiener, repeating arguments he's made in the past, said that the tax collector can already go after those back taxes but that the process might lead to years of litigation. Chiu said he wanted to collect back taxes. Sup. London Breed said that Al Capone had gone to prison for back taxes and that the government is good at collecting them. Sup. Malia Cohen, who recently told me that she wants to collect that money, said "we don't know what is owed and whether we can get it."
Here's the reality, as Campos pointed out. The tax collector ruled more than two years ago that hosting platforms like Airbnb were responsible for collecting and remitting hotel taxes and were liable for paying them. But not one penny of that money has been collected.
Sup. Jane Kim added: "If the treasurer had all the tools he needed to collect those taxes, why hasn't it happened?"
And on the matter of litigation: Airbnb is making tens of millions of dollars every year in SF — and is looking at an IPO that could be worth many billions. If the city were serious, and said that all those illegal rentals would be shut down unless the company (without litigation) paid up what it owes (thus jeopardizing the entire business model), how many nanoseconds do you think it would take before the tax collector got a check?
Kim also made one of the most logical arguments I've heard in this entire debate when she urged support for a proposal by Avalos to limit all short-term rentals to 90 days, even if the host is at home.
Others have argued that seniors and working-class people who have extra rooms in their homes rely on hosted short-term rentals for income. But "if you need someone for more than 90 days," she said, "you get a roommate. That's what San Franciscans have done for years." Kim pointed out that she has a roommate; in fact, that type of "shared" housing has allowed generations of new arrivals to live in San Francisco.
And it creates permanent housing stock instead of cannibalizing it.
If you want to run a small hotel in your home, she said, you can go to city planning and get a permit to run a bed and breakfast: "There has never been a B and B permit denied," she said.
And the only way to enforce the Chiu proposal – which allows unlimited short-term rentals when a host is at home – is to engage in an invasive and expensive investigation process to see where San Franciscans are actually spending the night.
But forget the logic. The votes were lined up. Chiu, Cohen, Farrell, Teng, Wiener, and Breed all opposed the amendments. Kim ultimately voted for the bill, meaning it passed 7-4.
But if there's a ballot measure on this, and Senator Feinstein sides with the proponents, that could be a mighty addition to what could be a very broad (if unusual) coalition.
A District 10 resident has filed a complaint with the Ethics Commission saying that Sup. Malia Cohen's campaign strategist failed to register as a lobbyist for Airbnb – and while Ethics is slow and often unwilling to act on complaints, this one raises an interesting question: When, exactly, does a campaign consultant become a lobbyist?
The complaint by Jani Musetter alleges that 50+1 Strategies worked to organize Airbnb users to contact supervisors and push for Chiu's legislation.
Nicole Derse, a partner in 50+1, works both for Cohen and Chiu.
Nobody argues that Derse or anyone else in her firm actually contacted any local officials to lobby for Airbnb. Derse tells me that her firm has a clear policy that separates campaign consulting work from all other work, and that
Esete Assefa is our staffer who was working nearly full time on Airbnb organizing.  She is not involved at all in either the Cohen or Chiu campaigns and spent most of her time over the last few months working on site at Air Bnb and not in the 50+1 office.
She explained:
50+1 are not lobbyists.  We have never been lobbyists on any issue.  We don't need to register as lobbyists because we do not lobby elected or appointed officials.  You can ask any member of the BOS and they will tell you that we have not lobbied them.  50+1's work with Airbnb was restricted to helping to organize homesharers.  That is all.
The complaint, though, suggests that organizing homesharers ought to count as lobbying: "Organizing Airbnb users to contact legislators for the purpose of passing favorable Airbnb legislation is clearly a lobbying service."
It also calls for an investigation into whether Derse discussed the Airbnb legislation with Cohen – in which case Cohen would have to disclose that contact.
City law prohibits campaign consultants from also lobbying their clients on legislation.
Is it "lobbying" to get paid to organize someone else to lobby? I don't know. I'm not sure it's ever come up before. Is it possible for a campaign consultant working with Cohen and Chiu while one of the most contentious pieces of legislation in the past year was working its way through the process never once to discuss the bill with her clients, one of whom is the author?
I don't know. Is it?
I got a flier in the mail today supporting David Chiu for state Assembly, and unlike most of what I've seen of late, it's not even remotely negative. Just a simple (predictable) piece that any campaign anywhere could have sent, talking about how Chiu, as a former small business owner, knows how to create jobs.
What intrigued me was the disclaimer: "Paid for by Californians Allied for Patient Protection Independent Expenditure Account."
Huh?
I knew Ron Conway and Reid Hoffman had an IE supporting Chiu. I knew labor had one for Campos. But what exactly is this organization, and why is it involved in this Assembly race?
Well, according to filings with the Secretary of State's Office, the Alliance is a group funded largely by doctors, dentists, and health-insurance companies that is working to defeat Prop. 46. It has a ton of money – but also a huge task in fighting against the trial lawyers and consumer advocates who are pushing for higher medical malpractice awards.
Among the donors to this IE: Eli Lilly ($25,000), Norcal Mutual Insurance Company ($55,000), the California Medical Association ($50,000) The Doctors Company (at least $100,000), The Dentists Insurance Company ($50,000) Tenet Health System ($187,000) and the California New Car Dealers Association ($40,000).
And those folks must want Chiu in the Assembly.
By the way: I've been critical of Chiu's Airbnb bill, but this is a great idea. I've been writing about it for more than a decade now: Every time someone, the city or a company, opens up the city streets, we ought to be laying fiber optic line to create a municipal broadband system.
But if we're going to do that, why not also lay electrical conduit, so we'd have a distribution system in place for a future public power program?