Eight years ago, I rode home from Election Night parties on my bicycle and had to stop, over and over, because people were out dancing in the streets to celebrate the election of Barack Obama.
Tonight, it was eerie: The streets were dead, and the people walking around were just shaking their heads. "I'm so depressed," one person I role with for a while said. "I don't know what to do."
It's really, really scary: The leader of the free world, it appears, is someone who doesn't believe climate change is real, wants to deport more than 10 million people, thinks it's okay to use nuclear weapons, and brags about sexually assaulting women.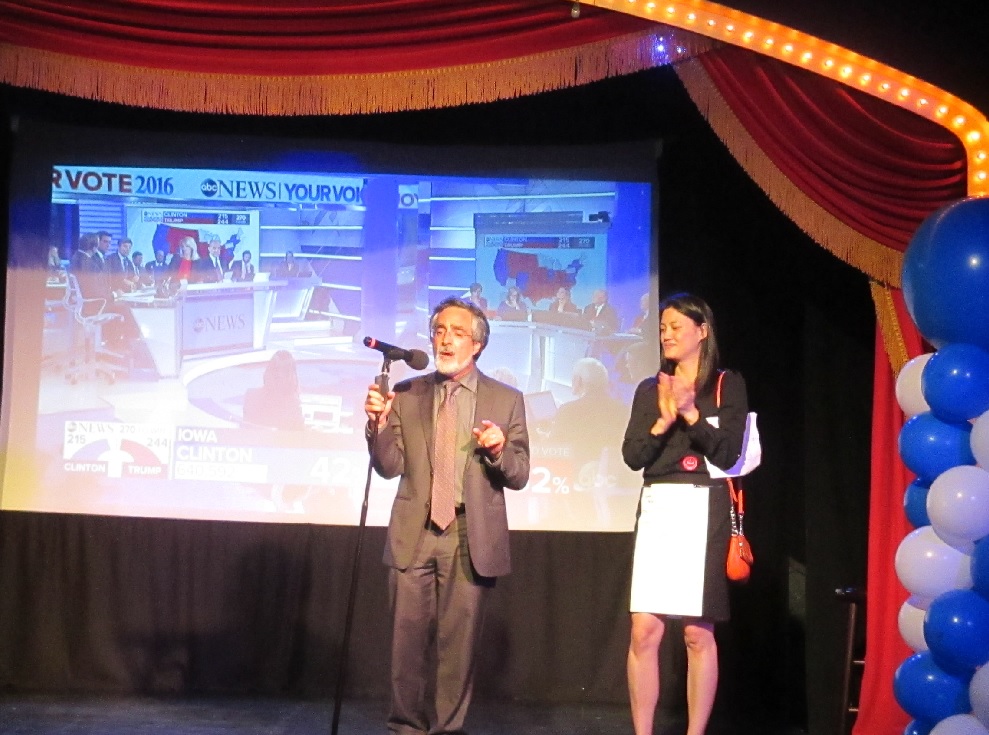 And he's got a Republican Senate to confirm his appointments to the Supreme Court.
We will have plenty of time to talk about what went wrong, but we can start with a simple statement: The Democratic Party, since the Bill Clinton era, has largely abandoned the working class in this country. For all the good Obama did, he's made no progress in reducing the wealth gap. He hasn't even talked much about it.
Bernie Sanders did, and he appealed to some of those millions of voters who were for Obama in 2008 and 2012 but were for Trump in 2016. Hillary Clinton did not.
So now, as Markos at DailyKos points out, "there's no way to sugarcoat this. We're in for a world of shit."
But the Democratic Party is now going to have to change, profoundly, and even Markos, who was a strong Hillary person from the start of this election, is now saying: Bernie Sanders for DNC Chair.
It's also more important than ever that San Francisco stay strong and not slip further into the world where money rules everything.
And right now, the results are mixed.
We won't know final results for a few more days; there are a lot of election-day absentees still to count. But at this point, here's what we can say:
The good news for progressives is that Josh Arce didn't get elected to the Board of Supervisors in D9. The bad news is that it appears Ahsha Safai did in D11.
The good news is that Sandra Lee Fewer withstood a huge onslaught of real-estate and tech money and is winning in D1. Dean Preston did far better than everyone expected and is only a few percent behind Board President London Breed, who got a lot less than a resounding mandate for her re-election.
Norman Yee held onto the D7 seat. Aaron Peskin, of course, won easily.
The bad news again: Scott Wiener's vicious attack ads and massive negative (and utterly misleading) campaign appears to have worked, and if things hold, he will become the next state senator.
Proposition D, which would have let the voters, not the mayor, decide who fills a vacancy on the Board of Supes, is failing, which means Mayor Ed Lee will fill the D8 seat with someone with similar politics to Wiener.
So the board looks like this:
For the progressives, Fewer, Peskin, Yee, Kim, Ronen. For the mayor's agenda: Mark Farrell, Katy Tang, Breed, the New Wiener, Malia Cohen, and Safai.
Breed may have gotten the message, though: She moved a lot to the left during this campaign, and while I don't expect she'll join the progressives very often, she might be a swing vote now and then.
The Teachers' Union slate seems to have won the Board of Education (that's Matt Haney, Mark Sanchez, Stevon Cook, and Rachel Norton). Shanell Williams, who is very cool, running her first race for office, came in as the top vote-getter for Community College Board, and she will be joined by Rafael Mandelman, Alex Randolph, and Tom Temprano, who is now officially a rising star in the progressive movement.
The mayor was counting on passing Prop. K, a sales tax for transportation and homeless services, to balance his budget. But then instead of working for it, he put his efforts into defeating four modest reform measures that would have cut into his power – and some of his allies helped fund and promote Prop. Q, an attack on homeless people.
Their campaign attacked City Hall as wasting money. You say the government is wasting money and homeless people are a blight, and then you ask the public to vote to give you more money to help homeless people … and you are cutting your own throat. Which is what happened here.
For better or for worse, it does not appear that Ed Lee will be taking a job in the administration of President Hillary Clinton.
So now we have to organize, fight back, not give up — and recognize that cities are where the progressive agenda will emerge. San Francisco has an amazing, effective grassroots movement, and we will all have to wake up in the morning ready to work harder than ever — to make sure that this city doesn't become a place where money matters more than people. We can show the rest of the country how to turn things around.
We have to. There's no other choice.