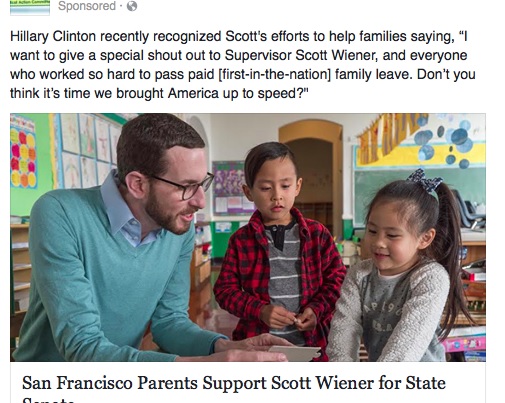 The level of sleaze in the local elections has reached the level where it's threatening to swamp us all; some of the district supe races are positively choking on a sea of political garbage.
We knew this would happen when the vast sums of outside money, mostly from the real estate and tech industry (and some equally sleazy characters like Republican museum honcho Dede Wilsey) started pouring in to the districts in an effort to make sure that the allies of Mayor Ed Lee control the board next year.
And now we are seeing the results.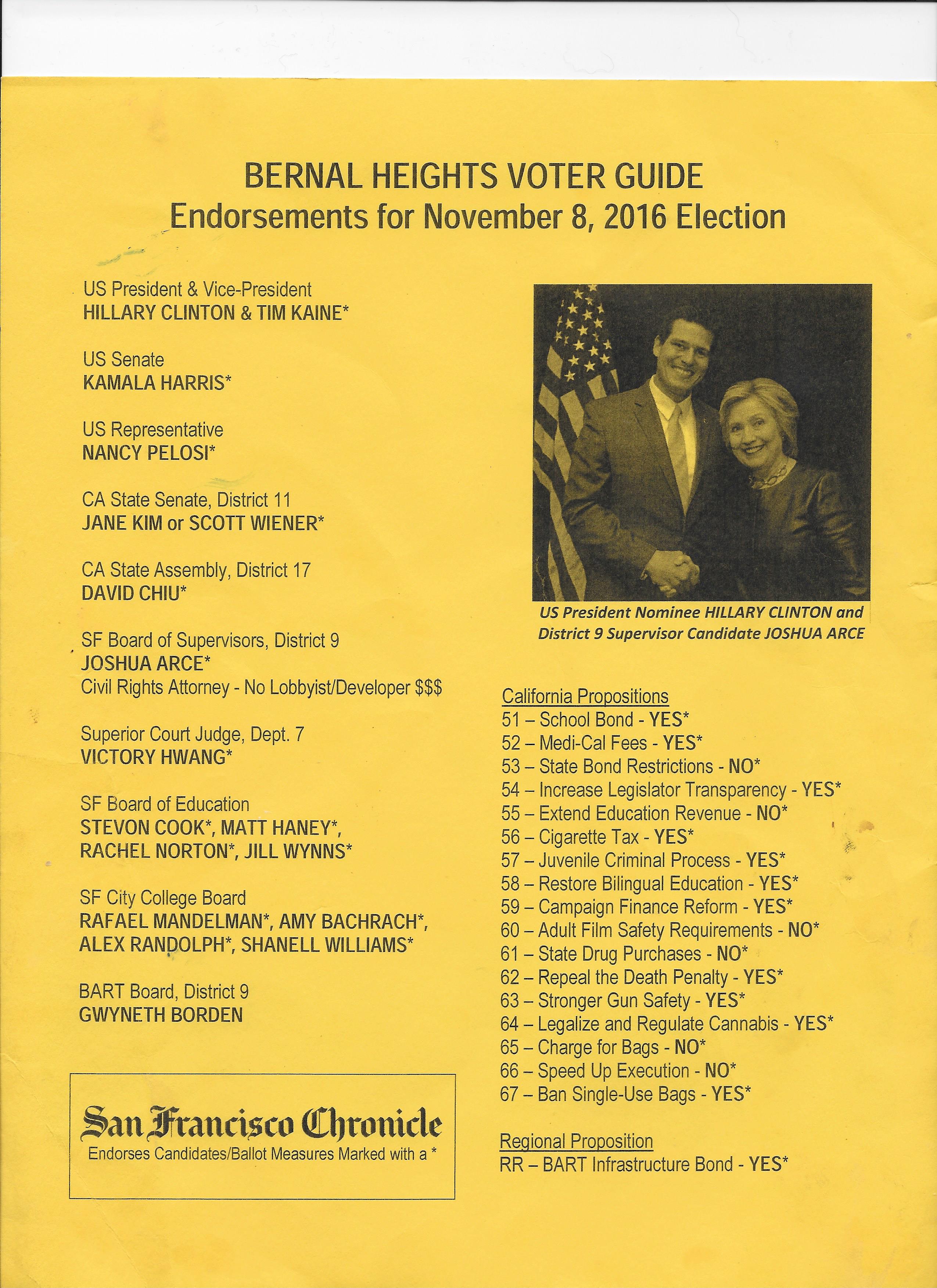 Most of what really annoys me about this river of sewage is that it's aimed at allowing candidates to pretend they are different than they really are. For the record, the allies of the mayor, the people who want to continue the direction the city has taken under Lee — those folks are backing these candidates:
Marjan Philhour in D1
London Breed in D5
Joel Engardio in D7
Josh Arce in D9
Ahsha Safai in D11
Scott Wiener for state Senate
That's the tech-money and real-estate-money slate.
And now we are seeing the supporters of some of those candidates engage in what is at the very least pretty dubious stuff. To wit:
Wiener is pretending he has the support of the Bay Guardian, which he does not.
Josh Arce, who is full of misrepresentation, is the beneficiary of a new flier that's been dropped on doors in Bernal Heights. It's a classic example of fakery: The Bernal Heights Democratic Club, a legit, chartered organization with real members and meetings, endorsed Hillary Ronen. And club members are handing out slate cards with that endorsement; nothing unusual about that.
But now there's a "Bernal Heights Voter Guide" featuring Hillary Clinton and Arce – and, oddly, the San Francisco Chronicle's endorsements. I don't think anyone takes the Chron endorsements seriously – and in D9, that's not a real positive.
Still: In a high-turnout election with a lot of occasional voters who don't typically pay attention to local issues, a fake Democratic Club card might have an impact.
The flier says it's paid for by "The District 9 Tenants Association," which I have never heard of. It's not a registered PAC. For all I know, it doesn't exist except on paper. The San Francisco Tenants Union has endorsed Ronen; so has the Affordable Housing Alliance.
Like Scott Wiener's sleaze, this is just dishonest.
In District 1, it appeared for a while that Marjan Philhour was in trouble: She had spent most of her money and was short in the crucial pre-election weeks. But that's when a huge amount of independent expenditure money kicked in.
Of course, IEs and official campaigns aren't allowed to coordinate, not even a tiny bit. And a District 1 activist, Dalia Rubiano Yedidia has filed a complaint with the Ethics Commission pointing out some awfully close connections between the IE (funded by Big Tech and real estate) and her campaign operation.
Philhour has been a political consultant, a professional fundraiser, which means she must know all the rules. But in this case, records show that a person who was her employee then worked on her DCCC campaign is now working for an IE that is supporting her.
Chad Houston was an employee of Philhour and Associates from 2014 to Feb, 2016, Ethics Commission records show. For the next two months, he worked for the Philhour for DCCC campaign.
No problems there.
But since April of this year, Ethics records show, Houston has been working for A San Franciscans for a City That Works, a big IE supporting the more conservative candidates.
Philhour has been running for supervisor for more than two years, and sent out a press release Feb. 9, 2016, announcing that she had raised $115,000. At the point when she started, Houston was her employee.
Now he's working for an IE that legally can't coordinate with her campaign, and somehow, her campaign felt confident enough to spend all its money early – and stop spending just when the IE started to kick in.
I talked to Philhour about it, and she told me that she spent her money early to get her name out in a year when there would be a lot on the ballot. She said Houston did mostly clerical work for her, and that since he left the firm, she had no idea where he had gone and was completely unaware that he is now working for that IE and has had no contact with him.
It's a small town. Coincidences happen. I suppose. But this is just another example of the serious problem of outside money coming into these races.
Then we go to District 11, where Ahsha Safai has been touting his remarkable connections to a project that would create new, rent-controlled housing in the district. It sounds great – right before an election, a developer who is a pal of Safai's just happened to be having a conversation with him and just happened to decide to do this deal.
Which, of course, gave Safai the opportunity to get quoted in the Chron about his support for middle-class housing.
Now: There is no actual project at this point, just a concept. But the interesting question that Sup. John Avalos raised in an Ethics Commission complaint is:
What role did Safai play in this whole venture? Was he using his connections with Mayor Ed Lee, whose office is already supporting the project (and de facto supporting him), to get the preliminary nod?
The developer of the project is SST Investments. Safai has  been a paid consultant to SST Investments.Safai "brokered the deal with the Mayor's Office," the Ex reports. And if so, that would seem to make him a lobbyist. But he's not registered as a lobbyist.
The whole thing is a bit fishy to me.
More: The whole episode reinforces the fact that Safai is a real-estate guy and a house-flipper. That might not be so popular in D11.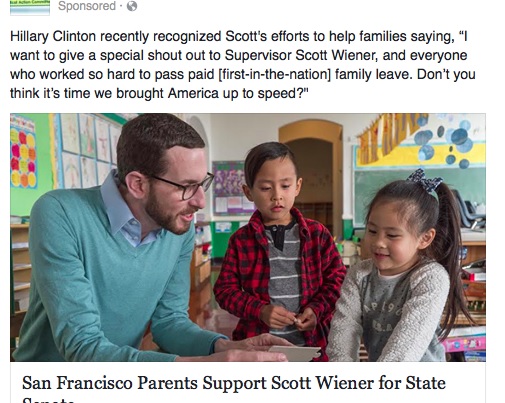 Back to Wiener: There are so many IEs I can barely keep track, but the latest is all over Facebook, and it's a bit odd: it's called "Parents PAC," and the group is running ads saying that Wiener is good on family leave. Sure. For the record, neither Wiener nor Kim is a parent, although Kim served two terms on the School Board.
Here's what's interesting: Parents PAC is almost entirely financed by the real-estate industry. Russ Flynn, one of the biggest landlords in San Francisco, put up $10,000. The two committees that are almost entirely funded by the California Association of Realtors (which opposes almost any tenant rights and killed Ellis Act reform) put up $5,000. Trinity Properties, a huge local landlord and developer, put up $7,500. That's the bulk of the $27,000 that the group has raised as of the last filing deadline.
What do the big landlords have to do with parent issues? Nothing. In fact, the California Association of Realtors is working hard to make it harder for working families to live in San Francisco by undermining the city's affordable housing policies. State Sen. Mark Leno, who has endorsed Wiener and has worked hard to Ellis Act reform, has told me that the state Realtors are among the worst anti-tenant groups in Sacramento.
These are the folks who are pushing for Wiener in the final days.
More odd: The "treasurer" of Parents PAC, according to the group's literature, is Todd David. He's also on the payroll of the Wiener campaign. IE's are supposed to be entirely independent.
It never ends.
Then there's an ethics complaint in D9 – and it's bizarre. An ally of Josh Arce says that Hillary Ronen is improperly using her name to say "vote for both Hillarys." A Democratic candidate for supervisor can't encourage people to vote for her – and the Democratic candidate for president, who Arce also supports? Even if he has a picture of Clinton on the fake Bernal Heights flier? Please.
The big money is flowing so fast and so furious that I can only offer one piece of advice: Don't believe anything you see on TV. Throw out all the campaign mail. Find slates you trust, read the measures and consider the candidates for yourself – and keep in mind that almost everything arriving in your mailbox may be paid for by some of the worst players in local politics.