After voting for a measure to give neighborhood preference in affordable housing, board votes for giant development that neighborhood opposes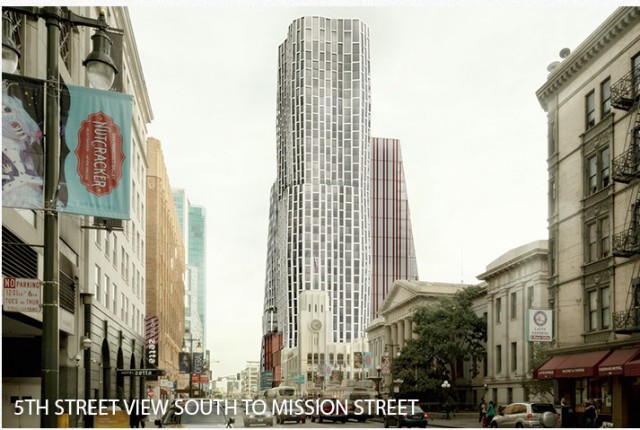 By Tim Redmond
The Board of Supervisors approved a plan today to grant preference to existing neighborhood residents as a means of fighting displacement — just hours before approving a project that could lead to large-scale displacement.
The measure by Sups. London Breed and Malia Cohen would set aside 40 percent of all new affordable housing units for people who live in the supervisorial district where the project is being built.
That, Breed argued, would both allow people who face evictions of overcrowded housing conditions to stay in their neighborhoods and communities — and might encourage neighbors to accept more affordable units.
She and Cohen spoke of the dramatic loss of African American population in the city and the evidence that only a tiny fraction of the affordable units in private developments go to Black residents.
"I don't know who's winning the lottery," she said. "But I know who's losing."
There was pretty widespread support for the concept, although Sup. Eric Mar noted that low-income Filipino and Latino residents are also losing out in the housing lottery, that the proposal "pits low-income people of color against other low-income people of color" in "fighting over scraps.
"I support multi-racial justice," he said.
He mentioned that the board would later be dealing with a major project that is opposed by many in the South of Market community because of its potential for displacement: "The way to stop displacement is to stop displacement."
Sup. David Campos said he had some concerns about the proposal, but noted that the Black community, and its elected leaders, had organized to push for it.
"I have come to this board to ask for help for the Mission," he said "I don't know if this will work or not, but this is a priority for the African American community. When the Latino community came here [to seek a moratorium on development in the Mission] we said, give us the benefit of the doubt. In that spirit, I will be supporting this."
He didn't say, and didn't need to say, that none of the sponsors of this measure gave him the same courtesy and supported him when he asked for the moratorium.
The measure passed 9-2.
And then, fairly quickly, the board moved onto the 5M project.
The project is deeply unpopular among the low-income residents, many of them Filipino, in the surrounding area.
Speaker after speaker (many of them seniors) talked about the fear of eviction, about the concern that the fancy new office space and high-end condos will lead to more speculation, higher property values, and massive displacement.
Tony Robles, a community organizer, spoke of the old days of the I-Hotel and Manilatown, an area where the Filipino community was evicted and scattered in the 1970s to make room for the creep of downtown. "Manilatown was deemed too valuable for the Filipino community to live in," he said.
Representatives of Filipino youth and families said they see the same thing happening again. "This project will end with a Filipino Heritage District with no Filipinos in it," one speaker noted.
Much of the affordable housing will not be on site – in fact, it won't be in the same neighborhood, but in the Tenderloin.
Sup. Jane Kim interrupted one group of speakers, who were saying that there was no housing for the Filipino community, by saying that the higher-end "affordable housing" was aimed at people who earned the salaries of, say, a nurse or a teacher.
"Are there no Filipinos who are nurses or teachers?" she asked.
Most of the people who were speaking, however, represented much lower-income residents.
"Former restaurant and hotel workers have been forced to leave the city even though they still work here," one SoMa resident said. "Even my neighbors have changed. …. Most of the people who move in are working in the tech industry and can afford higher rents."
The whole project is a pretty dramatic change from the Central SoMa plan and the city's long pattern of land use in the area. As Sue Hestor, who has been watching development in the city for decades, testified, "nobody every expected Montgomery Street to migrate to Fifth and Mission."
The testimony against the project went on for more than four hours. The message was consistent and clear: The project doesn't meet the needs of the community. It's housing most for rich people who probably won't wind up even living there most of the time, it's office space that will attract high-paid workers from other places who will move here and have no place to live and will then wind up displacing current low-income residents.
It's one of those pivotal projects, a moment when it's clear that the developer is falling far short of paying its way, that the development will do more damage to the city than good, when you have to ask why anyone other than the developer would want to see this happen.
Kim asked about one of the key issues: Why is this area being spot-zoned? Why not just follow the existing laws?
Ken Rich from the Mayor's Office of Economic Development noted that the special project agreement would include more benefits than would be legal under standard zoning. That's part of the game that gets played with these special project agreements – in exchange for essentially ignoring existing zoning laws, developers offer some community benefits.
Rich, in response to Kim's questions, said that most of the housing created on site or nearby would have a combination of 19 units for the chronically homeless, and $18 million will go to a project that is offering 100 units for low-income people. That project is already underway, but is stalled for lack of money.
There would be 135 units affordable for people earning 50 percent of area median income.
There's no question that this project will have more affordable housing than almost anything else that's being built.
But it will still have less affordable housing than is needed to meet the demand that the project will create.
Still, to go back to the message that Campos put out earlier: The community isn't happy with the deal, and was asking the supes not to approve it.
"There's a huge disconnect between the testimony on displacement [and what the city is proposing]," Sup. Eric Mar noted. "This is supersized upzoning and spot zoning in a residential area, and will have impacts on as many as 6,000 low-income people."
Mar asked about the "human impacts." Sarah Jones, director of environmental planning, said those impacts are only addressed if they cause, or are caused by, physical impacts. So when it comes to the EIR, "we do not in the context of CEQA consider the impacts that the community has brought forward today."
Planning Director John Rahaim insisted that displacement wasn't a big issue because a lot of the units in the area are under rent control and have "some protection from displacement." (There are some units in the area that are protected more strongly because they're SROs, or city-controlled subsidized housing.) Any tenant under rent control in San Francisco knows that, with the Ellis Act, the city's existing laws are in no way a protection against displacement in the wake of soaring property values.
Mar said that people who understand the community benefits package think it's too weak. "They just disagree with you that they are enough."
There were some speakers in favor of the project. They seemed to fall into three categories: People who think (like SFBARF and SPUR) that building more luxury housing will solve the housing problem; people who had already cut a deal with the developers; and people who thought that the 40 percent deal was an excellent agreement and the best the city could get.
As one said, "Forty percent affordable housing. There is no other project that has reached that benchmark."
After all the testimony, Sup. David Campos noted that the project "has many benefits." But "the challenge that I have is a community that is in a unique predicament … you have people who are concerned."
He noted that he had accepted the Breed and Cohen measure because he was deferring to the community, but in this case, the community doesn't want the project.
"I'm not at a point that I can support it."
Sup. John Avalos talked about the history of displacement and said he wanted to be "on the right side of history."
Kim defended the extraordinary level of family and affordable housing, and said "this is the first time a developer has agreed to build 40 percent affordable housing, and they are doing it on private land."
She said that she fully understands the fear of displacement. "Ideally, every project would be 100 percent affordable. But we depend on private development to fund affordable housing. … I have to ask, when is it enough?"
Then she raised a serious question: If we don't want this project, do we want to stop all development? "If we cannot support a project at 40 percent affordable housing, I don't know what this board can support in the future?"
The problem is that even at 40 percent, the project creates a net deficit of affordable housing. And no project at all could wind up being the better alternative.
Mar discussed extreme wealth difference in the district; "a project like this that is so out of scope is going to have a gentrifying impact on the entire neighborhood … this will lead to what urban experts say is the total displacement of the Filipino community."
It's a tough question – at what point do you say no project at all is better than a project that makes things worse? Should we not follow the Hippocratic Oath for urban planning – "First, do no harm?"
In the end, the same people who want to protect low-income San Franciscans from displacement through changes in the affordable housing preference voted for the 5M project, one an 8-3 vote, with Sups. John Avalos, Eric Mar, and David Campos in opposition.