Let your fetish flag wave! On Sunday, September 22, a giant leather flag was raised in SoMa on the site of the new Eagle Plaza, a multi-use space and park that will separate the Eagle gay club from the giant condo development across the street. It's part of an ongoing project, involving Supervisor Matt Haney (and former Supervisor Jane Kim), to preserve leather heritage in the area—often calling upon developers to help ameliorate the gentrification they are helping to cause. I'm a little leery of it all, but the flag-raising was still pretty cool.
Today I helped raise the Leather Flag at Eagle Plaza, the first public plaza dedicated for the LGBTQ Leather community in the world. So many over the years fought for recognition, protection, support for this community, and there is still so much to do, but this is a huge step. pic.twitter.com/hQxPrv3PDR

— Matt Haney (@MattHaneySF) September 22, 2019
The scene was festive and more than a bit old school (a fabulous gathering of leather elders)—and the SoMa flag now rivals the rainbow one in the Castro. Whether that flag is all that's left of the storied SoMa leather scene in 20 years, once more condos move in and the old guard passes into Valhalla, remains to be seen. (The leather folk in the development renderings of the plaza look reeeealllly tiny, as if they are waving farewell already.) In a brief interview, Haney assured me that he would "demand to know from developers what they were going to do to preserve the diversity and history of the area, and to make sure the leather scene remains a thriving one."
It's still a big something, seeing that huge leather flag up there. It brought a tear to my eye and a wee sting to my bottom. Just right for Folsom Street Fair, which I can see also being impacted by another wave of bland developments. So let us (un)clad ourselves in our desires while we may! Here's my party picks for the wild weekend, full of rubber gloves and lots 'o love.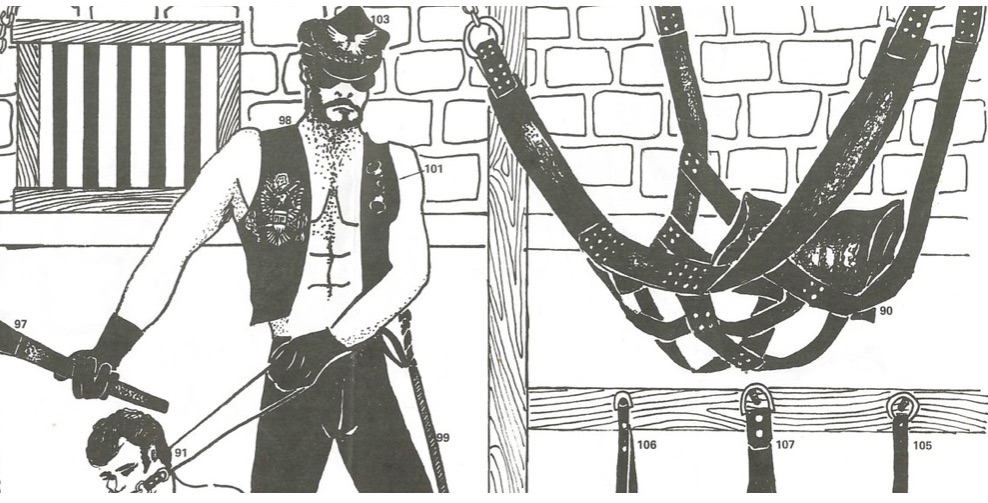 FIRST, SPEAKING OF FOLSOM HISTORY If you wander up to the Castro this weekend, make sure to check out the GLBT Historical Society Museum's exhibit "The Mayor of Folsom Street: The Life of Daddy Alan Selby" which chronicles the original Mr. S, who was central to the development of the leather scene here. (And don't forget to stop by the Mr. S. Store Block Party, see below Fri/27-Sat/28).
PARTIES OF NOTORIETY
—–THURSDAY—-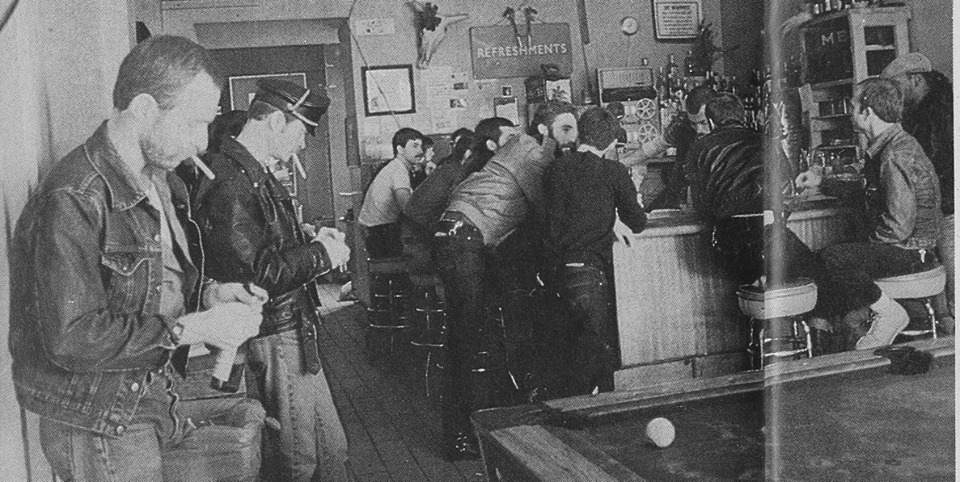 THU/26 MISTER DRUMMER 1979: THE BALCONY The Mister Drummer 1979 party crew recreates the look and feel of classic leather bars of yore inside other bars, and makes a damn good dance party out of it (plus there are t-shirts!) This time around it's the sociable Balcony in the Castro, which not only served up hot men, but also brunch. It opened at 6am! Who could resist? With wonderful DJ  Souffront and Matthew Paul taking us back to sweatier, leatherier times. 9pm-2am, $10. Underground SF. More info here.  
THU/26 F*CK ME UP SIS! A party to benefit the Sisters of Perpetual Indulgence, featuring all '80s tunes? Come on out! You're truly joins DJ Rolo and Siobhan Aluvalot on the decks for a flashback in tim to help our fabulous, charitable gay drag nuns. 9pm-2am. The Stud, SF. More info here. 
THU/26 THE TUBESTEAK CONNECTION DJ Bus Station John kicked off the whole bathhouse/cruising nostalgia wave more than a dozen years ago, with his awesome weekly tribute to steamy disco and vintage man-meat (and maybe even some Eartha Kitt). If you want an authentic taste of old school gay life—and a more Tenderloin vibe— traipse to his vinyl tunes all night on Aunt Charlie's carpeted dance floor. 10pm-2am, $5-$7. Aunt Charlie's Lounge, SF. More info here. 
THU/26 JUNK It wouldn't be Folsom without an underwear contest/party! And with hosts Mr. Pam and Dulce de Leche, anything goes … off. 6pm-2am, $5. Powerhouse, SF. More info here.
——FRIDAY—-
FRI/27 STEAM DOES FOLSOM Eternal cutie Walter Gomez's monthly salute to bathhouses, but inside a bar, gets Folsom-y with dancers in shower stalls, a wet towel competition, massages, and awesome DJ Lorant Duzgun from NYC. 9pm-2am, $5 benefits LGBT Asylum Project. Powerhouse, SF. More info here. 
FRI/27 OTHER STRANGER: DISCIPLINE The most excellent Other Stranger, a bi-monthly party "focusing on the mutant freak faction of the electronic music scene through live performance and dj sets" gets extra wicked for Folsom—with LA's Marvina 7 performing his "freaky tracks that inspire action and adventure," Portland's mind-blowing Golden Donna, and DJ Vera Rubin. 10pm-3am, $13. The Stud, SF. More info here.
 FRI/27 BEARACUDA: HORSE MEAT DISCO Who can resist a little Horse Meat? Well hang on to your silky manes and get ready to whinny, the UK's favorite disco revivalists are in town for the big bear party. Horses and bears? All night long. That's Folsom, baby. 9pm-4am, $45-$60. Public Works, SF. More info here. 
FRI/27 SHENANIGANS: MAGIC KINKDOM Who could resist a Disney-themed fetish party? There are so many puns I could make here, but all of them pale next to the party's own copy: "Don't just SIT around waiting for your prince… make him COME." (???!!!) 10pm-late. Oasis, SF. More info here. 
FRI/27 HARDER The traveling party originated in NYC with naughty backrooms and a dance floor to match—what goes better than great dance music and wild abandon—and has been bringing its brand of Harderness around the USA these past few years. For its Folsom stop, headliner DJ TEETH with dazzle you with his hypnotic, fantasy-frenzy tunes. With DJ Sindri (yay!), Steve Fabus, and Kelly Naughton. 10pm-4am, $20. F8, SF. More info here.
FRI/27 CLUB LONELY My secret favorite club falls on Folsom and features three of our sweetest DJs—Primo, Vin Sol, and Jeremy Castillo—so beats will be banging. Expect a colorful, pan-everything crowd under Club OMG's weird dancefloor dome. This is a benefit for beloved scenester Russell "The Muscle" Rogers who recently passed away. 10pm-2am, $10. Club OMG, SF. More info here. 
FRI/27-SAT/28 MR. S FOLSOM BLOCK PARTY "Join hundreds of the sexiest men in the world at Mr. S Leather for our 2-day event leading up to the Folsom Street Fair. We're opening our Back Alley Beer Garden from 12-6 on both Friday & Saturday. The shop will be open 11am-8pm daily for all your Folsom needs. Come find the gear that's going to get you laid. And who knows, you might just meet the guy you'll be spending the rest of the weekend with :)" With perfect DJs Stefanie Phillips, Jim Hopkins, and more. Noon-6pm, free. Mr. S. Leather, SF. More info here. 
—–SATURDAY—–
SAT/28 GAGGED Let's get some diverse gender energy up in this leather sitch! Extremely rad DJs Boy Pussy, Jasmine Infiniti, and Bored Lord get crazy with the good rave music, and it's all sponsored by the #1 nasty poppers brand Double Scorpio. 9pm-4am, $12-$15. The Stud, SF. More info here. 
SAT/28 PEGASUS Something different: a sip-and-shop daytime event from perennial "Best Men's Clothing Store" Sui Generis. Don't miss some cute tunes, sweet bubbles, and nice 'fits at this SF treasure trove. Noon-8pm, free. Sui Generis, SF. More info here. 
SAT/28 ELECTROLUXX Literally and figuratively a ton of great DJs—including duo Fatherhood, the collaboration of Michael Magnan and Physical Therapy (I adore both)—and cute artists coming together for this wheeling romp, which also includes "2 indoor stages & silent disco outside, face painting, tarot reading, photobooths, performances, and more!" plus: Giant Cuddle Puddle! 9pm-4am, $15-$30. Public Works, SF. More info here. 
SAT/28 NEW BREED THE all-night rave of Folsom, but you'll have to get there early for tickets! The Pound Puppy and Polyglamorous party crews always puts on a great joint, and this incredible lineup of underground greatness—D. Tiffany, Justin Cudmore, Mexico's Por Detroit crew, Victor from Bears in Space—will make the Folsom fireworks pop. 10pm-6am, $60. Club Six, SF. More info here.  
—-SUNDAY—-
SUN/29 FOLSOM STREET FAIR Duh, this is why you're standing there with your drawers out. The music lineup this year is pretty spectacular: punk legends L7, Detroit technoists Adult., and local dream pop heroes Imperial Teen headline. Plus there's lots of sexytime. 11am-6pm, donation requested. More info here. 

SUN/29 CAT CLUB CELEBRATES FOLSOM There are bigger parties in bigger venues with bigger DJs. But one of my all-the favorite things to do is duck into this club for a drink during the festivities and see who else is there—ore often than not t's a glorious Mos Eisley cantina of leather-clad characters, from all points in the galaxy. Noon-midnight, free. Cat Club, SF. More info here. 
SUN/29 GEAR QUEERS Touted as the official Folsom after-party for womxn, it's a great opportunity for women-identifying players to check out our fantastic new bar Jolene's while dancing to some filthy tunes (and then moving on to the Citadel sex club, perhaps). 6pm-10pm, $10. Jolene's, SF. More info here.
SUN/29 DEVIANTS The official closing party of the Folsom Street Fair has always presented some great underground dance music—this time around is no different, with Chris Cruse of steamy LA party Spotlight headlining, along with DJs Whitney Fierce and Lina. 6pm-2am, $45-$50. Mezzanine, SF. More info here. 
SUN/29 AIRTIGHT IV "Airtight is back with more Big Dyke NRG. Get out of the hot sun at the street fair and slip into total daytime bacchanalia at The Stud. Wild out on the dance floor, meet new babes, or have your leather rubbed down at the bootblack stand. BDSM demos, topping booths, and immersive art for inspiration all day." A womxn-centered space but all are welcome! With DJs Akua, Russell EL Butler, Gayphex Twin, and more. 2pm-9pm, $12. The Stud, SF. More info here. 
SUN/29 HOUSE OF BLACK LEATHER Honey Soundsystem brings in one of the best queer party magnets ever, DJ Peach from the UK, plus NYC's Liquid Asset, AND turns over the big room dance floor to outstanding local deep techno crew Surface Tension. Fan-fooking-tastic. 3pm-4am, free before 6pm. Audio, SF. More info here.
SUN/29 TIT CLAMP FEVER Like Disco Fever, but with tit clamps! DJs Steve Fabus, La Frida, and Lorant bring the sparkling, pinching tunes, while drag shows all night keep you entertained to the max clamp. 9pm-2am, $10. The Stud, SF. More info here. 
SUN/29 WERD. FOLSOM STREET FAIR AFTER AFFAIR Brilliant local DJ-producer Lando may have moved to Berlin, but he's bringing his interstellar beats to this weekly shindig, a perfect little dance fan's escape from all the muscle men (although they're invited too!) 9pm-2am, $5. Monarch SF. More info here.