PARTY RADAR "In 20 years, do you want to look back and say you directly confronted white supremacists at Crissy Field, or do you want to say you partied in the Castro to raise money for Planned Parenthood?" 
Welp, that ultimatum — posted on a whip-smart friend's FB timeline — hits home, but also seems a bit stark. Why not do both this Saturday, when intolerant bullies descend on our fair town? Or, pick whatever makes you feel like you are doing your part, it's all good. I am definitely all in favor of partying anywhere at any time as a form of resistance, and most of my friends are people in direct danger of fascist rhetoric, so please do whatever makes you feel safe. We're the people they hate, so shake a tail feather in their face. 
The "Come Together" rally and march in the Castro on Sat/26 (noon-2pm) — which is not quite a party although it is the Castro, and is raising money to benefit 12 other nonprofits besides Planned Parenthood — is hosted by drag doyenne Juanita More, who tells me, "We are all expressing disbelief over the resurgence of hate in our society and in having a president who embodies that. I'm in shock that this is happening in our country and even more in shock that we have to deal with it — but it must be met with action.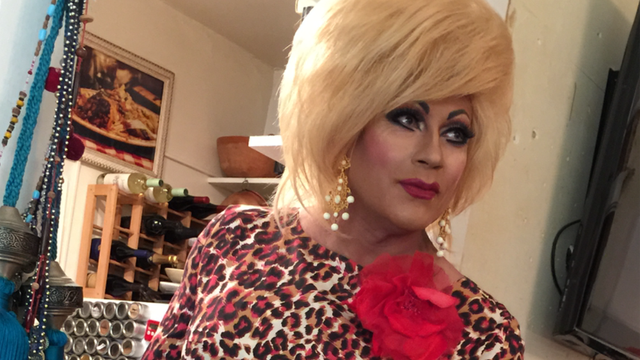 "There are a lot of alternative events being planned throughout the city Saturday to express our collective disgust with white supremacy, facism, and Nazism that will take place at Chrissy Field. I am in support of all of these events and stand with the community and will not let the alt-right take us back in time. I had to take a stand and use my social platform in a way that would unite people and celebrate love and say no to hate."
She's a trooper! Just be aware of your surroundings, loves — that day is also the McGregor-Mayweather fight thingie, so already we'll have a lot of male fragility filling the bars and streets of some areas. Ugh.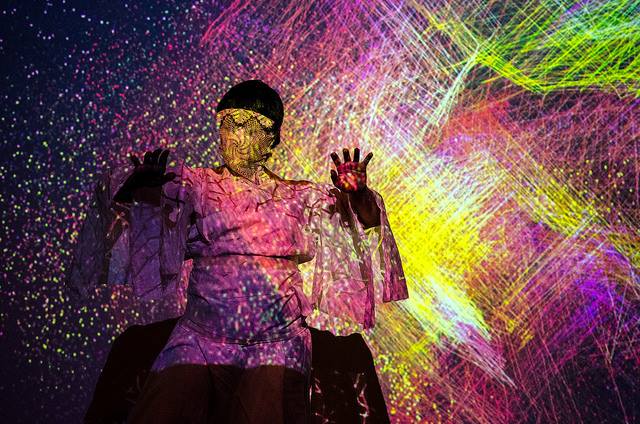 SHINE ON! One of the most anticipated art-nightlife events of the year is SOMArts' annual "Night Light," which features a stunning array of new multimedia artworks displayed throughout the SOMArts space and garden, in a party atmosphere. This year, the foward-thinking arts institution is expanding Night Light into a full-on two-night festival (Fri/25 and Sat/26, 8:30pm-12:30am), featuring performances and multimedia pieces, as part of its wonderful "Black Woman is God" exhibit (which you definitely need to see). This is going to be an awesome and much needed rallying of diverse SF spirits, with dozens upon dozens of performers, artists, and DJs, including local legend Pam The Funkstress. Turn it on! More info here.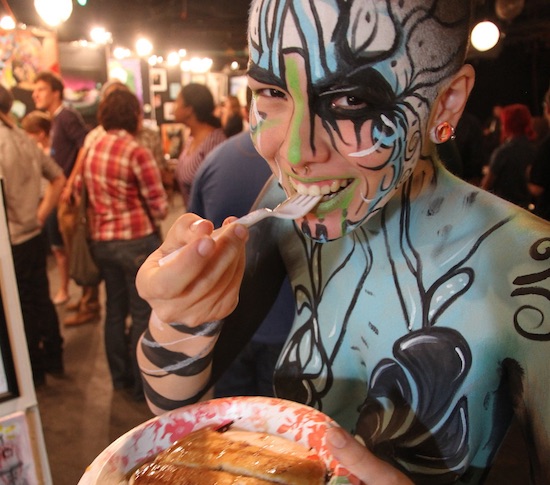 HEY, HOTCAKES You know what else if fun? Looking at art while you eat pancakes. At a party. This is the premise behind the wildly successful 'Pancakes and Booze' event, taking over Mezzanine Fri/25 and Sat/26 (8pm-2am). Tons of art, stacks of hotcakes, a little dancing, a little body painting, sounds like a hoot. More info here. 
> Need a car to get there? Rent one in your neighborhood on Getaround. Sign up today, and enjoy $50 off your first trip: http://get.co/48h. [Sponsored]
FRIDAY, AUGUST 25
CUPCAKKE The fantastically foul-mouthed emcee from Chicago descends to light your ears aflame. With Tia Nomore, Green Ova, Richie Panic, and Fell Kutchii. Fri/25, 8pm-1:30am, $5-$10. Eli's Mile High Club, Oakland. Tickets and more info here.  
TERRY FRANCIS "His career began by co-promoting an acid house night at Hamilton's wine bar in Leatherhead in 1988 whilst working as a roofer." Is there any better opening sentence to a DJ bio? The storied Fabric DJ and all around bloke will delight at Monarch. Fri/25, 9:30pm-late, $7-$15. Monarch, SF. Tickets and more info here. 
BROUHAHA For it fourth anniversary, this too-cute house and techno party has a special announcement: "This time we're going back to our house party roots: no covers, no headliners, just good tunes and good buds." Sounds like bliss. Fri/25, 9pm-2am, free. Underground, SF. More info here. 
BLACK FRIDAYS: LIVE Ultimate drag hostess Honey Mahogany's monthly night at the Stud features a dazzling array of POC performers (drag and otherwise), giving it to you live and uncensored. All are welcome to cheer and dance all night. Fri/25, 10pm-4am, $10. the Stud, SF. More info here. 
STEAM Gotta give a sopping wet shoutout to my Virgo sister Walter Gomez for his birthday — he hosts this steamy, bathhouse-themed gay affair, with wet towel contests, shower stall go-gos and more. Fri/25, 10pm-2am, $5. Powerhouse, SF. More info here. 
SATURDAY, AUGUST 26
MIKE SERVITO Another birthday shoutout to another fellow Virgo sister, Mike from Detroit. Love him to death, and hey — he's one of the world's best DJs so there's that. He's part of a powerhouse lineup including Barnt and Silent Servant at the Lights Down Low party. Sat/26, 10pm-late, $22-$25. Monarch, SF. Tickets and more info here. 
JACQUES RENAULT The NYC favorite comes in with his intensely likable blend of acid house, rare disco, and melodic techno for the FACE party. Get it. Sat/26, 9:30pm-late, $10-$15. Public Works loft, SF. Tickets and more info here. 
POLYGLAMOROUS Your sparkly send-off to the Playa some in the form of this awesome queer (with a healthy dose of burner) affair, this month featuring Paris-born DJ La Fraicheur, who is quite fresh! Sat/26, 10pm-4am, F8 SF. Tickets and more info here. 
SLAY Patron saint of the resistance Beyonce will be invoked at this tribute party for LGBT, POC, and anyone else who needs a good dose of hair-flip-in-your-face fantasy. (We will all need that this weekend). Sat/26, 9pm-2am, $5-$10. Rickshaw Stop, SF. Tickets and more info here. 
BEARRACUDA 11-YEAR ANNIVERSARY More than a decade after it's hairy conception, the inimitable SF bear party (oddly the brainchild of wild drag child Rentecca) has now expanded to more than 50 cities and is, indeed, clutching the world in its sweaty, furry embrace. With two of my favorite DJs/people Stanley Frank and Robert Jeffrey. Sat/26, 10pm-2am, $5-$10. SF Eagle. More info here. 
> Need a car to get there? Rent one in your neighborhood on Getaround. Sign up today, and enjoy $50 off your first trip: http://get.co/48h. [Sponsored]