While hardly as wild as it used to be, Halloween is still a hoot in this devilish town. Let us never forget the  year (1982) when the Bay Guardian combined its election issue and its Halloween issue, celebrating the infamously gay Halloween in the Castro by portraying Board of Supervisors candidate Sister Boom Boom as a flying witch on the cover. (Nowadays our candidate choices are a bit less flamboyant.)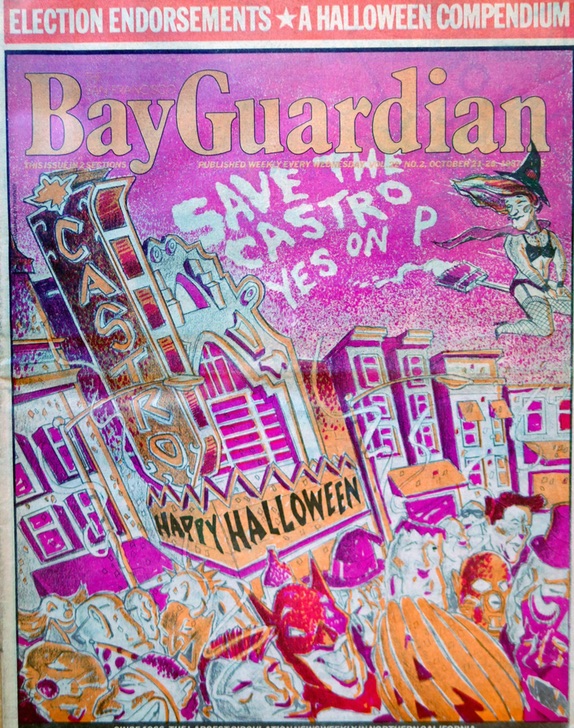 Good times. Now here are some tips. For a real Halloween experience, head to Aunt Charlie's Lounge starting this weekend with the Hot Boxx Girls drag shows and through the week to Halloween night's Tubesteak Connection party. It's truly one of the last fabulous gay dive bars that really gets into the Halloween spirit. There are a ton of great terror flicks happening (from Get Out with the SF Symphony to "The Horror of SF Jazz at Grace Cathedral")—here's our full Halloween movie roundup.
One hallowed tradition, the annual Cramps concert, has obviously evolved as Cramps members have made their way to the other side of the void. But the ghost of this grand event stays undead, with the Cramp-Ons tribute band playing Sat/26 at Bender'ss and, in the same psychobilly/horror punk vein, the Misfits tribute band The Astrozombies playing Thur/31 at the Chapel.
Also on the concert tip—and it will be a dance party—is there anything more nominally appropriate than synthpop duo Holy Ghost's three day residency at The Independent, Wed/30-November 1? Well, maybe "Unholy Ghost" but we're sure these razor-sharp New Yorkers will make that joke at some point. And finally, an unironic All Hallow's Eve concert called "Calling All Witches: Songs of Protest, Praise, and Magick" at the Lost Church Thu/31, which is perfect.
And for the scariest time of all, of course, don't forget to scream your way through Peaches Christ's "haunted immersive experience" Terror Vault! (through November 10). PLUS! Don't miss one of our best and campiest drag personalities play the role she was born to play, Dr. Frank N. Furter, in Ray of Light Theater's Rocky Horror Show, through November 2.
Finally, start the week on a truly horrifying foot: We are losing one of our best DJs, Jackie House of Honey Soundsystem, to Berlin—but first a night of psychedelic ambient music at the cavernous Gray Area, with Jackie House's Ambient Goodbye on Fri/25. There's nothing scarier than seeing might lifers cry!
THIS JUST IN! Best of the Bay's Best Drag Queen Juanita More is hosting a block party Thu/31, 7pm-10pm, in the Polk, which used to be the epicenter of San Francisco queer culture, and where many momentous events occurred. "The event will feature live music by IndiviDúo, dancing, food and drink, a costume contest, and a photo booth! The event will be free and open to the public." You can support a ton of local business in the area, too.
ALSO JUST IN Why go home at all? You can literally attend a week's worth of Halloween parties at DNA Lounge. The five-party Halloween multi-pass "includes admission to our full week of Halloween festivities: Death Guild, All Hallow's Eve, So Stoked, Booootie, and Turbo Drive! Because we go hard on Halloween and so do you. Limited quantities available!" More info here and check out the full DNA calendar here.
Here are some other bloody good spots to celebrate: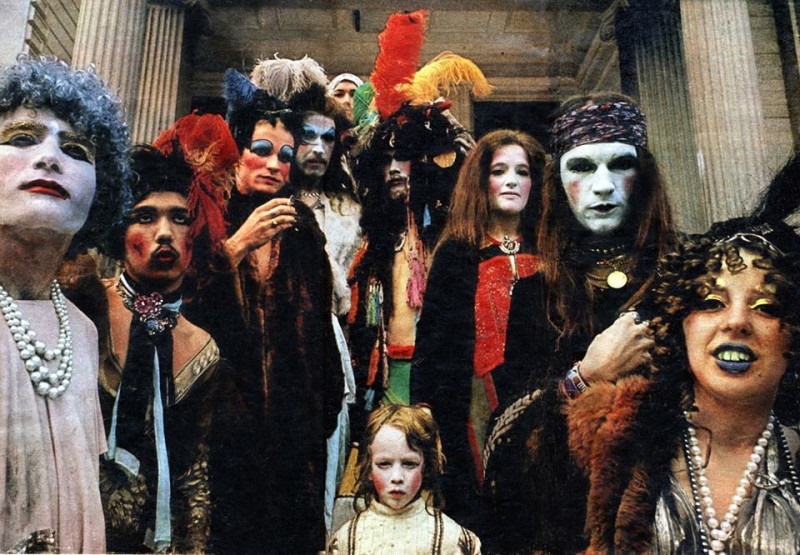 THU/24 LES GHOULS ENCORE! After you attend our free Best of the Bay party, stay for this outrageous celebration of legendary lysergic theater troupe The Cockettes' epic Halloween show Les Ghouls. Drag queens, performers, and DJs all pay tribute. 10pm-2am, The Stud, SF. More info here. 
——–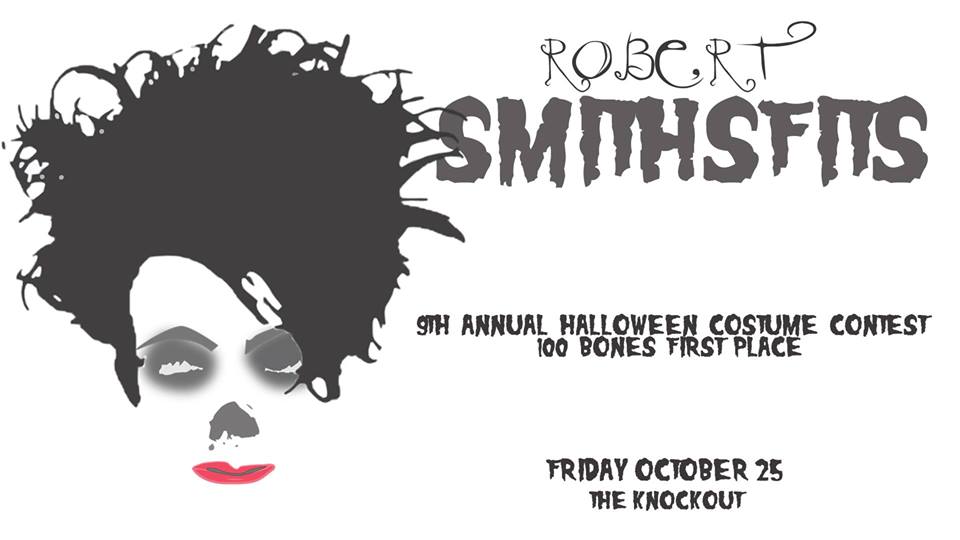 FRI/25 SMITHSFITS HALLOWEEN EDITION  I mean, this party plays all Cure (Robert Smith), all Smiths, and all Misfits. And it has been popular for nine years! Nothing beats our nightlife. Dress up in a costume for the contest. 9:30pm-2am, The Knockout, SF. More info here. 
FRI/25 MASQUERADE BALL WITH THE MAGICIAN Smooth and sophisticated Belgian electro-pop wizard Stephen Fasano, aka The Magician, brings his magic touch to this Halloween blowout at Mezzanine, which is closing soon (booooo). 9pm-late, Mezzanine, SF. More info here. 
FRI/25 STRANGER THINGS GO BUMP IN THE NIGHT This Halloween party's theme promises a "1980s-era land of supernatural phenomena." The night will be perfectly soundtracked by moody, melodic Kentucky producer, Amtrac, and wiggy Canadian house DJ, Eddie C — plus enough local support to fill the Upside Down. 9:30pm-late. Great Northern, SF. More info here. 
FRI/25 PAUL OAKENFOLD The absolute legend of progressive trance grooves who's shaped the genre for more than three decades and headed the legendary Perfecto label, pops in for a Halloween party? We have it so good. 9:30-2am, Audio, SF. More info here. 
———
SAT/26 HORROR STORY: DARK MATTER Two of our big gay parties with Burning Man roots, Polyglamorous and Mystopia, team up for a journey into (I think) space and terror, but expect lots of shirtless revelry, unicorn horns, and sparkly leggings. The music—by Portland's DJ Sappho, Chicago's Colette, and DJ Rolo—will be terrific. 9:30-late. 550 Barneveld, SF. More info here.
SAT/26 CREATURE: NEON DEMONS A creepy cavalcade of drag and gory-glorious music at this wonderfully open affair at El Rio. There will be horns sprouting out all over! 9pm-2am, El Rio, SF. More info here.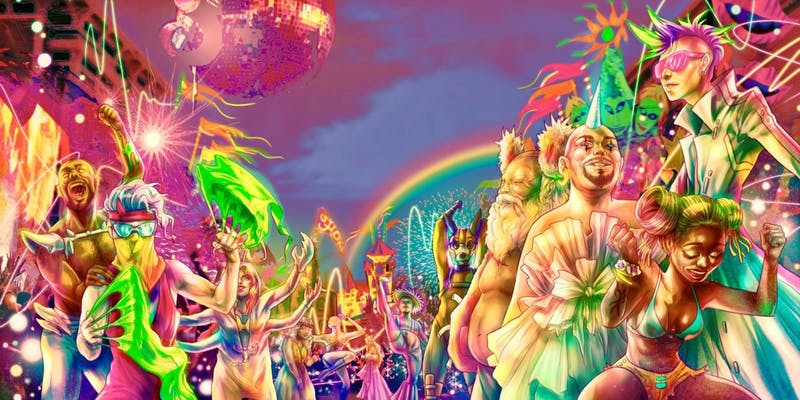 SAT/26 GLOW IN THE STREETS There's still some of that Castro Halloween spirit floating around—this exuberant neon-wow block party put on by queer Burning Man camp Comfort & Joy will light your way to Hallo-bliss. With DJs, performances, and more. Noe Street between Market and Beaver, SF. 4pm-9:30pm. More info here. 
SAT/26 MOTHER: HALLOWEEN, A PARTY Drag behemoths Heklina and Peaches Christ host this annual, beloved affair with oodles of drag queens spilling out in all directions. 10pm-3am, Oasis, SF. More info here.  
SAT/26 SPACE COWBOYS: HAUNTED HOEDOWN One of the original Burning Man camps, Space Cowboys have been throwing wild parties for decades. This Halloween mashup of burner rager and audio-visual overload brings house, breaks, funk, and world-renowned DJ headliner, A.Skillz. 10:30pm-late, Great Northern, SF. More info here.  
——
SUN/27 SUNSET SOUND SYSTEM HALLOWEEN COSTUME BOAT PARTY This annual wild float and its afterparty at the Great Northern will be your best bet to hear some outstanding techno, with guests Wajatta, Tel Aviv's Autarkic, and a special synthesizer seance with ambient masters Jonah Sharp and Its Own Infinite Flower. 5:30pm-11pm, San Francisco Belle, Pier 3. More info here. 
—–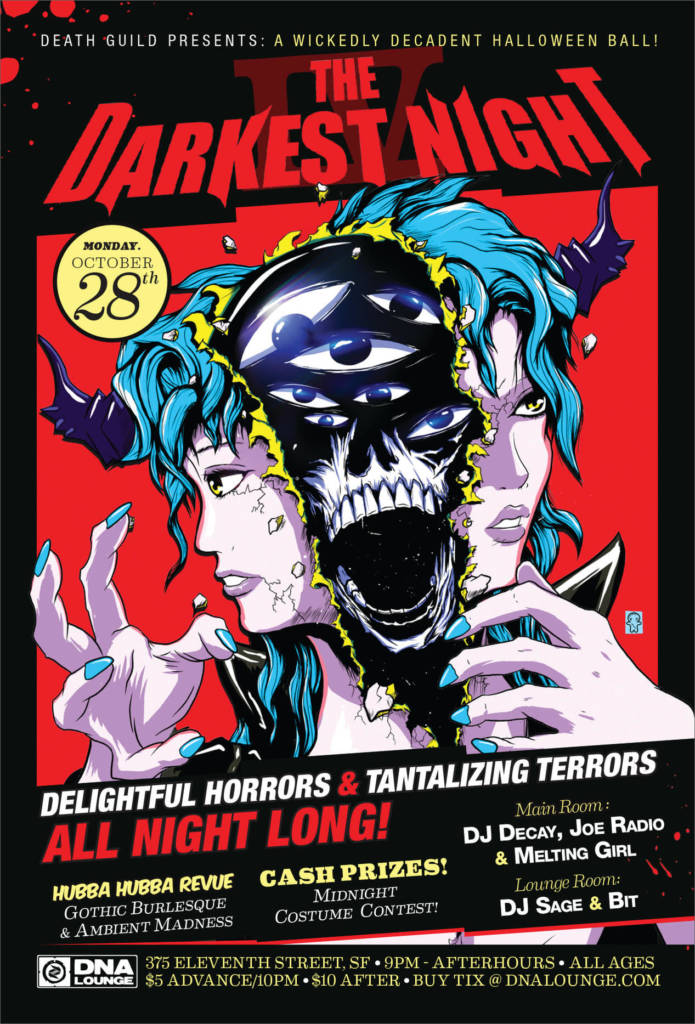 MON/28 DEATH GUILD: THE DARKEST NIGHT Um, this is the oldest weekly party in the city and the second-oldest goth party in the world—you probably don't want to miss its Halloween celebration. With DJs Decay, Joe Radio, and Melting Girl plus a special sexy-scary performance by Hubba Hubba Revue. 9pm-afterhours, DNA Lounge, SF. More info here.
MON/28 DOG COSTUME CONTEST & HALLOWEEN PUB QUIZ "7pm: gather, drink, make merry, get excited. Virgil's Sea Room has a fabulous patio where you can chill with your doggo before the event. 7:30: DOG COSTUME CONTEST!! Red carpet, weird prizes, edible participation trophies! On-leash doggos and their human escorts will prance on the catwalk and compete for ETERNAL GLORY. 8pm: PUBQUIZ O'CLOCK! Teams of 1-6 players will compete for free drinks and strange prizes over five delicious rounds of trivia, including current events, general knowledge, a music round, Halloweeny witchy weirdness, and the powernerd challenge. Human costumes will be judged and awarded during the game. 7pm, Virgil's Sea Room, SF. More info here.   
——
WED/30 HOUSEPITALITY HALLOWEEN W/ DAN BELL One of SF's best weekly parties brings in a Detroit wizard of techno, Dan Bell, sure to wreck the floor with his decades of DJ sorcery. 9pm-2am, F8, SF. More info here. 
—–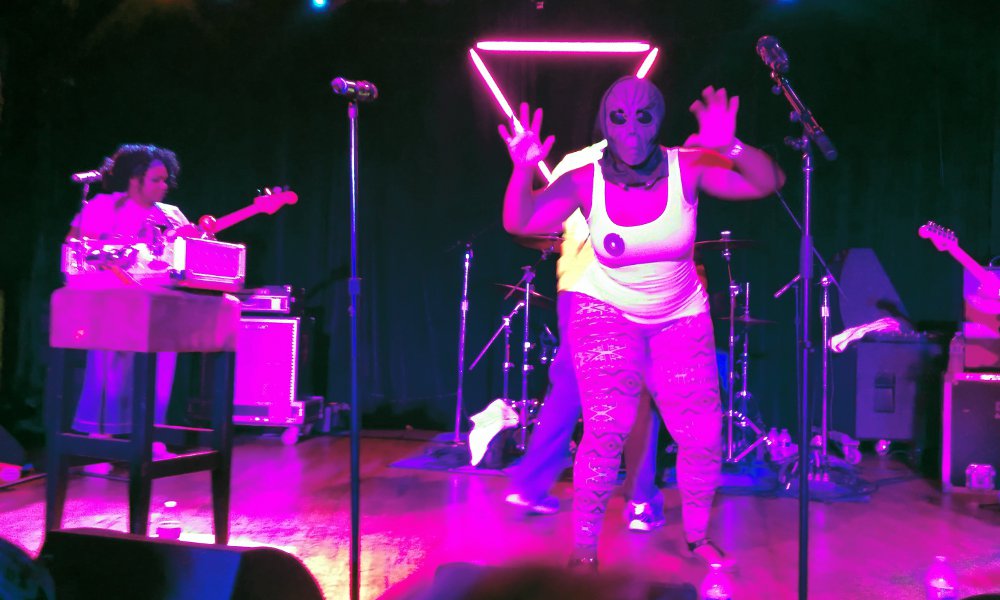 THU/31 ESG Hell yes! The dance music legends from the South Brownx invented their own kind of underground jam in the '80s—they still rock live, get ready to dance. 9pm-late, Public Works, SF. More info here. 
THU/31 IN YOUR DREAMS: A NIGHTMARE ON NINTH STREET A dastardly drag and dance marathon at the Stud, with DJ Keenan Orr from DC and Rich King from NYC. 1, 2, gonna cut it up with you … 8pm-2am, The Stud, SF. More info here. 
THU/31 CYBER RODEO HALLOWEEN: GRAVE RAVE The cyber rodeo crew combines cowboy aesthetics with rave rumble — not unlike the Space Cowboys, maybe, but with a wilder music. Yee-haw! With DJs Kawasaki + Baby J. 9pm-2am, F8, SF. More info here. 
THU/31 ALL HALLOW'S EVE "If there was ever a holiday created just for DNA Lounge that holiday is Halloween, and this is our eighteenth spoooooky year throwing this party! We're bringing you a double-sized Halloween madhouse in all four rooms! Bewitching burlesque, ambient ghostly aerialists, skillful circus syrens performing all night…." Plus a plethora of DJs. 9pm-afterhours, DNA Lounge, SF. More info here. 
THU/31 SPOOKY NATURE It's a haunted Halloween affair with ghosts, goblins, vampires — and two of the smoothest, sharpest house DJs around. Naked Music pioneer Miguel Migs defined the super-popular West Coast house sound of the 2000s, while Philly's Rich Medina is a crate-digger's delight. 9:30pm-2am, Monarch, SF. More info here.
THU/31 CREATURES OF THE NIGHTLIFE This yearly treat sees the Cal Academy of Sciences up to some spooky tricks, with a live performance by the queen of squirm, Heklina, plus tunes from the scarily terrific DJ Omar. Drag show, costume party, and science fair all mixed together! 6pm-10pm, Cal Academy, SF. More info here. 
THU/31 MAD HATTER'S BALL Slide down a rabbit hole of thumping bass and electrified pop remixes as 19-year-old headliner, Whethan, who's collaborated with Dua Lipa and Charlie XCX, brings the frightening beats. 9pm-2am, 1015 Folsom, SF. More info here. 
THU/31 TRUTH Contemporary dubstep aces Truth hail from New Zealand, rupturing subwoofers and layering enough wavy synths to fuel a wobbly mothership. Hop aboard their UFO at this special Halloween party. 9pm-3am, Great Norther, SF. More info here. 
THU/31 HALLOWEED WITH DOJA CAT She's a cow, bitch. 9pm-2am, The Midway, SF. More info here.