Blades will slice, crystals will fly, Mariah will be Careyed up to the high heavens. OK, it's not as dramatic as all that—I wish—but one of SF's most hallowed traditions, Drag Queens on Ice (Thu/5 at 8pm at the Safeway Union Square Skating Rink), is tossing the glitter of the holiday season. This is the 10th year that a gaggle of ice princesses will hazard a Tonya Harding by taking to the rink and outdoing each other with wig flips and wobbles. (Actually some of them are pretty fierce out there on the ice).
It's one of those ever-disappearing "SF moments" for the whole family—I'll never forget the time in 2012 when the SF Bulls and cheerleaders dropped by for an incredible night. There was hooting, there was hollering. Luckily, Queen Dilly Dally has been documenting the event: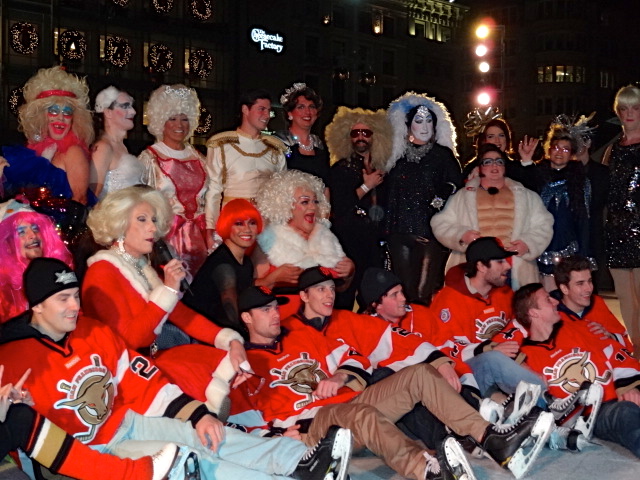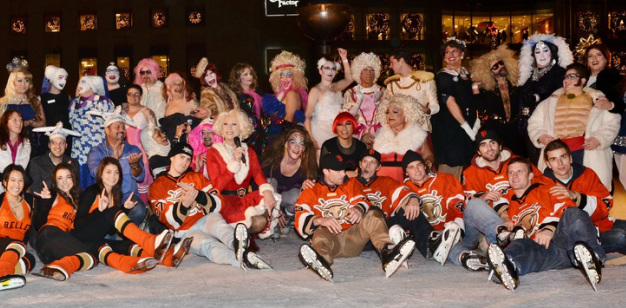 Anyway, go skate with the queens! And speaking of drag — legendary performer, hairstylist, and activist Princess Kennedy may have relocated to Salt Lake City after setting such stages as Trannyshack aflame in the '90s, but she is still close to our hearts. She was involved in an accident last week that broke most of her face, and like so many people in this country is relying on her community to help pay for astronomical medical bills. We're throwing a fundraising happy hour at the Stud on Thursday, so please come out and join us!
————–
MORE UPCOMING EVENTS
WED/4-MARCH 1, 2020 ART BLACK IS BEAUTIFUL: THE PHOTOGRAPHY OF KWAME BRATHWAITE This is "the first exhibition to focus on this key—and until now under-recognized—figure of the second Harlem Renaissance. Organized by Aperture Foundation, the exhibition of more than forty iconic images illuminates how, in the late 1950s and 1960s, Brathwaite (b. 1938) harnessed the power of art, music, and fashion to effect social change and used his photography to popularize 'Black Is Beautiful,' now considered one of the most influential cultural movements of that era." 
THU/5 LIT ENDURING SPIRITS: STEVE ABBOTT AND KARL TIERNEY "Poets Steve Abbott (1943–1992) and Karl Tierney (1956–1995) were among the 20,000 San Franciscans lost to AIDS before an effective treatment was found. Posthumous books by both writers were published this fall. Jamie Townsend, editor of Abbott's "Beautiful Aliens" (Nightboat), and Jim Cory, editor of Tierney's "Have You Seen This Man?" (Sibling Rivalry), will read from and discuss these fascinating writers and their impact on San Francisco's gay life and literary tradition." 7pm-9pm, free. Alley Cat Books, SF. More info here.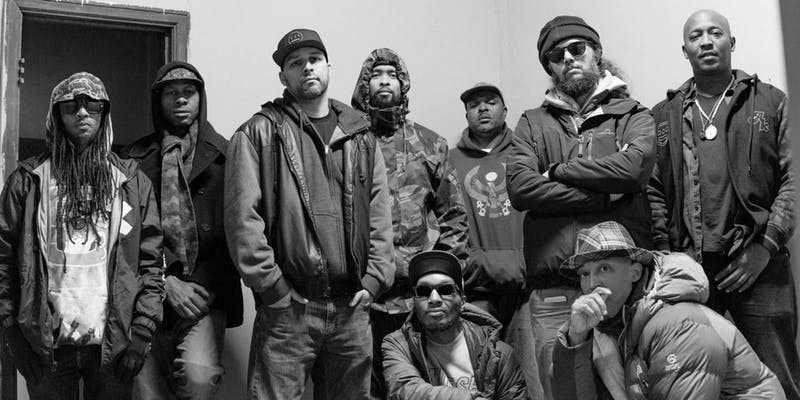 THU/5 MUSIC HEIROGLYPHICS "Founded in Oakland, California in 1997, Hieroglyphics Imperium set the standard for underground hip hop coming out of the west coast. Based on previous fame from early Jive Records and Elektra releases Hieroglyphics Imperium capitalized on major label promotion for their independent artist. Still around with new releases in 2016 Hieroglyphics has become a staple in hip-hop." With Stoney Hawk, Rap Noir, T-K.A.S.H feat. DJ True Justice & K.E.V., S.A.V.E.1, Mike Wird. 8pm-midnight, $32.50. UC Theatre, Berkeley. More info here. 
THU/5 MUSIC ERIK CORE The irresistibly poppy folk-punk trio have released a new album called Last Call, and it is really good. The launch party will be a queer core extravaganza, with support from Joe Shambeaux, Homobilies, Middle-Aged Queers. Craziness! 8pm-11pm, free. El Rio, SF. More info here. 
FRI/6-MARCH 28, 2020 ART JEFFERSON PINDER: FLASHPOINT This is "the debut of four new video works by Chicago-based, interdisciplinary artist Jefferson Pinder in an original exhibition titled ​Flash Point​. Collapsing history into the present, Pinder traces a path back to the Spring of 1919, when Blacks across the United States saw a surge in race riots, lynchings, and violent mobs. Racial tensions had reached a critical tipping point, fueled by a shifting post-war climate. This extended period of violence, lasting through most of the year, is marked in American history as the Red Summer. The performance work captured in the videos is associated with Pinder's cathartic 2019 Red Summer Road Trip, a journey he undertook on the 100t​ h​ anniversary of the 1919 violence." San Francisco Art Institute. More info here. 
FRI/6 NIGHTLIFE PARANOID LONDON "Follow us down the rabbit hole for a night of acid house sounds with the inimitable Paranoid London of the UK serving up one of their amazing get down and dirty live sets. If you caught them at Sunset Campout then you know the treats coming your way. Sunset's Galen alongside Dark Entries artist Sepehr will keep the jacking grooves on high vibration thru the night!" 9pm-3am, $20-$25, Audio, SF. More info here. 
FRI/6 SHOPPING HAYES VALLEY HOLIDAY BLOCK PARTY Honestly, one of my favorites of these types of things, with holiday cheer up and down the street—plus a pet parade! 5pm-9pm, free. Hayes Valley, SF. More info here. 
SAT/7 SHOPPING LOWER HAIGHT ART WALK: WINTER EDITION Oh hey, and follow that the next day with an afternoon stroll through my own hood and the lovely businesses therein for some winter cheer. 2pm-6pm, free. Lower Haight, SF. More info here. 
SAT/7 & SUN/8 STAGE BURNING MAN: THE MUSICAL You may remember the 2015 viral video above sending half the city into paroxysms of laughter—and doing the thing that Burning Man does best: mocking itself. Well, now it's becoming a full-blown musical (this will be a staged reading of the work in progress) and they've switched things up a bit to focus on a (gasp) woman: "a musical comedy that follows Molly (AKA Sparkle Pony), a recent college grad who's hired by the top venture capital firm in Silicon Valley to evaluate new tech startups that are pitching at her boss's luxury camp. After she discovers that Bill the Billionaire hired her with the intention of sleeping with her, Molly goes on a soul-searching journey through the desert, where she finds her mentor Hazel the Hippie, who prophesies her role in taking down Bill and his nefarious plan: to buy the desert and convert Burning Man into a Disneyland-style theme park called Burning Village." Z Space, SF. More info here. 
SAT/7 NIGHTLIFE THE SISTERS' SECOND ANNUAL KRAMPUS PAGEANT "'Tis the season to celebrate! One cold night very soon… in the wee hours of the morning, children will be visited by magical beings… who will abduct them for the crime of being nasty. It's Krampus time! Join The Sisters of Perpetual Indulgence as we pay homage to the sinister side of Santa at our 2nd Annual Krampus Pageant. On December 7th, come to the El Rio for a pageant where the naughty children of San Francisco will join a panel of steely judges who'll choose the creepiest creep of all to crown the Krampus of 2019." 5pm-7pm, El Rio, SF. More info here.  
SAT/7 NIGHTLIFE GO BANG! 11TH ANNIVERSARY Our very own little Studio 54 in the gritty city, the Go Bang! disco party has welcomed dancers from 21 to 81 for 11 years now—I got my first DJ slot there back when it was held at Deco in the Tenderloin! Join residents Steve Fabus, Sergio, and Prince Wolfe, plus special guests Elaine Denham, Robin Malone Simmons, and Stanley Frank for all-night atomic dance floor action. 9pm-3am, $10. The Stud, SF. More info here.  
SAT/7 MUSIC SOPHIE The trans techno goddess—whose bubbly, confectionary productions threw the dance music world for a loop this decade on the PC Music label—absolutely slays in her live show. "Traversing disparate musical spheres from underground dance music to major label pop, SOPHIE's singular sound shirks convention and pushes familiar musical styles to their furthest extremes. At once uncannily familiar and boldly experimental, and across solo releases and production work for other artists, her music has developed a devoted following and made her in demand in recording studios and on dance floors alike." 9pm-2am, $30. Gray Area, SF. More info here. 
SUN/8 NIGHTLIFE RED BULL 3STYLE USE NATIONAL FINALS "Red Bull 3Style is the world's largest global DJ competition and for the first time EVER the USA national final is coming to SF! Now in its 10th year, the global platform has been advancing and celebrating the culture of Djing. The rules are simple: Each competitor plays a combination of at least three musical genres in their 15 minutes, aiming to impress the judges and the crowd, of course." 7pm-midnight, $10-$20. The Midway, SF. More info here.