As we move farther toward festival season, it's really dawning that our hugest events will take place on our screens. It's not like we weren't expecting it, but hearing this week that Folsom Street Fair will be crackling through our laptops instead of out in the cheeks-searing sunlight somehow brought it home for me. Not just because I love my leatherpeople, but because it's the traditional capper of our summer here. Now that summer seems a little grimmer. But hey—I'm sure the Folsom Street Events folks will "whip something up" that will be spectacular, if less, er, exposed. (But who knows?)
The unofficial start of our summer takes place this weekend with How Weird Street Faire—now rechristened the How Weird World Faire (Sun/3, 11:11-?), because all the alien fashion, pumping music, and glorification of glorious SF strangeness can be experienced on a global scale. This is the 21st faire, a huge party and showcase which usually runs downtown around Howard and Second Streets. And fittingly for something held in cyberspace, there's a '90s "return to the source" theme, celebrating those foundational rave PLUR values (peace, love, unity, respect). They've even produced a series of throwback rave-like flyers, which you must check out here.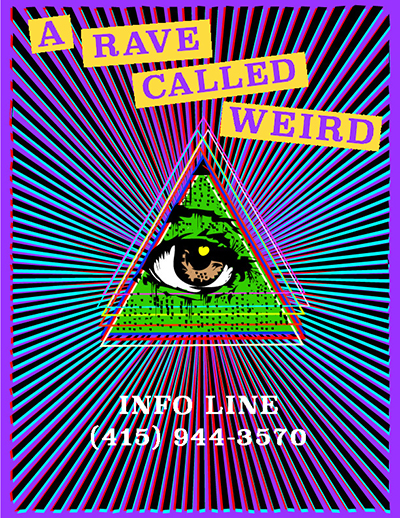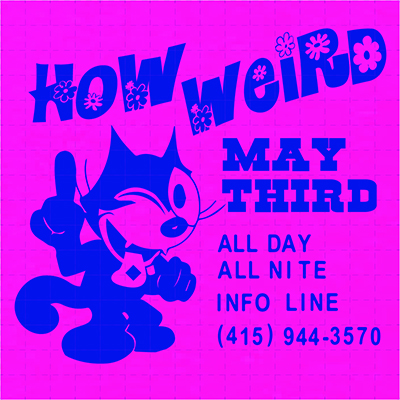 What's in store? The faire will be livestreaming music, art, performances, talks, seminars, and tutorials, plus there will be art and vendor galleries online for your Weirdo pleasure. DJs will represent some of our biggest crews: Symbiosis, CCC, Muti Music, Northern Nights, Opel, Opulent Temple, Temple Nightclub, Pulse SF, Mountain Lion Hi-Fi, Bootie SF, and the Heavy Petting Zoo. Grab something glowy and dance along.
Over the course of its existence, this event has swung from underground feel to a bit overexposed (during the tech boom height), then back to just-right perfection, a renewal of our countercultural spirit—I think this time it will be a shot of civic goofiness, fun, and pleasure we could all use right now. And don't forget to donate to this great SF event. More info at the How Weird site.
MORE EVENTS AND HAPPENINGS
PLEASE DON'T EAT THE MANGOS—one of the last plays we wrote about before the shutdown—won huge acclaim for is Magic Theatre production—and now it's streaming on-demand through the Magic's web site. until May 11. "The synopsis: Just outside of San Juan, three sisters take turns caring for their ailing Papa.  As a hurricane wreaks havoc, secrets are spilled and ugly truths emerge. Confronting their legacy, the sisters wrestle with what it means to stay true to self, familia, homeland and…how to best
seek their revenge." Check it out here and support the Magic.
HARD FRENCH, truly one of the best parties of the millennium—a queer shindig for all genders that plays classic soul? Sí, sí—is celebrating its 10th anniversary with an insane lineup of DJs, performers, and go-gos, including Brown Amy, Vin Sol, Bezier, Glamamore, Kitty Von Quim, Dulce de Leche, Lil Miss Hot Mess, and Kelly Lovemonster. Proceeds go to aid the El Rio staff. Sat/2, 2pm-5pm, more info here.  
WRITE NOW! is hosting an interactive reading on creativity and activism by 30 Bay Area writers of color and allies on May 3, 1pm-4pm. "Featured are poets laureate Kim Shuck and Rafael Jesús González, Avotcja, Dennis J. Bernstein, and health care providers, educators, and community activists sharing prose and poetry on how they are responding to COVID-19. Following the reading, the audience can join a guided discussion." Find out more here.
DNA LOUNGE is the first nightclub I know of that has released a full schedule of streaming parties (to go along with its pizza and cocktails to go). The calendar is packed with almost-nightly DJ webcasts, from classic Bootie Mashups and Death Guild goth to head-banging bass, pst-trance, and '80s-type flair. Check it out here.  
TOMPKINS SQUARE RECORDS, the wonderful SF-based label that focuses mainly on contemporary blues, folk, and jazz musicians, is releasing a new compilation album on Friday that will benefit Groceries for Seniors. The album comes out on the day that online music sales platform Bandcamp is waiving its fees so money goes direct to the artists, which means you will be helping seniors directly. The album features a ton of lovely music from the likes of Kinloch Nelson, Duck Baker, Gwenifer Raymond, and Bill Mackay. Hit up the Tompkins Square Bandcamp page starting tomorrow to snag this great release.
COUNTERPULSE is hosting a swell-looking free online fundraising party on Fri/1, 6pm-9pm, called "Innerspace Virtuality"  which features a ton of performers and artists along with DJ sets and a "parade" of people who've sent in clips of themselves walking across the room in funny outfits, lol. This is a partial benefit for the Stud as well, so get in there! More info here.
WHO SAMPLED? HIP-HOP TRIVIA GAME — can you test your recall mettle through the thicket of four decades of hip-hop? Two of our top players, DJ Platurn and Ren the Vinyl Archeologist, in association with Hello Stranger bar, quiz you every Sunday at noon on Twitch—stakes is high! (Nah, but you do get some bragging rights). Plop your Bonita Applebaum right here.
BOTTOM OF THE HILL has been rescheduling shows at a mighty pace and also set up a donation fund for their employees, who are salt-of-the-SF-earth folks. I highly recommend subscribing to their detailed newsletter and donating if you can to help keep this already-threatened institution rocking.
THE SF SYMPHONY just announced that it has cancelled the rest of its 2019-2020 season, which was to be a celebration to departing conductor Michael Tilson Thomas. This includes the lively, wide-appealing Summer in the City series, which I love. Never fear, though,  you can get your shot of orchestral lushness  with the Symphony's expanded digital content, including an upcoming 25-day tribute to Tilson's 25 years as music conductor. Find out more here. 
ANOTHER HOLE IN THE HEAD horror and sci-fi film fest is not taking this crisis lying down like some undead mummy. No, it is jumping up and swinging its chainsaw at it like some Texas Chainsaw Massacre. Its hosting Zoom viewing parties of films like Vampariah (Sat/2) and of course for May 4th a Star Wars day screening of of Galaxy Lords. See the schedule here. 
SF NEOFUTURISTS do sketch comedy for people who can take a dose of absolute mayhem and absurdity along with surprisingly tender moments (and the occasional naked body part, why not). If you subscribe to their Patreon, you get The World Wide Wrench, their new weekly online show. "For over five years, we have produced The Infinite Wrench, our ongoing, ever-changing attempt to perform thirty plays in sixty minutes for a live audience. Now, every Friday, we will post new, never-before-seen, made-just-that-week pieces of digitally-available art, with the same tenets of our stage show: we are who we are, where we are, doing what we're doing, and the time is now." Check it out here.
ACT has launched "This is just an intermission…InterACT at Home," a collection of online games, readings, and scene deep-dives that will have you playing on your own. More fun (including for the family!) here.
SMACK DAB QUEER OPEN MIC, the longtime, excellent series hosted by Larry-Bob Roberts and Dana Hopkins, is hopping over to Zoom for the moment, starting Sun/3, 5pm-7pm. "We're the longest running Q/T Open mic in the bay and we welcome YOU to join us to share: stories, poems, a song, dance, your visual art or your latest manifesto. Our slogan? All ages, all genders, all the time." Check it out for some new voices. More info here.
CUTE VIDEOS OF THE WEEK! 
You may have seen that viral video of drone footage shot through the emptied out streets of SF. The only thing that could make it more San Francisco? Transforming it into a drag number about loneliness, shot on a rooftop, of course! The magnificent Frida K-Hole adds her own special panache—and a dash of Billy Eilish, why not—to the proceedings and serves up poignant perfection. (Andrew Slade did the editing.) "I made this the first week of Shelter in Place. I thought that the empty streets looked eerie & haunting. So I tried to capture that feeling of isolation," K-Hole told me.
Want a little boost of game show comedy? Local comic Dhaya Lakshminarayanan appeared on this adorable skit "The Price Right Now" hosted by Charles Scheinblum, that pokes some much-needed fun at our current isolated moment. How much is a tiny bottle of Purell worth, and do you really want to win a Carnival Cruise? And what is the value of a hug?