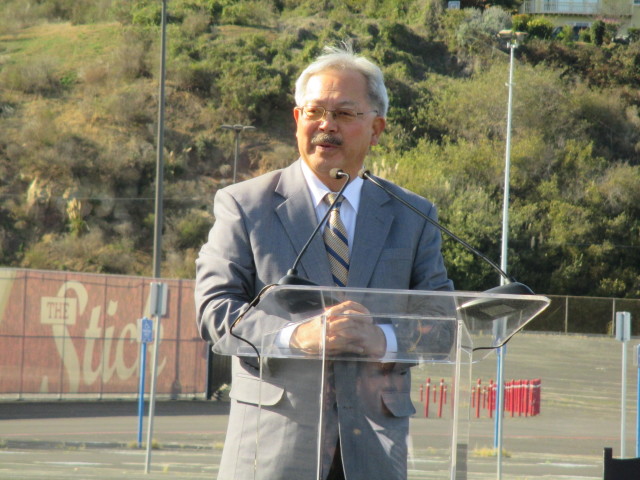 By Tim Redmond
JANUARY 5, 2014 – It's all going to be about sharing in 2015. That's what the Mayor's Office is saying. But the "sharing economy" and its role in San Francisco are a matter of some dispute.
I suppose it's good news that Mayor Ed Lee has figured out that the great new wealth in this city isn't being shared by all:
"Jobs are back, the economy has rebounded, and for the first time in decades, the mayor's not asking department heads to cut their budgets for a year," said Christine Falvey, the mayor's spokeswoman. "Next year, it's going to be about sharing that prosperity. It's not hitting all levels in the city."
A little late to come to that realization; one might think that a mayor who has been around City Hall this long, and seen this many booms and busts, would have been able to predict that attracting thousands of new high-paid tech workers would lead to displacement – that, in fact, prosperity for some has meant homelessness and poverty for others. In San Francisco, rising tides don't lift all boats; the lift a few, and sink a lot more.
But whatever: We're in a crisis that Lee helped create, and he's going to have a challenging time fixing it. It's going to be even more challenging if the way City Hall tries to fight economic inequality is to ask the rich to volunteer:
City Hall is also expected to continue to press private businesses to give to the needy — such as Google's recent $2 million donation to homeless services and Kaiser Permanente's $5.5 million in new grants to programs for low-income people, including $3 million to rehabilitate decrepit public housing projects.

Supervisor London Breed, who represents the Western Addition where there are several public housing developments, recently persuaded the San Francisco Association of Realtors to donate staging furniture, kitchen appliances and other goods to homeless families moving into public housing projects. So far, 42 families have moved into vacant public housing units, and many have received help from the realty group.

"I think it's time for everyone to be part of helping to make this city better for those who are less fortunate," Breed said. "There are a lot of folks who have built a lot of wealth, and I would just hope that many of them feel obligated to give back."
Again, I would think that after about two centuries of industrial capitalism, politicians would have figured out that wealth is never voluntarily shared at a level that's needed to create any kind of stable society. Taxation, public spending, and redistribution works; that was one lesson of the post-War era. Trickle-down and charity doesn't; that's the clear lesson of the post-Reagan era.
Remember, in San Francisco, it's not as if the economic booms make a few rich and leave everyone else behind. I wouldn't begrudge the tech folks their millions (or billions) if they could just get rich and leave the rest of us in peace. But great wealth here does great harm, because it drives up the cost of housing, which means longtime residents who aren't rich have to leave town or spend so much money on rent that they have little left for anything else.
Until we fix that – until we have rules in place that ensure that nobody who lives here has to leave because they don't make as much money as someone who wants to take their place – then economic booms will do more harm than good.
With that in mind, let's take a look at what some of the key issues in 2015 will be (in no particular order):
Airbnb and short-term rentals. Any time Calvin Welch and Dianne Feinstein are on the same side, along with the Tenants Union and the Apartment Association, you have the makings of a serious political campaign. There's going to be a ballot measure to change the rules on short-term rentals, and it's probably going to be well funded. (Gee, maybe there will be a fundraiser at Feinstein's house! She's never invited me over before!)
The tech folks will spend a lot of money to defeat it, so look for a high-profile campaign.
Mayor Lee signed the Chiu bill, so he'll almost certainly oppose the ballot measure. Other local officials will have to take a position. And this is one (like Prop. M in 1986) that could bring together neighborhood people from the West side of town and progressives from the East.
How we vote. If there was ever any doubt about it, the Campos-Chiu election settled the question: Progressives can no longer win in this town without an effective absentee voter strategy. Elections don't take place on Election Day anymore; they start about a month earlier.
So as the Airbnb campaign emerges, there's going to be a lot of talk about how San Franciscans vote – and Campos has delivered a fascinating idea that, if the City Attorney's Office approves and there's a legal way to do this, could be the most significant electoral reform in this town in years. He wants the city to mail out ballots to every single registered voter. It would move San Francisco one step in the direction of Oregon, where all elections are vote-by-mail – and turnout is consistently among the highest in the nation.
How can anyone be against that? Just watch.
Another tenant measure. Prop. G, the anti-speculation tax, lost – but did a lot better than expected considering the vast sums of money directed against it. It's likely that state Sen. Mark Leno will re-introduce some version of his Ellis Act bill in Sacramento, and it might make it through the Assembly intact this time around – but that's still a hard slog. And while the Ellis Act evictions have slowed (thanks to tenant organizing), the pressure is still on tenants. So there's a good chance that another tenant measure could make it onto the fall ballot. (My favorite idea, which is floating around: leave rent control in place anytime there's a no-fault eviction. I suspect that would run into trouble with state law, but it would have a huge impact on preventing displacement.)
Affordable housing. The city is far behind Mayor Lee's goal for the creation of affordable housing, and as long as it's largely a private-sector endeavor, that's not going to change. At what point will he have to admit that there's no way to get to 30 percent or more affordable housing while allowing market-rate developers to drive the conversation? There may well be an affordable-housing ballot measure in November, something that seeks a way to raise money. There will almost certainly be a proposal for a tax on vacant housing units. This is a make-or-break moment for the mayor; he's made "the affordability agenda" a key part of his re-election, and he's going to have to take some big risks and show some real leadership to deliver.
Because building enough affordable housing is going to mean finding ways to take money from the wealthy – not ask nicely, but take it.
2016. The political world of San Francisco (and California) starts to shift next year when Leno is termed out and Sen. Barbara Boxer (almost certainly) retires. Tom Ammiano has taken out preliminary papers to run for Leno's seat, but I would be very surprised if none of the current supervisors also entered the race.
That's just for starters. Even without much of a mayor's race, it's going to be a wild year.