The mayor was out of town when news broke that his approval ratings continue to dive, just a few months into his final term. The last time this happened, in 2000, Willie Brown was mayor and progressives won just about every contested seat on the Board of Supes.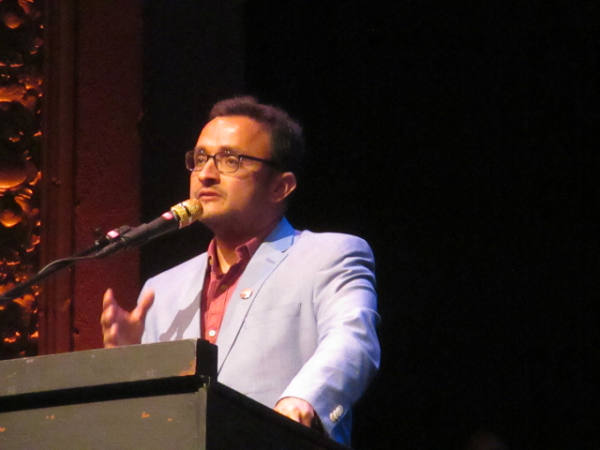 In a little more than two months, the voters will decide another referendum on the mayor, although it isn't getting described that way in most of the news media. The vote for control of the Democratic County Central Committee is about whether Lee's allies in the real-estate industry continue to dominate the local party.
The mayor's pals can spend a lot of money, and they will, and this race is so much more about name recognition than anything else, but if the Reform Slate can get the message out – that this is business as usual vs. change – and it becomes a referendum on whether the city is going in the right direction, the Lee forces could be in trouble.
Lee is not fond of the plan by Sup. David Campos to declare a State of Emergency over housing and homelessness, which comes before the Public Safety and Neighborhood Services Committee Thursday/24.
And the Lee spin machine is in full force – the Chron's been writing about how the Campos plan doesn't include enough specifics, and that there aren't enough viable public spaces for new navigation centers (although, remarkably, WTF Chuck Nevius now agrees that wet houses and safe injection centers are a reasonable idea).
What Lee doesn't want is a showdown where he is forced to veto a measure calling for a State of Emergency, while he's sweeping homeless people off the streets and the existing shelters can't handle anywhere near the number of people who are in need.
It's an election year, and some of the swing votes on the Board of Supes are facing re-election, and it's hard to see how this doesn't pass with at least six or seven votes. If it gets eight, then Lee is SOL.
If not, does he really want to make that statement right now?
The mayor has already made another statement – he has vetoed legislation that would increase by just a little bit the amount that developers have to pay for Muni. The measure, by Sup. John Avalos, got six votes, and he would need to pick up two more at the board meeting Tuesday/22 to override the veto. That may be unlikely – but again, it puts the mayor on the side of the developers and not the people who wait too long for too few crowded buses as the people making a fortune from building offices in the city laugh all the way to the bank.
The Land Use Committee meets Monday/21 to consider legislation that would ban no-fault evictions of teachers and students at SFUSD during the school year. It has the backing of the four most progressive supes, Campos, Avalos, Jane Kim and Eric Mar, and it's before a committee dominated by the "moderates" (who in some cases are better described as "conservatives"), Scott Wiener and Malia Cohen.
But seriously: Does Wiener, who is running for state Senate, really want to be the guy who votes in favor of allowing landlords to evict teachers and school kids?
The district attorney, George Gascon, has put together this blue-ribbon panel to discuss problems in the SFPD, and I don't know how much will come of it (although Cruz Reynoso, one of the members, was a great Supreme Court justice). But the panel is holding a hearing Monday/21 for community members to talk about bias among the local cops, so there's a real chance to tell people who might be in a position to make some (public, I hope) recommendations for change to hear what the folks who actually deal with the cops on a regular basis have to say. It's 5:30-8:30pm in the Alex L. Pitcher Community Room, Southeast Community Facility, 1800 Oakdale, SF.
And on Thursday/24, the Justice for Mario Woods Coalition holds a community meeting and town hall meeting to show the community the horrifying video of the police shooting of Woods and to provide an update on the group's demands and the case. 6pm, Joseph Lee Rec Center, Oakdale and Third.
The Trans-Pacific Partnership trade agreement is a big issue in the presidential race, since Bernie Sanders is way against it and Hillary Clinton was maybe for it but maybe not before she was against it, and trade is even an issue for Republicans, who love Big Capital's embrace of free trade but are terrified at how much Donald Trump (who is such a racist, sexist blowhard that he could cost the GOP the Senate this fall) has gained from denouncing these deals.
But there hasn't been that much talk about the impact of TPP on the news media. According to the Pacific Media Workers Guild (full disclosure, I am a card-carrying member), the TPP would threaten the rights of journalists and whistleblowers. The measure, among other things, would:
Compel Internet service providers to take down websites without a court order, as the Stop Online Piracy Act would have done had the House Judiciary Committee not shelved it in 2012.
Extend U.S. copyrights to life plus 70 years, preventing anyone from using works that belong in the public domain.
Bar unauthorized disclosure of corporate trade secrets, putting journalists and whistleblowers at risk of lawsuits or even criminal prosecution for exposing corporate misdeeds.
End anonymity online by forcing every domain name to be associated with a real name and address.
Make it illegal to unlock, modify or generally tinker with a device you own.
Export the United States' broken copyright policies without expanding free-speech protections such as fair use.
There's a forum to discuss all of this Monday/21 at 7pm at the Bernal Heights Library, 500 Cortland. It's free.