The bill that would limit citizen initiatives against development is now in the state Senate, and will be heard in committee in August. The SF supes will vote again Tuesday/25 on a resolution opposing it, after Sups. Malia Cohen and Ahsha Safai tried to sideline it last week.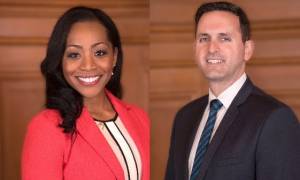 If you want to hear an interesting discussion on the bill, the author, Assemblymember Miguel Santiago, and former state Sen. Mark Leno, who opposes the measure, had a lively debate on KPFA last week. You can listen to it here.
Leno argued that the measure creates an undemocratic supermajority – something James Madison argued against in Federalist Paper 58. "Forty-six percent will have more power than 54 percent," Leno said.
And, of course, the measure only requires a supermajority for citizen initiatives, not for measure that were placed on the ballot by county supervisors or city councils.
If Santiago wants to end anti-housing zoning, he's going in the wrong direction – in many places where the laws allow lots of commercial development and no housing, the elected officials are leading that drive.
But the other issue Leno raised is one that you would think San Francisco's legislative delegation would be pushing, is that this bill (like the Ellis Act) is going to have unintended consequences, most likely in San Francisco. The measure as it is would apply only to cities with a population of more than 750,000. Why not raise that number to 1 million, Leno asks – exempting San Francisco?
Assemblymembers David Chiu and Phil Ting both voted for the bill as it is. Perhaps Sen. Scott Wiener can offer that amendment. Anyone want to bet?
Sup. Mark Farrell has a hearing Monday/24 on efforts to create a municipal broadband system.  He's been talking about it for a while, and it has potentially huge implications, not just for San Francisco but for cities all over the country, as we noted when we last wrote about this:
Internet access has historically been considered a private-sector, lightly regulated business – similar to cable TV.

But today, access to a high-speed Internet connection isn't an entertainment option; it's critical to surviving in the modern economy. The digital divide is driving even greater income inequality.
Farrell has asked the Mayor's Office and the Department of Technology to report on any progress in moving toward public broadband. It's going to be a tough political battle, since AT&T and Comcast will fight bitterly to keep the city out of what is a very lucrative business.
"I've told them both, 'what's the matter, you don't want competition,'" Farrell told me the last time we talked about this.
Yeah: City competition would force them to radically lower prices and provide better service.
Sup. Ahsha Safai, who during his 2008 campaign made the bold – and dubious – claim that he had been a leader in the effort to save St. Luke's Hospital, is now actually talking about saving services at the Mission hospital.
He's asked for a hearing Wednesday/26 at the Public Safety and Neighborhood Services Committee on the closing of skilled nursing facilities at St. Luke's – a huge deal for existing patients, who could be moved as far away as Sacramento, and for the workers who may lose their jobs.
That committee will also again hear legislation by Sup. Malia Cohen on "surface mounted facility sites," which are mostly big AT&T boxes on the city's sidewalks. The company under current law has to do thinks like plant street trees and allow murals on these ugly boxes – and has to make a good faith effort to find a location on private property before dumping the boxes on the sidewalks.
Cohen wants to remove those requirements, and instead allow the company to pay an "in lieu" fee. The full board debated this for about an hour last week, and decided that this plan was far from ready for prime time, so they sent it back to committee for more discussion.
We shall see what Cohen comes up with.
The full board Tuesday/25 will again hear Sup. Jeff Sheehy's plan to criminalize outdoor bicycle repair and collecting, which he refers to as "chop shops." Bicycle theft is a serious problem, and there are absolutely open-air facilities where hot bikes are taken apart and rebuilt so their owners won't recognize them, and then resold. It's a big business in SF.
But critics, including the Coalition on Homelesness and the San Francisco Bicycle Coalition, argue that the measure would simply be one more way to criminalize homeless people, some of whom have more than one bicycle or spare bicycle parts.
Anyone who is a bike enthusiast in this city probably meets the standards for Sheehy's "chop shop" designation – but we have roofs over our heads. And I suspect the biggest and most sophisticated theft rings also operate indoors.
Sheehy didn't appear to have the votes last week, so the measure was continued.
The Board of Supes rarely overturns Planning Commission decisions on appeal, but there's one this week that's going to present board members with some serious challenges.
At issue is a residential building at 824 Hyde Street, which burned down in 2010, destroying 14 rent-controlled apartments. Seven years later, a developer wants to build a 30 room hotel on the site, with really tiny rooms (140 square feet, barely enough space for a bed and micro-bathroom).
Opponents, led by the Lower Polk Neighbors, say the site should be used for new housing, which is something most of the supes say they support. The Tenants Union and a long list of other neighborhood groups agree. UNITE HERE Local 2, the hotel workers' union, opposes the project, saying, among other things:
We are also troubled about the precedent set by this case given the disturbing number of fires in neighborhoods such as SOMA and the Mission. The aftermath of these fires, which largely affected rent-controlled buildings, suggests that all a property owner must do is wait out the rebuilding process until tenants lose their right to return or until they have settled into new housing elsewhere. This trend should be resisted, not encouraged.  
And this project barely cleared the Planning Commission, which approved it June 1 by a 4-3 vote, with all of the members appointed by the mayor voting in favor and all of the members appointed by the supes voting against.
Housing – or a boutique hotel in a residential neighborhood? That comes up sometime after 3pm.