ARTS FORECAST You've mastered Halloween (or, like me you've mastered watching everyone's Halloween costumes on Instagram), but are you ready for Day of the Dead? One of my favorite times, respectfully visiting the Mission and seeing all the beautiful altars, and popping into the late-night galleries, businesses, and, OK, more than a couple restaurants.  
This year's Day of the Dead SF celebration takes place Thu/2 at 7pm, with the procession starting at 22nd and Bryant and ending at the offrenda-filled Garfield Park. But of course there's a whole week's worth of celebration, including two of my favorite annual things: SOMArts glorious, colorful Dia de los Muertos exhibit (running through  November 9) and the SF Symphony's family-oriented Dia de Los Muertos Community Celebration (Sat/5, 2pm and 8pm), featuring ensemble La Santa Cecilia and all-female mariachi band Mariachi Flor de Toloache plus tons of decorations. 
Need a car to get there? Rent one in your neighborhood on Getaround. Sign up today, and enjoy $50 off your first trip: http://get.co/48h. [Sponsored]
Below are some more upcoming wows: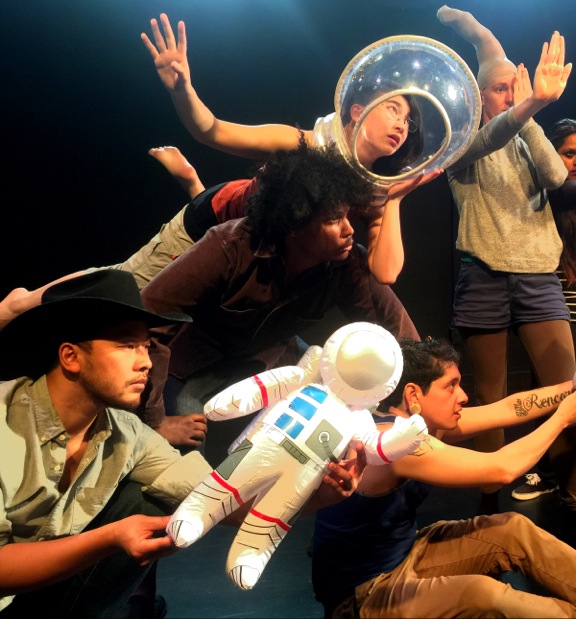 STAGE RAGGED WING ENSEMBLE'S 'MULTIVERSE' "Two scientists-turned-astronauts, looking to escape the cruelty and destruction of our current world, travel through multiple realities (dystopian, strange, beautiful, and comic) looking for a kinder, freer universe. As they travel, their identities are thrown into question, and they must grapple with the scariest thing in the multiverse: themselves. Will they find a way beyond our broken universe? And who will they become along the way?" Through Nov. 11. Flight Deck, Oakland. More info here.  
MUSIC THE BAD PLUS "For their final tour with pianist Ethan Iverson, the irreverent band of jazz outlaws return to the Miner stage. A uniquely audacious trio that has crossed into the mainstream to draw jazz fans and rock aficionados alike, the Bad Plus rose to fame over a decade ago by transforming pop and rock anthems like Black Sabbath's 'Iron Man,' Blondie's 'Heart of Glass' and Queen's 'We Are the Champions' into epic improvisational journeys." Thu/2-Sun/5, 7:30pm, $40-$80. SFJAZZ, SF. More info here. 
EXHIBIT VOICE OF THE CENTRAL CITY: THE TENDERLOIN TIMES, 1977-94 "The Tenderloin Times had its start in August 1977 when three homeless men mimeographed 150 copies of the first edition from the basement of Hospitality House. Over the next 17 years, The Times grew into an award-winning newspaper with a circulation of 15,000 that was published in four languages – English, Vietnamese, Lao, and Cambodian. Created in collaboration with community historian and former Times Editor Sara Colm, this exhibition will showcase a number of the publication's rare archival images, articles, and political cartoons documenting our vibrant community during the pivotal years of 1977-1994." Opening reception and panel discussion Thu/2, show runs through March 30. Tenderloin Museum, SF. More info here. 
STAGE THE NORMAL HEART Towering gay curmudgeon Larry Kramer's breakout play comes to Theatre Rhino. "A searing drama about public and private indifference to the AIDS plague and one man's lonely fight to awaken the world to the crisis. The Normal Heart follows Ned Weeks, a gay activist enraged at the indifference of public officials and the gay community. While trying to save the world from itself, he confronts the personal toll of AIDS when his lover dies of the disease." Fri/3-November 25. Gateway Theatre, SF. More info here.  
STAGE THE INFINITE WRENCH Best of the Bay best Theater Troupe winners the SF Neo-Futurists are back with a new, zany, participatory show. "The Infinite Wrench is a mechanism that unleashes a barrage of two-minute plays that will never ask you to suspend your disbelief. Join us as we test, experiment and create an ever-evolving show to contain the irrepressible, the honest, the WTF, and the new." Fridays and Saturdays at 8pm, Fri/3-November 25. Shelton Theatre, SF. More info here. 
PERFORMANCE THE 2017 BRIDGE PROJECT: RADICAL MOVEMENTS: GENDER AND POLITICS IN PERFORMANCE For this installment of the annual Bridge Project, Hope Mohr Dance asks: "What does it mean to have a radical body?" And two weekend's-worth artists, activists and academics respond with two weeks of multidisciplinary performance and dialogue. These are big names in our community, so do not miss out: Judith Butler, Mo Jenkinson, Jack Halberstam and boychild, Maryam Rostami, Peacock Rebellion's Lisa Evans, Julie Tolentino, and more. Fr/3-Sat/4 and Fri/11 and Sat/12. CounterPulse, SF. More info here.   
ART OPEN STUDIOS We're already the fourth and fifth weekends of the original Open Studios, launched in 1975. This weekend takes us through North San Francisco and SoMa, with dozens of artists inviting you into their studio to see how they work. (Buy some awesome things!) Sat/4 and Sun/5, more info here. 
STAGE CIRCUS VERITAS "Circus Veritas is a powerful, cohesive circus performance from Kinetic Arts Productions, the Oakland circus company that has been bringing audiences thrilling shows for almost a decade. Follow the aerial adventures and physical theater antics of the Sacred Order of the Burning Pants, an ancient cult of liars, as they entertain you, thrill you, shock you and above all… lie to you." Sat/4-December 17. Kinetic Arts, Oakland. More info here. 
FILM BORN IN FLAMES The monthly my gaze // yr gaze queer film showcase pairs an intriguing curator with a seminal work. From this month's selector Scott Hewicker: ""I selected Lizzie Borden's 1983 film Born In Flames mainly because I am a man who is very much sick to death of men, especially those who aim to assert a brutal entitled authority over everyone else. Female and transgender voices that intersect race, class and culture need to be heard now more than ever, and Lizzie Borden and many other people like her have known that for over 34 years since this film was made." Sun/5, 6pm, free. Alley Cat Books, SF. More info here. 
PERFORMANCE ANTI-SURVEILLANCE PERFORMANCE AND WORKSHOP WITH ZERENA DIAZ "This performance is a workshop tutorial on masking your identity from facial recognition technology using makeup. Zerena Diaz will teach participants how to create makeup looks and fabric accessories to hide their identity from surveillance. By appropriating makeup as an anti-surveillance tool, we can show the dynamism of makeup as something beyond a gendered beauty product, and instead as a tool for both artistic and resistance practices for all genders. There will be a runway throughout the evening open to the audience to model the looks they create." Sun/5, 4p-7pm, free. CounterPulse, SF. More info here. 
Need a car to get there? Rent one in your neighborhood on Getaround. Sign up today, and enjoy $50 off your first trip: http://get.co/48h. [Sponsored]