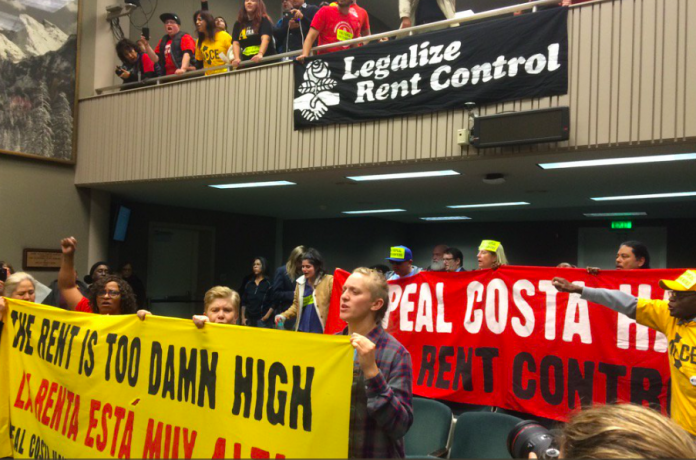 Editors note: This is the testimony Professor Peter Dreier gave June 21 at a joint hearing of the state  Senate Judiciary Committee and the Assembly Committee on Housing and Community Development. 
My name is Peter Dreier. I am the Dr. E.P. Clapp Distinguished Professor of Politics, and chair of the Urban and Environmental Policy Department, at Occidental College. Before joining the Occidental faculty in 1993, I served for nine years as Director of Housing at the Boston Redevelopment Authority and senior policy advisor to Boston Mayor Ray Flynn. I earned my Ph.D. at the University of Chicago. I've written three books on urban policy and published many articles about housing policy for a wide range of publications, including the Harvard Business Review, Real Estate Finance Journal, Housing Policy Debate, the Journal of the American Planning Association, and many others.I've received research funding from, and been a consultant to, many organizations, including the U.S. Department of Housing and Urban Development, the Ford Foundation, the Eisenhower Foundation, the Haynes Foundation, the U.S. Conference of Mayors, the MacArthur Foundation, and others. I've served on many task forces on housing and economic development and currently serve on the Los Angeles Revenue Commission. In 1993, the Clinton administration appointed me to the Advisory Board of the Resolution Trust Corporation (RTC), the agency responsible for cleaning up the Savings-and-Loan mess.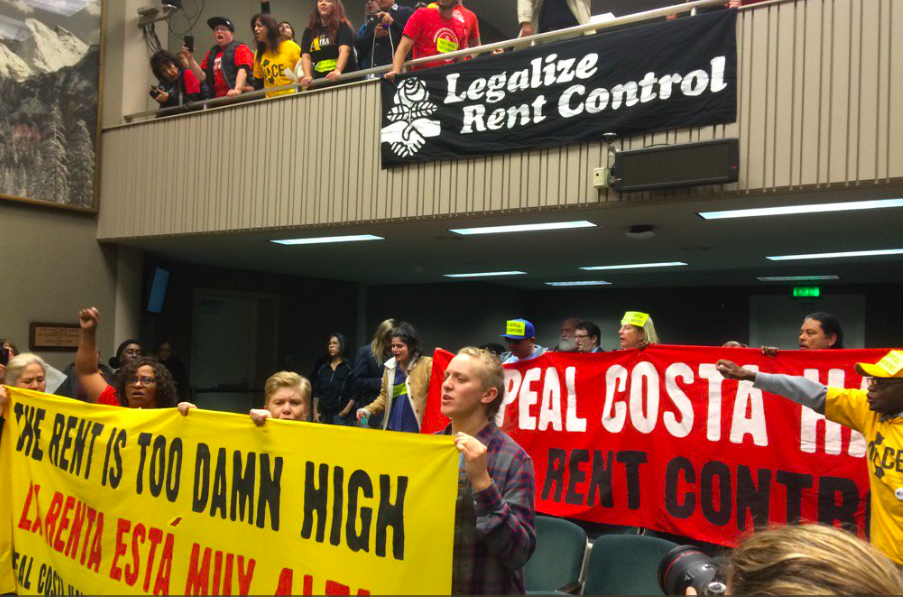 I'm here today to discuss California's severe housing crisis, the consequences of that crisis for its economy and its residents, and what can be done to address it. Because of the limited time I have to speak today, I will focus most of my remarks on the proposal to repeal the Costa-Hawkins Act, about which I've written a great deal. But first I'd like to put that issue in broader context.
California's Housing Crisis
Forty-three percent of all households in America (51 million households) don't earn enough to afford a monthly budget that includes housing, food, child care, health care, transportation and a cell phone, according to a new study by the United Way. Of all those basic necessities, housing is the most expensive. The worst states are California and Hawaii, where 49 percent of families are struggling to make ends meet. And in California, housing is the biggest reason why so many families can't make ends meet.
Along with Hawaii, California has the worst housing crisis of any state in the country. Its home prices and rents are far above the national average and higher than those in all other states except Hawaii.
Nationwide, 57 percent of households can afford a median-priced home. But only 31percent of California households could afford to purchase the $538,640 median-priced home in the first quarter of this year. A minimum annual income of $111,500 was needed to make monthly payments of $2,790, including principal, interest, and taxes on a 30-year fixed-rate mortgage at a 4.44 percent interest rate.
Because home prices have escalated much faster than incomes, California's homeownership rate is declining and the percentage of Californians who rent is increasing. The percentage of renters among California households increased from 42.6 percent to 45.9 percent between 2010 and 2016.
As a result, a growing number of middle-income Californians are now renters and may remain renters for many years. They are competing with working-class and low-income renters for the scarce supply of rental housing. Not surprisingly, this had led to dramatic rent increases as well as the displacement of many working-class families, low-income families and senior citizens. Sometimes this is called "gentrification" and it is accelerating across California, not just in most expensive coastal cities.
Moreover, rents have been rising much faster in California than in the rest of the country. Between 2000 and 2016, rents in California increased 85 percent while median household income increased by 43 percent. In other words, rents increased twice as fast as household income. (Incomes for tenant households rose by 48 percent during that period).
In California, the Fair Market Rent (FMR) for a two-bedroom apartment is $1,699. In order to afford this level of rent and utilities — without paying more than 30 percent of income on housing — a household must earn $5,665 a month or $67,976 a year. Assuming a 40-hour work week, 52 weeks per year, this level of income translates into an hourly Housing Wage of $32.68. (Only Hawaii's Housing Wage — $36.14 – is higher).
The Housing Wage is over $20 an hour in Riverside-San Bernardino-Ontario, Sacramento-Roseville, Salinas, San Luis Obispo, Vallejo-Fairfield, and Yolo County. It is over $30 an hour in many metropolitan areas, including Oxnard-Ventura-Thousand Oaks, San Diego-Carlsbad; Santa Rosa; Santa Ana-Anaheim-Irvine; Los Angeles-Long Beach-Glendale; Santa Barbara-Santa Maria-Santa Barbara; and Santa Cruz-Watsonville; It is over $40 an hour in Oakland-Freemont and San Jose-Sunnyvale-Santa Clara. It is $60 an hour in San Francisco.
Moreover, California's gap between household incomes and housing costs (home prices and rents) is the widest of any state. The result is that California renters are paying a much higher proportion of their household income just to keep a roof over their heads. This is true even though more middle-income households are now renting.
In fact, 54 percent of California renters pay more than 30 percent of their income for housing. And 29 percent of California renters pay more than 50 percent of their income for housing. This is the highest rate in the country, according to Harvard's State of the Nation's Housing report.
Of the 11 metropolitan areas in the country with the lowestrental vacancy rates – the tightest rental housing markets – six of them are in California. (San Jose, San Francisco, San Diego, Los Angeles, Sacramento and Fresno. Fresno is the worst, with a 3.1 percent rental vacancy rate). Vacancy rates for affordable rental housingare even lower.
The Costa-Hawkins Act Hasn't Worked
We've gone to the ballot today because Costa Hawkins took away one of the most important tools for local governments to address the housing crisis. Costa Hawkins is one of the major impediments to cities responding effectively to the huge rent increases that are destabilizing people, families, communities and local economies across the state.
Since the Costa-Hawkins Act was passed in 1995, California's housing crisis has gotten worse.
There are three major provisions of the Costa-Hawkins Act that are obstacles to addressing the housing crisis.
First, Costa Hawkins prevents local governments from enacting meaningful rent control, because it prohibits cities from regulating rents when a unit becomes vacant. This creates a perverse incentive for landlords to evict tenants, often by illegal means, including harassment.
Even the strongest forms of rent control do not freeze rents. Rent control simply prevents excessive rent increases but allows the rent increases that are actually necessary for real estate investors to obtain a fair return on their investment.
We take it for granted that government can and should place some controls on public utilities. Housing — like electricity, water and gas — is also a basic necessity. It's time to restore the ability of local governments to regulate rents.
Repealing Costa-Hawkins doesn't mean that most, or many, cities will adopt stronger rent control laws. It simply gives them the option to protect tenants and preserve the supply of affordable rental housing by allowing rents to steadily increase based on a formula that provides landlords with a fair return. It stops landlords from taking advantage of the rental housing shortage by rent "gouging."
Second,the Costa-Hawkins Act prohibits local government from regulating rents on rental housing built after the law was passed in 1995. Costa-Hawkins was passed 23 years ago, but the date for exempting "new construction" has never changed! Because of Costa Hawkins, no units built in Los Angeles after 1978 — 40 years ago — can be covered by any rent regulations. The mortgages on many of these developers have been paid off or are a small part of the building's operating budgets.
There isn't a single city in the U.S. where rent control covers new construction. Every California city that adopted some form of rent regulation priorto the passage of Costa Hawkins, exempted new construction, even without the prohibition on it. Cities should be able to adopt a "sunset" provision so that, say, 20 years after a rental building is built, local governments should have the authority to regulate rents.
Third, the Costa-Hawkins Act ties the hands of local government from dealing with the "Blackstone problem." Since the mortgage crisis of 2008, large Wall Street financial institutions — like the global private equity firm Blackstone — have gobbled up millions of foreclosed single-family homes. California is ground-zero for Wall Street absentee corporate landlords. About one-third of the rental units in California (2.2 million units out of 6 million rental units) are single-family buildings. They house 7.8 million of the state's 17 million renters. Local jurisdictions should be able to regulate rents for large corporate absentee landlords with large inventories of single-family houses.
Five Reasons to Repeal the Costa-Hawkins Act
Repealing Costa-Hawkins gives cities an additional tool to address skyrocketing rents. We don't know whether cities will adopt any form of rent regulation if Costa-Hawkins is repealed. But we doknow that rent control has many positive benefits that are often overlooked in the public debate. The LAO report downplays the positiveeconomic impacts and the cost savings if cities adopt stronger rent controls.I would like to highlight five benefits to repealing Costa-Hawkins.
First, rent control is good for the economy and good for business. Rent control will put money back in the local economy. If local governments are able to limit excessive rent increases, tenants will have more money to spend. Most people spend almost all their money in the localeconomy. This will boost local businesses, increase local sales taxes, and increase jobs for businesses that prosper as a result of the additional consumer demand.
Also, California employers cannot thrive if people can't find a place to live close to work. In California, workers are moving further and further away from jobs in order to find housing. For example, I recently conducted a survey of Disneyland employees and almost one-third (31 percent) of them commute more than two hours a day getting to and from work.
Second,developers may not realize how rent control can increase demand for new housing developments. If cities have rent control that protects tenants in existing buildings, then you have to build more for the wealthier tenants who want to move into the area. Most studies of rent control laws around the country have found that rent control does not inhibit new construction. In fact, rent control encouragesnew construction by channeling higher income workers into the market for newly-built apartments rather allowing them to displace sitting tenants from existing housing
The rate of new housing construction depends primarily on local zoning laws, not rent control. Despite this, the landlord lobby continues to perpetuate the myth that rent control discourages new construction. This is very similar to when the automobile industry claimed that seat belts would destroy the auto industry and "kill jobs." There's no reason to believe the landlord lobby when it comes to rent control.
Third, rent control will save many local governments, as well as the state government, a great deal of money that they now spend addressing the growing problem of displacement and homelessness. It is well-known that it is less costly to preventa problem than to address it afterit has become a serious crisis.
Everyone agrees the rising and unaffordable rents are a major cause of California's homelessness crisis. State, county, and municipal governments spend a significant amount of funding on law enforcement, emergency shelters, and other efforts to deal with homelessness. A study from 2016 found that Los Angeles County spent close to $1 billion a year caring for and managing homeless people, including health needs, social services, and law enforcement.A 2015 report found that the City of Los Angeles spent more than $100 million a year coping with homelessness, including $87 million on law enforcement. Last year, the mayor of Oakland proposed spending $185 million over two years to address that city's growing homelessness crisis. Most of it was targeted to helping prevent people from losing their homes as well as to build affordable housing.
Zillow released a study that showed that a 5 percent rent increase in Los Angeles County causes an additional 2,000 people to lose their homes.
By reducing homelessness, rent control will reduce these significant costs to local government.
The LAO report suggests that eliminating the Costa-Hawkins law might reduce local property taxes. This is inaccurate. For one thing, rent control won't reduce local property tax revenues. It might slow the increase in local property taxes, depending on what kind of rent regulation – if any – cities adopt.
But in those cities that do adopt stronger rent control laws, it will reduce the need for health, mental health and other human services and for temporary and long-term housing assistance, all of which are very expensive to provide, and will result in a net fiscal benefit to State, county, and local government.
Fourth, repealing the Costa-Hawkins Act could reduce a great deal of human suffering. The Costa-Hawkins Act has led to enormous harm. It has led to rising rents. Rising rents have caused widespread eviction, displacement, and disruption of families' lives. It causes families to live in overcrowded apartments and even in garages. They wind up living in substandard and dangerous conditions. And for the privilege of doing so, they pay 50, 60, and even 75 percent of their incomes in rent.
Housing insecurity, the constant threat of eviction, displacement and constantly have to move involuntarily imposes enormous stress on renters, including depression, heart problems, and other health issues — similar to post-traumatic stress disorder (PTSD). Like people who suffer post-traumatic stress disorder (PTSD), these problems often do not disappear but persist over many years, often over a lifetime. Children who move frequently don't do as well in school. This is especially true among low-income children. Seniors who are faced with eviction suffer enormous stress, which can lead to depression, heart attacks and other problems. Housing insecurity hurts workers' performance on the job.
In his award-winning book Eviction, Matthew Desmond found that housing insecurity for tenants creates enormous stress that has serious harmful physical and mental health effects. Similarly, Gary Evans and Michelle Schamberg found that among low-income families, stress – including involuntarily displacement due to eviction — has harmful effects on the mental functioning of children that continue on into adulthood.
Of course, the most serious consequence of rising rents and displacement is homelessness, which is particularly traumatic for adults and children alike. California is home to 12 percent of the nation's population, but a disproportionate 22 percent of the nation's homeless population.
People who become homeless often never recover from the trauma – their physical and mental health deteriorates when they lose the stability of a secure home and the social ties that accompany housing security. Our society winds up paying for these human costs in our health care system, our mental health system, our schools, and our criminal justice system.
As LA Mayor Eric Garcetti said the other night on The Daily Show, homelessness is a "humanitarian crisis." It particularly tragic because we know how to solve the problem.
A recent study by three economics professors at Stanford found that rent regulations in San Francisco enabled thousands of lower-income tenants to remain in the city who otherwise would have been displaced. It also found that some owners used loopholes in San Francisco regulations to gain exemption from rent control or convert units to condominiums. The study findings would be very different if the City eliminated those loopholes.
Fifth and finally, repealing Costa-Hawkins is about local control: This is a fundamental principle of America's federalist system of government, the division of responsibility between the federal, state, and local governments. If the Costa-Hawkins Act was repealed, local governments would be allowed to decide for themselves what kind of rent regulations – if any – to adopt. Many cities would choose not to adopt any form of rent regulation at all. Others would maintain their current rent laws while some others would strengthen theirs. That should be their option to decide.
Why the Arguments Against Rent Control Are Wrong
Besides the myth that rent control hampers new housing construction, there are two other myths that the landlord lobby and some others use to try to discredit rent control.
First,the idea that rent control will have a negative fiscal impact on cities is very misleading. The simple passage of the ballot measure to repeal the Costa-Hawkins Act will have no fiscal impact. It all depends on what local governments do, if anything. Any analysis of fiscal impacts has to also look at the resulting increase in sales tax revenue, the savings to local and state government from reduced costs to address homelessness, and the costs of addressing the physical and mental health consequences of housing insecurity, instability, and displacement.
Second, there's the myth that we can quickly build our way out of California's severe housing crisis. To divert attention away from the need for rent control, the landlord lobby often says that the solution to our housing crisis is not to adopt rent regulations but to build more housing. That is partly true. The California Department of Housing and Community Development (HCD) projects that the state will need to add 1.8 million new housing units to meet projected population and household growth. That's 180,000 new homes annually – compared to the annual average of less than 80,000 new homes annually over the last 10 years.But even that figure is misleading, because it does not include the need to address the housing concerns of those who cannot afford market rents.
Even if we marshall the political will to do so, however, constructing the new housing we need will take decades – and only if local governments end the practice of restrictive exclusionary zoning that limits new housing construction.
But we can't wait until increased supply "catches up" and "trickles down." Excessive rent increases are creating extreme hardship now. Only rent control can provide some immediate relief. If cities want, they can decide to lift or revise local rent control laws once the vacancy rate of affordable housing– rental housing that middle class and poor families can afford without paying more than 30 percent of their income – reaches eight percent or above.
Across the county, only one-quarter of families who are eligible for subsidized housing receive it. The authors of the Stanford study argue that a system of universal rent subsidies would be a better solution than rent control. Even if they are right, that is not likely to happen in our lifetimes. And even if we had enough federal housing vouchers for every eligible family, we don't have enough apartments for them to rent. It is like giving people food stamps when the supermarket shelves are empty. As a nation, and as a state, we need to build more housing and expand funding for subsidized housing. But in the meantime, we have an immediate crisis, and that requires protecting the existing supply of affordable housing to avoid making the housing crisis even worse. Rent control is one policy that allows cities to do that.
The landlord lobby has been "crying wolf" about rent control for decades, just as the restaurant lobby has been "crying wolf" that raising the minimum wage destroy their business and "kill jobs." Why should we believe people and groups who have been consistently wrong for so long?
Reasonable controls on sky-rocketing rents, as determined by local government, will keep more people in their homes and reduce the number of our children, seniors and others who are ending up on their friends couch, in their cars, or on the street.
California has the fifth largest economy in the world. It has more billionaires than any other state in the country. And yet it is also the state with the highest poverty rate . It is the homeless capital of the country. We need to give our cities the tools to establish reasonable rent regulations and we need to do it quickly.
Thank you.