ARTS FORECAST The biennial Soundwave festival (Sat/8-October 26) is one of those incredible Bay Area experiences that really connects music and performance with the feeling and history of life here: Soundbus tours have paired composers with eccentric travel routes, site-specific events have activated remote corners of local memory and geography, venues have filled with experimental sounds and acoustic marvels. Throughout it all, the sound art festival has been carefully attuned to what's going on in the broader culture, undergirding its programming with a fine sense of the present.  
This year's Soundwave, entitled in full "Soundwave ((8)) Infrastructure" continues that intuitive tradition: "As modern tech culture has infiltrated Bay Area infrastructures––both physical and human––the history and culture of the region is shifting and the biennial explores how individuals and communities are reacting to such systematic changes. Soundwave ((8)) Infrastructure considers such freedoms allotted to citizens in the Bay Area who are currently facing rapid changes within the infrastructure of housing, communities, safe spaces, transit systems, and job opportunities. These infrastructural elements reflect much more than how something is made or moved; they also share a relationship with an individual who is impacted by them."
This focus on changing infrastructure manifests in the festival in a couple ways. First, the actual structure of it: This is the first one to include guest curators for the performances, under the auspices of chief curator Tanya Gayer. The guest curators "have backgrounds in theater, dance, film, social practice, and music to create a biennial that considers sound from many angles," and will present unique programs brimming over with fellow performers.
"My idea coming into the festival was that I wanted to branch out into other communities," Gayer told me. "We didn't want to just fall into a certain niche. I was so curious about what other curators and artists were doing. Beyond the opportunity to work with people I've wanted to work with for a long time, I wanted to know who we weren't reaching. What communities hadn't intersected with Soundwave yet?"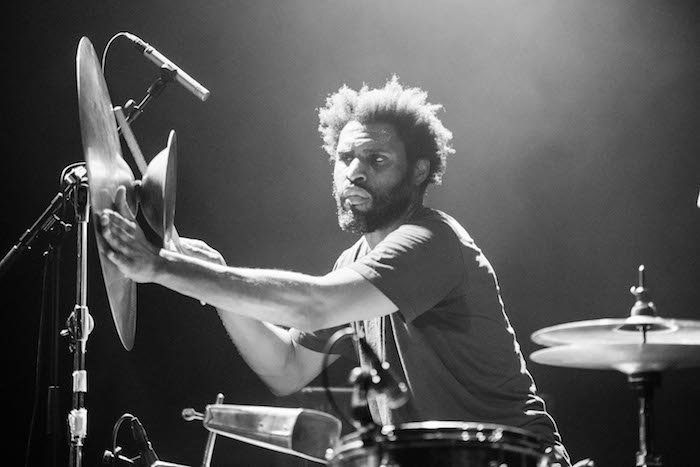 That diversification naturally led to a focus on diversity. "A really important mission of the biennial is engaging people of color, and to give value to that engagement." This shows with the inclusion of guest curators like Ryanaustin Dennis, who'll be presenting "Black Fighting Formations (BFF): Sonic Narratives of Performing-Political Education" on October 13, and curator Sarita Ocón, whose September 21 "Hidden Refuge :: Refugio Escondido" explores the decolonization of patriarchal infrastructures and environments through performance ritual and sound art." Both feature a multitude of artists of color. 
 Another thought Gayer had coming into the festival was how to rethink what constituted sound art. There's no better example of this than curator Sophia Wang's opening event, Sat/8 at Counterpulse, entitled "HVAC: Thermal Comfort." Gayer said, "Sophia's project contemplates ambient systems like heating and air-conditioning and how our bodies reside in the spaces affected by them, by this combination of natural and unnatural effects. How these infrastructures in buildings can dictate the way we exist in and move through a space."
Gayer, currently the exhibitions manager at Sonoma Valley Museum of Art, herself has a showcase, October 26's "Wall" at the Internet Archives, featuring experimental music and video duo XUXA SANTAMARIA, creating "a video maze stitched together from video games, Second Life, early screensavers, chat rooms, Myspace, and other renditions of physical architecture from a virtual realm that are drawn from the holdings of the Archive." 
"There's so much out there from underground club culture, gaming, visual arts, political expression and organizing, that can be seen under the umbrella of sound art. It's a dynamic area," Gayer said. "A lot of people when they think of sound art they think of a very serious white guy standing behind a laptop. We're obviously trying to think beyond that." More Soundwave ((8)) Infrastructure info here. 
MORE UPCOMING EVENTS

WED/5-OCTOBER 5 ART PATRICK DINTINO: 'ALL INCLUSIVE' "Patrick Dintino's current body of work explores the meaning of 'all-inclusive,' specifically in modern-day America. He uses color spectrums with elements of visual distortion to represent changing beliefs about ethnic and national identities. Dintino furthers his cultural examination by deploying surprising elements in his artwork, such as pairing conflicting colors that appear stronger together as a way to bring attention to the inherent strengths that come from diversity. Despite the weightiness of the subject matter, his paintings spark with joy and speak to Dintino's optimism about the human spirit, and his belief that embracing people of diverse backgrounds creates a better world." Opening reception Wed/5, 5:30-7:30, free. Andrea Schwartz Gallery, SF. More info here. 
THU/6 MUSIC SEMMARIT A funny Finnish male ensemble? OK! "Semmarit is a one-of-a-kind cross-artistic show group of 18 men from Finland. The show is a mixture of music, humour, dance and drama, spiced with guts and glory. Semmarit is famous for its fun, strong and mind-blowing live performance. The music and lyrics, choreographies, arrangements, basically everything this wild but warm-hearted bunch does on stage is self-made and unique. It's not a band, not a choir either…. Semmarit phenomenon is something else for you to figure out." 8pm, $20. Mezzanine, SF. More info here. 
ONGOING ART COAL + ICE "As climate change advocates gather in San Francisco for the Global Climate Action Summit, Coal + Ice premieres in San Francisco at the Fort Mason Center for Arts and Culture. A three-week climate festival of film, dance, spoken word, food, family activities, educational programming, and creative dialogue, Coal + Ice showcases immersive collaborations of art and ideas to inspire collective climate action." Fort Mason, SF. More info here. 
THU/6 STAGE TOMORROW WE INHERIT THE EARTH "The Muslim body has become one of the most contested spaces in the United States and is both a sight of violence and inquiry. In response to the West's oversimplified understanding of Islam, this futurist evening uses fashion, performance, video, sound art, and music to explore and challenge the histories of violence, colonialism, and imperialism enacted on Muslim bodies.." Performances by Performances by Faluda Islam, Maryam Rostami, Luke Arroyo Mendoz, Saba Taj, Gabriel Christian and Randy Reyes. 8:30pm-2am, free. The Stud, SF. More info here. 
THU/6-SEPTEMBER 15 STAGE SF FRINGE FESTIVAL Our version of the 70+ years old Scottish original hits its 27th year, as Exit Theatre and 21 local, national, and international theater companies come together to present a ton of weird, wily, wowing cutting-edge works like "Dandy Darkly's All Aboard," "My Preferred Pronoun is We," and "Naked Zombie." Cool! Various times and prices, Exit Theatre, SF. More info here.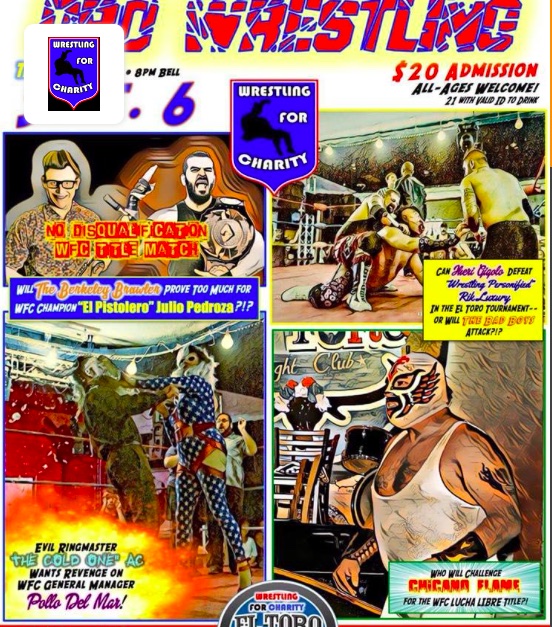 THU/6 SPORTS SF SLAM 6: RETRIBUTION! Grab your spandex: "Wrestling For Charity returns to San Francisco at the El Toro Night Club for "Retribution" on the road to the one-year anniversary show! Join the wild antics as stars of WFC seek retribution on their fiercest enemies! NO DQ WFC Heavyweight title match: "Pistolero" Julio Pedroza (c) vs. The Berkeley Brawler w/ Mr. Goldsworth. "The Sexy Swinger" Jheri Gigolo looks for payback against "Wrestling Personified" Rik Luxury and The Bad Boys in the El Toro Title Tournament Finale. Grizzly Kal Jak wants to exact a little revenge on Richard Shhhnary, who cost him his WFC debut match in July!" 7:30pm, $20. El Toro, SF. More info here. 
FRI/7-SUN/9 MUSIC SF ELECTRONIC MUSIC FESTIVAL A must for anyone intrigued by recent developments in (and the continued, wonderful popularity here of) this diverse, magical, and sometimes blippity-bloopity sonic world. With "three exciting nights of performances featuring a diverse cadre of internationally renowned and emerging composers, this year's lineup includes a distinctive group of artists from across the field of electronic music ranging from modular synthesis, concrète experimentalism, psychoacoustics, soundscapes, electro-acoustic environments, ambient noise, and improvisation." Various times, $17-30 sliding scale. $12 students. Full Festival Pass: $42. Brava Theater and Adobe Books, SF. More info here.   
FRI/7-MARCH 24 ART BAY AREA NOW 8 YBCAS's triennial survey of local art's next wave is an institution—and always causes a splash. "The picture that emerges—of both the region and the artists who call it home—presents a resilient Bay Area, where humor and care come together with intimate reflections on individual and personal histories, and where bodies and geographies propose a fluid understanding of race, gender, and nature. Using materials as surrogates for gender and environmental politics, the participants point to an in-between space that, by rejecting rigid dichotomies, suggests a delicate optimism." Opening celebration Fri/7, 7pm, $10. YBCA, SF. More info here. 
SUN/9 MUSIC OPERA IN THE PARK Picnic time with the SF Opera. "A truly international roster of artists will appear at this year's concert including soprano Lianna Haroutounian, mezzo-soprano Ekaterina Semenchuk, tenor Marco Berti, baritone Dimitri Platanias and conductor Daniele Callegari from the double bill of Mascanagi'sCavalleria Rusticana and Leoncavallo's Pagliacci; conductor Riccardo Frizza who leads Donizetti's Roberto Devereux; and, from the upcoming new production of Puccini's Tosca, introducing soprano Carmen Giannattasio in her first appearance with San Francisco Opera, tenor Brian Jagde and conductor Leo Hussain." 1:30pm, free. Robin Williams Meadow in San Francisco's Golden Gate Park, SF. More info here.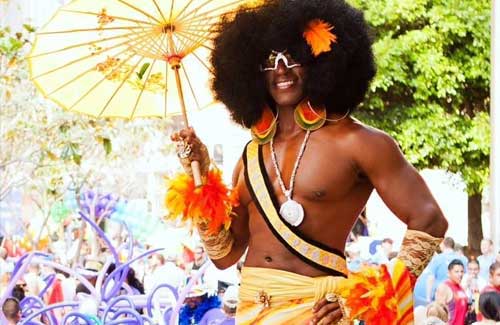 SUN/9 FESTIVAL OAKLAND PRIDE PARADE ABD FESTIVAL Heeeeeeeey, hi Oakland! A vibrant, family-vibed complement to SF's gargantuan gayapalooza, this event has gone through some twists and turns since it was an awesome if humble community picnic just a few years ago. With big name sponsors, a parade, performers, and tons to do (including a bunch of fun afterparties like Oaklash) it might be bigger, but it's still an essential rainbow bridge across the bay. 11am-7pm, free. Latham Square, Oakland. More info here. 
SUN/9 MUSIC CMC SUNDAY SF's Community Music Center is a legendary delight, offering musical experiences for those who often can't afford such things, as well as making practice space available to its Mission neighborhood. Its quarterly music program CMC Sundays kicks off: "The open house features music jams for all ages and levels. Grammy Award-Winning percussionist Javier Cabanillas and trumpeter Miguel Govea of La Familia Peña-Govea will co-leading the Latin Music Jam. There will also be a Beatles Jam with some of the Fab Four's most signable tunes. The new Ukulele Jam gives players a chance to discover music on the most accessible instrument of all!" Plus an instrument petting zoo, a Music for Children class, an array of free lessons, and workshops. 3pm-5pm, free. Community Music Center, SF. More info here.