ARTS FORECAST San Francisco, your Golden Gates are closing, it sometimes feels like—especially with the announcement that, after 45 years of high spirits and higher hats, Beach Blanket Babylon will take the stage for the last time at the end of this year.
The reason? According to the Chronicle:
Producer Jo Schuman Silver announced the news to her staff of 85 before curtain on Wednesday, April 17. The show's ending not for financial reasons, but because Schuman Silver felt that it was time and didn't feel comfortable handing it off to a successor. She's run "Beach Blanket" since the 1995 death of Steve Silver, the show's creator and her husband.
What an absolute bummer. Right after the announcement, BBB's website crashed, so try to slip in and get a ticket before the frilly finale!
On the other hand, last weekend's confluence of 420 revelry and the Sisters of Perpetual Indulgence's Easter return to Dolores Park felt like a revival of old school SF culture, especially watching the new arrivals try to take it all in. I'm chuckling at people having to negotiate the sidewalk between flying wimples and flying hacky sacks.
Especially lovely was when one of the founders of the sisters, Kenneth Bunch, posted this photo of the Sisters' "First San Francisco Manifestation Easter Weekend 1979." What an amazing and hilarious legacy.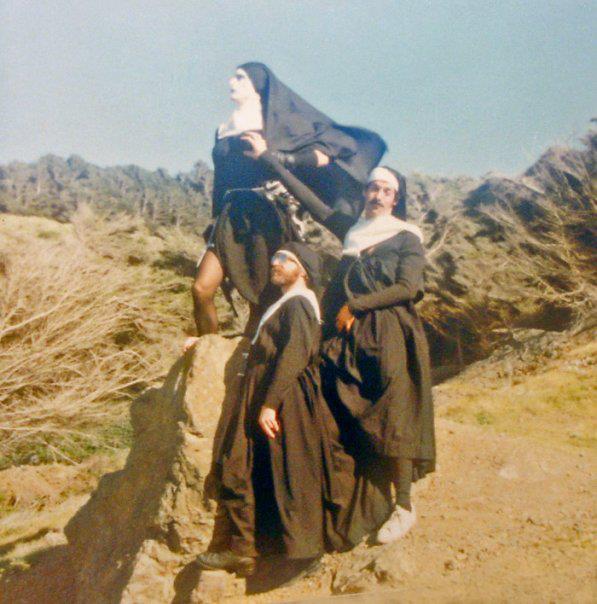 MORE UPCOMING ARTS EVENTS
THU/25 NIGHTLIFE THE TUBESTEAK CONNECTION It's a naughty, sweaty quinceañera for this fantastic weekly party by DJ Bus Station John, conjuring the spirits of gay bathhouses and backrooms past with his deep disco cuts and very cute, age-diverse crowd. For 15 years he's plied his trade at Tenderloin institution Aunt Charlie's Lounge—making The Tubesteak Connection our longest continuously-running weekly gay party—get there and shake a man-tambourine. 10pm, $5-$20 sliding scale (partial-proceeds benefit the SF Night Ministry) Aunt Charlie's, SF. More info here.
THU/25 LIT/FESTIVAL DREAM BODIES I am so stoked for this four-day, multi-venue, underground ostensibly literary festival, but there is also movement, sound, film, performance, drag—it's tentacular! It's a Dream Body. Co-curators Britney and Silk Worm from the Hush Hush literary performance night have brought together awesome pees like Xuxa SantaMaria, Hiroko Tamano, Sharmi Basu, and more for something new. Through Sun/28. Tickets and more info here. 
THU/25 & FRI/26 PERFORMANCE THUNDERSTUCK "Thunderstruck is an internationally-acclaimed act of science and hubris. Stina Nyberg electrifies the stage—literally—in an intimate story of electric drones and a singing Tesla coil.  In Thunderstruck, the figure of the genius artist-inventor reemerges in Stina Nyberg's Goddess of electricity. She mixes intimate storytelling with growling dances and death-defying encounters with the singing Tesla coil on stage, piercing melodies across the metal drones composed by Maria W Horn. 8pm, $25. CounterPulse, SF. Tickets and more info here. 
FRI/26 NIGHTLIFE MERCURY SOUL I adore this adventurous evening of eclectic music and performance that isn't afraid to treat the dance floor as an artistic space. Founded by Grammy-Winning composer-DJ Mason Bates (who has an opera about Steve Jobs coming out this year), this installment is jazz-themed, featuring local performers Jazz Mafia, Heaviest Feather, Cosa Nostra Strings, Will Magid, Diablo Jazz Co and more. "We will be approaching jazz from different angles, with everything from pieces by legendary jazz greats to modern jazz with funk and hip-hop influences to jazzy house to classical-jazz crossover pieces." Sounds tremendous. 9pm-afterhours, $25-$30. DNA Lounge, SF. Tickets and more info here.
FRI/26 NIGHTLIFE CERRONE The French drummer became a disco legend with his driving live shows that made dance floors a spectacle of sexual heat. Hits like "Supernature" and "Love in C Minor" were entire suites of jazzy detours and spandex-ready climaxes. He'll make a very rare appearance that's sure to delight at Public Works, joined by our own disco legend from the Trocadero Transfer, Steve Fabus. 9:30-late, $17. Public Works, SF. More info here. 
FRI/26 MUSIC RUPA & THE APRIL FISHES Who on this earth is not wowed by local powerhouse Rupa Marya? "Rupa and the April Fishes create a sound that pulsates with the pluralism of Bay Area culture, celebrating life and the art of resistance through a wide musical palette that pulls from over a decade of playing street parties, festivals and symphonic concerts through 29 countries with songs in 5 languages." Hey it's true, and live they are so, so good. 8pm, $22-$25. The Chapel, SF. Tickets and more info here.  
FRI/26 & SAT/27 DANCE PUSHFEST SPRING The Bayview Opera House will see a confluence of diverse dance companies going together—PUSH/Pathways, East Oakland Sports Center, Tiffany's Dance Academy, Lines Youth Dancers, Insynckathak, eMotion Arts—for two evenings of dazzlement. "As the culminating performance of each evening, PUSH Artistic Director Raissa Simpson will premiere Codelining 2.0, a performance inspired by movement and technology." Friday 8pm, Saturday 2pm, $20-$25. Bayview Opera House, SF. More info here. 
FRI/26 & SAT/27 COMEDY BLACK LAUGHS MATTER Broke-Ass Stuart and #HellaFunny team up for a night of comedy. "Come to Rambler SF to get some laughs with some of San Francisco's Best African American Comedians. This isn't just a comedy show…it's also a celebration of cultural diversity in San Francisco. Everyone from every ethnic background is welcome and encouraged to attend. Comedians on this showcase have been featured on Comedy Central, ABC, NBC, SF Sketchfest and more." Oh and hey, it's free. Multiple times. Rambler, SF. More info here.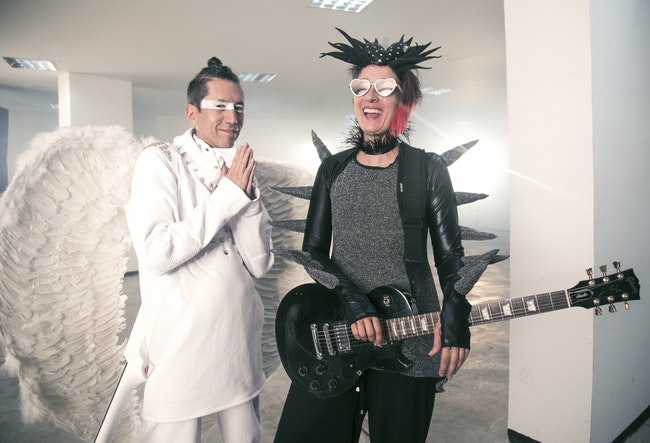 SAT/27 MUSIC ATERCIOPELADOS & LOS AMIGOS INVISIBLES "Aterciopelados, the pioneer Latin-American folk-rock group, returns after 8 years with their first long and live project entitled Reluciente, Rechinante y Aterciopelado. Joining them is the ever-awesome Los Amigos Invisible from Venezuela, who since 1995, have developed a sound based on the "gozadera"—an irresistible fusion of Latin rhythms with fiery funk and lounge music. This show will be bananas cute, I'm pretty sure. 8pm, $35. UC Thetre, Berkeley. Tickets and more info here. 
SAT/27 LIT/TOUR BIKES TO BOOKS SPRING RIDE "We can hardly believe it ourselves, but this month we'll be leading our Spring Bike Ride on the serendipitous date of Independent Bookstore Day! Appropriately, the ride ends at City Lights Books, so you can get your bookstore on after our signature bicycle tour though literary history, from Jack London to Jack Kerouac, South Park to North Beach. Come celebrate the welcome return of spring, and the enduring gift of prose, with your favorite bookish bicyclists, Bikes to Books." 12:45pm-4pm, free. More info here. 
SUN/28 MUSIC KAKI KING The young Brooklyn composer-guitarist beguiles using multimedia elements (when she tours her "Neck is the Bridge to the Body" show), and in 2017 she released a collaborative album with the Berklee chamber orchestra reimagining some of her classic compositions. But her appearance at Berkeley's Cornerstone will showcase her talents in a stripped-down, acoustic way. 6pm, $22, all ages. Cornerstone, Berkeley. Tickets and more info here. 
SUN/28 FESTIVAL SUNSET SEASON OPENER The Sunset Sound System is turning 25(!) this years and this day-rave/family picnic/funfest has become the portal to summer nightlife. "We welcome all our generations of Sunsetters to come together once again as we have every year since 1994 to get down, connect, and frolic outside in the Spring air. It's been an incredible journey thus far and we couldn't be happier the vibe is still alive and kicking with all you beautiful souls." With Sunset DJs Solar, Galen, and J-Bird, plus special guest Jëno from Wicked. Andof course there's an afterparty at Monarch, duh. 11am-7pm, $25-$30. Stafford Lake. Tickets and more info here.