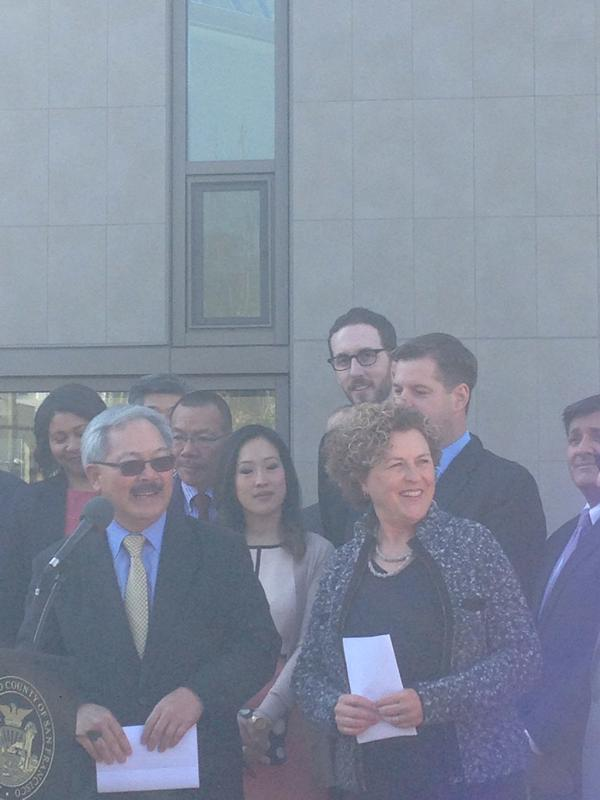 By Tim Redmond
MARCH 30, 2015 – One day after tenant organizers worked hard to bring attention to an eviction attempt in Chinatown that demonstrated some of the serious problems of the city's tech-first policies, Mayor Ed Lee and his appointed District 3 Supervisor, Julie Christensen, parachuted in to say they had saved the day.
After calling the landlord, Lee was able to get the eviction petition withdrawn – for the moment. But neither he nor Christensen ever once mentioned the work that the tenants and community organizers had done, and never acknowledged that the SRO hotel's location on a Google Bus line was a factor in what will almost certainly be future efforts to raise rents on the site. They brushed it off as an anomaly.
And in fact, the landlord has not at this point promised to halt any future evictions or rent increases. There is no written contract guaranteeing protection for existing tenants. This could all be reprised after November.
That, I am told, is not sitting well with Chinatown organizers — or housing activists citywide.
Instead, it looks as if the mayor is trying to prop up his candidate, who is almost certain to face a serious challenge this fall from former Sup. Aaron Peskin, by letting her take credit for what other people did.
This is not how San Francisco community politics works. It would have been easy for Lee to call the tenants, thank them for their work, bring them to a press event, and say that, because of their efforts, another eviction has been staved off.
But no: They didn't even know what he was doing until it was in the press. It's all him and his candidate.
Of course, some of the activists involved are not supporting Christensen (in the Sunday Examiner, Rose Pak says Christensen "doesn't know jack shit about Chinatown"), and so they were cut out of the picture. But the tenants? They're nothing but the mayor's political pawns.
More fodder for Peskin's campaign.
But beyond the bungled politics of this particular event, the larger housing question can't be ignored. More and more people in the city are starting to put together the pieces, and they show this:
You can't promote a jobs-producing tech boom that attracts thousands of new high-paid workers to San Francisco without either (a) first making sure existing residents are stable and protected, or (b) creating massive displacement.
We didn't do (a). We are doing (b).
For years, we were told that even privately-owned SROs in the Tenderloin, Chinatown, and Soma were safe from this sort of thing because of rent control and the fact that wealthier workers would never want to live in them.
Guess again.
(BTW, in the Ex profile, Christensen says that after looking for a year, she couldn't find another single person in the district who deserved the job. Not one. Except her. Confidence is good in politics; arrogance is bad.)
 I was in Tomales Bay last week, kayaking with visiting relatives, and the tide was so low – radically, once-a-year low – that we had to wade through about 50 feet of mud to get back to shore. We sank down up to our thighs, sometimes further, and arrived covered with thick black muck.
Kind of fun, as long as you aren't wearing shoes and you realize that it's not quicksand and you aren't going to be swallowed over your head. Still: muck.
But it made me think about Gavin Newsom, our Lite Guv, who has sunk even deeper into the political muck with his lawsuit against San Francisco over waterfront height limits.
This guy wants to be governor. California is a Democratic state, but if there's a primary, which is entirely possible, Newsom can't win with the left/environmental community against him. And for all his trips to Davos and high rhetoric, when it came to supporting an effort to let the state allow (inappropriate) development on the San Francisco waterfront, there was Gavin.
It would have helped him a lot if the State Lands Commission had lost its case last week, and the suit had been dismissed. But now he has to keep trying to explain why he doesn't trust the voters of his own hometown to make decisions about their own waterfront.
In truth, despite the spin, the ruling is a great victory for San Francisco, the Sierra Club, and City Attorney Dennis Herrera. The judge ruled that the city's voters do, indeed, have the right to set land-use rules. All that's left is for Newsom and the SLC to argue that Prop. B is so horrible that it deprives the state of its potential financial interests on tidelands property.
Good luck. We've already demonstrated that the voters will approve reasonable projects, like Pier 70. This is going nowhere.
But every time there's another hearing, Gavin's face is connected to a lawsuit that pits developers against environmentalists, on the San Francisco Bay.
The Board of Supervisors will hear an environmental appeal Tuesday/31 on a project at the end of Bryan Street, where a developer wants to convert industrial space to offices. There are various issues raised by San Franciscans for Reasonable Growth, but underling them all is this made rush to get rid of blue-collar jobs and the space they need and replace them with tech offices – often without the appropriate mitigation fees.
This is a site right off the entrance to the Bay Bridge. As SFRG lawyer Sue Hestor points out:
"There is no pedestrian access, no crosswalk. There is no visible edge to the cub for the site. How will office workers walk or bike to this site and leave during afternoon rush hour when cars line up at both 2nd Street and Beale St?"
Good question.
In New York, a special task force is cracking down on illegal short-term rentals:
Building and fire inspectors, police, lawyers, city tax specialists and others combine door-knocking, digital sleuthing and even video surveillance in an uncommon approach to an issue bubbling up around the country.
So what are we doing in San Francisco? Waiting for complaints. Allowing thousands of affordable housing units to be turned into hotels.
This isn't hard, you know: Everyone who has looked has found illegal Airbnb rentals. One city planning staffer with an Internet connection and a mandate to kick some ass could have a huge impact.
But not in Ed Lee's San Francisco.