Here's a strange one that's mostly under the radar: Mayor Ed Lee has introduced a ballot measure that would direct all future increases in revenue for Muni into capital projects, not ongoing operations.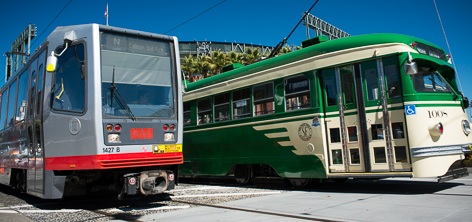 I don't get it: You can't run buses without bus drivers. Investing in new rolling stock, rails, and train cars is lovely, but not if nobody's around to run them.
But that, as I read it, is what this measure says. Check it out for yourself:
It shall be the official policy of the City and County of San Francisco that proceeds from any revenue measure passed by the voters between 2016 and the year 2030 that the City decides to spend on transportation should be directed towards San Francisco Municipal Transportation Agency infrastructure and vehicles, road repaving and pothole repair through San Francisco Public Works, "Vision Zero" safety projects and other bicycle and pedestrian safety infrastructure projects, and investment in regional transportation infrastructure improvements and vehicles that serve San Franciscans such as BART and Caltrain and/or a second Transbay train tunnel, and that such proceeds shall not be directed to general administrative and personnel costs other than what is necessary to implement the aforementioned capital projects.
Interesting to see what the unions representing Muni works have to say about that.
The measure comes before the Rules Committee Thursday/11 at 11am.
Meanwhile, Sup. John Avalos is trying to raise, by just a little bit, the insanely low fee that developers have to pay for the transit impacts of their projects. He's trying to get a few more bucks to make growth pay for growth; his increase would only impact buildings with more than 99,999 square feet. But in the past, it's been almost impossible to get the mayor and six supes to charge anywhere near what the city has the right to collect. That one comes up at Land Use Monday/8 at 1:30pm.
Avalos also has a bill at Rules that would require a conditional use hearing before any residential unit is removed. That includes illegal units. And it might make it harder for landlords to do this.
The biggest issue of the week will be the appeal of the Google Bus Program, which the city approved without an environmental impact report. This was supposed to come up a couple of weeks ago, but it got continued; the reality is that I don't think it had six votes. The appeal will come up Tuesday/9 after 3pm, and the appellants will argue that the project does, indeed, have an impact on the city. It drives people who live in the Mission out of town by forcing up housing prices; they move to Stockton or Vallejo, and commute to work (by car, since there's no alternative). That's a potentially significant environmental impact by itself. And a full EIR on this program would shed some light on the long-term impacts of providing free luxury shuttles to make it easier for Silicon Valley to outsource its housing problems to San Francisco.
Sup. Aaron Peskin, who might be the sixth vote to require a full EIR, said two weeks ago that he didn't think the tech shuttles were going away. Maybe there's a way to force the companies that benefit from this to pay for more affordable housing. Maybe there's a way to make sure they aren't interfering with Muni.
But in the end, there's a dispute here: Do the shuttle buses cause displacement and environmental impacts? An EIR would give us some answers.
And then there's this: Seven supes want to set aside a baseline appropriation for recreation and parks. Sounds like the perfect idea that everyone can get behind: Is there a soul in this city who doesn't like parks?
It's going on the ballot, I would guess, since there are seven co-sponsors and six votes puts it before the people of San Francisco.
It's on the Board agenda for Tuesday/9, and I don't want to be a killjoy or anything, but there are actually reasons to think seriously about this.
Set-asides are tricky, and there are a lot of them. The idea of putting language in the City Charter saying that a certain amount of General Fund money every year has to go to one specific program means the supes and the mayor have less discretion to do what a budget is supposed to do – set priorities.
I have supported some of these, particularly the Children's Fund, in large part because children can't vote and there are fewer and fewer parents and families in town and that's an easy area for politicians to cut.
But at a certain point you start to say: Should all of our budgeting be done through Charter amendments that can't be changed, based on programs that happen to be popular? How about a set-aside for mental health, or homeless services? Since the biggest single problem in the city right now is housing, should we set aside ten fpercent of the budget to provide affordable housing? That would actually make a huge dent in the problem, and it would mean less money for police, and fire, and public health, and lots of other things – but if we spent, say, half a billion more a year on nothing but affordable housing, and that money was guaranteed for the indefinite future, we could borrow against it and build tens of thousands of new units pretty quickly.
We might even save money in the long run, since an awful lot of police and public health and public works and other department budgets go to addressing, after the fact, the problems created by a city that can't solve homelessness.
Would that be a better way to spend money than on parks?
Maybe … and isn't that what the mayor and the supervisors are supposed to debate and figure out?
Okay, that doesn't always work. Bad decisions are made. But the voters also make bad decisions on set-asides, that we then have to live with for a long time. Recreation and parks are crucial parts of the city; so are supportive housing and mental-health treatment. It's easier to get a majority vote for parks, particularly since the Lee Administration can't seem to keep track of where the current homeless money is going. Just saying.
But there's another issue here: The current management of the Recreation and Parks Department has been, well, awful. Director Phil Ginsburg is all about privatization, about finding ways to make the parks revenue-generators. He's been leasing out rec centers, allowing corporate events to take over Coit Tower, giving private donors the right to decide that recycled tires are good for kids' playing fields …. And at some point, maybe we might want to say: Enough.
Maybe we might want to decide not to give more guaranteed money to a management model that we don't like.
I personally opposed the 2012 parks bond, for all of these reasons. Back then, I was the editor of the Bay Guardian, but I wasn't a dictator –we had a process, and nobody else on the Editorial Board agreed with me (nor did our new owner, with whom I parted company shortly afterward).
As I wrote at the time:
For the past few years, under the administrations of Mayors Gavin Newsom and Ed Lee and the trusteeship of Rec-Park Directors Jared Blumenfeld and Phil Ginsburg, the city has gone 100 percent the wrong way. Parks are supposed to be public resources, open to all; instead, the department has begun charging fees for what used to be free, has been turning public facilities over to private interests (at times kicking the public out), and has generally looked at the commons as a source of revenue. It's a horrible precedent. It makes us sick.

Ginsburg told us that he's had no choice — deep budget cuts have forced him to look for money wherever he can find it, even if that means privatizing the parks. But Ginsburg also admitted to us that, even as chief of staff under Newsom, he never once came forward to push for higher taxes on the wealthy, never once suggested that progressive revenue sources might be an option. Nor did any of the hacks on the Rec-Park Commission. Instead, they've been busy spending tens of thousands of dollars on an insane legal battle to evict the Haight Ashbury Neighborhood Council's recycling center — entirely because rich people in the Haight don't want poor people coming through their elite neighborhood to cash in bottles and cans for a little money.
I went with the process and we endorsed Yes on the bond, which passed, but I also said: I'm not sure I can ever stomach this again.
So now Rec-Park has its hand out for a guaranteed source of money. I may be in the minority, an old curmudgeon and all that, but I am highly dubious. (And that comes from a San Franciscan who is an active user of parks, and a parent who has taken advantage of the excellent programs that Rec-Park offers for kids.) I suspect that some of the board members (like Sup. Aaron Peskin) are going to agree with me. This won't be a unanimous vote.
Maybe the measure could be amended to say: No more privatization. Let the recycling center come back. No more kicking Latino kids out so corporate parties can use the soccer fields. No more letting Don Fisher's kids set playing-field policy. Change your tune entirely, Mr. Ginsburg, and we will give you more money.
Good luck with that.
Sometimes I feel as if the reporters in this city are living in different worlds. The Chron says there really aren't any homeless sweeps, so no worries. The Examiner talked to a woman who lost her job after … a sweep. That's why it's good to have an opposition daily (or two).
And now, in closing, for the permanent record, can I say: San Francisco spent more than $5 million to host the worst Super Bowl in history. Go team.