ARTS FORECAST Next week we release the results of our 42nd Best of the Bay poll (sign up for our newsletter to hear about results first!), and this time of year I always get so jazzed about living here. The arts season has ramped up — and our local organizations have really been there for the victims of the several recent catastrophes. It feels like we belong to a great community, full of expression, empathy, and daring. Go out and be a part of it. 
> Need a car to get there? Rent one in your neighborhood on Getaround. Sign up today, and enjoy $50 off your first trip: http://get.co/48h. [Sponsored]
TALK ED ASNER: THE GROUCHY HISTORIAN I followed Asner — the hilarious grouch of my television youth (and my parents'!) — on Twitter when he proved to be an excellent roaster of Trump and charming person to be around online. Here he comes to flog his neat book: "In The Grouchy Historian, he explains how liberals can reclaim the Constitution from the right-wingers who think that they – and only they – know how to interpret it. Asner is joined on stage by co-author and former Mary Tyler Moore Show producer Ed. Weinberger." Thu/19, 7pm, $28-$38. JCCSF, More info here.
VISUAL ART AUTUMN LIGHTS FESTIVAL I one when Lake Merritt is aglow! "The Autumn Lights Festival is a unique Oakland tradition, a three-night art and light event. It's the sixth year for our community gathering, held within the Gardens at Lake Merritt in Lakeside Park. The Festival is a fundraiser for these beautiful, free public gardens, which are truly the "Green Heart of Oakland." Local artists create gigantic and small works of art using light. From hand-crafted clay lanterns to Burning Man artists, the whole Bay art community comes together to support our beautiful gardens." Thu/19-Sat/21, 6pm-11pm, $7-$20. Lake Merritt Gardens, Oakland. More info here. 
MUSIC FESTIVAL CLARION ALLEY BLOCK PARTY It's the 25th anniversary of this impromptu-like music festival in the beloved, graffiti-festooned Mission corridor. With Equipto & Old Soul Kollective, Moira Scar, Younger Lovers, Pins Of Light, Libby Schaaf's Guillotine, Stranger Than Fact, Future Twin Feat. Thea Matthews, and so many more. Sat/21, 11am-8pm, free. Clarion Alley, SF. More info here.
LIT/OUTDOORS BIKES TO BOOKS It's the fourth anniversary of Bikes to Books, the map for avid readers on wheels to take on a journey through the city's literary alleys, byways, and hotspots. And of course the creators are celebrating with a ride! "We are in our third printing of the map version co-published by City Lights Books. Two years ago we also released our expanded Poster version (more authors! Women! People of Color), and we are working on a walking tour of the North Beach version for the non-biking set." Sat/21, 1pm-4pm, free. Meet at 12:45 p.m. at Jack London Alley, SF. More info here. 
FILM SPACE VISITORS FILM FESTIVAL Welcome cosmic over/innerlords, we implore you to whisk us the heck out of here! I'm intrigued by this mix of camp and New Age-yness, from the folks who brought us the Bigfoot Bonanza, the Super Shangri-La Show: "The Space Visitors Film Festival is a full day of cult classic and new movies, documentaries and guest speakers about alien visitors at the historic Balboa Theatre. This one day film festival and conference will include renowned U.F.O. field investigators Ruben Uriarte and Earl Grey Anderson from MUFON (The Mutual U.F.O. Network), as well as independent filmmaker Jodi Wille from Los Angeles, who will be bringing up six members of the UNARIUS Academy of Science. (UNARIUS stands for the Universal Articulate Interdimensional Understanding of Science)." Sat/21, 10am-1:30am, $20-$25. Balboa Theatre, SF. More info here. 
PARTY EL RIO's 39Th BIRTHDAY An all-day party celebrating the Mission mainstay, bursting with drag performances, DJs, dancing, and an incredibly varied menu of live music live music from HIT AFTER HIT, Cool Ghouls, Aima the Dreamer, Sirena Victima, Silent Pine. Plus free BBQ, heeeeeeey. Sat/21, 3pm-2am, $1-$5 donations go to local charity. El Rio, SF. More info here. 
FESTIVAL GATHERING OF THE TRIBES: THE SECOND RENAISSANCE This is huge! "The second Gathering of Tribes music festival is under way in honor San Francisco 1967 where the first Human Be-In first took place at Golden Gate Park, and where the summer of love sprung from the Haight-Ashbury District to the first Monterey International Pop Music Festival. The tribe is gathering once again to celebrate music, art and love for one day featuring visual artists, vendors, DJs, food and more than 20-bands will perform on two-stages." Sat/21 and Sun/22, Public Works, SF. More info here. 
PAGEANT MR INTERNATIONAL FREEDOM COMPETITION Sexualizing immigrants is a bit problematic  and beauty pageants are questionable. But the world is on fire, gay people are being kidnapped and tortured, and our immigration policy is now run by a human trash-heap, if trash-heaps could be racist. So if a bunch of hot gay dudes want to strut around shirtless (and answer brainy questions of course!) to benefit The LGBT Asylum Project – www.cipsf.org – the non-profit organization that provides pro-bono legal representation for LGBT immigrants who are fleeing persecution and seeking asylum in the United States, then let's do this! Sun/22, 7pm-11pm, $20. DNA Lounge, SF. More info here. 
MUSIC LISZT GALA Hoo-boy, am I ever ready to plop myself down on one of the Old First church pews and enjoy an afternoon of beautiful piano music. "Ten noted musicians from the Bay Area and beyond unite to celebrate Franz Liszt's birthday with a feast of keyboard virtuosity and romantic expression in an all-Liszt program including brilliant transcriptions of works by Beethoven, Chopin, Paganini, and Wagner, music from the Years of Pilgrimage, the Hungarian Rhapsodies, and more!" Sun/22, 2pm, $5-$23. Old First, SF. More info here.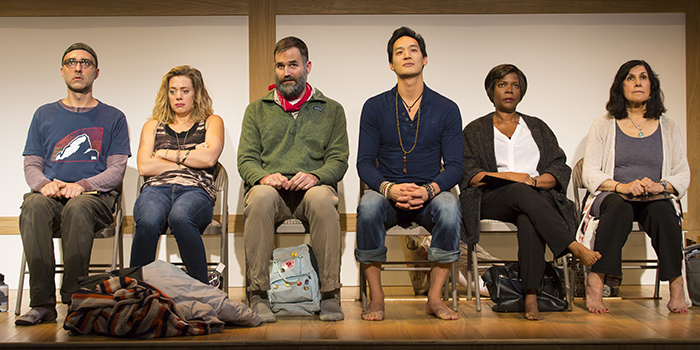 THEATER SMALL MOUTH SOUNDS "On a weeklong silent retreat in the woods, six wildly disparate souls looking for answers find that staying quiet doesn't necessarily bring the inner-peace. An acclaimed new comedy from Drama Desk Award–winning playwright Bess Wohl, Small Mouth Sounds is a wickedly sharp look at mindfulness and the wellness industry. Under the eye of an unseen guru, these six have gathered to get away from it all. But as they listen to their leader's ruminations (and try to hook up while struggling to meditate without snacks), they learn that silence can indeed be golden. It can also be funny, frustrating, erotic, comforting, and profoundly passive-aggressive." Through December 10 at American Conservatory Theater. More info here. 
MUSIC/PROTEST OPEN CARRY GUITAR RALLY Bay Area musicians have teamed up with the local chapter of Organizing for Action on an event we are calling Open Carry Guitar Rally. On Sunday, October 22 musicians across the Bay Area will engage in a civilized response to the open–carry gun enthusiasts at Crissy Field. Musicians will "invade" the public square with a vastly more powerful weapon: music. We are encouraging our musically inclined partisans to grab a guitar, grab some friends, sling that Gibson/Martin/Guild/Fender over your back and git get on down to Crissy Field. During an open carry guitar rally, citizens congregate in a public place while brandishing their instruments and trading songs and guitar licks. There will be no speeches or performances." Sun/22, noon-3pm, free. Crissy Field, meet across from House of Air, SF. More info here.  
> Need a car to get there? Rent one in your neighborhood on Getaround. Sign up today, and enjoy $50 off your first trip: http://get.co/48h. [Sponsored]