Litquake — the annual, gargantuan local literary festival (October 6-14) — is turning 18 this year. And it's ready to rumble right out of the gate, with a star-studded opening party Fri/6 celebrating the fact that it's now old enough "to vote, pay taxes, buy a lottery ticket or a condom, own a gun, enlist in the military, and run for governor of Rhode Island." If only it would!
And, as always, the fest winds up Sat/14 with the fantastic Litcrawl, snaking its way down Valencia Street, as venue-hoppers pop into readings at bars, bookstores, laundromats, corner stores, and more to "get drunk on words." (48 Hills is co-sponsoring a Litcrawl event with The Stud — oh yes, there will be drag queens reading classics — 8pm-9pm at Lone Palm called Hush Hush: Litcrawl Bookworm Edition, come!) 
Betwixt and amongst those bookend events lie hundreds of authors and dozens of events, but here are a few that might particularly tickle your vellum: 
RAW AND SAVVY: CHRIS KRAUSS AND THE LIFE OF KATHY ACKER "Rich girl, street punk, lost girl, icon, scholar, stripper, victim, and media-whore: The late Kathy Acker's legend and writings are wrapped in mythologies, created mostly by Acker herself. In the new, fully-authorized biography After Kathy Acker, author Chris Kraus (I Love Dick) approaches her subject both as a writer and as a member of the artistic communities from which Acker emerged. In conversation with Dodie Bellamy."  Sat/7, 8pm-10pm, $10/$20. Swedish American Hall, SF. More info here.
LITERARY DEATH MATCH "Literary Death Match returns to Litquake for a rip-roaring opening weekend of literary dazzlement. Part literary event, part comedy show, part game show, Literary Death Match brings together four of today's finest writers to compete in an edge-of-your-seat read-off critiqued by three celebrity judges, and concluded by a slapstick showdown to decide the ultimate champion. Featuring Molly Giles, Luna Malbroux, Jane Smiley, Maggie Tokuda-Hall, and Irene Tu. Hosted by Adrian Todd Zuniga. Produced by Matthew DeCoster." Sat/7, 6:30pm, $15-$20. Elbo Room, SF. More info here. 
THE BETTER ANGES OF OUR NATURE: CHARLES GARFIELD, SHANTI INTERNATIONAL, AND THE ENDURING SPIRIT OF VOLUNTEERISM "Some are born to volunteer, some volunteer to heal their own wounds, and some have volunteering thrust upon them by life circumstances. Dr. Charles Garfield, founder of the internationally-recognized Shanti Project and author of Life's Last Gift, artfully weaves together impassioned first-person accounts with insightful commentary on the skills to be learned from each volunteer experience. Tonight, he discusses his work with monologuist, author, and hospice worker Josh Kornbluth." Sun/8, 4pm-6pm, free. Strut, SF. More info here.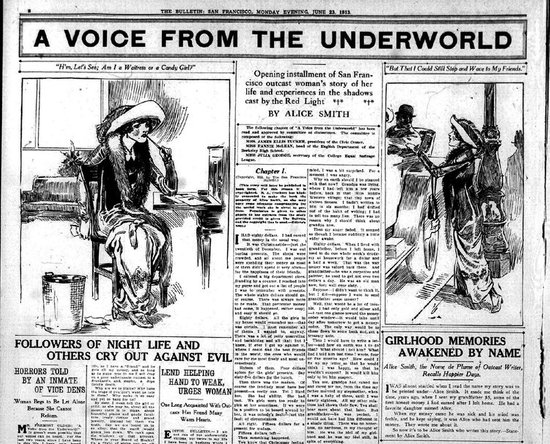 BARBARY COAST PROSTITUTE WALKING TOUR "Ivy Anderson and Devon Angus, authors of the California Historical Society Book Award-winning Alice: Memoirs of a Barbary Coast Prostitute, walk and talk you through the vice districts of 20th century San Francisco, just before closure of the infamous Barbary Coast. Enjoy discussions of SF history, politics, and geography framed around the story of 'Alice Smith,' a sex worker whose memoir electrified the city during its serialized publication in 1913." Sun/8, noon-2pm, free. More info here. 
VIBRATOR NATION: HOW FEMINIST SEX-TOYS SET THE BUSINESS ABUZZ "In the 1970s, a group of pioneering feminist entrepreneurs launched sex-toy stores like Eve's Garden, Good Vibrations, and Babeland, as both commercial enterprises and hubs for educational and community resources. Vibrator Nation author Lynn Comella tells the fascinating history of how these stores raised sexual consciousness, redefined the adult industry, and changed women's lives. In conversation with Dr. Carol Queen." Sun/8, 4pm-6pm, free. Center for Sex and Culture, SF. More info here.
POUNDED IN THE EAR: AN EROTIC TRIBUTE TO DR. CHUCK TINGLE Internet cult phenomenon. Tae Kwon Do Grandmaster. The D.H. Lawrence of absurdist, gay erotica. Buckle up, buckaroos! We'll be celebrating the good doctor with dramatic readings of Tinglers from writer/comedians Wonder Dave, Baruch Parras-Hernandes, Allison Mick, Irene Tu, Jesús U. BettaWork, Natasha Muse, and Marcus Ewert. With titles like 'Space Raptor Butt Invasion' and 'Pounded in the Butt by the Sentient Manifestation of My Own Climate Change Denial,' you'll leave knowing one thing: Love is Real. Sun/8, 7pm-9pm, $7-$10. Make-Out Room, SF. More info here.
 FIFTY YEARS OF 100 YEARS OF SOLITUDE "Help us mark the anniversary of Gabriel Garcia Marquez's masterpiece, first published in Buenos Aires in 1967. One Hundred Years of Solitude has been translated into 37 languages and is oft-considered, after Cervantes' Don Quixote, the most important work in the history of Spanish literature. Featuring authors Achy Obejas and Scott Esposito, translator Stephen Kessler, and Stanford professor Ramón Saldívar." Tue/10, 6pm-7:30pm, free. SF Public Library, Main Branch, SF. More info here. 
BLACK AGAINST EMPIRE "In celebration of San Francisco's 13th Annual One City One Book selection, we present an evening with Black Against Empire: The History and Politics of the Black Panther Party, and its co-author, Waldo E. Martin, Jr. Bold, engrossing, and richly detailed, this book cuts through the mythology and obfuscation, revealing the political dynamics that drove the explosive growth of the revolutionary Black Panther Party, and its disastrous unraveling. Black against Empire is the winner of the American Book Award, and is currently banned by the CA Department of Corrections. In conversation with writer/curator D. Scot Miller." Tue/10, 7pm-8:30pm, free. American Bookbinders Museum, SF. More info here. 
STRAIGHT NO CHASER: WRITERS AT THE BAR "In what has become a Litquake tradition, hallowed North Beach watering hole Vesuvio Café opens its doors for an edgy and entertaining evening reading. This year, we feature contributors to Golden State 2017: Best New Writing from California (Outpost19). Don't miss this rare opportunity to see authors from throughout the state perform new work in their natural habitat. Special guest Charlie Jane Anders. Emceed by Alia Volz." Tue/10, 7pm-9pm, free. Vesuvio, SF. More info here. 
2017 POETRY WORLD SERIES "Seattle's John Roderick emcees this rowdy, fast-paced reading. Two teams of award-winning poets take turns batting at topics pitched by the audience. Fastballs, curveballs, knuckleballs: These poets won't know what's coming next! Judges Lee Herrick and Ayelet Waldman will score each performance, and the winning team takes the series title. Book sale/signing follows the reading. Don't forget to bring a topic to stump the poets!" Thu/12, 6pm-9pm, $5-$10. Make-Out Room, SF. More info here.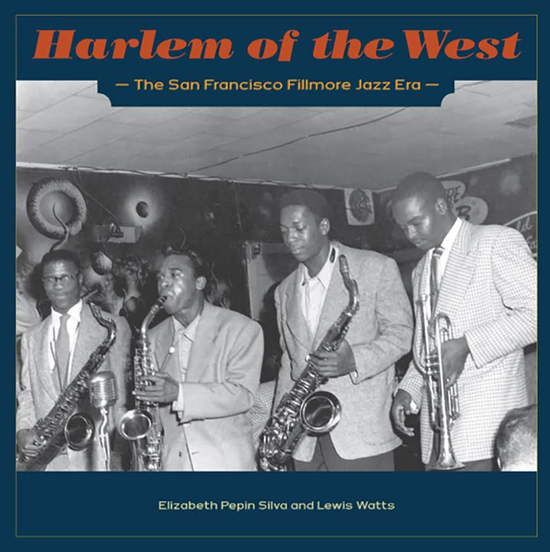 HARLEM OF THE WEST: SAN FRANCISCO'S JAZZY FILLMORE "Billie Holiday singing at the New Orleans Swing Club. Dexter Gordon hanging out at Bop City. Dizzy Gillespie, Lionel Hampton, Charlie Parker, John Coltrane, all swinging through town for gigs. San Francisco's Fillmore District was once an eclectic, integrated, and hopping neighborhood dotted with restaurants, pool halls, theaters, and two dozen nightclubs and music joints, before vanishing abruptly from redevelopment in the 1960s. Celebrate this unique and rediscovered chapter in jazz history with Harlem of the West​: The San Francisco Fillmore Jazz Era co-author Elizabeth Pepin Silva and special guest musicians from the era​.​" Thu/12, 7pm-9pm, $12-$15. Doc's Lab, SF. More info here.  
SF STORIES: WHEN YOU LOVE A CITY, BUT IT DOESN'T LOVE YOU BACK Artist evictions, tech invasions―where will it end? These San Francisco stories wrest wisdom from chaos and channel boundless energy into artful narratives, demonstrating that grace and persistence are as much a measure of the city's legacy as a determination of its future. The new anthology Your Golden Sun Still Shines illustrates San Francisco's continuing legacy as home and beacon to the literary vanguard. Hosted by editor Denise Sullivan and contributor Tony Robles, with readings from Golden Sun writers and special guests, and stories/music from Victor Krummenacher and Alison Faith Levy. Fri/13, 7pm-9pm, $5-$10. Make-Out Room, SF. More info here. 
FOGLIFTER: SAN FRANCISCO'S QUEER LITERARY JOURNAL  "In November 2016, Poets & Writers named Foglifter as 'One Of Nine Journals You Need To Read.' Born out of the need for a San Francisco queer journal that emphasizes transgressive, intersectional, marginal, and cross-genre writing, Foglifter boasts an editorial staff composed primarily of Lambda Literary Fellows and S.F. State Creative Writing graduates. Tonight, hear readings from hosts and Foglifter contributors Randall Mann and Baruch Porras-Hernandez, and more authors from the newest issue. Fri/13, 7:30pm-9pm, free. Strut, SF. More info here.