PARTY RADAR This week, BFF.fm aka Best Frequencies Forever internet radio is celebrating five years of broadcasting some of the most diverse programming heard outside of a bong-strewn liberal arts college dormitory at 3am. The station is addictive, and the freshest thing in our current weirdly conformist climate is its signal boost of diverse voices. Here's just one show description: " Zuha Khan, aka DJ Baqvas of Fractal Chambers weds the global to the local, and feminism from a Muslim perspective, playing on one recent show a traditional Gujarati garba folk song performed in metalcore style, and then 'Anything' by Mannequin Pussy."
So yeah, it's an entertainment and an education, which is perfect. 
Now the station is breaking out of the waves with a series of anniversary events and fundraisers. Fri/31 sees a dance party at Bar Fluxus featuring BFF.fm DJs and friends to benefit the station. On September 7, a birthday bash comes to at Off the Grid Fort Mason Center featuring DJ Cosmic Amanda, Love Jerks, and other bands. And from September 1-30 BFF.fm is building a mini radio station in the window of Artist's Television Access on Valencia Street, where they'll air special live radio shows.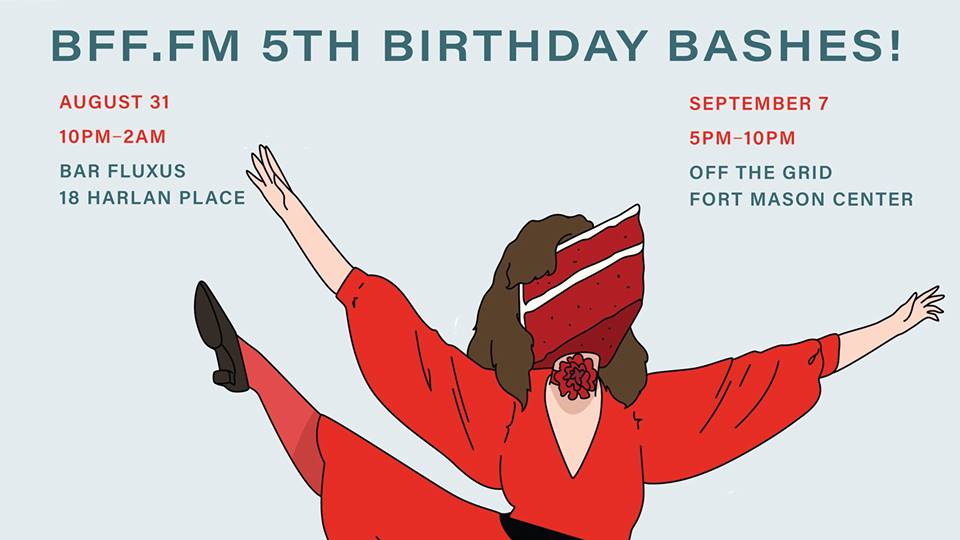 "I started the station because I've always loved community radio—I joined my college radio station at 17 and never left, until moving to San Francisco in 2012," station honcho Amanda Guest aka Cosmic Amanda told me. (She was part of WMWM, the Salem State University radio station in Massachusetts, and started BFF.fm in 2013.) "I think it's really important in highlighting undiscovered and emerging artists and bringing this artists to the forefront. I felt like San Francisco had room for another community radio station, especially featuring new underground music and local acts. And we wanted to broadcast that 24 hours a day."
"The station has grown beyond whatever we could have imagined it to be," Cosmic Amanda continued, "because now not only do we have the music, but we provide a platform for so many different diverse voices that represent what the Bay Area is. It's music but it's also art, community passion, and all sorts of cool stuff." 
Operating a 24-hour community radio station, even an online one, comes with challenges. BFF.fm is a non-profit and is staffed totally by volunteers from a gorgeously kitsch-filled little room off a "secret alley" in the Mission. (You may have been to some fundraising parties there.) The station relies on listeners to keep the lights on (sound familiar!) and Amanda has been working a full-time remote job as well as running things—until she was laid off a couple month ago. "That really focused me on making BFF a sustainable organization, because I think it's valuable for the city, and it's something that I want to be around for a very long time, even beyond my involvement in it." 
SF has a wonderful history of underground and pirate radio (thinking recently of Radio Valencia and KUSF in Exile here), and, as print and news and arts media continue to shrink in SF, BFF.fm is a vital reminder of the amazing diversity and can-do spirit of our fog-shrouded home. Go party and support!   
MORE PARTIES OF NOTE 
FRI/31 CHOLO GOTH NIGHT Dave Parley of LA's dark Latino duo Prayers comes in to DJ "new wave, darkwave, industrial and '90s hip hop" with guest DJ S4NtA MU3rTE of the swell 120 Minutes party. 9pm-2am, $10 advance. Elbo Room, SF. More info here.   
FRI/31 SQUIRRELS ON FILM Our leading label for the recently revived psychedelic house sound—part Beat poem, part gothic groove, all lysergic enhancement—is repped here by founders/legends Solar and C.L.A.W.S. at the They're Here party. 9pm-2am, free before 10, $10 after. Underground SF. More info here.  
FRI/31 LAURINE Berlin's Slow Life collective/label is "a multidisciplinary hispano-italian project built on a commitment which is beyond fashion" has been producing techno DJs who concentrate on rare vinyl, queer spirit, and other curios of quality-gone-by. Slow Life's Laurine is joined by Seattle's Flora FM and our own Bezier and Jordee for a night of dancefloor space exploration. 9pm-3:30am, $10-$15. Public Works loft, SF. More info here.    
FRI/31 STEREO ARGENTO A drag night that celebrates horror films? You bet your sweet Suspiria. This installment features an original thriller put on by the queens called "Complex": "Get locked in with Six Tenants in their '70s Italian Apartment Complex! A Mysterious, Black-Gloved Killer is loose in the building and is out for BLOOD! Watch in HORROR as our tenants drop like flies at the hands of this knife-wielding lunatic! But who could it be??? A Guest? A Stranger? Or perhaps one of the Tenants themselves…" 10pm-3am, $10. The Stud, SF. More info here. 
FRI/31 PENCIL SKIRT: A BRIT POP, POST PUNK, INDIE DANCE NIGHT The name says it all at this new party, but the DJs are the real treat: Omar from Popscene, Mario Muse from The Queen is Dead, and the great Chulita Vinyl Club's Sarah Star Child. 9:30pm-late, $5-$8. Slate Bar, SF. More info here.  
FRI/31 BAMBUNOU + RUSSELL EL BUTLER The rad Brouhaha party offers an esoteric pairing of electronic intrigue, with Paris's genre-bending Bambounou making his SF debut and Oakland's outspoken Butler doing their fascinating thing live with the machines. 9:30-3:30, $15. F8, SF. More info here.  
SAT/1 GO BANG! SYLVESTER TRIBUTE NIGHT Our cutest monthly disco party pays tribute to the ultimate disco diva: grab your glitter shorts and come feel mighty real with special guest DJs Jim Hopkins and Chaka Quan. 9pm-3am, $5 before 10pm, $10 after. The Stud, SF. More info here.  
SAT/1 DERRICK CARTER The Chicago high-energy house master pops into Halcyon to slay the soundsystem. With Jon Cummings and Jamie Swing. 10pm-4am, $15-$20. Halcyon, SF. More info here.  
SAT/1 BLOODY MARY "EBM, Cold Wave and lots of Techno collide for a very special and ultra dark edition of Lights Down Low. Let your body learn!" Berlin's Boody Mary joins LA's Silent Servant and Vancouver's minimal violence. 10pm-3am, $15-$18. Monarch, SF. More info here.   
SAT/1 HARDER BETTER FASTER STRONGER The monthly indie dance night pays tribute to the 2000s with a special installment highlighting the "women of electro/nica": Bjork, Grimes, Moloko, CHVRCHES, La Roux, and more. 9:30pm-2am, $5-$10. Slate Bar, SF. More info here.  
SAT/1 POWERBLOUSE "Juanita More and GlamaMore invite one lucky person to the stage of the Powerhouse for a full-fantasy drag makeover. Watch as they use all of their sacred drag queen powers to tuck, tape, shape, glue and staple this person together. When the vision is complete they will push the newbie onto the stage for their first-ever live lip-sync performance! The magic mascara wand will be casting spells!" With DJ Rolo. 10pm-2am, $5. Powerhouse, SF. More info here. 
SUN/2 MHYSA Queer hip-hop party Swagger Like Us its the El Rio patio with lots of vibe and Maryland rapper MHYSA + DJs Boston Cherry, DavOmakesbeats, and JiBBz. 2pm-8pm, $10. El Rio, SF. More info here.  
SUN/2 AFTERNOON DELIGHT House and disco music bliss on an Oakland patio? Yes, please. Featuring DJ Paul Goodyear alongside Allen Craig (Moulton Music) with a  performance by Mama Celeste. Good times. 3pm-8pm, $20. New Parish, Oakland. More info here.  
SUN/2 HONEY SOUNDSYSTEM LABOR DAY PARTY As is tradition, the headliners (from SF and Bristol) are secret, but the support is insanely stellar: The In-Training crew from Cleveland will show you what's happening to techno in the deep Midwest (expect some lovely contemporary drum 'n bass) while London's Siren DJs will insure you take Monday off. 9pm-4am, $25. Audio, SF. More info here. 
SUN/2 LIP SERVICE: DISCO GODDESSES Oodles of drag, bucketloads of disco hits, and a club full of fun-seekers? Join Mandy Coco, Vanity, God's Little Princess, and more for dance floor delights. 10pm-2am, $10. The Stud, SF. More info here.  
SUN/2 DUB MISSION WITH ROBERT RANKIN Awesome booming bass party Dub Mission returns for a special engagement with Robert Rankin, who's "been a reggae and dancehall DJ and Bay Area treasure for over 20 years. In addition to spinning memorable club sets full of roots and dancehall gems, Robert hosts the weekly radio show "Solid Foundation" Friday nights from 6 pm to 9 pm on KKUP/91.5 FM." With residents DJ Sep and Maneesh the Twister. 9:30pm-2am, $7 advance. Elbo Room, SF. More info here. 
TUE/4 JUANITA MORE BIRTHDAY BASH The ever-industrious drag goddess is taking over the restaurant of Jones nightclub—and you know there's going to be some fried chicken in there! This party celebrates her 30th (ahem) birthday as well as the opening of her new venture. With DJ Rolo and lots of free surprises. 6pm-9pm, free. Jones, SF. More info here. 
WED/5 DANCE PARTY BENEFIT FOR THE WEST COUNTY DETENTION COMMUNITY FUND Party to assist ICE-detained individuals!  "Come by the Knockout at 9:30pm this Wednesday as we deepen our understanding of the events unfolding at the West County Detention Center, contribute to the West County Community Detention Center Fund, and get our "Soul"idarity on as we dance. Disc Jockeys Paul Costuros (Soul Party), Maria Victoria (Soul Time), DJ Guillermo (Sweater Funk), Bryan Duran (World Ain't Round). Playing a mix of 60s Soul, Latin Rock, Boogaloo and Cumbia!" 9:30pm-2am, donations requested. The Knockout, SF. More info here.