Fall is a busy time for Bay Area screens beyond the multiplex, and this week is no exception. There are no less than three film festivals opening: SF Green Film Fest (which we've separately previewed here), plus the self-explanatory likes of the Women Sports Film Fest (Thurs/26-Sat/28 at Brava Theater Center) and the Iranian Film Festival (Sat/28-Sun/29 at the San Francisco Art Institute).
Honing in on hot-button issues as well as celebrating athletic achievement, the three days of sports-focused cinema opens with Erin Lee Carr's At the Heart of the Gold: Inside the USA Gymnastics Scandal, about the two decades of sexual abuse national team physician D. Larry Nassar practiced on literally hundreds of young women, which crimes and their administrative cover-up is still roiling its way through the sport's landscape. For more info on the whole program, click here.
The Iranian event, which is billed as the first independent such festival outside the country itself, runs a gamut from live-action and animated shorts to narrative and documentary features, plus even a number of music videos. Not strictly limited to work produced in Iran, it opens with Eva Husson's French Girls of the Sun, in which a female war correspondent is embedded with an military unit comprised entirely of Peshmerga women formerly held captive by Daesh forces, now fighting on the frontlines of northwestern Iraqi Kurdistan. Its official closer is Pooya Badkoobeh's recent Berlin prizewinner Dressage, about a teen girl in a small town outside Tehran. Another highlight is Iranian-American director Ramin Bahrani's first more mainstream project following several acclaimed indie features (including Man Push Cart and 99 Homes): Fahrenheit 451, a new adaptation of Ray Bradbury's dystopian novel about a society in which books are banned—which regrettably seems all too relevant in our anti-intellectual political era. For complete program info, click here.
Other special events this week include SF Cinematheque's presentation of Makino Takashi: Memento Stella, a program of superimposition-heavy poetic abstractions with the Japanese video artist in person. It's at YBCA this Thurs/26 (more info here). There's also the opening of former YBCA film/video programmer Joel Shepard's Blazing and Blasted: Post-Punk Pre-Tech Underground Film in 1990s San Francisco, which highlights screen creativity from our city's last affordable epoch for artists (or anyone else). Among those whose imaginative, adventuresome works will be at McAvoy Foundation for the Arts this Saturday though Jan. 18 are Craig Baldwin, Anne McGuire, Jenni Olson, Jon Moritsugu, Lourdes Portillo, Sarah Jacobson, Martha Colburn, Greta Snider, Valerie Soe, Survival Research Labs, and the late great George Kuchar. More info here.
Among regular commercial openings, there are two cartoons—the wide release Abominable and (at the Roxie) Hiroshi Imaishi's giant-robot anime Promare. Also unseen by yours truly is the Swedish Britt-Marie Was Here, which sounds like a gender-swapped version of A Man Called Ove, being adapted from another novel by internationally popular beach-read novelist Fredrik Backman. Here Pernilla August plays another crusty old coot forced into a "journey filled with struggles and challenges but also warmth and love." It opens at the Opera Plaza.
Opening at the Clay without a peep of advance notice is Paolo Sorrentino's Loro, in which the Italian director of The Great Beauty and his frequent star Toni Servillo contrive a semi-satirical biopic of former Prime Minister Silvio Berlusconi, whose spectacularly gaudy and corrupt reign now seems like a trial run for the phenomenon of President Trump.
Seen but not highly recommended is Judy, which stars Renee Zellwegger as the late superstar Garland towards the very end of her life, when financial woes forced her to travel alone to perform in London in hopes of retaining custody of her remaining underage children. Insomniac, pill-added, drinking heavily, it did not go well—six months after the abortive engagement, she died at just 47.
Zellwegger, always a more natural character actress than a "movie star," throws herself into an impressively convincing turn, even if it was a mistake to let her sing rather than using tracks from the many extant live concert recordings. (Even at her most ragged, Judy's voice had a distinctive warmth and musicality the actress can't quite capture.) But that central performance aside, the film is a clumsy and maudlin biopic that hits one note of obvious pathos from the start, then beats it to death. While the late 1960s period trappings are fine, this flat script (based on a play) is otherwise gracelessly handled by British stage director Rupert Goold. Judy is a success for Zellwegger, but for no one else.
Elsewhere (also opening Friday unless otherwise noted):
The Sound of Silence
Peter Sarsgaard has hooded eyes and a typically wary, analytical, ironical air. While he's occasionally played extroverts, he is principally a recessive actor, hardly inexpressive, yet someone idiosyncratic enough to be perhaps an acquired taste. I love him, but can understand how others might find him flat or unpleasantly reptilian. If you do like him, however, you will probably very much like this movie, which could hardly be more perfectly suited to his particular strengths and personality. He's the rare actor who can effortlessly convince us that his character is utterly absorbed in some singular professional pursuit, whether it's the psychological researcher of Experimenter or the NYC "house tuner" here.
His politely distant, slightly antisocial Peter Lucien—who can diagnose and solve people's psychological issues by measuring the electrical hums and other ambient noises that may almost undetectably be effecting their moods, their sleep, even their relationships—is possibly a bit of a crackpot. Certainly he's perceived that way by the audio-centric scientific community he needs his work to be authenticated by. That need becomes more urgent when the commercial sector recognizes a salable product in his curious trade, using his ideas (with or without permission) to package custom-tailored multisensory "environments" to the luxury-goods market.
It's a movie whose intriguing premise eventually goes in a somewhat pat "Physician, heal thyself" direction, with Rashida Jones as the client whose emotional blockage eventually helps clean out his own. But director Michael Tyburski and co-scenarist Ben Nabors have created a compelling central character (with the requisite complicated sound design to illustrate his invisible world), and they've found the perfectly interesting actor to flesh him out. Presidio Theater.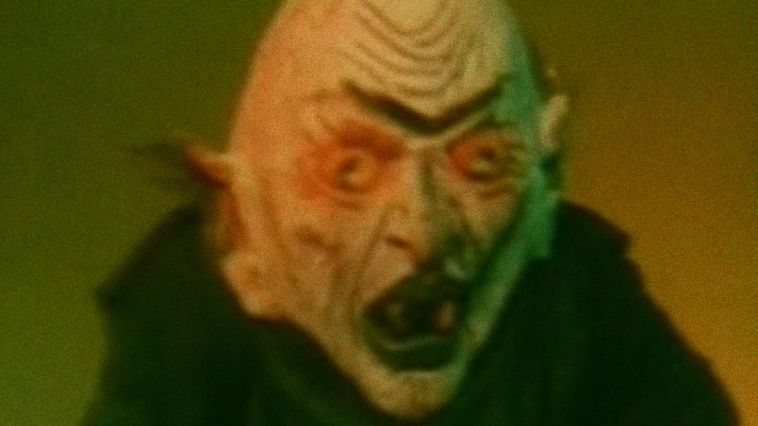 Son of Dracula
This crazy whatsit by director Salim Suma initially seems like some terrible VHS transfer of a grade Z Bollywood exploitation movie of indeterminate vintage—probably mid-70s, until you notice a character is doing hiphop stripper moves. But it is in fact a very convincing approximation, a goof whose narrative and editorial senselessness is entirely deliberate, yet so convincingly psychotronic it's hard to believe the film was only made a decade ago.
An evil landowner is punished for his carnal and homicidal terrorizing of tenants by having a demon spirit dispatch four witches to tempt the villain into fatal ruination via song and gyration. There's a crusading guru named Tantrik, cheesy FX, terrible post-synched dialogue, worse subtitle translations ("Inspector your sweet bullets will have no effect on this satanic wheel"), much convincingly bad acting, catchy songs with nonsensical lyrics, and more trashy solo dancing than in Ed Wood's Orgy of the Dead.
The result is a delirium of supernatural tackiness. Son of Dracula (which does feature somebody in a Nosferatu mask, but don't expect a vampire movie) is a one-joke curio that should wear out its welcome fast, yet somehow doesn't. Landing somewhere between the hypnotic and hilarious, it's the rare stab at deliberate camp that actually keeps working for 90+ minutes. Sun/29, Alamo Drafthouse. More info here. 
End of the Century
For at least a quarter-century there's been a mostly under-radar (unless you attend gay film festivals like Frameline) series of features designed primarily for LGBTQ viewers at home. Too often these low-budget efforts seem to think that if they provide enough hot young actors enough opportunities to shed clothing, they've provided sufficient entertainment value for 90 or so minutes. But most of them are a waste of time—after all, outright porn is free these days, and you can see equally buff dudes at your local gym.
Lucio Castro's first feature starts out seeming like another such joint, as two attractive men (Juan Barberini, Ramon Pujol) visiting Barcelona for different reasons cross paths a couple times before hooking up for a little afternoon delight. It's when they decide to catch dinner together later that day that one informs the other that they've actually met before. This leads to a flashback of them both at a very different stage in their lives, both involved with women, neither quite ready to accept that they're gay. But this second part isn't End of the Century's last—there's a final section that further redefines these men's reality, and can be taken as a road-not-taken fantasy, or something else.
It's up to the viewer whether these successive elaborations on an initially light, even trite narrative add up to something profound, or are simply an empty puzzle gesturing towards some greater "meaning" that isn't really there. The elliptical, location-attentive nature of Castro's film has raised comparisons to Antonioni, though no one is saying he's in the same league. Still, this is a movie that initially just seems like sexy eye candy, then becomes steadily more ambitious and intriguing. Which is nothing to be sneezed at. Opera Plaza. More info here.
Chulas Fronteras and Del Mero Corazon
Values like "diversity" and "multiculturalism" were not yet on the horizon of popular consciousness when late Bay Arean Les Blank began making his ethnographic (but hardly academic) documentaries about a half-century ago. Nor did foodie culture exist much beyond the standard "gourmet" terrain of admiring upscale French cuisine. Blank's joyous films celebrated food, music, and life in communities that hitherto had been granted little notice or respect by mainstream America.
These two films, shown in new 4K restorations, have a poignant relevance today: Their spotlight on Tex-Mex culture, which was barely known outside the Lone Star State at the end, is a hymn to everything Trump Nation would like to pretend isn't "American" at all. The hour-long 1976 Chulas Fronteras (Beautiful Borders), co-directed with Chris Strachwitz, casts a general eye towards Mexican-American border culture encompassing agricultural roots, protest movements, and representative musicians including Flaco Jiminez and Lydia Mendoza.
The half-hour 1979 Del Mero Corazon (Straight From the Heart), credited to Maureen Gosling and Guillermo Hernandez as well as Bank and Strachwitz, pays closer attention to the love songs of the region's Nortena music tradition. Artists featured include Little Joe & La Familia, Leo Garza, Ricardo Mejia, Chavela & Brown Express, and more. These films play a one-week run at Berkeley's Rialto Cinemas Elmwood starting Fri/27, plus single screenings in El Cerrito (Wed/27 at Rialto Cinemas), SF (Thurs/26 at the Roxie), San Rafael (Sat/28 at Rafael Film Center), Sebastopol, Chico and Vallejo. Most programs will feature surviving filmmakers plus special musical guests in person. Click here for the full schedule. 
The Death of Dick Long
This attempt to do for small-town Alabama what Fargo did for small-town Minnesota struck me basically like director Daniel Scheinert's prior feature Swiss Army Man: As a theoretically appealing black comedy that is neither especially black or very comedic, and thus ends up just kinda sitting there. But plenty of people loved (as well as hated) SAM, so perhaps what was another meh experience for me will prove equally divisive for other viewers.
Zeke (Michael Abbott Jr.) and Earl (Andre Hyland) are two Southern-fried doofuses still living out their teenage dreams in nightly "band practice" as a rock trio that probably no one outside that basement is ever going to hear. On this particular night, they pursue their inner party animals into the wee hours after laying instruments down, with the result that by dawn third member Dick is dumped at a hospital ER with a serious (and seriously embarrassing) injury from which he will not recover. The rest of the film follows our dimwitted protagonists' attempts to cover up their involvement in the accidental death. They are not up to that task, to put it mildly.
As with SAM, in which one of the two main characters was a corpse, this is a bad-taste idea (one that swiftly turns out to involve zoophilia) you'll either find hilarious or offensive from the outset. Or perhaps you'll just spend the entire movie wondering just when Scheinert and scenarist Billy Chew are gonna start, you know, doing something with it. Fargo's regional caricature was very funny, but also had room for some real horror. Here, things are just mildly silly most of the time, even more so when the film suddenly starts asking us to take the characters fairly seriously. Note: This turnabout has actually worked for some reviewers (including one who called Death "a profoundly sad elegy for moronic maleness"), so maybe I'm just not the target audience. It seemed watchable but kinda lame and pointless to me—not unlike Swiss Army Man. At area theaters.