ARTS FORECAST File under: more of this please! According to the Bay Area Reporter, the buildings housing legendary Latinx queer bar El Rio have been acquired by the Mission Economic Development Agency, through an $8.6 million loan provided by the San Francisco Housing Accelerator Fund. The buildings also include several low-income housing units.
"The Mayor's Office of Housing and Community Development is expected to provide MEDA with permanent financing for the building in December 2020 after the agency completes critical repairs and upgrades to the buildings. The roughly $800,000 in work includes seismic retrofitting and strengthening of the structures, updating electrical and building systems, and additional exterior renovations and improvements," says the BAR.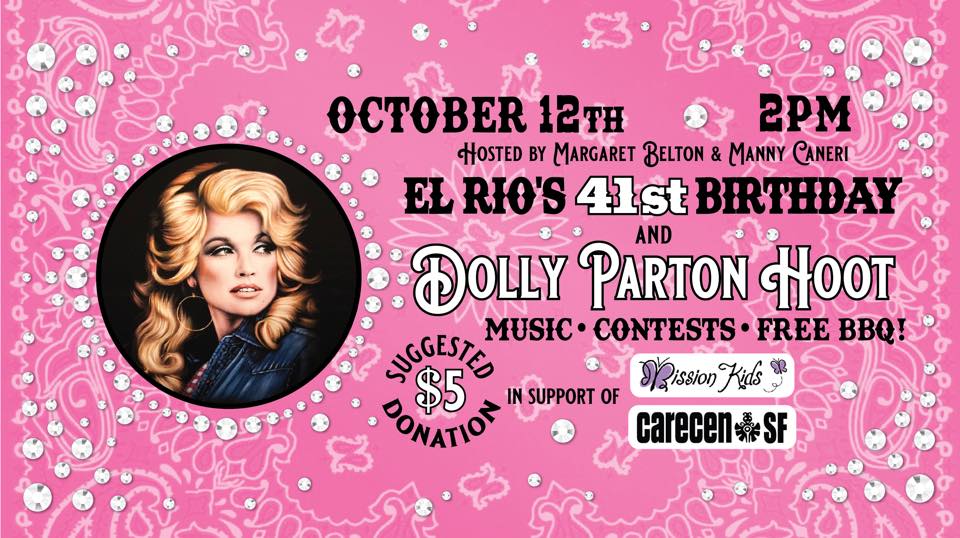 That's great news for this legacy business, which has hosted generations of dancers, salsa bands, queer partiers, fundraisers, and friendly neighbors. Now go there and have a drink — it's the bar's 41st birthday and amazing annual Dolly Parton Hoot this Sat/12!
ALL AQUIVER OVER LITQUAKE Ann Patchett, Tobias Wolff, Tommy Orange, Jane Hirschfield, Charlie Jane Anders, Saeed Jones, Mike Isaac, Michelle Tea…   plus programs like "Journalists in Jeopardy," "Young Writers Brave the Page," "Teenquake," "The White Devil's Daughter: A Chinatown Walking Tour," and the 500th installment of Literary Death Match. You need Litquake (10/10-10/19)  in your life! If you cannot make any of these, at least try to catch the wonderful, infamous Litcrawl (10/19), which features a slew of local talents reading up and down Valencia in any spot they can find. (Oh and don't miss the epic closing party with DJ Bus Station John!)
OPEN SESAME (STUDIOS) Tonight (Thu/10) is the launch party at SomARTS, where you can get a preview of the dozens and dozens of artists participating in this year's Open Studios (Sat/12-November 3)—but you can also "slow gaze" over the next month, as each weekend presents a different set of artists in their environment, where you can really spend some time with their art. As arts studios disappear across the city, it's such a treat to travel throughout the city, checking in on our resident geniuses.
AMPLIFYING THE VOICES OF OAKLAND'S HOMELESS A new album called Homeless Oakland Heart records the unhoused citizens of the Bay Area—with all profits going to the Coalition on Homelessness:"Recorded live and outdoors in Oakland, Grammy-winning producer and author Ian Brennan (Tinariwen, Ramblin' Jack Elliott, Zomba Prison Project) delves deeply into the voices of the homeless community— those that are largely ignored and even maligned. It is a community that he has worked with dating back to the 1980s. Needless to say, it is a highly unique, ultimately heartbreaking album with "street" cred and raw-ness that sounds like any other. Ranging from old school beat-boxing to Free Jazz guitar to ballads and electronica, this is a one-of-kind, esoteric, and diverse record akin to rarities like Hollerin', Captain Beefheart's Trout Mask Replica, Alvin Lucier's I Am Sitting in a Room, and Elvis Presley's Having Fun With Elvis On Stage, et al. and it's a full on old school, gut-punch punk album." The album comes out Fri/11, order it here. 
SAT/12- 10/27 STAGE OTHELLO An embarrassment of Shakespearean riches, as we move from Cal Shakes' lovely production of Macbeth into the venerable SF African-American Shakespeare Company's take on Othello. This time, the ill-starred Moor's tale tackles contemporary themes: "Set in contemporary Washington DC and Syria, the production will focus in on Othello's status as an outsider, one who grew up with a strong Muslim background, who as a child grew up as part of a military gang in Africa. Opposing cultures, roles, customs, families, traditions and Othello's marriage to a young Christian white woman all play a part in how the tragedy unfolds." More info here. 
SAT/12 NIGHTLIFE KAI ALCE By now techno and house music are as storied and porous as jazz, a wonderfully complex thing capable of myriad moods and impressions. New Yorker/Detroiter/cureent Atlantan Kai Alce has been at this for 20 years: Often grouped in with Detroit's third wave of techno pioneers, his sets balance house color with techno spirit (oh he'll put some jazz juju on you too), an expert who will take you deep without wearing you out. With local genius Chris Orr, whose crate-digging skills are unparalleled. At Phonobar, SF. More info here. 
SAT/12 VISUAL ART TERRY FOX LABYRINTH SERIES Theres a show of this important artist's work on display through November 2, but this Saturday at Wattis Institute for Contemporary Arts will feature a walkthrough with Constance Lewallen and activation of Circulation: Site Pendulum from the Labyrinth Series (1970) by Marita Loosen-Fox "Terry Fox (1943-2008), a native of Seattle, was a first-generation conceptual artist who lived in San Francisco off and on from 1963 to 1978. He was a core member of the artists, including Howard Fried, Paul Kos, Linda Montano, Bonnie Ora Sherk, and others, centered around Tom Marioni's Museum of Conceptual Art. Like their peers internationally, these Bay Area Conceptualists were developing new genres of body, performance, video, and sound art. The Wattis Institute exhibition will feature a selection of labyrinth works including objects, drawings, books, and forms the heart of a Bay Area celebration of Fox's work taking place this fall. Curated by Constance Lewallen and Dena Beard, this multi-faceted presentation of Fox's work will be deployed over a variety of venues including Grace Cathedral, where there is a replica of the Chartres labyrinth, The Lab, Cushion Works, 871 Fine Arts, BAMPFA, and the libraries of SFAI and SFMOMA." More info here.
SAT/12 TOUR URBAN FARM TOURS "Is Urban Farming still alive and kicking in the Bay Area? After a three year break, Urban Farms Tours returns to answer this question. We invite you to visit 8 excellent and diverse examples of small-scale urban farming and decide for yourself. From a tidy postage stamp to a sprawling multi-use community space, the sites range in size from extra small to extra large and represent a diversity of farmers and farming styles." East Bay, Albany, and North Oakland. More info here.  
SUN/13 MUSIC ALTIN GÜN Turkish psychedelic music, known as Anatolian rock, has fabulous and tangled history, and this incredible group of Amsterdammers of Turkish, Indonesian, and Dutch musicians  adds a wonderful wrinkle. Their immersive, addictive music is pretty much "what happens when you open doors between Turkish folk songs on the one hand and a dirty blend offunk rhythms, wah-wah guitars and analogue organs on the other." At the Independent, SF. More info here. 
MON/14 DANCE/POETRY DUET + MARROW Dancer-poet Ian Spencer Bell has been acclaimed by the New York Times for "autobiography, written in bodies . . . physical sentences inseparable from verbal ones—neither upstaging the other—so what results is not dance and not poetry but some third medium." As part of Litquake, he's dancing two pieces at CounterPulse. "Duet is a 25-minute work about my relationship with a dancer who concealed that he was HIV positive. The piece began as a 200-page work of nonfiction. After many years of writing and rewriting, it's now a five-page poem in couplets that I perform with dancers Joshua Tuason and Gary Champi. Marrow is a 25-minute work about growing up queer in Virginia. Through solo dance material and 10 confessional poems, I explore my relationship with my mother, abusive stepfather, home, and dancing." This all sounds like a must-see. More info here.  
MON/14 MUSIC RICEBOY SLEEPS Ten years ago, Jónsi from Sigur Rós and his partner, renowned film composer Alex Somers, released a gorgeous, intimate album called Riceboy Sleeps. Now they're taking that landmark album on tour with a full symphony (appearing at Golden gate Theatre), opening it up and recreating extra-musical sounds from the album with whirly tubes, broken glass, rustling plastic bags, and more. Jónsi's insanely angelic voice is still in there, and you'll most likely be enveloped in a cloud of bristling musical bliss. More info here.
TUE/15 MUSIC/STAGE A NIGH WITH JANIS JOPLIN Tony Award-nominated Mary Bridget Davies stars as Janis in this Broadway production: "A musical staged like a rock concert that takes the audience on a journey celebrating Janis Joplin and her biggest musical influences – trailblazers like Aretha Franklin, Etta James, Odetta, Nina Simone and Bessie Smith, all of whom inspired Joplin to become one of Rock 'n' Roll's greatest legends." Go on! At Luther Burbank Center for the Arts, Santa Rosa. More info here. 
THU/17-SAT/19 MUSIC PICTURES + PERCUSSION I'm an enormous fan of SF Symphony percussion genius Jacoob Nissly, and cannot wait for this. I'm also a big fan of the Earth! So that makes thes extra-important. Not only will Nissly and company premiere the new climate-change centered work Losing Earth, by composer Adam Schoenberg, we also get Ravel's interpretation of Mussorgsky's staple "Pictures at an Exhibition": "Coaxing radiant hues out of unorthodox combinations of instruments, Ravel transformed Mussorgsky's monochrome pieces into one of the most popular works for orchestra. How did he do it?" Let's find out, percussively. At Davies Symphony Hall, SF. More info here.