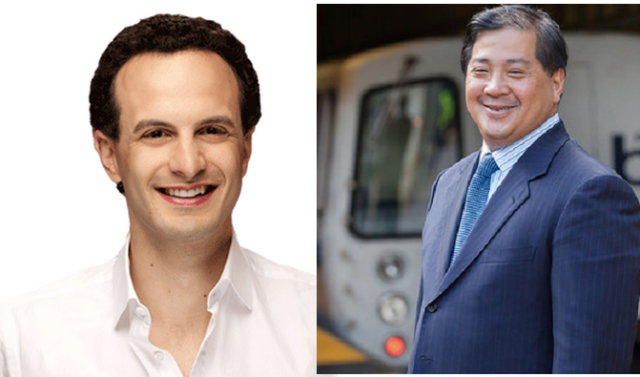 By Tim Redmond
NOVEMBER 3, 2014 – The Bay Area Rapid Transit District Board of Directors is not one of the more distinguished public agencies in Northern California. The members failed for years to keep their own police force under control, leading to several inexcusable killings. The conservative suburban directors hold sway over the (sometimes) more progressive urban members. And the board allowed – some would say encouraged – a disastrous and completely unnecessary strike last year that only ended after the death of two workers.
And now we're in the middle of the strangest BART Board race ever.
The only Republican elected official in San Francisco is running for a seventh term, against a Democrat who just moved to town a couple of years ago – and doesn't have the support of the local Democratic Party.
The Republican, James Fang, has the strong backing of a lot of leading Democrats and organized labor, particularly SEIU Local 1021, which represents BART workers. The Democrat, Nick Josefowitz, is a supporter of Mayor Ed Lee (who endorsed Fang) and is being derided as a "millionaire carpetbagger."
The more moderate Democratic clubs and local officials are supporting Josefowitz, but the Labor Council is backing Fang, and the Harvey Milk LGBT Club took no position.
Both sides are spending money attacking the other, and the Josefowitz campaign has put out what has to be the most over-the-top personal attack piece that I've seen in this town in years. And that's saying something.
The reason this has become such an interesting and heated race: Fang – who is not known as a left/liberal by any stretch – was the only BART Board member to side with the workers in the BART strike.
Fang walked the picket lines with the union members. He spoke out against the anti-union consultant that the BART general manager hired. And he has worked since the strike to analyze what went wrong and to make sure that worker rights are protected in the future.
In other words: Fang did what you would expect the more progressive board members to do – and they were on the other side.
Labor takes this stuff seriously, particularly after a brutal and bloody strike. Unions support their friends – even when those friends are somewhat odd bedfellows. And Local 1021 has been organizing to make sure that Fang gets another term.
It was because of labor support for Fang that Josefowitz didn't get the Democratic County Central Committee – quite a remarkable outcome in a race that pits a Democrat against a Republican. Same for the Milk Club, which is hardly known for supporting GOP candidates.
Gabriel Haaland, a political coordinator for 1021, told me that supporting a Republican wasn't a stretch at all. "When a Republican comes out in favor of same-sex marriage, we don't blast him for being a Republican, we praise him for doing the right thing," Haaland said.
That's absolutely correct. That's what labor unions do. And in this case, the Democrats on the BART Board created the conditions that led to a strike that left two dead; you can't blame labor for supporting the one person on that entire screwed-up board who stood with them when it counted.
And into this situation marched Nick Josefowitz, a recent arrival to SF who clearly has an interest in getting into local politics. But this wasn't the race he expected.
Two years and counting
Josefowitz describes himself as a "solar entrepreneur," and indeed, he founded a company in Europe that invests in clean power. But he's hardly a rags-to-riches guy or someone who came from modest means to start a successful company. His family is wealthy, with a fortune that some estimate in the hundreds of millions of dollars. His father, Samuel, is a European art collector.
Josefowitz moved to San Francisco and first registered to vote in 2012, according to Department of Elections data. Since then, he has lived on his family money and his wife's income (she works at Groupon), he told me.
They have a nice house in Pacific Heights that's owned by a limited liability company he set up to buy it. Fang's allies have set up a website called millionairecarpetbagger.com  that claims he's living in a "$17 million dollar mansion." Zillow estimates the 5,500-square-foot house is worth about $12 million. Whatever; it's expensive.
Josefowitz told me that he grew up in considerable comfort and that, yes, his family is wealthy. "I could say the same thing about James Fang," he noted – and that's also true.  Fang's family has been very successful in the printing and publishing business, and at one point owned the San Francisco Examiner. I don't think Fang grew up with anywhere near the money Josefowitz did; his father was an immigrant who built the family business out of very little.  But the Fang family is now wealthy and politically influential.
Josefowitz donated $10,000 to Mayor Ed Lee's campaign, and shortly afterward was appointed to the Commission on the Environment. He has time and energy, and told me that he thinks the BART Board needs new blood.
He has identified some long-term serious issues at BART, including an obsession with suburban extensions at the cost of the urban core, the constantly-broken escalators, and the lack of late-night service. He is saying all the things that would normally make transit-advocates and environmentalists listen; he has the backing of the Sierra Club.
But this campaign can't possibly operate outside the context of the strike.
The James Fang story
I've known James Fang since he first ran for office as a young guy a quarter century ago. His family ran Asian Week and the Independent; he got a job at City Hall, and some reporter from the Chron found his resume and it turned out he had claimed to have finished law school when he was really one credit short (and was trying to take that credit at the time).
I thought the whole story was pretty bogus, since it was thin and there weren't any real issues there; I thought he was a young Asian man getting a raw deal from a big daily newspaper. I still think that was true.
In the 1980s, I felt a certain kinship with Asian Week and the Independent – they were locally owned newspapers in a city run by a giant corporate chain monopoly. We would come to differ on some major, critical issues (they Fangs went after then-Mayor Art Agnos with a vengeance, and later as owners of the Examiner were strong – embarrassingly strong — supporters of Willie Brown.)
But my biggest problem with James Fang came after I broke a story in 1992 on a BART police officer shooting and killing an unarmed African American man. The young man was walking away; the BART cop shot him in the back, with a shotgun. There was no possible justification for it. BART tried a cover-up, then ignored the evidence and let the officer completely off the hook.
I called Fang and asked him how the hell the BART cops could kill people with impunity, and zero civilian oversight. I asked him if he would call for the BART Board to better monitor the BART Police. He never did a damn thing. Neither did any of the other board members.
At the time, I wrote about watching the play 1776 in New York. In the opening scene, John Adams complains about trying to make sense of Revolutionary War politics:
"I have come to the conclusion that one useless man is called a disgrace, two are known as a law firm, and three or more become a Congress."
And I wrote: "Count to nine and you have a BART Board."
Not one member of that agency seemed to care a bit about a BART cop killing a kid in cold blood, and getting away with it. It took another shooting – in 2009, with cell-phone cameras recording the event – for BART to develop even a modest civilian-oversight program for the cops.
So James and I haven't always been best buds.
Fang is the publisher of Asian Week, which recently came out strongly against Prop. G, the anti-speculation measure. That's not surprising – but shortly afterwards, Fang's campaign got a $10,000 donation from the SF Board of Realtors.
Prop. G is kind of a make-or-break litmus-test issue for a lot of progressives this fall. Turns out, though, the Josefowitz is also against Prop. G – and he told me that he personally went to all of the members of the Board of Realtors looking for their support. So there are no tenant advocates in this race.
Fang is a landlord; he owns a modest rental building on 5th Avenue in the Sunset. In 2013, his tenants filed a complaint with the Rent Board alleging that the place had no heat, that the back stairs were rotting away, and that the roof was in such bad shape that water leaked into their rooms when it rained.
"We had to call a building inspector," Emmaly Wiederholt, one of the tenants, told me.
She said – and the Rent Board complaint confirms – that Fang had told Widerholt and her roommates when they rented the place that the heat didn't work, and that he would subsidize space heaters for them. "I was 23, just looking for a place to live, I didn't know that the law required heat," she said.
The complaint went to mediation; the tenants withdrew their charges and Fang agreed to make all the repairs and allow the tenants to deduct $6,000 from the rent over the next year.
According to Widerholt, the place has since been re-roofed and the stairs were repaired.
Fang told me that he hired a roofer who didn't fix the problem, then hired another who couldn't do the work until the rain stopped. "I wasn't as responsive as the tenants wanted," he acknowledged.
"But I think this is just garbage my opponent is trying to pick up."
Democrats for Fang
When I first met with Josefowitz a month or so ago, he seemed a little startled by the response of the Democratic political establishment to his campaign. Fang may be a Republican, but his family has strong ties to former Mayor Brown, Rep. Nancy Pelosi, and Sen. Dianne Feinstein; all of them support James for BART Board.
More important, Fang took on his colleagues during the labor negotiations. "The board wasn't meeting, and management was delivering these demands and saying they were the board's final offer," he told me. "I joined the picket lines because there was nothing else I could do to show my frustration; you have to treat people with respect."
The strike was more than a passing thing. It became a major statewide issue, and led a number of politicians to call for a ban on transit-worker strikes. For labor, the BART Board's position – and the subsequent attack on one of the most fundamental rights of a union – is much bigger than any other issues in the BART race. The strike has turned what would have been a pretty small-time campaign into a very big political deal.
Josefowitz told me that he didn't think the BART strike was necessary, and he doesn't support a ban on transit-worker strikes. Of course, he has the support of Tom Radulovich, who was the board president during that fiasco.
And while Fang is hitting Josefowitz on his family money, Josefowitz launched one of the most amazing hit campaigns I've ever seen: He sent out a flier saying that Fang is one of the five most corrupt politicians in San Francisco history, and comparing him to a public defender who murdered a woman.
The gist of his issue: In 1995, Fang sent $2,000 in illegal contributions to the campaign of Mayor Frank Jordan. He agreed to pay a fine. That's bad stuff, of course, but is it the same as killing someone?
And does it make him one of five most corrupt politicians in SF history? Haaland doesn't think so:
I was very surprised by the mail hit piece by Nicholas Josefowitz's political consultant on James Fang. For lots of reasons really. Comparing a 20 year old ethics violation to a murderer of a widow shows a level of unprofessionalism that I didn't realize they were capable of in this "business."

Apparently Dan White, who murdered Harvey Milk, the first gay elected official in SF and George Moscone, the Mayor of San Francisco, doesn't rank as one of the five worst corrupt politicians in SF History.
Josefowitz told me that the "top five" categorization was pretty random – "It could be the he's only number eight."
Still: Serious nastiness in a low-profile campaign.
One of Josefowitz's other mailers calls the BART Board race "the most important vote you will cast this fall." Actually, no – it's not. A lot of people argue that the Campos-Chiu campaign is the biggest deal, at least for voters in the 17th Assembly District. Citywide, the anti-speculation tax is certainly more important, and you could throw some other ballot measures in there, too.
But for labor, this campaign is a chance to send a message to the BART Board as a whole: You force the workers out on strike, you will be held accountable. If Fang wins, despite all his challenges (including his party affiliation), other members will be thinking about that the next time the unions come to the table.
Josefowitz didn't cause the BART strike; he'd barely been in town a year when it happened, and he had connection to it at all. We don't know why James Fang decided to join the picket lines (after apparently ducking a contract vote on the anti-union labor negotiator).
But we do know that labor sees this as a critical campaign at a time when there's so much sentiment against transit workers and when BART employees have been demonized in the news media and used as political fodder by ambitious politicians.
That's why Nick Josefowitz, a man who would be a local politician (and there's absolutely nothing wrong with that, and he may have a lot to offer) might just have picked the wrong race, at the wrong time.
Full disclosure note: While I try to raise enough money for 48hills to actually pay myself a living wage, I'm taking on outside work. I am a guest lecturer at City College, and use my stories on the BART police (and the failure of the BART Board) as a classroom example. I teach at San Francisco's State's Osher Institute of Lifelong Learning, and recently did a class at USF. I have been paid the princely sum of $50 to speak at a friend's journalism classes at the Academy of Art University.
As a freelancer, I am helping edit the member newsletter of SEIU Local 1021, a union that supports James Fang. I am trying to help my old pals at the Bay Guardian, which supports Josefowitz, put out a final commemorative issue. I  am also on the board of Legal Assistance to the Elderly, which is losing its office space in mid-Market because of tech-driven rent increases; I get paid nothing for my board service. I am volunteering to help the Bernal Heights Neighborhood center restart its bimonthly newspaper, The New Bernal Journal, although I am way behind on that effort.
I will continue to update any future conflicts in the unlikely event that anyone else out there offers to pay me for anything.