Absentee ballots are on the way; we offer some help. Plus: VisionSF packs the house, your editor debates housing policy … and will Ed Lee veto part of Eviction 2.0?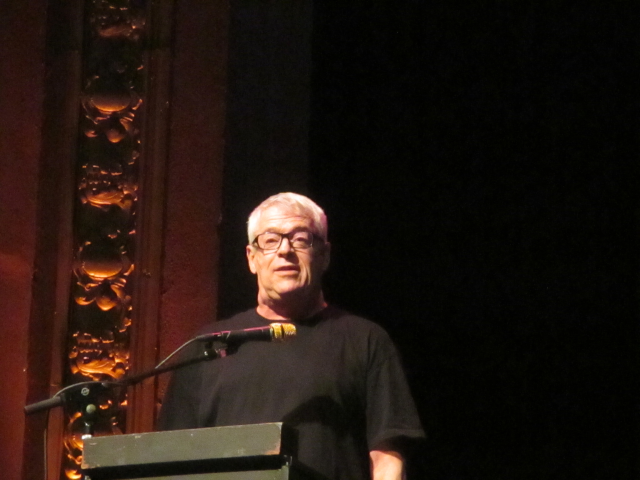 By Tim Redmond
OCTOBER 5, 2015 – The local political campaigns will be in full gear this week, because it's pretty much Election Day.
Absentee ballots arrive in the mail starting Oct. 6, and since more than half, probably far more than half, of the people who vote will vote by mail, the net few days are crucial. Most people who use mail-in ballots vote pretty quickly after the packet arrives (although some wait and turn it in on the final Election Day.)
I'm not a permanent absentee – I tend to vote the first Tuesday after the first Monday in November, just because I've always done it that way and there's something festive about going to the polls and seeing (I hope) a lot of my neighbors and getting the little red "I voted" sticker. So my mailbox has been rather empty – just a couple of (weak) No on F mailers and the DCCC slate card.
(On the No on F: Clearly, with $8 million or more to spend, the campaign team has done extensive polling and focus-group work to try every possible message, and the one that seems to work best is this nonsense about people spying on each other. First, there's already a private right of action in the law – in other words, whatever they are allegedly worried about, it should already be happening. And seriously: Does anyone in San Francisco need a pair of binoculars to see what their neighbors are doing?)
We don't do endorsements at 48hills, but lots of other groups do, and it's not hard to figure out where your friends and allies are on the issues. There are some screwy ones – the local Democratic Party has been hijacked by the Board of Realtors and Airbnb, so unless you are on board with those operations, you might want to keep in mind who is paying for that slate.
And I don't personally agree with every endorsement position that every group in the general progressive universe has taken, but again: If you don't know how you feel about some of the measures, there's certainly a consensus among most of the left groups in town on the housing agenda.
If you're looking for advice from tenant and affordable housing groups, the SF Tenants Union and the Council of Community Housing Organizations both have slate cards. From the environmentalists, the Sierra Club suggestions are here. Here's the League of Pissed-Off Voters. SEIU Local 1021 is one of the most progressive unions in town; it's slate is here. The Harvey Milk Club is always the left wing of the queer movement, and you can see what that club suggests here. AFT 2121 represents the teachers at City College; check out its endorsements here.
If you're of the right-wing conservative bent, here's what the San Francisco Republican Party thinks. The SF Police Officers Association seems to think its still 2014. If you're into big business, here's the SF Chamber of Commerce slate. The Alliance for Jobs and Sustainable Growth represents business interests and the most conservative labor groups (including the POA); if that's your thing, you can find the group's recommendations here.
Those are just a sample of the citywide groups; if I left yours off, let me know and I'll try to update.
The point is, there's plenty of advice out there if you're confused, and since this will be a very low-turnout election, every single vote counts. If your ballot just arrived in the mail, fill it out. If not, be sure to show up Nov. 3. There's so much on the line.
VisionSF had its kickoff event Saturday, and the Brava Theater was packed. Hard to get 200-plus people out on a Saturday afternoon, up against Hardly Strictly Bluegrass on a nice sunny day, but the turnout showed how much political unrest and even anger is out there is a city that's under more pressure than I've ever seen.
Author David Talbot, who was one of the founders of the group, noted that "San Francisco, the city of dreamers, rebels, artists, has become a city of greed." Sara Shortt, director of the Housing Rights Committee, noted that the city "has become a company town, with luxury housing popping up like cancer." The reason that there are several housing measure on the ballot, she said, is "because we couldn't make the change at City Hall."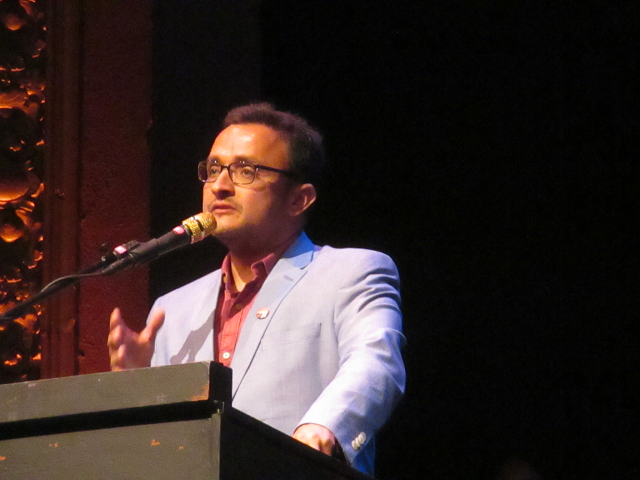 Sup. David Campos spoke about the attitude of "supply-side economics" at City Hall and noted that the dominant idea was "you build housing for the middle class and poor people by not building housing for the middle class and poor people."
Perhaps the most dramatic moment came from Cleve Jones, long time activist and City Hall aide to Harvey Milk, who recalled the tragic day when Milk was shot. "I thought it was over," he said. "Everything we had worked for, it was over.
"But then the sun went down, and at Castro and Market, people just gathered with candles, and we marched in silence to the Civic Center. And we filled the plaza, and I looked around at all those lights and thought, this isn't over. It's just begun."
Inspiring words for tough times. Now if all of us can just get off our asses and vote …
So far, the Yes on I campaign, which is pushing the 18-month breather on luxury housing in the Mission, has operated entirely on individual donations coming in the door. But this week, on Thursday/8, the group holds it's one and only fundraiser – "Latin Legends of Rock" at the Roccapulco Dance Club, 3140 Mission. The event features some 20 bands, including Leo Rosales of Malo and the Latin Rock All Stars, John Calloway, John Santos, Marcus Lopez Mission Varrio Project, Dr. Loco and DJ Bobby A, and more.
And all for just $20. The fun starts at 6pm.
And speaking of fun: You can come and watch the editor of 48hills, who is me, debate and discuss housing policy and the fall ballot measures with Kim Mai Cutler of TechChrunch and Cory Weinberg of the SF Business Times Wednesday/7. The moderator will be KPFA's Brian Edwards-Tiekert.
Kim-Mai is the one who wrote the much-discussed story about the roots of the local housing crisis that featured burrowing owls and vomiting anarchists. I have a different perspective (although I agree with her that it's crazy that Mountain View and Cupertino and the Silicon Valley cities can get the tax money from huge tech offices without ever building any housing at all.)
Should be fun and lively. It's at the Bayanian Center at 6th and Mission, 6pm.
The guessing game over whether Mayor Ed Lewill dare to veto e part of the anti-eviction legislation that passed with just seven votes is still on; he hasn't acted on the bill yet. He has until October 9 to sign or veto; if he does noting, it becomes law without his signature. We will be reporting on it when it happens, but you can also follow the fate of the measure here.