Nature is healing, the arts are returning, Hamilton is rising again at the Orpheum… As the city and state "reopen" this week, it may feel like a mad rush back into those tiny concert/theatre seats—even as most venues are still figuring out their next steps.
Many of our big institutions, like ACT, are remaining virtual this year, which is perfectly fine! Some, like the GLBT History Museum—perfect from Pride Month, since it's displaying the original Rainbow Flag—have reopened at limited capacity with reservations encouraged. (Remember there's nothing wrong with taking things at your own pace, either.)
We'll still be reckoning with how obvious it became in the disaster how far down the priority list the arts were compared to, say, the powerful restaurant lobby or politicians' personal hairstylings, but I'm hoping we can take that stinging knowledge into the future, building strong foundations together to make sure local arts and artists are given the support and protection they deserve.
And of course, many arts venues are still wondering if they can even keep the lights on after a disastrous 15 months, even at full capacity. Throw them some of your Biden bucks, if you can.
The very good news is that San Francisco is doing great in terms of COVID vaccination and infection rates. And soon we'll be nestled near the proscenium again, the lights dimming in anticipation of some terrific performances and experiments. (And some not so terrific, I miss those too!)
Going forward, I'm going to be listing both in-person and online events—and will be doing my best to find out if venues are requiring proof of vaccination, which is entirely legal and up to the venue itself. (We may soon even have an electronic verification system to fight against vax card fraud). Let's gooooo!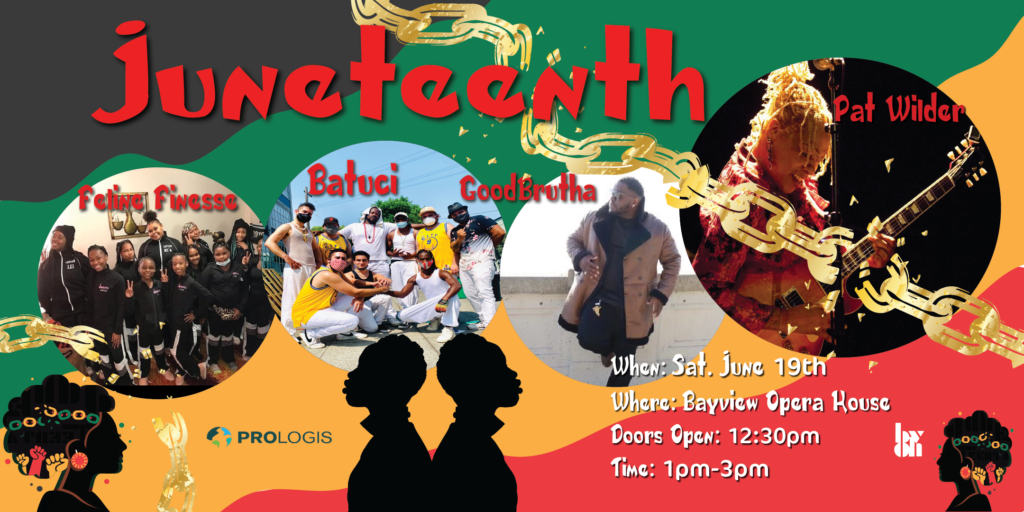 JUNETEENTH EVENTS SAT/19: Celebrations of this essential holiday that commemorates the anniversary of emancipation from slavery will be a bit muted—most big in-person gatherings have again been delayed a year—but there is still plenty of exuberance. The Bayview Opera House will be hosting its first in-person event outdoors, 1pm-3pm (more info here): "The outdoor stage will be rocking all afternoon with live drumming from Bateria Batuci, poetry by Queen Niyah, original dance numbers by Feline Finesse, Hip Hop performances by XPress and GoodBrutha and a set by Pat Wilder and her band."
The Museum of the African Diaspora will host a day of online activities (more info here), including a kickass-sounding panel "Rock 'n' Roll Heretics: Shredding While Black and Female" and a celebration of African American social dances. Grace Cathedral's Juneteenth: A Celebration of Freedom features one of my favorite DJs, Nina Sol of Oakland, playing gospel, blues, R&B, and house from the great altar, 10am-1130am on its Youtube and Twitch channels (more info here). And CUESA, MegaBlack, and The Ferry Plaza Farmers Market bring us an in-person Juneteenth on the Waterfront from 8am-2pm, "a day of fun, community, and delicious, handcrafted food at the Embarcadero Ferry Terminal Plaza" with an amazing lineup of Black food vendors (more info here).
MORE EVENTS OF NOTE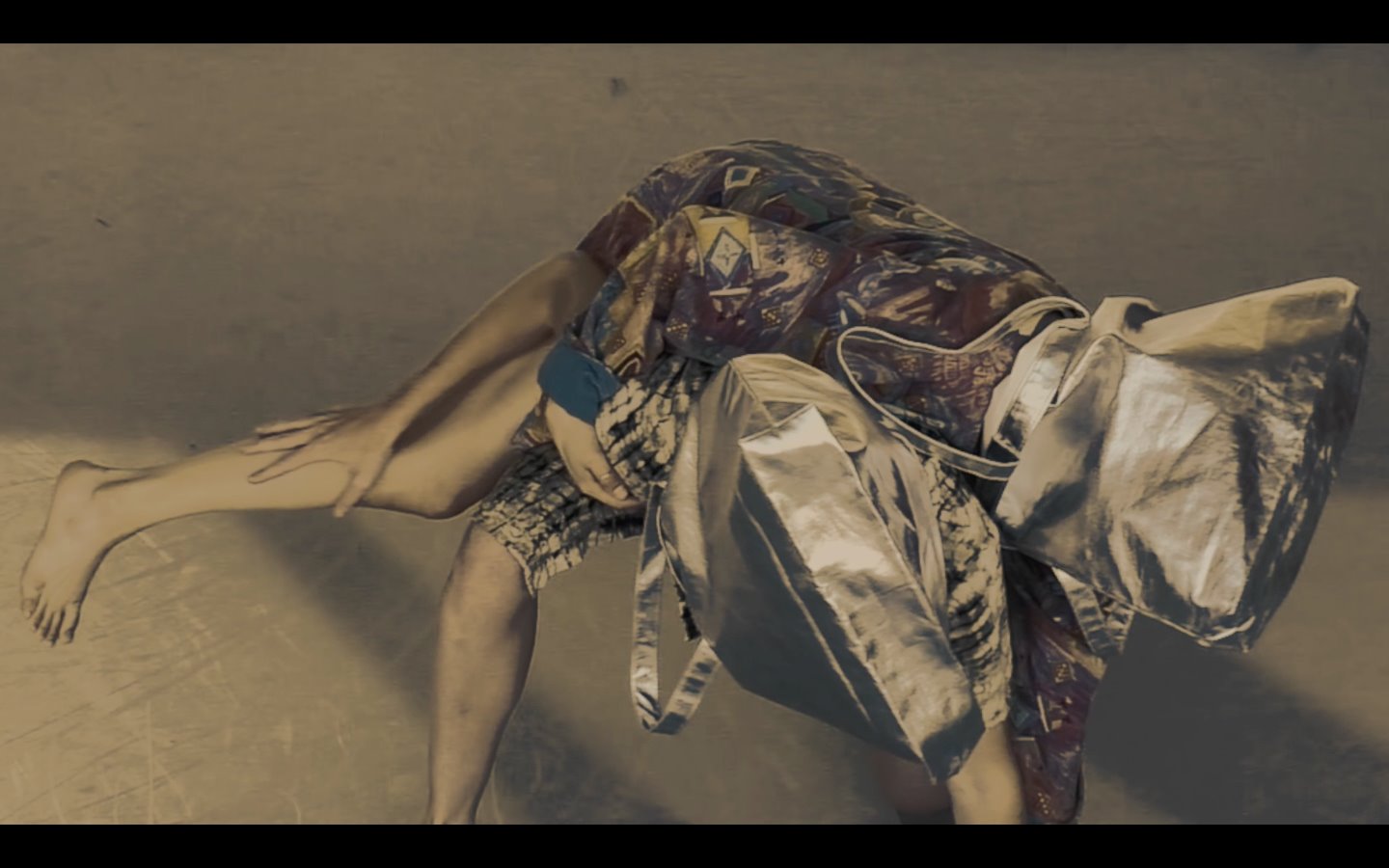 THU/17-SUN/19: "THE JUST IN CASE WOMAN" (IN-PERSON) A dance installation with live performances that encompasses "Feminist Perspectives on Survival and Safety," and features 3D elements, audio soundscapes, and video, with somatic artist Diana Lara, visual artist Kim Campisano and contemporary dancers Gizeh Muniz and Amy Wasielewski. "The Just In Case Woman explores the relationship between survival and the search for safety in the 21st century. The installation features an array of chambers that will explore the changing roles, responsibilities and expectations of women in our fast paced, complex, and unsteady world. This work invites audience members to deconstruct personal survival and the search for safety through a critical lens—looking at how women are impacted by the broader economic and social systems that govern society. Mission Cultural Center for Latino Arts, more info here.
THU/17: SARAH SCHULMAN IN CONVERSATION WITH MATTILDA BERNSTEIN SYCAMORE (ONLINE) "Sarah Schulman discusses her new book Let the Record Show: A Political History of Act Up New York, 1987-1993. Based on more than two hundred interviews with ACT UP members, "Let the Record Show" is the most comprehensive political history ever assembled of ACT UP and American AIDS activism. In just six years, ACT UP, New York, a broad and unlikely coalition of activists from all races, genders, sexualities and backgrounds, changed the world. Their activism, in its complex and intersectional power, transformed the lives of people with AIDS and the bigoted society that had abandoned them." 7pm on Zoom. More info here.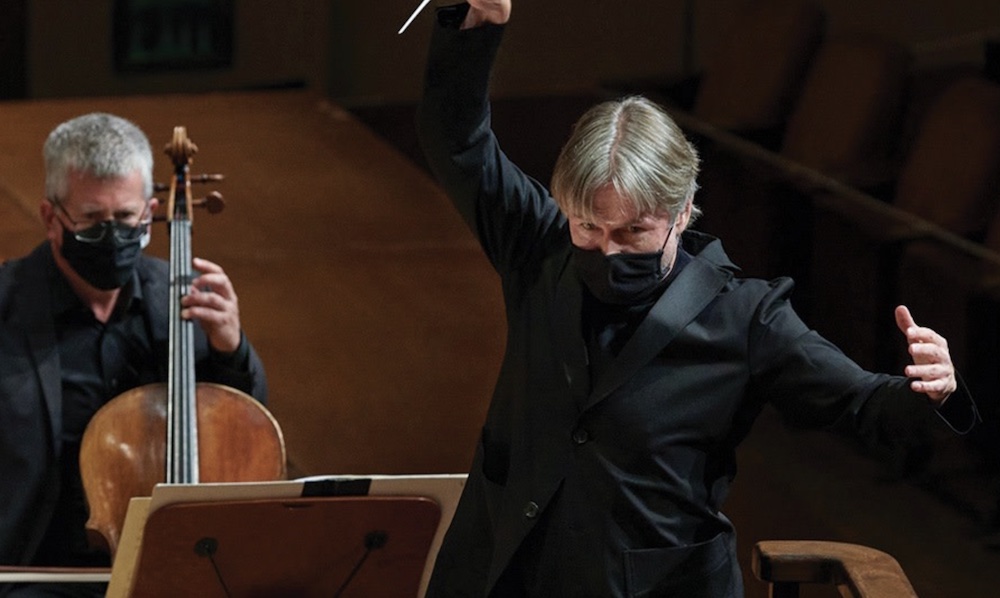 Thu/17 & FRI/18: ESA-PEKKA SALONEN LEADS THE SF SYMPHONY (IN-PERSON) Finally! The Symphony is back, with its new maestro finally getting to unleash his incredible chops. "Music Director Esa-Pekka Salonen leads the SF Symphony in the US premiere of Daniel Kidane's Be Still (a reflection on 2020), along with the teenaged Richard Strauss' charming Wind Serenade. Grammy Award-winning violinist Augustin Hadelich rounds out the program with Johannes Brahms' legendary Violin Concerto." Vaccination required. SF Symphony Hall, more info here.
THU/17: "WHO'S YOUR MAMI?" PRIDE COMEDY VIRTUAL CELEBRATION WITH MARGA GOMEZ AND FRIENDS (ONLINE) Gotta get some queer funnies in for Pride! This Zoom version of the popular Brava Theatre comedy series has got plenty: "Co-Headliners Sampson McCormick (BET, Viceland) and Sandra Valls (Showtime, HBO) will be heating up the bandwidth with sizzling gay comedy. Also appearing will be the delightfully deadpan comic Karen Ripley (LOGO) who began her gay comedy career in 1977, and Brava favorite, Jesús U. BettaWork ("Best Gay Comedian" Bay Area Reporter). Marga Gomez, shouted out by the NY Times for an 'outsize personality no Zoom window could contain,' will be hosting." 7pm on Zoom. More info here.
FRI/18-AUGUST 15: QUEER VISIONS (IN-PERSON) This gallery show at Haight Street Art Center is going to be so cool, and not just because my Stud family is involved. "The STUD Pin Archives, the Queer Ancestors Project, Todd Trexler Posters, Katie Gilmartin, Amir Khadar, Gayface, Eye Zen, Dark Entries, and Openhouse are all collaborating for an exhibition that brings together LGBTQ+ artists and institutions to explore the role of nightlife in the creation of queer community in San Francisco—as well as the importance of chosen families and genealogies in the shaping of individual queer identities." There are going to be records, buttons, posters, and tons more ephemera from nightlife past and present. Haight Street Art Center, more info here.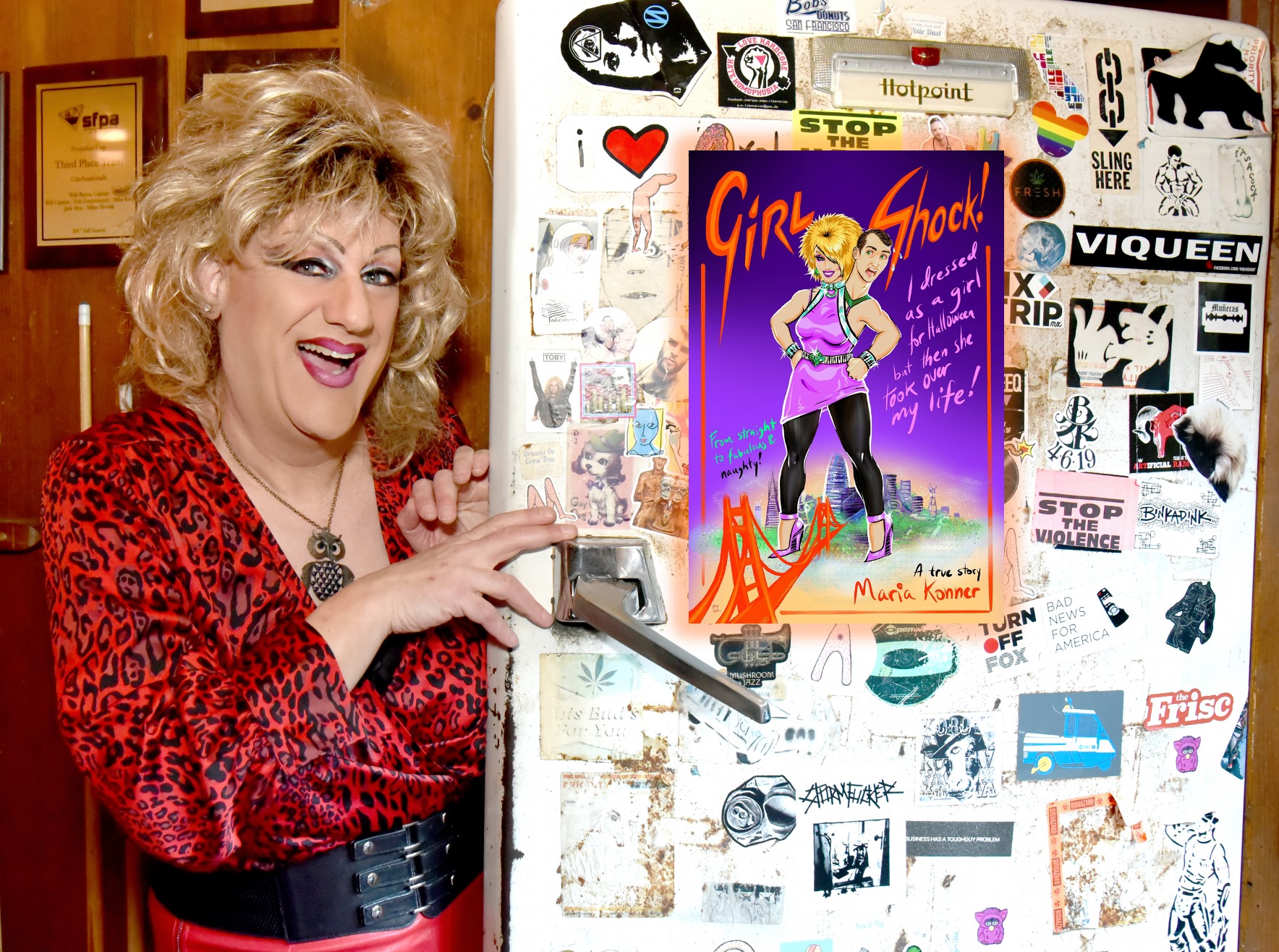 SAT/19: MARIA KONNER GIRL SHOCK! BOOK LAUNCH (IN-PERSON) Maria Konner is one of our true treasures. She's just written a book about how she went from a suburban tech worker "normal" guy to dressing up in women's clothing, finding happiness, and hitting the town, from beloved trans bar Diva's (RIP) to the still thriving Cinch on Polk Street. Celebrate the release of this fabulous memoir at the Cinch itself, where she'll take to the piano for a singalong and sign Girl Shock! The Cinch, 5pm-7pm, more info here.
SUN/20: 48HILLS PRESENTS GENDERATION AT FRAMELINE FEST (IN-PERSON) We are so pleased to be a part of getting this movie out to the world! "In 1999, a groundbreaking documentary on gender fluidity hit the screen; Monika Treut's Gendernauts (Frameline23) illuminated the shifting nature of gender through the eyes and lives of several unapologetic, iconic San Franciscans. Twenty years later, Treut returned to the city to document where time and life have led the pioneering gendernauts. Annie Sprinkle, Sandy Stone, Susan Stryker, Stafford, and Max Wolf Valerio all return to the screen in Genderation, still breaking the mold as gender visionaries, but now grappling with a changing city and the challenges of aging in America." Roxie Theater, 3pm, more info here.
SUN/20: MANIFESTO SCREENING (IN-PERSON) We absolutely adored local performer Rotimi Agbabiaka's fabulous stage show "Manifesto" when it premiered two years ago. Now, it's become a movie, and you can watch it in-person at Brava Theatre! Using comedy, drag, music, dance, and 'an endless parade of captivating characters and scenes,' Rotimi Agbabiaka's solo film, directed by Edris Cooper-Anifowoshe, gives an inside look at the terminally inequitable entertainment industry and then leaps forward to imagine the future of revolutionary art in a time when diversity is on trend. Hailed as a 'lightning bolt of insight and delightful bitterness,' Manifesto shines an illuminating light on the triumphs, failings, and absurdities of our current moment." Vaccination proof required. Brava Theatre, 7pm, more info here.
Main photo: Rotimi Agbabiaka in 'Manifesto'