The supporters of Sup. Scott Wiener are trying to downplay the stunning victory of Sup Jane Kim in the primary of their state Senate race, explaining that Kim's narrow victory was just a "Bernie Bump." The theory: After Senator Sanders endorsed her, his supporters all voted for her, and in November, with Sanders not on the ballot, they won't show up and Wiener will be victorious.
It turns out that's not exactly true.
Ads Jim Stearns, one of the city's top political consultants, pointed out at a VisionSF forum Friday night, the numbers suggest that Kim got a boost – but not from Bernie alone. Her boost was both a Hillary bump and a Bernie bump; she did well because of the turnout.
"When we vote, we win," Stearns told the mostly progressive audience.
Check out the charts that Stearns put together, that show the margins of victory for Bernie, Hillary, and Jane Kim:
You can see where Bernie won in SF: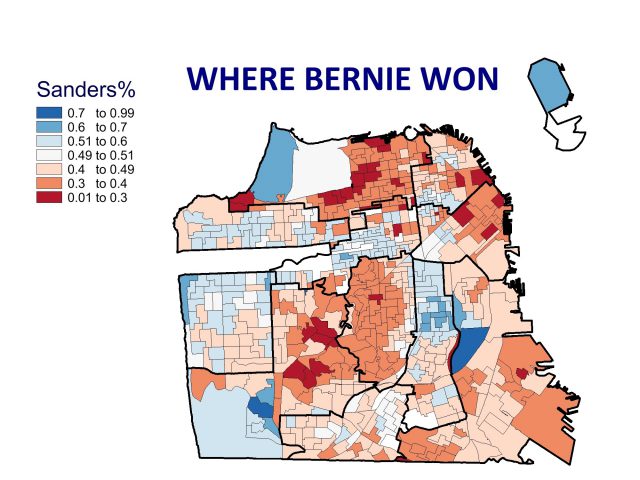 You can see where Jane won in SF: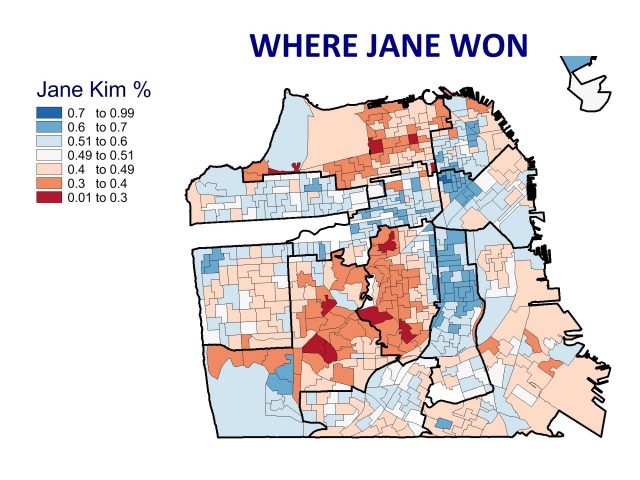 And you can see where Jane beat Bernie: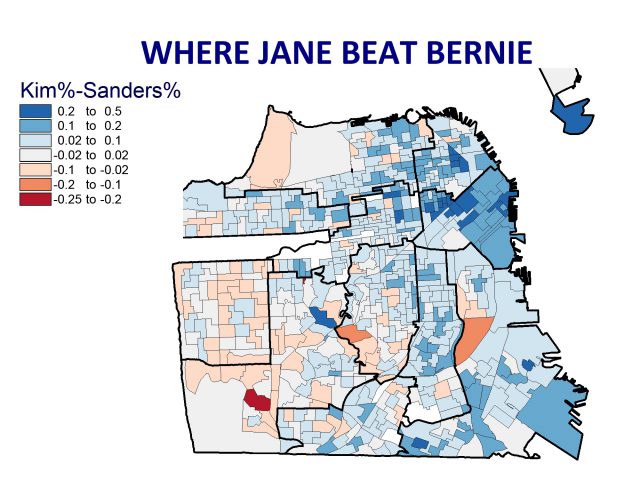 So the only argument the Wiener folks can make, if they want to make it, is that lower turnout helps him. I don't think that flies as a political argument – and I also don't think if flies in November, when turnout will also be high.
Laura Waxmann and Laura Wenus at Mission Local have a great scoop: The Graywood Hotel, which was damaged in the recent fire, was being managed by a very dubious housing startup that has been trying to turn SRO hotels into higher-priced tech-worker housing. The startup, called Negev, has run into problems in the past when tenants displaced by fire weren't able to move back in – because their low-cost rooms had been converted to frat-style bunkbed housing for young employees of tech companies who saw it as similar to college housing:
On its website, Negev offers five locations throughout the city with rooms renting between $900-$2,000. The hotels come with descriptions like "social, ambitious and driven interns," aiming to match tenants with similar interests and personality types.

"People who are paying those prices are also being duped, believing that they are coming into [tech or student] housing," said Bakhta.

Instead, the now burned-out SRO with 26 rooms housed a mix of long-term tenants, fixed-income renters, seniors, families and formerly homeless tenants.

The intern and the student said they stepped into a reality that was quite different from what was advertised.

"The way they promoted it, it sounded like it was was all students living together," said the student.

Some longterm tenants of the Graywood who were "inherited" by Negev after the company took over the hotel's management roughly two years ago said that they had been offered buyouts ranging from $2,000 to $3,000.

"They offered to buy me out several times," said Kimberly Walley, a Graywood resident of five years. "I told them that [money] did nothing for me."

Paul Miranda, a U.S. Marines veteran, and his partner, Michelle Thompson, were also offered a buyout two years ago. The couple had been living at the Graywood for some four years and paid $681 for their room.

"They were trying to be a co-op thing," said Miranda. "The refurbished rooms come with bunk beds and futons. They don't look like our rooms."
In this case, the owner of the Graywood has ended his contract with Negev, but the tenants, some of whom have lived there for many years and are paying way-below-market rents, won't be able to move back in for some time. It's not clear how much the city can do to force the landlord to expedite repairs, but some fear that if time drags out, and temporary housing options expire, the existing low-income tenants will be forced out of the area, and the new tenants will pay much higher rents.
So what the displaced tenants need now, more than anything, is cash – money to pay the much-higher rents they are going to be charged while the landlord repairs the damage to the Graywood – and the much-higher rents that the renters who lived in the two adjacent buildings that are total losses will have to pay, since a building that is demolished and rebuilt is not under rent control and previous tenants have no right to return.
On Thursday/30, El Rio will host a fundraiser to help the displaced people. It's a community effort: The organizers are Sana Saleem, 48hills reporter, and Todd Lappin, who runs Bernalwood, joined by William Fitzgerald and Zach Mellette of Google, and Edwin Lindo, of the Frisco Five. The MC is 48hills Publisher Marke B.
All donations will go directly to the families, and will be matched one-to-one by a corporate sponsor. The Mission Economic Development Agency will process all the donations and will take no fee. $10 at the door, nobody turned away. El Rio is kindly donating all the bar proceeds from 8pm to midnight.
Should be a great community event.
The Board of Supes takes up the Affordable Housing Density Bonus again Tuesday/28. Last time around, after some complicated discussion with the city attorney, the item got continued.
It's a test of the politics of the Board – Sups. Aaron Peskin and Eric Mar have a version, Sup. Katy Tang has a version that the mayor likes, and unless there's a middle ground that they reach somehow, the swing votes (like Board President London Breed) will have to decide which side of a close vote they want to be on.
So guess what? The SFMTA wants your opinion about the Google buses. Sort of.
The agency has been forced to do a study of alternatives to the giant tech shuttles clogging up neighborhood streets (and driving up housing prices). The concept, promoted by Jane Kim and others, is that the shuttles could "stage" somewhere on the edge of town, and the people who ride them could (gasp) take Muni or ride bikes (like the rest of us) to get to the staging area.
Where would that be? That's what the MTA wants to know. The survey doesn't ask the key question – would you like to get the tech shuttles out of the neighborhoods and prevent traffic problems and displacement? – but if you respond with an alternative, maybe that vote will count.
You can go to the link here.
An out-of-town landlord is trying to evict a 99-year-old from her home in the Western Addition. Iris Canada, who has lived in the Page Street unit since the 1940s, won a court victory that allows her to stay – but only if she pays the landlord's attorney's fees, which are more than $150,000. She clearly can't afford that.
There's some sticky stuff about her signing away her limited rights to the unit so the landlord can convert to a condo, but the bottom line is that she's 99. And she's going to be evicted so somebody else can make more money on the unit.
There's a vigil for Canada Monday/27 at 6pm, 670 Page Street (at Fillmore).
The Soma Filipino community is deeply unhappy with the deal that would allow the construction of 1.5 million square feet of (mostly market-rate) housing and office space at Fifth and Mission. The South of Market Action Committee is holding a fundraiser Thursday/30 to help fund the battle to block this gentrification bomb. Special guest is my friend David Talbot, author of The Season of the Witch. 5:30pm, Soma Grand, 1160 Mission. Details here.
The movement to make City College free is growing. The Budget and Finance Committee will be discussing Wednesday/29 a proposal by Jane Kim to put a measure on the November ballot raising taxes on real-estate sales of more than $5 million – the "mansion tax." That would raise enough money to allow SF residents to go to City College free. It's a potentially huge deal both for low-income San Franciscans and for City College, which would see a huge enrollment increase. There's a rally Tuesday/28 on the steps of City Hall to support the plan. You can sign the petition here.
Busy week. Let's get to work.