The Democratic County Central Committee Wednesday night voted to endorse Mark Leno and Sup. Jane Kim for mayor, leaving the third spot vacant after Sup. London Breed said she didn't want the endorsement.
The vote came after Kim supporters agreed to support Leno for the Number One slot when Leno supporters agreed to endorse Kim as the Number Two.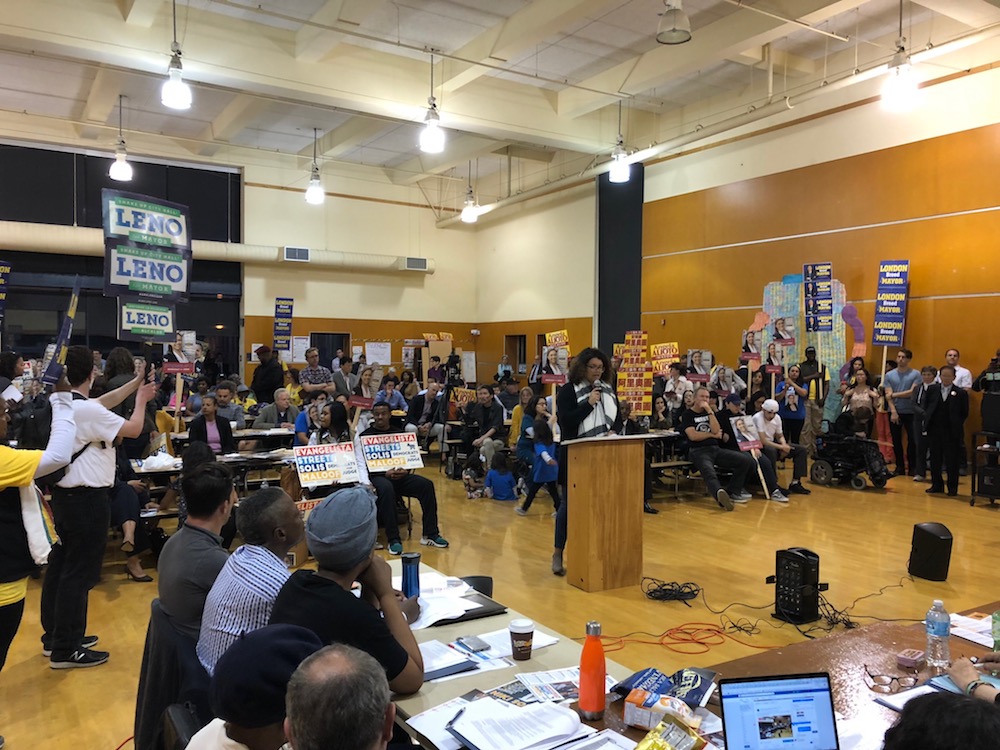 Kim has endorsed Leno as her second choice. Leno has yet to endorse Kim.
The rules of the committee don't allow joint endorsements, and it would have taken a supermajority of 21 votes to change those rules. Enough Breed supporters were ready to block that effort that it would have narrowly failed.
As it is, the two campaigns seem to have agreed that a ranked-choice voting strategy is the only way either of them can win.
The DCCC endorsed Rafael Mandelman for D8 supervisor, but then – oddly — gave Sup. Jeff Sheehy the second slot. They are the only two candidates in the race.
There were some other strange moments. State Sen. Scott Wiener, breaking with the mayor, the police chief, all the candidates for mayor, and anyone else with any sense, voted to endorse the SFPOA measure mandating Tasers for local cops. The committee overwhelmingly rejected Prop. H, but Wiener, along with Angela Alioto, Fiona Ma, and Mary Jung, voted to endorse it.
The panel, now dominated by progressives, voted to endorse Kim's measure for a higher commercial real-estate tax to fund child care – then rejected a rival measure supported by Breed that would use that tax for affordable housing. The rival measure, Prop. D, sets the tax rate much lower – and includes a poison pill invalidating Kim's measure if it gets more votes.
But the four candidates who are running for judge against incumbents got nowhere — even the progressives on the panel sided for the most part with the incumbents.
One of the huge improvements since the progressives and Chair David Campos took over the DCCC: the meetings are now in community centers where this is air and cell service, instead of the tomb where they used to meet in the basement of the state building.
The supporters of Breed, including the independent expenditure committee that is backing her, have been trying to keep Ron Conway's name away from the effort. Conway, who represents the interests of Big Tech and was a major player in the administration of Ed Lee, has given no money to Breed or the IE so far.
But the Big Tech money is starting to show up.
The latest filing of the IE backing Breed (and so far, attacking Leno, but Kim might be a target too) shows a $19,999 contribution from Pia Oien, who lists her address as Woodside and her occupation as the owner of Atelier 414 LLC.
That LLC owns PIA, a San Francisco boutique. Oien and her husband, Matt Cohler, according to reports, also bought the most expensive house ever sold in Marin County. Maybe they don't live there yet.
PIA, the store, is a big deal in the tech world – in fact, Conway was there for her opening reception:
It's not often one sees venture capitalist Ron Conway at a woman's boutique opening — in fact, one has never seen Ron Conway at a woman's boutique opening — but when PIA recently opened its doors in Jackson Square with a festive cocktail party attended by the City's tech industry notables and leading tastemakers, it was clear that this is not to be a run-of-the-mill establishment.
Conway is also somewhat close to Cohler; they have done deals together, and Conway listed him as one of the key people he seeks advice from and one of the folks "I like to collaborate and problem solve with."
Oien has never been a big contributor to local campaigns; Ethics Commission records show only one recent contribution, $500 to Ahsha Safai for Supervisor. Cohler, on the other hand, put $25,000 in 2016 into Progress San Francisco, an Aibnb-funded superPAC that spend most of its nearly $1 million in cash supporting Safai and Marjan Philhour for supervisor.
Safai narrowly won; Philhour lost to Sandra Lee Fewer.
So Conway's not anywhere in any public records backing Breed, although he endorsed her almost immediately after Lee's death and more recently brokered a meeting between Breed and New York Mayor Bill DiBlasio.
But his pals in the tech world are clearly on board with the Breed IE.
Lite Guv Gavin Newsom is running around the state talking about how much he opposes ICE and supports sanctuary policies:
"You are looking at the poster child for sanctuary policy," he said, urging the audience to look up his fiery cable news cameos on Fox News' Bill O'Reilly and Fox Business Network's Lou Dobbs.
But that's not exactly true (nor, by the way, is his claim that he "was the guy who brought you the plastic bag ban." That was former Sup. Ross Mirkarimi.)
In 2008, after an undocumented immigrant killed three people in San Francisco – Newsom started reporting undocumented youth arrested for felonies to ICE. That, as the Mercury News notes, meant deportation for some people who were later found to be innocent.
As then-Sup David Campos told the paper:
"Don't try to rewrite history and portray yourself as a champion of immigrants when you yourself were prominently involved with a policy that led to the separation of families."
But then, Newsom is great at rewriting history. He constantly talks about his support for single-payer health care, saying he made it work in San Francisco – but in fact, he fought against then-Sup Tom Ammiano's efforts to create free local health care and had to be brought kicking and screaming into the room to support it.
Sup. Sheehy was walking through the Castro with Mohammed Nuru, director of public works, when a constituent started asking him about DPW's policy of removing tents and clearing out homeless people. It's all on this Facebook video.
Nuru says – and Sheehy never contradicts him – that there are beds for everyone on the street, that the city will not allow tents on the sidewalks, and that anyone who wants to be inside can be accommodated.
That's just wrong; there are nowhere near enough shelter beds, navigation center beds, or supporting housing beds for even half of the homeless people on the streets.
Check out the video; it's pretty amazing.