The best and most revealing mayoral debate so far – because it was an actual debate – took place last week at the Potrero Hill Democratic Club. (Thanks to Thomas Brown for the YouTube video)
The format was far better than anything we have seen so far: In the first part, the moderator, Marisa Lagos, asked real challenging questions ("what would you do as mayor that nobody else will do?" "What specific policies will you propose to address injustice and historic racism against the African American community?")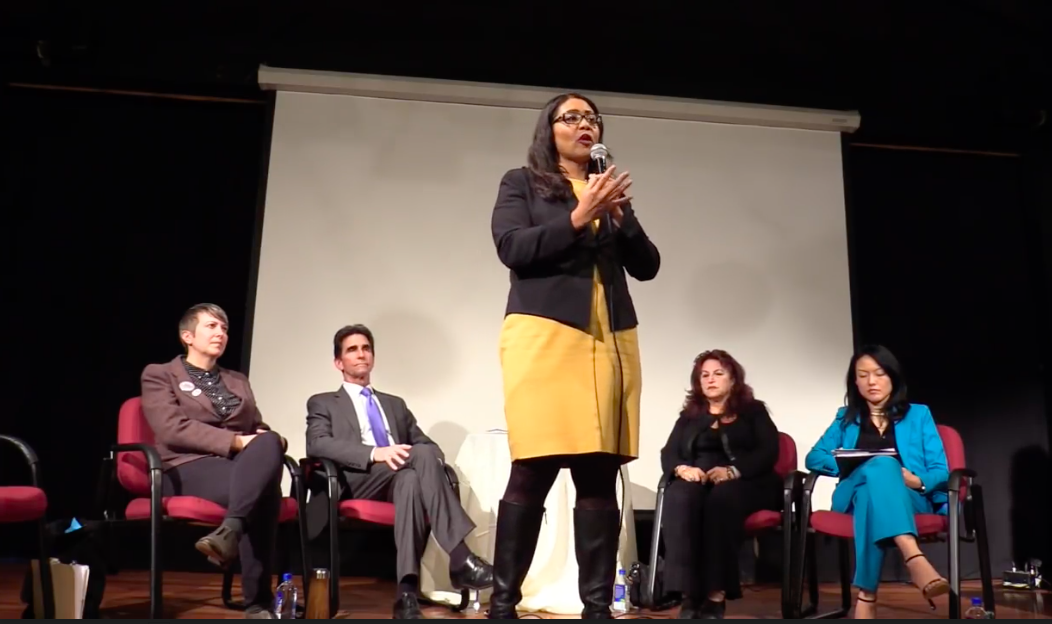 Then the candidates got to ask each other questions. And that's when the sparks began to fly and we got more of a sense of the candidates and how they are different.
Among other things, Sup London Breed said that she didn't vote against effective regulation of Airbnb in 2015.
Amy Farah Weiss challenged Breed on the question, and Breed tried to talk about legislation that came later – after hundreds of evictions and the evisceration of housing stock by a company whose business plan was entirely based on illegal conduct.
When pressed about the 2015 vote on a bill by Sup David Campos tht would have banned Airbnb from listing unregistered, illegal units, she said "That's not what we were voting on."
Actually, that's exactly what they were voting on.
The measure by Sup. David Campos would have required hosting platforms like Airbnb to make sure that every unit they list complied with local law. The competing measure, by Sup. Mark Farrell (with Christensen's amendments) would shift the responsibility completely off the corporations and onto the city and the people hosting visitors.

[Sup. Julie Christensen] moved to eliminate the 120-day cap that Farrell had proposed, and replace it with the existing rules, which allow pretty much unlimited short-term rentals as long as the host is at home.

There is, most agree, no way to enforce that without spying on every one of the 5,000 or so STR units in the city to see who is living there when.

But no matter: She pushed for that, and then asked that the hosts be the ones who have to file quarterly reports on how many nights they are renting out their apartments.

Campos was stunned. "Sup. Christensen's proposals do what I didn't think was possible," he said. "They have made the Farrell/Lee proposal much worse."

The amendments, he said, "shift responsibility to the hosts." He compared it to a rule that would put the onus on hotel guests, not the hotels, to collect and pay the city's hotel tax.

"This is an unprecedented step," he said. "You are turning your back on the hosts to protect a $23 billion company."

But never mind: This deal was done.

The Christensen amendments were adopted, 6-5, with Sups. London Breed, Christensen, Malia Cohen, Farrell, Katy Tang, and Scott Wiener in support.

The Campos bill went down by the same margin.

The Farrell measure was adopted, again 6-5.
Breed voted with Airbnb both times. That's just the record.
It's important that the voters know she was with Airbnb in 2014 as well as in 2015, that she (along with Kim) endorsed the Google buses in 2014 (although in 2016, Kim pushed hard to end the program that allows the shuttles to use Muni stops.  Breed generally sided with Mayor Ed Lee's promotion of the tech boom.
It's also important for voters to know that Kim co-sponsored the Twitter Tax Break and ultimately voted for the flawed Airbnb legislation after siding with Campos' efforts to amend it. It's important for the voters to know that Mark Leno endorsed Scott Wiener – the author of some very bad housing legislation – for state Senate.
The voters need to know that Weiss has never held any elected office or managed or run anything remotely as complicated as the City and County of San Francisco.
As far as I know, Kim has not denied co-sponsoring the Twitter tax break and Leno has never backed away from his endorsement of Wiener, the way Breed seems to be trying to distance herself from her Airbnb votes.
The format of this debate allowed the actual records of candidates to come into play.
Speaking of Wiener, Breed went after Leno about his position on state Sen. Scott Wiener's SB 827, a trainwreck of a bill that would upzone the entire city without providing any new affordable housing. Leno – along with all of the other major candidates – effectively endorsed the bill at the first debate before the conservative United Democratic Club. A the progressive debate, he said he couldn't vote for it in its current form.
Why, she asked, did he change his position?
Now: I think it's fine for people to change their minds if they get new information. And if Breed wanted to say, for example, that she made a mistake voting with Airbnb and later decided more regulations were needed, good for her.
In fact, one of the things I have been pushing every candidate to do is acknowledge that the policies of the past seven years have been bad for the city, and that we need to change. We all make mistakes (I was a part of the Bay Guardian endorsements team for 30 years, and some of the people we supported turned out to be terrible choices. We live with that.)
Leno hedged a bit, said that at the first debate he just endorsed the concept of the bill, and that once he read the City Planning Department analysis, he realized he couldn't back it. Fair to ask about his change in stance.
But what was interesting after that was that Breed seemed to double-down on her endorsement of SB 827. She said that Wiener was going to make amendments to deal with affordable housing, but that she wanted to "make sure that the bill passes."
Angela Alioto then challenged Breed about her position on Tasers. The former supervisor turned trial lawyer said: "When I first met you, you were against officers having Tasers because you said officers were so out of control that they would use Tasers all the time." Now, Alioto said, Breed supports Tasers.
I wasn't there when Breed met Alioto, but I have to say: If Alioto's recollection is accurate, then Breed made a statement that's entirely true and she should be proud of.
But she's not. Instead, she said that "after discussion it with people in my community, I hate guns, and if a Taser is going to stop [police shootings] I will support that."
Tasers don't stop police shootings. If the cops get them, they will, as Breed allegedly said to Alioto, be out of control and use them all the time.
Kim, in a discussion with Alioto, said she supports a $1 billion bond to build affordable housing (and buy existing rent-controlled housing and take if off the market). Even at a high price of $500,000 a unit (which could come down a lot of the city used existing public land, and built larger multi-unit buildings) that's 2,000 new affordable units. If there's any state and federal money left (and there is some), that could be leveraged into a significantly larger total.
Breed's response was to ask whether that bond would raise property taxes and compete with other priorities (like shoring up the waterfront seawall). She suggested that higher property taxes would hurt people already struggling in the housing market. That's another sign that she is moving to the center.
Kim at first didn't talk about taxes; she said that "in order to make a big dent" in the problem, we need to do something big." But in the end, she said that yes, there will be a slight increase in property taxes, "but we need to prioritize this issue."
Every time the city sells general-obligation bonds, property taxes go up. Landlords can pass half of that increase on to tenants. Commercial property owners, who typically have set leases with tenants, have to eat the increase.
With all of the property in San Francisco, the amounts tend to be small.
Leno took Kim's suggestion a step further: He said that the city should plan for a housing bond once every five years.
Then the discussion got into the complex politics of commercial-rent tax increases. Kim has a measure to raise the tax on commercial rents to pay for free child-care programs. Sup. Ahsha Safai, with the support of Breed, has a measure to raise the same tax to pay for affordable housing.
Interestingly, the Safai measure includes a poison pill: If it gets more votes than the Kim measure, then the Kim measure and free child care dies.
Kim's measure has no such provision.
Kim said that a rich city like San Francisco "has dozens of revenue sources. People don't have to choose between child care and housing."
The biggest clash came toward the end, when Leno challenged Breed around his pledge to denounce and reject any outside superPAC money. "Common cause says superPACs are a disaster for democracy," he said. There are already two of these groups that have signed up to support Breed – and one has already done an attack on Leno, and we have no idea who paid for it.
Breed said she has her own pledge, and "I'm not a follower, I'm a leader."  She said, "I won't tell women to be quiet," and noted that Leno in his 18 years in public life has benefitted from independent-expenditure campaigns.
She asked him if he would return the money he's received from lobbyists; Leno started raising money a year ago, but as of this January, lobbyists can't contribute to local candidates.
Leno said that he has followed every campaign-finance law.
In the debate's most cringe-worthy moment, Alioto said that superPAC spending is corrupt – and told Breed that "as a minority woman you should want a level playing field."
As if "minority" (seriously?) women ever had a level playing field.
Breed responded the same way she has in the past when asked about her ties to the likes of Ron Conway: "All of a sudden, I'm beholden to somebody," she said.
Leno insisted that he never said Breed was beholden to anyone.
There's a difference between calling someone a puppet of special interests and saying that powerful interests want that person to be mayor. They may just share the same basic philosophy of governing; the Big Tech folks may think, without ever talking to Breed, that she is more likely to share their pro-growth agenda.
None of that changes the fact that big money may come into play in this race.
When they were asked what they would do that no other candidate would, we got a sense of priorities. Kim said she would make child care affordable to every SF resident. Weiss said she would create "transitional villages" for homeless people. Leno said he would appoint commissioners who represented local communities, not political hacks, and that he would use zero-based budgeting to find another $150 million in wasted city money that could be put toward housing. Breed said she would push bold ideas "that make us uncomfortable" – like safe-injection sites.
Alioto said she would "clean the streets."
I love this format: Let the candidates ask each other questions, allow time for response, and let a real debate happen that isn't scripted. The Potrero Hill Democratic Club set the standard for the next three months of campaigning.