What a difference two weeks and a different venue makes.
The three leading candidates for mayor all said they supported, more or less, Sen. Scott Wiener's housing bill that would upzone almost the entire city in the first mayoral debate, orchestrated by the economically conservative United Democratic Club. Now they all say they are against it.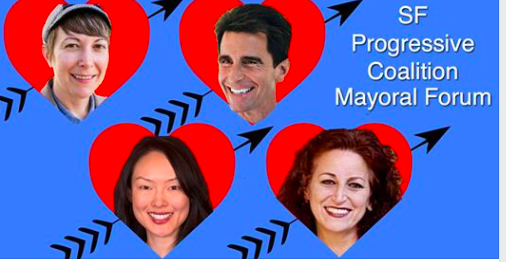 That was one of the key takeaways from Wednesday's debate, hosted by progressive organizations.
Sup. London Breed skipped the event. Angela Alioto, Mark Leno, Amy Farah Weiss, and Sup. Jane Kim all tried to burnish their progressive credentials.
Alioto said she wouldn't back SB 827; in fact, she said she's against higher density on Geary, an area many say is perfect for more housing. "I don't think so," she said. She also talked about the loss of flower stands and the denial of a permit for the 50th Anniversary of the Summer of Love.
Leno said that "as it is written" he "could not and would not" support the Wiener bill. Kim was more nuanced, saying she supported more density on transit corridors — but in the end, she said she would not support the bill in its current form because it gives tremendous new value and wealth to property owners but doesn't include any requirement that they provide additional affordable housing.
That comes in the wake of a scathing report from the SF Planning Department and a growing grassroots movement to block the market-driven measure.
There was, like the first debate, a lot of agreement: All the candidates who showed up support a tax on vacant apartments and storefronts. They all support a municipal bank. They all want to see the city reach 100 percent renewable energy by 2030. They all want to see "dark money" out of politics and want better disclosure rules for superPACs. Leno and Kim both said that addressing the homeless problem starts with preventing evictions.
This is something the left in the city should cheer: Many of the ideas that progressives have been pushing for years are now in the mainstream of the debate.
But Alioto lost any progressive credentials she might have had when she talked about how wonderful the San Francisco Police Department is and how the cops should all be armed with Tasers. "On the whole, SF has an excellent Police Department," she said. "You want the police to come when your baby is choking and you call 911."
Actually, you don't. You want the Fire Department, which is staffed with trained paramedics. That's who responds to 911 calls involving medical emergencies. But never mind; after the Taser comment, nobody took her too seriously.
Leno offered two policy ideas that appealed to the audience. He suggested that the city create a mental-health justice center as an alternative to arresting mentally ill people and putting them in jail. And he said that he would sue speculators who are using the Ellis Act over and over again to clear buildings of rent-controlled tenants and flipping them for profit.
He said that he has always been critical of Uber, Lyft, and Airbnb. He talked about how the "radical" amendments that then-Sup David Campos proposed on then-Sup David Chiu's Airbnb legalization bill now seem to make perfect sense.
Leno did not support Campos over Chiu in that race. 
In fact, he had the most trouble when he was asked about his endorsements. He's running as a progressive – but in the past, supported Willie Brown over Tom Ammiano for mayor, supported Gavin Newsom over Matt Gonzalez for mayor, and supported Wiener over Kim for state Senate.
That's one of the biggest challenges for progressives thinking about Leno: He has a solid record in Sacramento, was a leader in affordable housing legislation on the Board of Supervisors – and has repeatedly supported people who have undermined everything the progressives have tried to do.
Leno said he supported Brown because Brown appointed him to the board, and that loyalty is important to him. That's why he endorsed Wiener, who has always endorsed and supported him.
"Like it or not, I prefer to be judged on the work I do," he said.
He also said that his recent endorsements have included Hillary Ronen, Sandra Lee Fewer, Rafael Mandelman and Matt Haney. 
Kim pointed out that 400,000 people have left San Francisco in the past 15 years, and that our growing economy has also created radical wealth and income inequality.
She offered the bold proposal of a $1 billion bond act for the November 2018 ballot that would go for building affordable housing and acquiring existing housing to take it off the market.
She also suggested that the city create a rental-registry so that the city knows exactly how much rental housing exists and how it's used – which would make it easier to impose a tax on vacant units.
She talked about the medical-respite shelter that she helped open as a 24-hour facility people facing health issues, and putting nurses in every homeless shelter. That has cut the number of 911 calls from shelters.
She wants to raise the public-funding match to 6-1.
She questioned the "build-build-build" mentality, saying that while we need more housing, we also need to make sure the infrastructure is in place. But she stopped short of saying that we are growing too fast and didn't offer a financial plan to make sure that developers pay the cost of growth.
So we got some more information on the candidates. But we still haven't heard anyone say that the policies of the past seven years have been a mistake. I am waiting.
The campaign continues.