ARTS FORECAST Every day is a good day to show Mom love, but this weekend is an excuse to go in big. Mother's Day is on Sunday! You can take her to a sunrise tour of Muir Woods, a sumptuous feast, an all-women mariachi concert (see Flor de Toloache below), the Doris Day Festival at Stanford Theatre, to breeze through aisles of roses at the Hall of Flowers. Alameda is the site of entire springtime fest this weekend for outdoor wanderings 'n' mimosas, flagging in the park is a fabulous place to be festive, SoMa has a matcha fest — you could even entice Mom into checking out the beloved Beach Blanket Babylon on last time before it shuts down, or to scout for treasures at Inner Sunset Flea, or to celebrate heritage at the Stanford Powwow (see below.)
Or maybe Mom just needs a stiff drink and a laugh this year? (Hear you, Mom.) Lisa Geduldig (she of Kung Pao Kosher Comedy) is hosting another super holiday line-up of stand-ups on Thu/9 and this time it is 100 percent madre. Diane Amos a.k.a. the Pine Sol Lady headlines the Mother's Day comedy show, and Flirting With Laughter comedian Emily van Dyke is even taking a moment off of caring for her newborn to hit the stage. Just the ticket if your doting Ma needs a laugh about the complexities of raising your ass.
Plan, book, have a homemade card at the ready. You know she's well worth it. Here's a list of other great excuses to see Mom and have a little culture while you're at it.
THU/9 TALK/DESIGN ON DISPOSSESSION Four graduate student projects from UC Berkeley's College of Environmental Design will be presented. We're talking power relations, late capitalist surveillance states, and the way in which these forces manifest in displacement and misuse of art in urban development. Thu/9, 7-9pm, free. LGBT Center, SF. More info here. 
THU/9 MUSIC MUSH CONCERT SERIES We stan for community station BFF.fm, and its new free concert series in Jack London Square is gonna be a gas. Today is Same Girls and Samplelov with BFF.fm DJs Miles Otway and Transfiguration — come back May 23rd for Bay chanteuses Ah Mer Ah Su and Maya Songbird. 6:30-9pm, free. Jack London Square, Oakl. More info here.
THU/9-SUN/12 MUSIC FLOR DE TOLOACHE This all-female mariachi group is giving the genre a good stretch when it comes to gender roles — and is a phenomenal intro to traditional Mexican musical genres for those just coming to the sounds. Thu/9 shows at 7 and 8:30pm, $30-45. SFJazz. More info here.
THU/9-SUN/12 STAGE ABRAHAM IN FLAMES It isn't often that you get a chance to see an all-new opera delivered, and this piece inspired by Iranian poet Ahmad Shamlou's work and featuring the Young Women's Chorus of San Francisco looks like it could be a welcome breath of fresh air. 8pm Thu/9-Sat/11, 4pm Sun/12. Z Space, SF. More info here.
THU/9 COMEDY VERDI WILD THINGS ARE Nato Green of The Whiteness Album is one of the Bay's comic gems, and here he takes the stage at a 100 year old Italian social club with a lineup of other yucksters. 8pm, $10. Verdi Club, SF. More info here.
FRI/10-SUN/12 COMMUNITY STANFORD POWWOW All ages are welcome at this important gathering for Native communities in and around the Bay. Hand drumming, traditional dancing, on-site camping — even a fun run — make it an important moment, and the 48th year that the event has been hosted on this site! Starts Fri/10, 5pm until Sun/12, 6pm, parking fee $20, camping fee $35. Eucalyptus Grove, Stanford. More info here.
FRI/10 PARTY AS YOU LIKE IT Call Super, Dr. Rubenstein, and Jason Kendig headline this offering from one of the Bay's superlative electronic club posses. 9:30pm-4am, $25. Monarch, SF. More info here.
SAT/11 HISTORY TENDERLOIN MUSEUM FOURTH ANNIVERSARY Vietnamese folk dancing, hip-hop, spoken word poetry at this commemoration of four years of exploring the history of one of SF's most tumultuous yet vibrant neighborhoods. 10am-8:30pm, free. Tenderloin Museum, SF. More info here. 
SAT/11 VISUAL ART BRIAN ENRIGHT The West Oakland sculptor presents his new show, "Neither Created. Nor Destroyed", which looks to refashion society's artifacts into relics of hope. Opening reception 7-10pm. Exhibit runs through June 11. Lost and Foundry, Oakl. More info here.
SAT/11 TALK FUTURE CULTURE SUMMIT If exploring the possibilities of future work in community is your thing, you may want to drop in for the panel discussions and networking sessions at this afternoon event. 12:30-4:30pm, $25. Asian Cultural Center, Oakl. More info here.
SAT/11 FOOD + DRINK/MUSIC ART & WINE FESTIVAL Is this … your Mother's Day adventure? Live music, over 20 NorCal wineries offering tastings — and all to benefit the Oakland Montclair Lions Club. Noon-5pm, $40-80. Jack London Square, Oakl. More info here.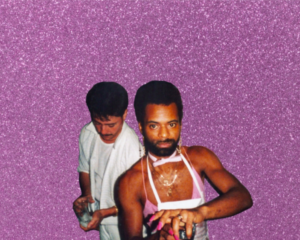 SAT/11 VISUAL ART THE NEW EAGLE CREEK SALOON Sadie Barnette's father created SF's first Black-owned queer bar back in the '90s — this spring, the talented artist will create a version of its magic, which will eventually roll down Market Street as part of this year's Pride parade. Check out a schedule of speakers and other activations of the space. Opening reception 5-9pm, free. The Lab, SF. More info here.
SAT/11 STAGE 140 LBS: HOW BEAUTY KILLED MY MOTHER Susan Lieu premieres her play examining the Geary Boulevard plastic surgeon whose shoddy work killed her mother and other women. Show today 9:10pm, runs through May 19, $13-14. New People and The Marsh, SF. More info here and here.  
SAT/11 PARTY HARD FRENCH FAMILY REUNION Do you miss the days when afternoon soul dance party Hard French raging every month through the sunny seasons on El Rio's palatial back patio? So do they — hence this get-together with all the HF gang and guest DJs Dizzy Miss Lizzy (Black Rhythm Happening, SF) and Cinnamon Beans (Nicole Whitten, SF). 2-8pm. El Rio, SF. More info here. 
SAT/11 PARTY POUND PUPPY Town's best puppy fetish rolls into SoMa's friendly neighborhood queer bar. Featuring DJs Carrie on Disco & Kevin O'Connor. Wear your collar, make sure you're house trained before entering. 9pm-2am. The Stud, SF. More info here.
SUN/12 DANCE WALKING DISTANCE DANCE FESTIVAL Three different programs taking place over eight days await you at this exciting lineup of dance productions. Check works by Mary Armentrout, d. Sabela grimes, and Barak Marhsall. Through May 19. Various times and venues, SF. More info here. 
SUN/12 MUSIC RAICES BENEFIT SHOW Your mother will be so proud if you take her to this lineup of bands playing their hearts out for RAICES, an organization doing essential work protecting immigrant children from the predatory clutches of ICE. Featuring tunes from Frightwig, Chaki, and The LadyKillers. 5-9pm, $10. Oasis, SF. More info here.
SUN/12 MUSIC DIANA GAMEROS Best believe the transcendent singer-guitarist is celebrating Mother's Day — her own mom Altagracia Estupinan, and Leonarda Renteria, her grandmother, will be present today accompanying Gameros on vocals. 7pm, $20-45. Brava Theater, SF. More info here. 
TUE/14 MUSIC PRINCE WITH SYMPHONY Or perhaps Mom is more into "Purple Rain"? If so, surprise her with tickets to this symphonic rendering of The Purple One's greatest hits. 8pm, $49.50-160. The Masonic, SF. More info here. 
TUE/14 TALK SYSTEM FAILURE: DISPLACEMENT A key presentation by arts exploring the failings of tech, and the ways these result in displacement, featuring superlative data visualization the Anti-Eviction Mapping Project. 6:30-8pm, free with RSVP. Minnesota Street Project, SF. More info here.
TUE/14 TALK ANI DiFRANCO Stellar local music journo Emma Silvers interviews your favorite feminist rocker. DiFranco will be chatting in particular about the lessons learned via her new book No Walls and the Recurring Dream. 7-8pm, $20-35 (with copy of book). First Church, Berk. More info here.