A measure that would give big telecommunications companies unlimited authority to put wireless antennas almost anywhere in any city, with no local oversight, passed the state Senate 29-2 this week and is headed for the Assembly.
The measure, opponents say, would undermine efforts to create municipal broadband and would be a massive giveaway to Big Telecom.
Still, it had opposition only from two North Coast senators, Democrat Mike McGuire and Republican Brian Dahle.
San Francisco's Scott Wiener was a supporter.
Big Telecom is one of the biggest campaign donors in Sacramento and companies like AT&T spend millions on lobbying. As we noted last week:
In the past two years, AT&T has spent $250,000 taking state legislators on a fancy golf vacation to Pebble Beach (called The Speaker's Cup.) In 2019 and 2020 alone, state records show, the company has donated $275,000 to the California Republican Party and $755,000 to the California Democratic Party. Gavin Newsom's campaign for governor got $20,000 in AT&T money.

It's hard to find a single state legislator who didn't get money from AT&T.

Verizon gave $73,000 to the California Republican Party and $80,000 to the Democratic Party. Verizon also gave $10,00 to Newsom.
Another major pro-telecom bill, AB 537, will come before the Assembly Appropriations Committee this week.
Among those organizing to oppose the bills is Physicians for Safe Technology, a Peninsula-based organization that works to make sure public health isn't ignored in our rush to make everything run on higher tech.
The group notes:
Instead of recognizing that Big Telecom needs to be broken up and regulated, or that municipally controlled broadband with fiberoptic to premises is cheaper, more equitable, uses less energy, and economically supports local governments, these bills will further consolidate power in the hands of a few massive communications corporations that have been vertically and horizontally integrating since the deregulating Telecommunications Act of 1996 passed. The public is paying for all of this infrastructure but being ignored when major pitfalls are spotlighted, such as energy consumption, fire safety issues, road safety issues, health issues, environmental issues, cybersecurity issues, and equity issues. These bills are stated under existing law to be for "economic growth and job creation" and for improved broadband access. While these are laudable goals, who will be the true winners in this game and at what cost? How will the massive expansion of telecommunications in space affect us?  Is computer or distanced learning effective? With so many unanswered critical questions, should we slow the Telecom Train or continue to stoke its profitable engine while we are headed for the cliff? 
The Board of Supes Land Use and Transportation Committee will hear Monday/17 a measure that would make some modest changes to the way the city handles challenges to local projects under the California Environmental Quality Act.
The measure is sponsored by Mayor London Breed and Sup. Matt Haney.
It's reach is actually not that big: The measure only applies to government projects, not private development, and basically allows some work to go forward even if the project has been challenged under CEQA.
It would also impose a new requirement that no Planning Department decision can be appealed to the Board of Supes unless 50 people sign a petition.
The idea is to stop a few gadflys from slowing down big projects; at one point several years ago, a single person who said that bikes on the streets were taking space away from drivers slowed for more than a year the city's plans to create new bike lanes.
Another single-person appeal slowed emergency pandemic transportation programs.
But the Sierra Club and Greenaction, among others, are strongly opposed – in part because it could set a precedent for other attacks on a law that has been a critical bulwark against inappropriate development.
Sup. Aaron Peskin also opposes the measure. "It's a solution looking for a problem," he said. "Thousands and thousands of public and private projects go forward every year and only a tiny handful are appealed to the Board of Supervisors.
There is currently no backlog on CEQA appeals at the board. "Zero," Peskin said.
Over a five-year period between 2015 and 2020, a chart compiled by the Sierra Club shows, the Planning Department granted 21,305 categorial exemptions – allowing a project to move forward without CEQA review. Only 97 were appealed – less than one half of one percent.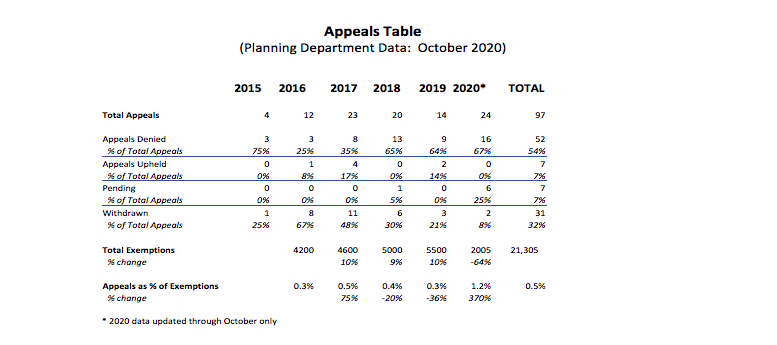 The vast, vast majority of appeals were either denied or withdrawn.
From the Sierra Club analysis:
This legislation assumes that a City department will always do 'the right thing' by implying that if a department head (or designee) writes a report justifying a project, that that report is disinterested, factual, and complete. Unfortunately, that is not always the case. How can the public trust the City, when the city has already allowed construction activities on Cortese sites, such as 1776 Green Street?
Or, as Peskin put it, "If the redevelopment of the Western Addition (in the 1950s and 1960s) were under CEQA, there would have been appeals and we might have seen a lot less damage." CEQA wasn't passed until the 1970s.
The meeting starts at 1:30pm.
Mayor London Breed will introduce her budget June 1, and the #30RightNow Coalition is calling on the mayor to fully and permanently fund rent reductions for supportive housing.
Last year, the supes unanimously passed legislation by Supervisor Matt Haney requiring that supportive housing tenants pay no more than 30 percent of their income towards rent, which is the federal standard and in line with rents in public housing,
From the group:
While most supportive housing tenants pay 30 percent of income towards rent, mostly those living in sites built or acquired after 2016, there are over 2,000 tenants who are paying more than 30 percent of their income towards rent, many up to 50-70 percent of their incomes towards rent, a burden placed not by a private landlord, but the City and County of San Francisco. The Budget and Legislative Analyst projects that it would cost $6.1 million per year to fix these disparities.
The coalition will hold a rally Tuesday/18 from 1pm to 2pm near the steps of City Hall.
The Government Audit and Oversight Committee is taking on the labor practices of a major airport contractor.
SkyChef, which provides meals to many of the airlines at SFO, has plans to move jobs to San Jose – a move that Local 2, the union representing the workers, says is a way to avoid the city's Healthy Airport Ordinance.
Sup. Rafael Mandelman has asked for a hearing on "SkyChef noncompliance with the Healthy Airport Ordinance."
The company says those jobs were going to move anyway. It's not clear if anyone from the company will appear at the Thursday/20 hearing, which begins at 10am.
Sup. Hillary Ronen is sponsoring a resolution that would put in place the process to call a special local election to coincide with the Gov. Gavin Newsom recall, assuming that moves forward.
If there's a statewide election anyway, it's not that big a deal to add a local election – and depending on the timing, it could force whoever Mayor London Breed appoints as city attorney to go before the voters right away. The resolution comes before the Rules Committee Monday/17 at 10am.