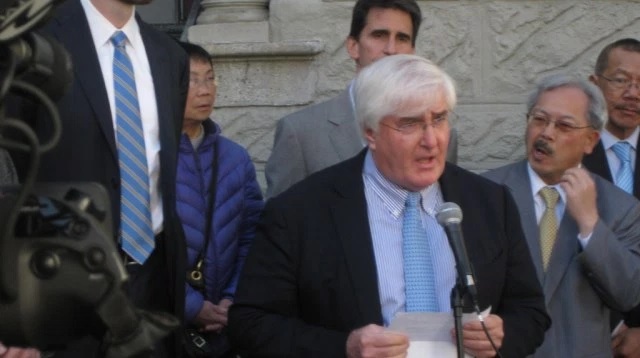 By Tim Redmond
DECEMBER 27, 2015 – Nothing much happens in local politics during the week between Christmas and New Year's. Hearings are cancelled; the supes are in recess. The mayor, I'm told, is in Hong Kong on vacation.
So this week we can talk about the last year and the next one, and in the meantime, a few days early, I can do what I love to do around Dec. 31: List my New Year's Resolutions for Everyone Else.
Here are some things I would like to see other people do in 2016:
Everyone in the news media should stop talking about a "healthy economy" in San Francisco or repeating the mayor's line that "cities all over America are envious of us." This is the most unhealthy economy San Francisco has seen in decades. A healthy urban economy needs diversity, and we are driving that out. More: In a healthy economy, the divide between the rich and the rest of us should be shrinking, not growing – and every tenant in the city shouldn't have to live in fear of losing his or her home. We live in a terrifying, sick economy, and the sooner we all admit it the sooner we can start to make it better.
Uber drivers need to stop parking in the bike lanes. Legal, permitted taxis that have a special sticker on the back are allowed to pick up and drop off disabled passengers in bike lanes, and that's fine – they are mostly yellow or red, easy to spot from a distance, and following the rules. Ubers are often black, unmarked, and hard to see in the dusk or dark. They stop randomly, sometimes pulling in right in front of bicyclists. Some sit for long periods of time in front of restaurants waiting for their customers to finish dinner. Some nights along Valencia, the bike lane is almost impassible with all the Ubers. Sometimes I stop and tell the drivers that they can't park there; generally I get the middle finger in response. And never, ever, do I see a Parking Control Officer giving them tickets.
The SFMTA should decide, at long last, that if you get to park in the middle of the street to go to church, you can also park there to go about a secular Sunday morning routine.
People who own property in hilly SF should make sure that the fallen leaves are cleaned up on the sidewalks out front. My neighbor who is 91 slipped on some slick leaves in the rain recently and broke her leg. Not good. Yes, leaves fall in SF.  And it's going to be a wet winter. Bad combination. Buy a rake and a broom, and maybe save a life.
Everyone who moves to San Francisco should abide by the anti-eviction pledge: Do not, under any circumstances, move into a housing unit that's been cleared out through a no-fault eviction. It's easy to check.
When I first started working as a car mechanic, many years ago, one of my coworkers told me never to buy used tools at a flea market, since they were probably stolen. "Stolen tools," he said with a stone-faced serious glare, "have very bad karma." And as the great cosmic sage Hunter S. Thompson once wrote:
Bad karma tends to generate its own kind of poison, which — like typhoid chickens and rotten bread cast out on the waters — will usually come home to either roost, fester or mutate very close to its own point of origin.
Apartments cleared by eviction have very bad karma. Just don't do it.
Landlords need to stop thinking that money is all that matters. It's not hard to be a decent landlord. Really, it's not.
If the mayor insists on evicting all the homeless people from downtown during the Super Bowl party, we should all show up and do something. Pitch tents, get in the way, make it a media spectacle. This just isn't ok. Maybe Airbnb, which will make a fortune during Super Bowl week (as thousands of San Franciscans split town and milks the visitors for insane amounts of money for short-term rentals) should pay to put every homeless person up in a nice apartment.
Oh, and let's show this movie on the side of some downtown building during the party.
PG&E needs to replace its old transformers so they don't keep blowing up and leaving neighborhoods dark and cold for hours over the holidays.
The next time the promoters try to get people to pay $100 for a "fight of the century" can everyone just not watch? You want to see action in the ring, pay $14 to go see "Creed." Much better fight.
Someone needs to find a better phrase than "went viral" for popular web posts.
Bernie Sanders should endorse Hillary Ronen for D9 supervisor just so she can put up signs that say "Bernie endorses Hillary."
The mayor and the supes ought to put a policy statement on the ballot that says: "Should San Francisco continue to be the tech capital of the US if it means that thousands of longtime residents will have to leave?" and one that says: "Should San Francisco add 200,000 new residents if there is no guarantee that housing prices will come down?" How do you suppose 80 percent of the electorate will vote?
The San Francisco School Board should figure out how to take the one – yes, one – LGBT Studies class in any American high school and make it part of the curriculum at every high school in SF.
Everyone in the city should go out and support a local arts institution at least once a month. In the age of streaming Netflix, scrolling Facebooks, and Spotifying playlists, it's so easy to stay in and feel entertained. Yes, you may be entertained — but you're not well-rounded, and definitely not plugged into your local scene, which desperately needs your support. Expense may seem daunting, yes, but huge free events like First Thursdays (tour local art galleries for free + free wine!) and ticket deals through sites like Goldstar make exploring the local theatre, music, visual arts, and literature scene totally possible. Plus, many lifesaving arts grants are based on the number of attendees. Show up and save local arts.
Police Chief Greg Suhr needs to devote the next year to making sure that the local cops don't shoot people who aren't a real danger to anyone. And everyone who voted against a very mild Democratic Party resolution on police use of force – after Ferguson and before Mario Woods – needs to make a public apology.
The voters of San Francisco should take a pledge not to vote for any local candidate supported by Ron Conway, who gave $50,000 to George Bush and supports CIA torture.
The Giants should see if Steph Curry knows how to throw a curve ball.
The Google Buses should be required to offer free rides between stops in the city for anyone who wants to get aboard.
Twitter and every other company that got a tax break to move into mid-Market should offer free or low-cost office space to every nonprofit that has been forced out by tech-driven high rents.
My fellow dog owners need to clean up the poo. Harvey Milk made that a law, but common decency says: Don't leave a big pile on the sidewalk. You can buy 100 poo bags at any pet store for about $5. I walk all over Bernal and the Mission, and that shit's gross.
People who read this and like it should support 48hills so we can grow in the new year. And trolls who poison the discussion should go away so we don't have to spend our time banning you.
Happy new year.