PARTY RADAR The anger and sadness that welled up this week when Trump targeted the transgender community — even in the context of feeding the War Machine — carried over a shitty streak of slamming trans people.
Last week, awesome trans DJ and producer Octo Octa was insulted online by a slew asshole bigots, including a representative of popular Icelandic techno label Bbbbb, when Resident Advisor posted a short video of her making beats. That label representative was fired (and Bbbbb founder and star Bjarki's US tour dates were cancelled, thanks to courageous party promoters like Lights Down Low — see Saturday's party selection below), but come on, people. Get a damn grip.
Besides all the other shitstorms we're weathering on the daily, these incidents showed that resistance — in life and in nightlife — is something we have to constantly maintain, even if we often feel exhausted. Here's something that might perk us up and keep us on the barricades: Resist! An Action in Drag  (Sun/30, 7pm-11pm, $20. The Chapel, SF.) This extravaganza brings together an incredible bevy of performers — most of them people of color, some transgender, all of them supported by a dazzling array of social justice institutions — to perform in full Rage Against the Machine's self-titled first album. That sounds crazy and inspiring and I absolutely love it.
"My introduction to Rage Against the Machine was working at a Hot Topic in the late '90s," fantastic burlesquer and singer Alotta Boutté told me. "My Alt-Black friends continued to show me their stuff. I've always found their music potent and important."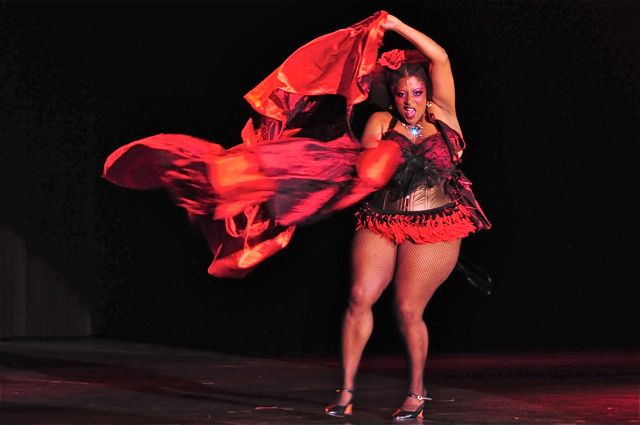 She's performing classic 'Killing in the Name" with Miss Rahni Nothingmore. (Other performers include Glamamore, Persia, Landa Lakes, Yves St. Croissant, Voodanna Black, and Lady Bear, and the whole things was dreamed up by Profundity and Reverend Lysol of the First Church of the Sacred Silversexual.) 
"Our performance is going to be a reflection of our experiences growing up trying to be all that's required by family and society, the assimilation to the dominant demographic  — and how that still doesn't give us the equality," Boutté told me. "To show how damaging denial of our true selves can be, how the insidious messaging starts young.
What kind of personal statement is she hoping to make in the show? "I think it's important for the LGBTQ+ community to listen to those with a variety of intersections," Boutté replied. "All of the -isms of society at large live within our subculture. When those of us with different marginalized intersections speak out we are often met with, 'we need to come together,' 'don't create more division,' and my personal favorite, 'We're oppressed too!' It's not the Oppression Olympics, but, if we are to truly present a united alphabet front, we need to listen with openness and a willingness to learn."
Rage on, Resistors. 
>> Need a car to get there? Rent one in your neighborhood on Getaround. Sign up today, and enjoy $50 off your first trip: http://get.co/48h. [Sponsored]
THURSDAY, JULY 27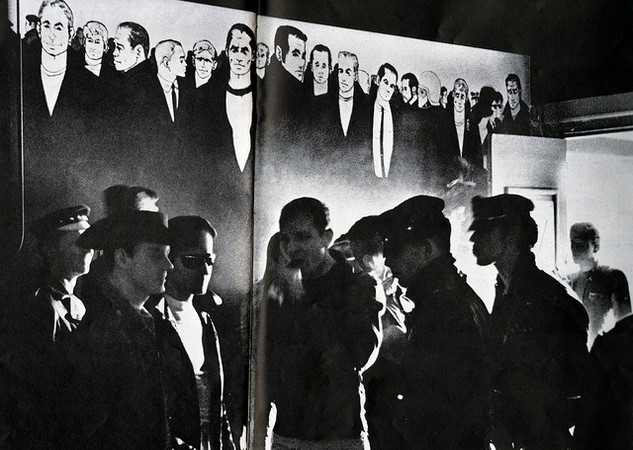 THE TOOL BOX This Sunday is the wild and woofy (yeah, I said it) fetish-loving Dore Alley Fair, aka Up Your Alley. (It's Folsom Street Fair's "dirty little brother.") And there's no better way to kick off the fist-ivities than at this tribute to one of SF's legendary leather bars, thrown by some very cool kids. Thu/27, 10pm-2am, $5. Underground, SF. More info here.  
THE TUBESTEAK CONNECTION And hey, you could also visit one of our classic vintage bathhouse tribute parties — the weekly disco-riffic wonderland of DJ Bus Station John's Tubesteak Connection. Thu/27, 10pm-2am, $5. Aunt Charlie's Lounge, SF. More info here.
FRIDAY, JULY 28
A CLUB CALLED RHONDA LA's "premiere pansexual party place" (and a legendary underground club that inspired much of what you see on the scene today) comes to SF with a crew of stars in tow: Krystal Klear, Maos, Michael Serafini, and so many more. Fri/28, 9:30pm-3am, $25. Monarch, SF. Tickets and more info here. 
SO STOKED SUMMER OF LOVE WITH JESSE SAUNDERS Seems like one big psychedelic love fest, but with an insane array of beats. And that's OK! Chicago's inimitable Jesse Saunders, originator of house music, will be joined by hardcore fiend Hixxy, an 8-bit pre-party, and drum and bass from Mob Tactics. The best bit? You get in free if you bring a "kandi cuff" that is bigger than your head! Fri/28, 5pm-late, $10-$25. DNA Lounge, SF. Tickets and more info here.  
ROSKA I can't believe it's been four years since this champion of the UK Funky sound tore up SF decks. Not to be missed for bass freaks. Fri/28, 10pm-2am, $10-$15. Underground SF. Tickets and more info here. 
STEAM GOES UP YOUR ALLEY The gay bathhouse themed night celebrates the More Alley fair with plenty of dancing from NYC's DJ Lorant Duzgun, shower go-gos, deep tissue massage, and, of course, a wet towel contest. Fri/28, 10pm, $5 benefits the GLBT Historical Society. Powerhouse, SF. More info here. 
BLACK FRIDAYS: DORE ALLEY FAIR EDITION Come out for a wild show at this monthly fandango, featuring awesome drag and burlesque performers of color – this time with bondage demonstrations! Fri/28 10pm-4am, $10. The Stud, SF. Tickets and more info here. 
SATURDAY JULY 29
SNEAKS Homosexual adult content for days in this Party Radar, amiright? This party absolutely slayed last year — what started out as a sportswear fetish gathering turned into an all-out all-night rave — and this year promises to be even more gonzo, with DC techno kings The NeedleExchange and more headlining. Sport those sneakers, because dress code is strictly enforced. Sat/29, 10pm til late, $45 – tickets at the door. Club Six, SF. More info here. 
LIGHTS DOWN LOW: BLACK MERLIN Originally, Reykjavik's Bjarki, he of omnipresent track "I Want Go Bang," which samples queer genius Arthur Russell's "Go Bang," was set to perform. But then his label partner royally fucked up by posting transphobic comments on the Internet (see the intro to this column) and all Bjarki's US dates were pulled by rad party crews like Lights Down Low. In Bjarki's place is the wonderfully dark and ravey Black Merlin, who surely will provide the Lights Down Low excellency. Support our supporters! Sat/29, 10pm-3am, $12-$15. Audio, SF. Tickets and more info here.    
GEORGE FITZGERALD + PANGAEA Have to give it up for Pangaea, one of the founders of the extremely influential UK label Hessle Audio — I've been a fan of his spacey, bass-y output since he mixed up some Gladys Knight samples in 2k9. He's joined by ace fellow Brit technician George Fitzgerald (unafraid to throw a little gospel house into his driving sets and set the floor aflame) at the ever-sweet As You Like It party. Sat/29, 10pm-4am, $20. Great Northern, SF. Tickets and more info here. 
SWEATER FUNK 9-YEAR ANNIVERSARY Ever since it staked out the Li Po's basement every Sunday in Chinatown, this classic soul and funk party had held my heart. This party, which brings together almost all the original players, should be one to remember, in a sweater. Sat/29, 10pm-2am, $5-$10. Elbo Room, SF. Tickets and more info here.  
RHYME TIME Tamara Palmer, one of our sharpest music writers is also a sharp hip-hop DJ! For a real neighborhood feel with some fine folks, head out to Pop's Bar in the Mission. Sat/29, 9pm-2am, free. Pop's Bar, SF. More info here.  
LOVE HANGOVER One of the cutest little daytime dance parties in a bear bar, ever! With Bongz, Justime, and more. Seriously. It is cute. Sat/29, 3pm-9pm, $5. Lone Star, SF. More info here. 

SUNDAY, JULY 30
HARD FRENCH DOES DORE The Hard French classic soul crew pulls out all the stops for the big SF holidays, venturing into live musical territory that ranges from Psychic TV to Ronnie Spector. For Dore Alley Fair day, it's bringing in Detroit electronic duo Looky Looky, which just lit up Berlin's Panoramabar, as well as fellow electronician Bezier, plus of course one of the cutest mixed crowds ever. Sun/30, 6pm-midnight, $10 advance. Oasis, SF. Tickets and more info here.   
BOILER ROOM OAKLAND As one of my favorite local music writers recently told the world, Oakland's experimental music scene is getting browner, queerer, and more femme. Thanks goddess. And now the world is discovering our wonders, as the huge Boiler Room music series hits up Club Chai, one of our fabulous experimental outposts. Sun/30, 7pm-midnight. Starline Social Club, Oakland. Request an invite here. 
TRIK 3 "Hella Nasty, hella queer" is the tagline for this 8-hour lollapalooza, with a host of DJs (including Carrie Morrison, boy_friend, and Siobhan Aluvalot) and, er "provocative" go-gos. Sun/30, 6pm-2am, $10-$12. The Stud, SF. Tickets and more info here. 
DADDY DAYCARE And then here comes a 10-hour party during and after the Dore Alley craziness! "addy Daycare provides a fun-filled day of loosely supervised frolicking, hanging out and making friends with other dads. Your special guy will romp around, laugh with our staff, smell other dads and do what dads love to do… Drink And Dance!" With Kelly Naughton, Michael Romano, and a lot more cuties. Sun/30, 1pm-11pm, free. Driftwood, SF. More info here. 
CLUB DORE One more! DJs (and awesome folks) Josh Peace and Chelsea Star head up this cavalcade of dance debauchery! Sun/30, 3pm-9pm, $10-$15. 43 Dore, SF. Tickets and more info here. 
>> Need a car to get there? Rent one in your neighborhood on Getaround. Sign up today, and enjoy $50 off your first trip: http://get.co/48h. [Sponsored]